Manchester United's 20 Best Teen Sensations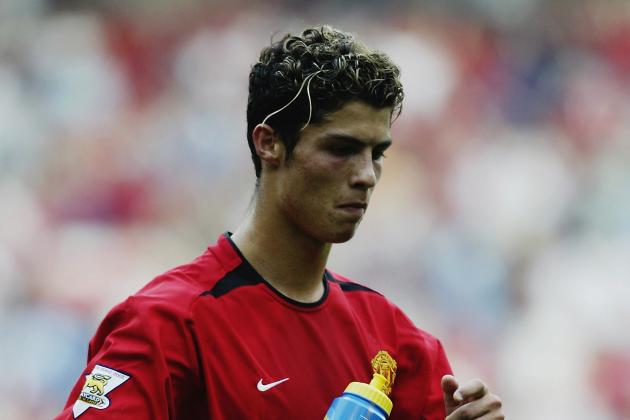 Alex Livesey/Getty Images
Cristiano Ronaldo
Manchester United's celebration of youth dates back to at least the 1950s. Sir Matt Busby then, and Sir Alex Ferguson now, have been responsible for the development of some world class players who became the bedrock of the club's success.
That pattern seems likely to continue into the future, whether coming through the Academy or being bought in at a tender age.
Yes it's going to be harder to break into the team because of the imperative of winning every game. That won't get any easier when a new manager comes along. But they will still be required to continue United's tradition of producing and developing their own talented players.
In this article we're going to cheat slightly because everyone will have their favourites. One person's sensation is another's squad player.
So we'll include some who were a sensation when they first appeared and those who had rich promise that was ultimately fulfilled.
The list covers every era since the 1950s, mainly because it was much harder for a young talent to break in before Sir Matt Busby's days.
They will be in some sort of order, culminating with the best, but with one exception. The first slide commemorates some of the most talented players United ever had who were victims of the Munich air disaster.
Begin Slideshow

»
Apologies for this first slide being a tad self-indulgent.
I met the Busby Babes and Sir Matt Busby. I have their autographs. They are the reason why I have been a die-hard United supporter for 57 years. Duncan Edwards was and is my favourite player of all time. He features right at the start of the video.
There is a poetic licence here in naming more than one player.
Many sensible people believe this group of young men were better even than "Fergie's Fledglings" (many of whom feature later). We shall never know what they would have gone on to achieve.
They were an anomaly. Teams didn't blood young players in the way United did; certainly not several at one time. This group, many of whom perished in 1958, could well have gone on to win the European Cup. That's how good they were.
Not all of them died of course. A couple are featured later.
But this slide is a tribute to Ray Wood, Mark Jones, Jackie Blanchflower and David Pegg, all of whom started their United career as teenagers and, together with four other young flowers of Manchester lost their lives on 6 February 1958.
At just 19 Duncan Edwards had the footballing world at his feet. He was a man mountain at 14 stone of pure muscle, much of it in his legs.
He was fearless but had guile. He could play anywhere. He always wanted to improve and even had ballet lessons as a teenager to improve his sense of balance.
He survived for more than a fortnight after the crash because he was a fierce fighter. If he had lived, he would have lifted the World Cup in 1966 and United would have won the European Cup earlier.
Normally Sir Bobby would feature much higher up this list but he is included here to be beside his hugely talented peers.
To this day he has no idea how he survived the crash, nor why. There will always be a sense of guilt that he was spared. Especially as for more than 55 years he has believed Duncan Edwards to be the greatest player ever.
Bobby almost gave up the game after the crash. He had to be persuaded back by Jimmy Murphy who was caretaker manager until Sir Matt fully recovered.
It is a mark of how good his colleagues were that Charlton, a hugely talented teenager, had to fight for his place in the team. Ironically the crash was the making of him.
There has never been a better striker of the ball. He could play up front but normally was found in the old "inside forward" position.
His nearest comparison in the present United team is Wayne Rooney. A player just as comfortable coming from midfield as he was in the penalty box. Sir Bobby scored more cannonball goals from outside the box than Wayne or Scholesy did.
He had a bullet in both feet and scored his share of critical headed goals. He is an all-time legend.
Norman Whiteside wouldn't have lasted five minutes in the modern game he was so hard.
Sadly that is what opposition fans probably remember him for, but he had immense skill and was described as world class in his teens.
He was the youngest player ever to feature at the World Cup Finals. He was in United's first team at just 17, playing 278 times in total.
Eventually he was sold to Everton, but his career was as good as finished because of a knee injury. He retired from the game at 26.
He was the youngest player ever to score in a League Cup and FA Cup Final and the youngest for Manchester United in a League match.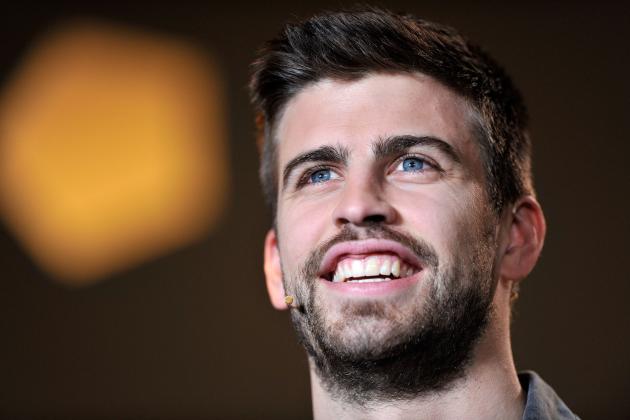 Harold Cunningham/Getty Images
Gerard Pique
Was this United's greatest loss in Fergie's reign?
We have included Gerard because he debuted for Manchester United at just 17 and played 10 times in that and the following season.
He had been signed from Barcelona and they paid a £5 million fee to get him back after a total of 23 appearances for United.
Still just 25, he has won 14 major trophies in the five years since he returned.
He is not yet at his peak but he is already world class. He could easily become the best centre-back in the world.
Scott Heavey/Getty Images
Fabio & Rafael...or Rafael & Fabio?
Another bit of poetic licence. We're not going to separate these two, not just because even Sir Alex struggles to tell the difference.
It is Fabio's sheer misfortune that when they divvied up as kids he got the left back role. That left him behind Patrice Evra, the club's most consistent selection, as a contender for a starting role.
Even more tragic for him is that he was regarded as probably the better of the two when he arrived. Since then, he has a total of 53 appearances for Manchester United. His brother already has 116.
Rafael is now being talked of as potentially being a world class wing back. He is United's undoubted first choice. He has developed maturity, doesn't go to ground so much and has added self-discipline to his game. He can also produce sheer magic going forward.
When Fabio returns he could find himself in a straight fight with Alex Buttner for the left back position. Like his brother, however, he does have the ability to play as a wide player also.
United are well-blessed with this pair. Still just 22 they debuted at 18.
This is why Anderson is in our list; why he was signed by United; and why Sir Alex perseveres with him.
At 17 he was rightly regarded as one of the very best teenagers in the world. Then he had a bad leg break playing for Porto.
Sir Alex took a gamble signing the 19 year-old with his recent injury troubles, and he has continued that saga in the last five years.
But this season alone has shown that now he has matured, and if he can remain injury free, he can become the best and most creative midfielder in the Premier League.
He can also make the difference in the Champions' League.
He may have lost a little pace since his leg break, but none of his skill, as his through pass to Rooney showed on Saturday.
His best years are still to come.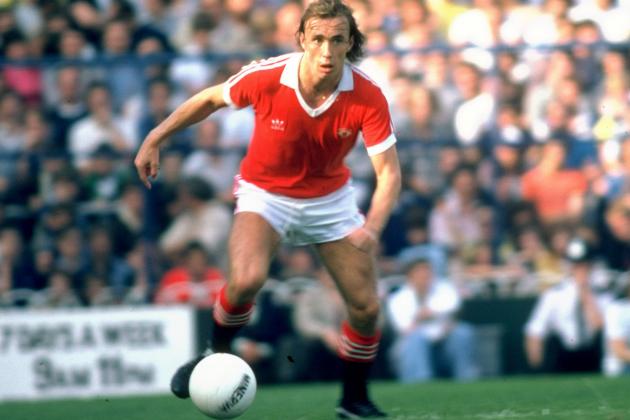 Getty Images/Getty Images
Sammy McIlroy
So we're going back a few years again for the next three players.
The first is Sammy McIlroy.
Naturally United fans have always been looking for the next Georgie Best and Sammy fell into that category with an unfair comparison.
He undoubtedly was a very talented player, came from Belfast and was the last teenager to be signed by Sir Matt Busby.
He made his debut at just 17, scoring in a 3-3 draw with City.
He had 342 appearances for United, during which he played both as a striker and a winger. He also earned 88 caps for Northern Ireland.
But for the comparisons with George Best, McIlroy might have been celebrated more by United fans.
Tommy Docherty had two talented wingers who were among the most intelligent footballers ever to play in England: Gordon Hill and Steve Coppell.
Steve signed as a 19-year-old but United allowed him to complete his Economics degree.
Because he wore No. 7 he also was compared to George Best, but he was a very different winger.
Yes, he could beat a defender but more often than not by sheer pace, although he had a trick or two. He had a very upright running style and wore defenders out with his non-stop running.
As well as being an intelligent footballer he was also unselfish and could see a situation or a pass. He rarely held onto the ball for too long.
He made a total of 322 appearances for United with 52 goals and also had 42 caps for England.
Apologies for the video author's spelling.
Mark Hughes was a United legend...until he went to manage City.
Some people don't realise that he had two spells at United. He was originally signed as a schoolboy and did not make his debut until he was 19.
From then he became a fans favourite because of his skill and unconditional effort.
In between his two spells he was one of the very few British players to venture abroad, playing for both Barcelona and Bayern Munich.
In total he made 463 appearances for United, scoring 144 goals at a time when they weren't as successful as they now are.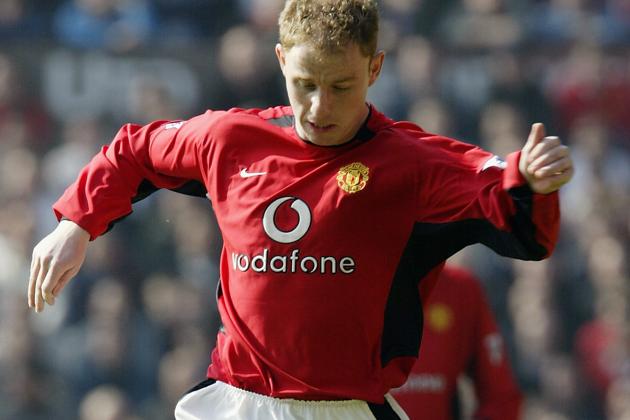 Alex Livesey/Getty Images
Nicky Butt
Not surprisingly we are including all of "Fergie's Fledglings" in this compilation.
In many ways Nicky was the complete footballer. Sadly he has been somewhat overshadowed by Roy Keane in comparison and contemporaries Paul Scholes, Ryan Giggs and David Beckham for what they can do.
Nicky was a better and more complete player than Ji Sung Park. He had to fight his way into the United team but he was the sort of player Sir Alex loved, because he never let the side down.
When we talk about "teenage sensations" most people would think of an outrageously talented footballer or one who was fearless, say, like Graeme Souness, Norman Whiteside or Roy Keane as teenagers.
Breaking into the team as a 17-year-old, Nicky went on to play 387 times for United, scoring 26 goals. In all he played 601 times in a career where his contribution to Newcastle was as important as that in his 12 seasons at United.
He is now a valued member of United's coaching staff.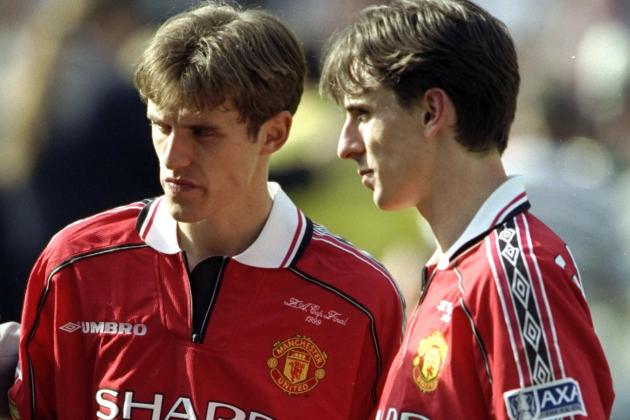 Stu Forster/Getty Images
Phil & Gary Neville
In some ways similar to the Da Silva twins, we have decided not to separate these two.
Again you would not have described them as "teen sensations" because they were hard grafters, uncompromising and committed rather than spectacular.
A few years ago Gary would have been the choice ahead of Phil. He was the one who was always destined to be a captain, coach and football manager.
But you must have sheer admiration for Phil who has made himself one of the most valuable Premier League players of all time.
They both came out of the 1992 FA Youth Cup-winning side and debuted at 17.
Gary is the older of the two and went on to play 602 times for the Red Devils, but Phil to date has 683 appearances in total including 386 for United.
Awesome twosome!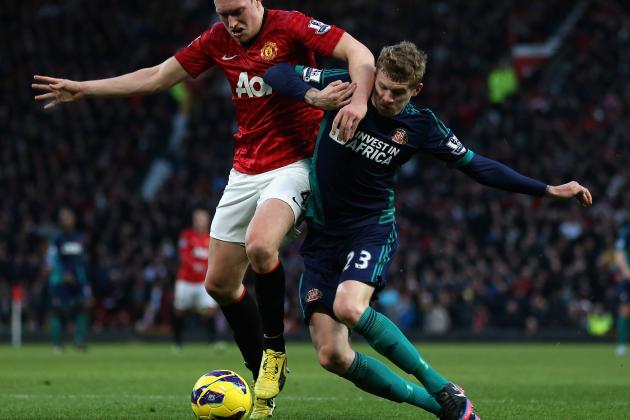 Julian Finney/Getty Images
Phil Jones
Phil Jones was a teenage sensation when he was at Blackburn. He is already better at United.
In some senses it is unfair to saddle him with labels like "the new Duncan Edwards" or "a future England captain." But his self-effacing personality means he shrugs these things off.
What he is, is an utter professional. He has been injured until recently and, with other defenders back fit he has had to wait his turn.
While he has shown his flexibility and adaptability in the Spurs match in an unaccustomed role, he has given a glimpse of the future in the last two Cup matches.
He has strength, pace, two good feet and a great head on the ball. What these two matches have shown is the future of United's central defence. Smalling and Jones have an excellent understanding from their England days. Together with Jonny Evans the future is secure for the next 10 years or more.
Phil Jones joined Manchester United barely 19 years old, but already with 35 Premier League appearances under his belt. He is now a player of maturity. With what he's shown us so far he looks an even better bargain than Rio Ferdinand at twice the price.
Sir Alex has compared him with John Terry, which in some senses is undervaluing him. He will be better than that but the Boss is right about his ability to read a game, his physicality. But he has more pace and skill even than Terry.
Surely a future England captain?
Clive Brunskill/Getty Images
David Beckham
Who would you rather have right now? Antonio Valencia, Nani or David Beckham?
OK unfair question. Different kinds of winger.
David was a "Marmite player" for England. Some so-called fans thought he was overrated rubbish. Others, including many knowledgeable pundits, the best crosser of a football in the world.
If he was playing now, Chicharito would have double the goals he has. David's core capability was to hit a pinpoint early long ball onto a sixpence right in front of his striker.
Oh and he also took a mean free kick.
Tom Cleverley is like David Beckham. In love with United from an early age; small in stature until his mid-teens; tremendous work ethic; never stopped learning and growing.
He was one of Fergie's Fledglings. Some people resent him his success and wealth. He earned it on the football field. Going to Real Madrid for £25 million would find anybody out. David was loved and respected at the Bernabeu, no less than in the MLS.
Pretty he may be but he was also a pretty damned good footballer.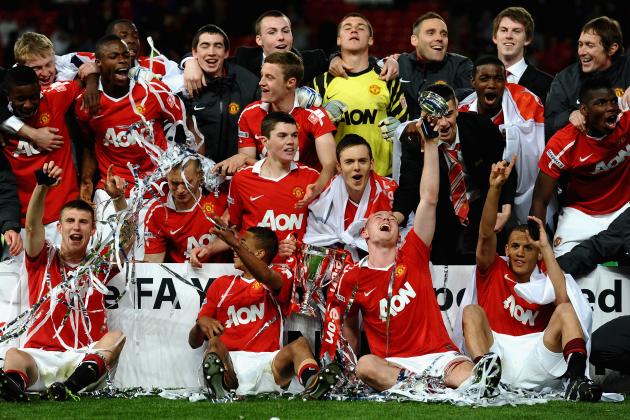 Laurence Griffiths/Getty Images
FA Youth Cup Winners 2011
Some of those players aren't at Old Trafford anymore. Some are champing at the bit to get their chance. One of them is on our list.
United will always produce, or find and develop, talented teenagers.
Before we go on to our Top Five teenage sensations, here are just three that we have picked out. One is on the verge of the First Team and the other two may step straight into the Under 21s for the second half of the season before elbowing older lads aside to get into the First Team squad.
Will Keane
The fact that we have selected Will Keane is no bad reflection on his twin brother. Michael will undoubtedly make it into United's First Team and in a couple of years will stand with Scott Wootton where Chris Smalling and Phil Jones stand now.
But for wretched bad luck, Will would already have played for the First Team this season. He was specifically earmarked to not go on loan and get his chance before he suffered a knee injury for England U19s.
The fact that Angelo Henriquez and Federicho Macheda have gone on loan suggests that Will, back next month, will be fifth choice striker if needed.
He has a great future for United and England, resembling a cross between a young Dennis Bergkamp and a mature Teddy Sheringham.
A natural born goalscorer.
Mats Daehli
Unless Wilfried Zaha nips in there first, Mats Daehli is surely the natural successor to Ryan Giggs. In this respect he has no peer at any level outside the First Team squad.
He has outstanding ball skill, is highly intelligent in a footballing sense, has already captained the U18s, can make goals and score them.
He usually plays on the left, where great wingers are like gold dust, but can play anywhere across midfield.
Keep your eye on him. Sir Alex surely has.
Adnan Januzaj
This lad has sheer b****y talent.
A fortnight ago he turned 18. He is a better prospect than Paul Pogba. Being likened to David Beckham is unfair. Besides he is better than Beckham at the same age.
United paid a £600,000 fee for him to Anderlecht and he is one of the top paid Academy players. He has already turned out for the First Team in preseason against Aberdeen.
He will be fast-tracked into the squad. Suffice to say that he would not look out of place in Ajax's first team right now.
This is how 16-year-old Wayne Rooney announced his arrival in the Premier League. No wonder David Moyes didn't want to let him go.
Anyone who thinks Rooney isn't world class is stupid. The trouble is he is so good and does so much on the pitch that on an off day people think he looks commonplace. Come on!
Yes he has had fitness issues and he must sort these, but if one player is going to be as pivotal to United in the next decade as Paul Scholes has been in the past, this is the man.
They say that he does not yet have a fully-formed understanding with Robin van Persie. Scary!
He was signed by Sir Alex at 18 for the astonishing fee of £25 million. Since then he has made 386 appearances with 191 goals. Worth every penny.
Watch this and weep for his passing. He won't be around much longer. We have seen him do this for almost 20 years.
Believe it or not, he did not break into the United team until he was 19, being a year behind the other "Fergie Fledglings." Since then he has 713 appearances and 155 goals.
He may not be a first choice anymore, but he will still come on as a substitute when United have got a match sewn up.
That means we will be treated to many more passes than the collection above.
Pour yourself a glass of your favourite poison. Settle back for 12 minutes and watch this on full screen.
If Zaha can do this we'll still be talking about him in 20 years' time.
George Best will always divide opinion, especially with the other two players we still have to mention. He is probably the best 17-year-old Manchester United have ever signed.
He was a footballing genius.
He was already good enough to be a regular and indeed he played in United's European team almost immediately.
How good could he have been if he hadn't wrecked his life with drink? Better than Maradona?
This is what Sir Alex paid £12 million for at the age of 18. Money well spent.
For all the people who complained about his diving and resented his talent there are many times that who regret his leaving the Premier League.
Like Georgie Best, this was a player that most people would pay money to watch.
If he had given United the whole of his career there is no knowing what he and the club would have achieved together.
There was just one problem, however. For a player like him you have to fit the team around him. With Sir Alex's current tactical approach that doesn't work anymore. If he came back he would probably have to play as an out and out striker.
He would love it.
Why do we rank Giggs ahead of Best?
Because he can do anything wee Georgie could do and he's been doing it for United more than twice as long.
Compare the video above, especially a young Ryan Giggs, with this a couple of seasons ago; or this, only a few days ago.
Same Ryan Giggs, more than twice as old, 40 this year. Stunning.
Like great wines, he is getting better with age. Remember the pass for Van Persie, also against West Ham?
That's all 20 teen sensations. So who do you think we've missed?