College Football: Ranking the Best Core of Returning Starters in the Pac-12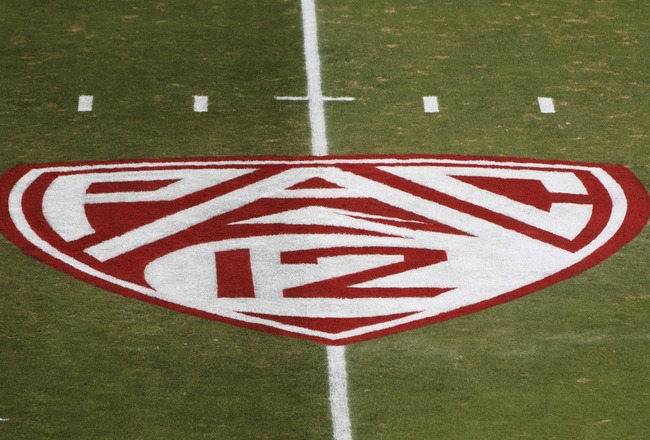 Jason O. Watson-USA TODAY Sports
With the 2013 season just seven months away—I know, it's never going to get here fast enough—it's never too early to start counting your losses before the spring game picks you right up again, right?
We've gone through each Pac-12 team's core units* and noted the losses in each unit. Some teams have a few holes here and there while others aren't so lucky. We then went ahead and ranked each team from the lowest to highest returning core starters.
In other words, if you return enough guys in each unit to not have to rebuild—rather, reload—you're looking pretty good.
*Some schools' depth charts were not official, so keep in mind that these evaluations are based on the best information we have at the time.
12. Cal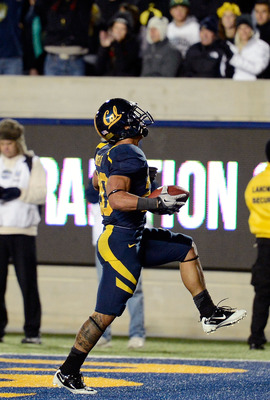 Thearon W. Henderson/Getty Images
This will be a rebuilding year as most all of the Golden Bears' skill position players are gone. Even the O-line took a hit; two tackles and center Brian Schwenke are done with college. Receiver Keenan Allen also declared early for the draft.
Defensively, the linebacker unit stays intact, but the secondary loses a corner and a safety while the D-line loses an end and a nose tackle.
Cal lost half of its starters plus head coach Jeff Tedford. Sonny Dykes has his work cut out for him this spring.
11. Utah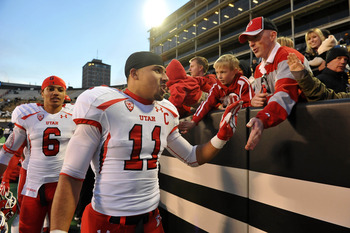 Ron Chenoy-USA TODAY Sports
Oh my, Utah, this is going to be an interesting season. The Utes' offense got smacked with six departures, including three on the O-line and two receivers. Running back John White and tight end David Rolf are also gone.
The defense, however, takes the biggest losses in terms of the sheer talent it lost. Tackles Dave Kruger and Star Lotulelei are both gone, and end Joe Kruger declared for the draft. The secondary also loses both corners.
Utah's front four was its strength, and losing three of those guys makes it difficult to bounce back.
10. Oregon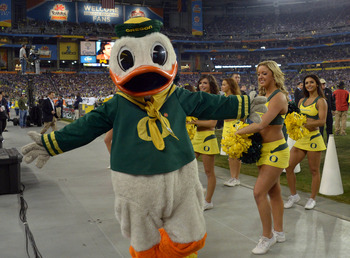 USA TODAY Sports
The Ducks just reload and reload until you get worn out, and despite a couple of units feeling some losses, this is nothing that the Ducks can't overcome.
First off, running back Kenjon Barner is a huge loss, and yes, De'Anthony Thomas is waiting to take over, but Barner had a lot of carries—I'm wondering how Thomas will do with a full load.
In any case, aside from Barner, the Ducks also lose both guards on the O-line.
The defense is a bit more concerning, specifically the linebacker unit. Oregon lost two excellent linebackers in Michael Clay and Kiko Alonzo, and they are the reason why Oregon is ranked where they are on core returning starters. Oregon also loses end Dion Jordan and tackle Isaac Remington, so the line needs to be reloaded as well.
The secondary came out fairly intact, but losing safety Josh Boyett will sting.
9. UCLA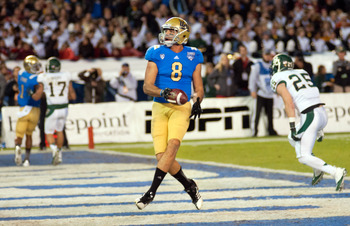 Kent Horner/Getty Images
UCLA's offense doesn't suffer a lot of losses, but the quality of the losses is very high. Offensive lineman Jeff Baca will be missed. So will running back Johnathan Franklin and tight end Joseph Fauria. The Bruins also lose receiver Jerry Johnson.
Defensively, the front seven look fairly intact, but again, the quality of players lost is huge. Defensive end Datone Jones—whose stock is sky high after a great Senior Bowl week—and linebackers Dalton Hilliard (and reserves Patrick Larimore and Damien Holmes) are all gone. The good news is that Anthony Barr will be back. So will Eric Kendricks.
The secondary also gets hurt with corners Sheldon Price and Aaron Hester both gone as well as safety Andrew Abbott.
Despite the heavy losses, I'm not terribly worried about the Bruins right now due to the solid defensive class UCLA is putting together.
8. USC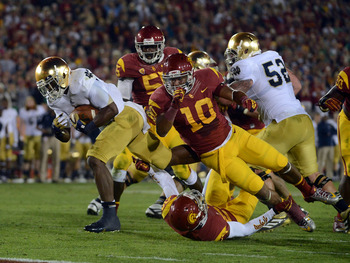 Harry How/Getty Images
Of all the teams that feel a graduation or early defection more than anyone else, it's USC. The Trojans are in their second year of scholarship reductions, and this year they don't take heavy losses all over the place, but some key players will be gone.
Quarterback Matt Barkley, a four-year starter, is gone. So is center Khaled Holmes and his backup, Abe Markowitz, who filled in all over the O-line. Finally, receiver Robert Woods has declared early for the NFL.
The defense took a more direct hit, specifically in the secondary. Cornerback Nickell Robey declared early for the draft and both safeties—Jawanza Starling and T.J. McDonald—are gone. So is safety reserve Drew McAllister, who has had a few starts to his credit.
Defensive end Wes Horton is also done.
The defense loses four (or five, if you count McAllister) players and the offense loses three, so it's not a dire situation, but the secondary will have to be rebuilt, and that's a unit that got torched at times last season.
7. Stanford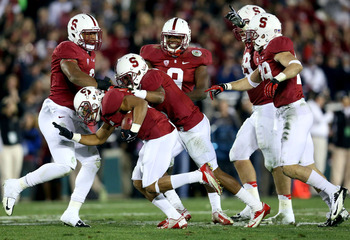 Stephen Dunn/Getty Images
The Stanford Cardinal played incredible defense last year and most of that defense is back—linebacker Chase Thomas, tackle Terrence Stephens and corner Terrence Brown are not. Still, head coach David Shaw has recruited well and there's no reason to believe that the defense won't reload quickly.
The offense is a mixed bag. While Kevin Hogan is back, a big hole exists among the skill positions. Running back Stepfan Taylor will be playing on Sundays. So will tight end Zach Ertz, who, along with tight end Levine Toilolo, declared early for the draft.
The Cardinal also lose center Sam Schwartzstein.
I've got a lot of faith in Shaw in continuing to make Stanford a permanent big boy in the Pac-12, but the offense will feel the loss of the tight ends.
6. Oregon State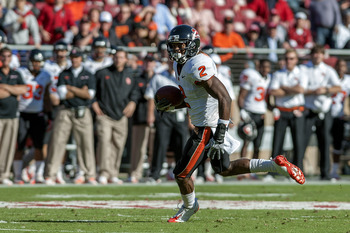 Ed Szczepanski-USA TODAY Sports
Oregon State's defense was pretty stingy last year, but this year it may be a little less potent. The Beavers lost two tackles, a linebacker and two studs in the secondary—cornerback Jordan Poyer and safety Anthony Watkins.
Offensively, the Beavers lose receiver Markus Wheaton, who was one of their two biggest weapons—receiver Brandin Cooks returns, thankfully. Tight end Colby Prince is also gone as well as tackle Colin Kelly.
Overall, the Beavers should reload fine, but the D-line and secondary took some big hits.
5. Arizona State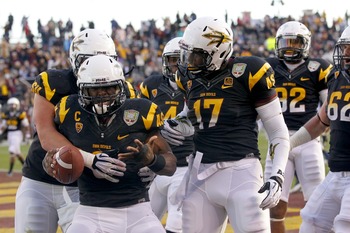 Cary Edmondson-USA TODAY Sports
The Arizona State Sun Devils are in very good shape on the defensive side of the ball. They do lose linebacker Brandon Magee as well as two defensive backs in corner Deveron Carr and Keelan Johnson, but the front seven returns almost entirely intact.
Offensively, it's doesn't look too bad, either. The Sun Devils lose two wide receivers and two linemen.
Head coach Todd Graham has a lot of experienced players to work with in his second year in Tempe.
4. Colorado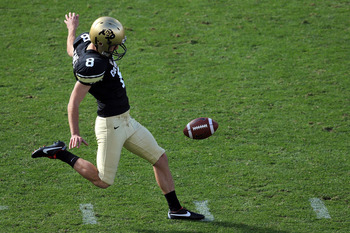 Doug Pensinger/Getty Images
Good news, Buff fans! You've got an experienced team coming back, and that's reason to celebrate.
On the offense, the Buffs lose tackle David Bakhtiari, who declared early for the draft. This is a huge loss, but overall, the offense is intact. It also loses tight end Nick Kasa.
The defense only loses four starters, but two—Doug Rippy and Jon Major—are from the linebacker unit. The Buffaloes also lose defensive tackle Will Pericak and safety Ray Polk.
Yes, Colorado had a horrible season last year, going 1-11, but let's also not forgot that team was returning three starters on offense and six on defense—it was very young. This year there is more experience, which should produce a much better overall result under new head coach Mike MacIntyre.
3. Arizona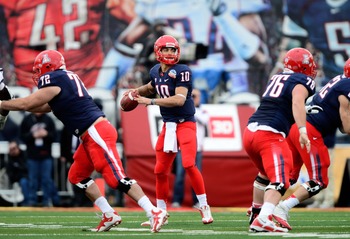 Mark J. Rebilas-USA TODAY Sports
Let's get to the fun part: Not one Wildcat defensive starter is lost for the upcoming season. That's right, Arizona returns all 11 starters. Pretty impressive.
Offensively, the losses are not too bad. The O-line loses a guard and a tackle. Three skill positions are going to have to be reloaded—quarterback Matt Scott, receiver Dan Buckner and fullback Taimi Tutogi are all gone.
Still, a total of five starters lost spells a very exciting season ahead for Arizona.
2. Washington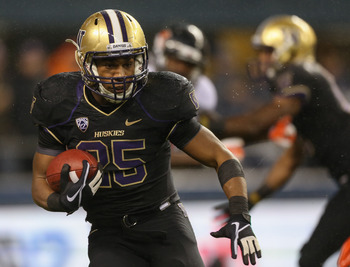 Otto Greule Jr/Getty Images
This was a tough call between Washington and Washington State, but because the Huskies lose two starters from one unit, they fall to No. 2 instead of sitting at No. 1.
The Huskies lose center Drew Schaefer and fullback Jonathan Amosa.
Defensively, they take a bigger hit, but it's still fairly a light casualty list. Cornerback Desmond Trufant is off to the NFL, and he's a good one—this loss hurts Washington most. Defensive end Talia Crichton and safety Justin Glenn are also gone.
Overall, Washington has a slight hiccup going into this season but is stacked with experience and what looks like an incredible recruiting class.
Keep your eyes on these guys.
1. Washington State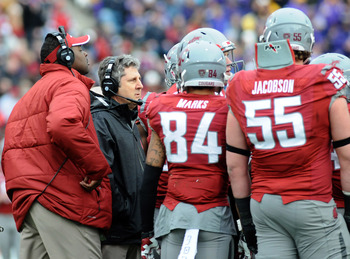 James Snook-USA TODAY Sports
Washington State comes in at No. 1 with the most core units of starters returning.
The Cougars do lose quarterback Jeff Tuel, but Connor Halliday is very experienced and should be able to provide a nice transition for the offense. Receiver Marquess Wilson left the team and declared for the draft, but we're fairly sure head coach Mike Leach won't be crying over his tumultuous departure. The Cougars also lose tackle Wade Jacobson.
On the defense, the Cougs lose linebacker Travis Long and cornerback Daniel Simmons.
Leach's core units remain largely untouched, and this could be the year we see the Cougars bowling—remember, Washington State ended the season on a high, beating Washington 31-28 (OT) in the Apple Cup.
Keep Reading