2013 March Madness Bubble Watch: Latest Odds on Fringe Teams for Week of Jan. 28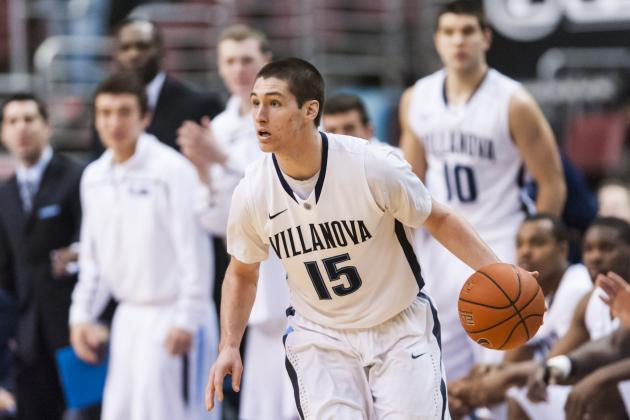 Howard Smith-USA TODAY Sports

If last week didn't get you pumped up for March Madness, I'm not exactly sure what will.
It seemed like every Top 25 team fell victim to an upset (although it's clear at this point that parity is alive and well, and only a few of those losses weren't "true" upsets), and as a result, the hectic outlook for March was shaken up more than a James Bond martini.
Let's take a look at where every team stands as we near the beginning of February.
Note: Conferences are in order of ESPN's power rankings while all RPI figures come from BBState.com.
Begin Slideshow

»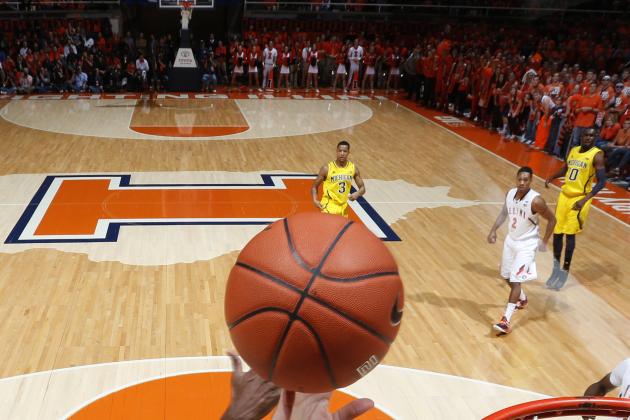 Joe Robbins/Getty Images

Locks
Indiana Hoosiers

Michigan Wolverines
Michigan State Spartans
Ohio State Buckeyes
Comfortable
Minnesota Golden Gophers
Minnesota continues to slip after two road losses to Northwestern and Wisconsin, but considering the Golden Gophers' out-of-conference resume and RPI (No. 11), a 9-9 Big Ten record should be enough to get them into the Big Dance.
Currently, Tubby Smith's team sits at 3-4 in the conference.
Wisconsin Badgers
The Badgers got a much-needed win against Minnesota, and even though their RPI (No. 45) isn't ideal, they are 5-2 in America's top conference and will have several more chances for resume-building victories.
Bubble
Illinois Fighting Illini
Despite losing to Michigan, the Illini still have several top-notch victories on their resume.
Now it's just a matter of getting through the next four games alive (at Michigan State, Wisconsin, Indiana, at Minnesota).
Iowa Hawkeyes
The loss at Purdue—the Boilermakers have an RPI of 107—was something the Hawkeyes can't afford to let happen again.
The Rest (alphabetical order)
Nebraska Cornhuskers
Northwestern Wildcats
Penn State Nittany Lions
Purdue Boilermakers
Nate Shron/Getty Images

Locks
Louisville Cardinals
Syracuse Orange
Comfortable
Cincinnati Bearcats
The Bearcats almost got a massive road win against Syracuse, but the disappointing loss didn't really hurt them. Mick Cronin's squad isn't going anywhere.
Georgetown Hoyas
Now, that was the week the Hoyas were hoping for. Georgetown won at Notre Dame and knocked off Louisville at home to propel itself to 4-3 in the conference and No. 39 in the RPI.
Marquette Golden Eagles
Marquette fought off bats to grab a home win against Providence in its only game of the week. Not many teams can say that.
Bubble
Notre Dame Fighting Irish
The Irish got a sneakily important road win against South Florida (No. 83 RPI). Mike Brey will be hoping that victory gets his team going again after a very slow start in conference play.
Pittsburgh Panthers
Beating Providence and DePaul in the past week isn't exactly Earth-shattering, but the Panthers are gaining momentum with four straight wins.
Now, it's just time for a signature win. They'll get two momentous opportunities for that with Louisville and Syracuse on the slate this week.
Saint John's Red Storm
This extremely young Johnnies team appears to be growing up before our eyes. After another two wins this week (including a road win against Rutgers, a top-60 squad), Steve Lavin's team is now 5-3 in the Big East and has two impressive road victories.
That could prove important, as they have to travel to both Syracuse and Louisville in mid-February.
Rutgers Scarlet Knights
Call this the very, very outside of the bubble. Rutgers still has an RPI of 56, but losses to St. John's (at home) and UConn are the type of games this team needs to win.
Villanova Wildcats
Best week ever?
The Wildcats stormed the court twice after wins over Louisville and Syracuse, and suddenly jump from "The Rest" to the "Bubble." A road win at Notre Dame would push them into "Comfortable" status.
The Rest (alphabetical order)
DePaul Blue Demons
Providence Friars
Seton Hall Pirates
South Florida Bulls
*Connecticut is ineligible for postseason play.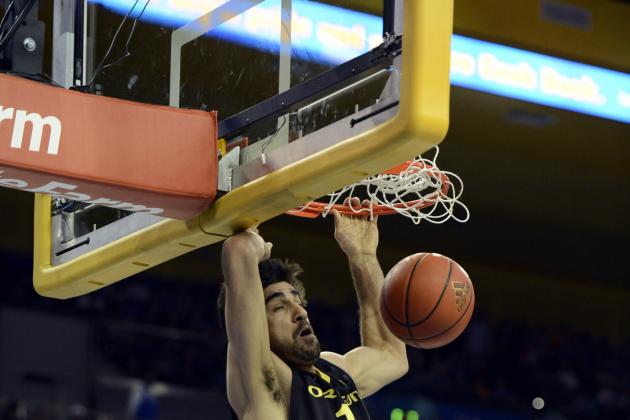 Richard Mackson-USA TODAY Sports

Locks
Arizona Wildcats
Oregon Ducks
Comfortable
Colorado Buffaloes
After a rough start in Pac-12 play, it appears the Buffs have returned to their pre-conference form, as they've won three in a row, including two at home this week against top-100 opponents (Stanford, Cal).
UCLA Bruins
Good luck figuring this team out. The Bruins got a signature road win against Arizona only to be dominated during the weekend by Arizona State.
It should be noted, however, that Travis Wear missed the entirety of that game, and the Bruins aren't the same team without him. (What North Carolina fan ever thought that would be an accurate sentence?)
Bubble
Arizona State Sun Devils
The Sun Devils are quickly rising up bracketology boards. After dominating UCLA, which gives them two marquee Pac-12 wins, they are now No. 53 in the RPI and a legitimate challenger in the Pac-12.
Now, lets see Herb Sendek's squad do it on the road against the reeling Washington schools.
Washington Huskies
We'll keep the Huskies here for another week, but consider them safely on the very outer edge of the bubble.
The Dawgs lost at Oregon in a sloppy, but hard-fought game. It was what you can call an encouraging loss. However, they also lost at Oregon State, giving them two defeats to two of the conference's worst teams.
The Rest (alphabetical order)
California Golden Bears
Oregon State Beavers
Stanford Cardinal
USC Trojans
Utah Utes
Washington State Cougars
Joel Auerbach/Getty Images

Locks
Duke Blue Devils
Miami Hurricanes
NC State Wolfpack
Comfortable
No one
Bubble
Maryland Terrapins
The Terps missed out on a shot for a crucial win at Duke. They now have just three games left against top-100 opponents (at Florida State, Duke and North Carolina) before the conference tournament.
North Carolina Tar Heels
Roy Williams' squad is still leaning on a home win against UNLV (No. 17 RPI), but other than that, its best win is against fellow-bubbler Maryland.
Still, an RPI of 35 has the Tar Heels sticking around despite the rest of their resume being fairly underwhelming.
The Rest (alphabetical order)
Boston College Eagles
Clemson Tigers
Florida State Seminoles
Georgia Tech Yellow Jackets
Virginia Cavaliers
Virginia Tech Hokies
Wake Forest Demon Deacons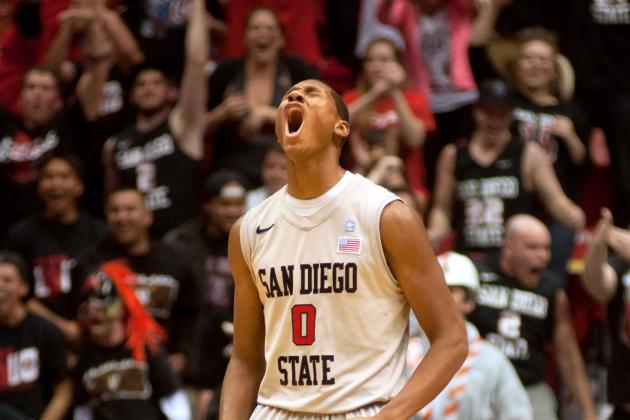 Kent Horner/Getty Images

Locks
New Mexico Lobos
San Diego State Aztecs
UNLV Rebels
Comfortable
Colorado State Rams
A win at New Mexico likely would have vaulted the Rams to a "lock," but they came up just short. They are still in great shape, though.
Bubble
Air Force Falcons
Go ahead and add yet another team to the MWC mix.
The Falcons got an important road win against Wyoming, and are now 3-2 in the conference—which includes a narrow home loss against UNLV—and are rising in the RPI (No. 74).
Boise State Broncos
The Broncos have some nice wins at Creighton and Wyoming, but after a 1-1 week, they've now lost three of four, with the only win being a seven-point victory at home against Fresno State (No. 159 RPI).
Fortunately, four of their next five games are against top-30 RPI teams, giving them a good chance to reverse things quickly.
Wyoming Cowboys
The loss at UNLV wasn't so bad, but the home loss to Air Force was certainly something the Cowboys could have gone without.
They are seriously missing Luke Martinez.
The Rest (alphabetical order)
Nevada Wolf Pack
Fresno State Bulldogs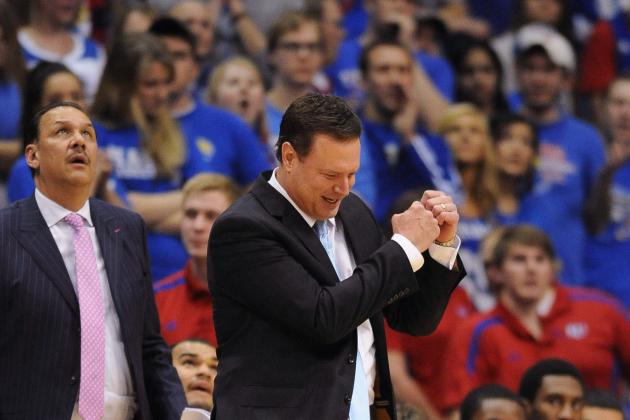 Denny Medley-USA TODAY Sports

Locks
Kansas Jayhawks
Comfortable
Baylor Bears
A 107-38 win against Hardin-Simmons was apparently exactly what the Bears needed. That blowout win led to a 2-0 week for the Bears, who look like the favorite to finish second in the conference.
Kansas State Wildcats
Calling KSU a "lock" may have been premature on my part, as they responded with losses at home against Kansas and at Iowa State.
The Wildcats still boast several nice wins and zero losses outside the top 50.
Oklahoma Sooners
The Sooners lost at Kansas, but that's something most teams will say. They still have an impressive RPI of 21, though, and look safe for now.
Bubble
Iowa State Cyclones
It was a Dr. Jekyl and Mr. Hyde-type week for the Cyclones. They lost at Texas Tech (No. 203 RPI) only to come back and knock off Kansas State at home.
This team is fun to watch, but it must avoid losses like the one against the Red Raiders.
Oklahoma State Cowboys
The Cowboys lost at Baylor, but responded with a 14-point win at home against West Virgina.
The upcoming week (Iowa State, at Kansas) will be a crucial time for this talented team to start putting together full 40-minute performances.
The Rest (alphabetical order)
West Virginia Mountaineers
Texas Longhorns
TCU Horned Frogs
Texas Tech Red Raiders
Marvin Gentry-USA TODAY Sports

Locks
Florida Gators (That picture, by the way, represents just how far Florida is above the rest of the SEC)
Comfortable
Missouri Tigers
It wasn't exactly pretty, but the Tigers rebounded from the Florida debacle with a win over South Carolina before blowing out Vanderbilt.
Ole Miss Rebels
Mississippi may have barely survived a road battle with Auburn (and I'm not exactly sure how Marshall Henderson made it out of the building after this), but a win's a win and the Rebels are still undefeated in the SEC.
Let's see what Henderson—the most entertaining player in college basketball—and the Rebels have against Kentucky and Florida, now.
Bubble
Kentucky Wildcats
The resume keeps getting worse for the Wildcats, as they dropped a road matchup with Alabama this week.
A home win against LSU didn't exactly counteract that, either.
Alabama Crimson Tide
The Tide got a nice win at home against Kentucky, but followed it up with a one-point road loss against Tennessee. It's starting to look like this team will have to find a way to upset Florida or Mississippi in early March.
The Rest (alphabetical order)
Arkansas Razorbacks
Auburn Tigers
Georgia Bulldogs
LSU Tigers
Mississippi State Bulldogs
South Carolina Gamecocks
Texas A&M Aggies
Tennessee Volunteers
Vanderbilt Commodores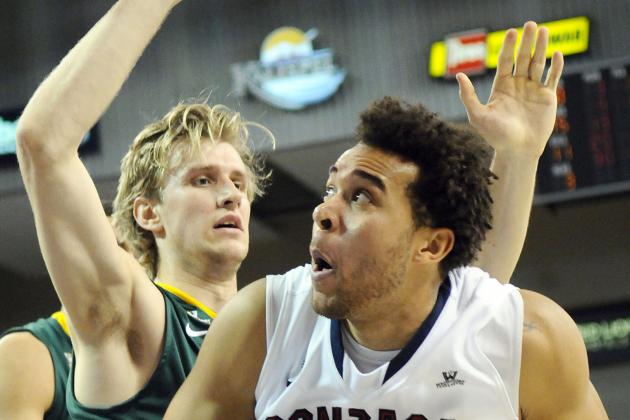 James Snook-USA TODAY Sports

Locks
Gonzaga Bulldogs
Butler Bulldogs
Wichita State Shockers
Comfortable
Creighton Bluejays
A three-point loss at Wichita State wasn't anything to worry about for the Bluejays, but a follow-up defeat at Drake (No. 156 in the RPI) was ugly.
VCU Rams
The "HAVOC" defense has suddenly stopped working, and Shaka Smart's Rams have dropped two in a row and fallen to No. 40 in the RPI.
Belmont Bruins
With an impressive 11-point road win over Eastern Kentucky, who are the Bruins' main competition (along with Murray State) in the OVC, Belmont shot up to No. 14 in the RPI.
There aren't many resume-building matchups left on the schedule, but you have to believe Belmont is safe.
Bubble (In order of RPI)
La Salle Explorers (Looking a lot more comfortable after its win against VCU, however)
Middle Tennessee Blue Raiders
Southern Mississippi Golden Eagles
Louisiana Tech Bulldogs
Bucknell Bison
Indiana State Sycamores
BYU Cougars
Memphis Tigers
Massachusetts Minutemen
Temple Owls
Saint Mary's Gaels
Charlotte 49ers
North Dakota State Bison
Akron Zips
South Dakota State Jackrabbits
Saint Louis Billikens
Xavier Musketeers