Syracuse Basketball: Benefits and Drawbacks to a 3-Guard Lineup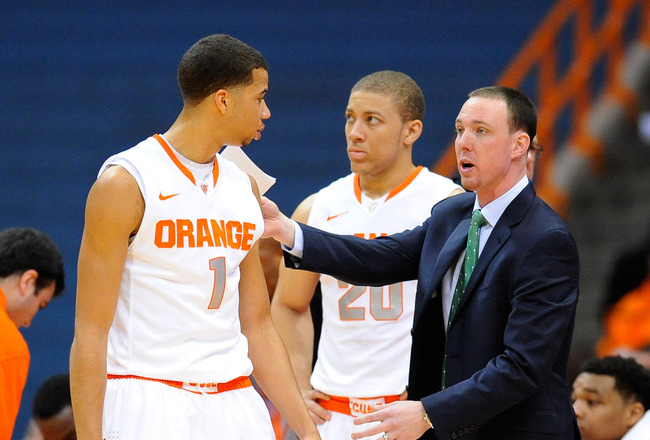 McNamarra is the third guard the Orange needs
Rich Barnes-USA TODAY Sports
In an effort to improve their offense, Syracuse has briefly used a three-guard lineup in its last two games. Jim Boeheim has put Michael Carter-Williams, Brandon Triche and Trevor Cooney on the court at the same time, giving Syracuse a very small look.
Why?
The Orange have struggled to put the ball in the basket. They missed their first six shots against Villanova, falling behind 10-0. This was in a game Villanova tied with 2.2 seconds left in regulation and ultimately won by two points in overtime.
Overall, the Orange are shooting 45.1 percent from the field, which ranks No. 66 out of the 345 Division I teams. That's their best ranking when it comes to shooting.
Syracuse makes 32.7 percent of their threes which ranks No. 212 and 66.5 percent of their free throws, good for a ranking of No. 249.
They need to see the ball go in the basket much more often.
In case it's been a while since you've been in school, let's remember the definition of insanity: doing the same thing over and over again and expecting different results.
Since neither Albert Einstein or Jim Boeheim are idiots, there must be a logical reason to discontinue the same old, same old.
It turns out there are a few reasons for such action. But let's not forget what Sir Isaac Newton said about that: for every action there is an equal and opposite reaction.
In other words, there are benefits and drawbacks to using a three-guard lineup. Let's explore them and decide if the positive outweighs the negative
Benefit: Better Shooting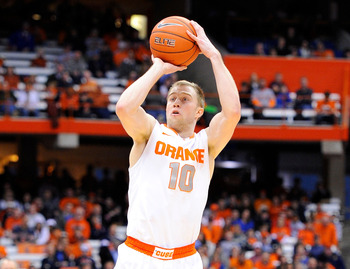 Trevor Cooney
Rich Barnes-USA TODAY Sports
By putting Trevor Cooney in the game instead of one of the forwards, generally Jerami Grant or Rakeem Christmas, the Orange have an extra shooter to make more shots.
Even a great shooter struggles without at least another good shooter on the court to take some of the defensive focus away from him. The more options available on the outside, the easier it will be for any of those options to get a good look.
The problem for the Orange is that none of the three guards are really making many shots.
Brandon Triche is making the most, hitting 44.8 percent of his field goal attempts, including 34.1 percent of his three-point shots. Michael Carter-Williams is hitting 36.5 percent overall and 28 percent of his threes.
That leaves Cooney as the third option, the guy who is supposed to make the difference. While he's had a few nice moments, all in all he has struggled mightily to put the ball in the basket. He's making 33.7 percent of his attempts, including 29.2 percent of his three-point shots.
It may be a good theory to put a third shooter out there, but so far for the Orange it hasn't worked in reality.
Drawback: Rebounding Suffers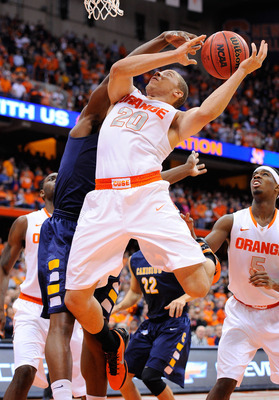 Tough for Brandon Inside
Rich Barnes-USA TODAY Sports
I mentioned the Orange's struggles to score in the half-court offense and that playing three guards can open things and help them get more points.
However, another way to ease the problems of poor half-court scoring is to get out in transition and lessen the need to play half-court offense. Run-outs resulting in layups and dunks tremendously help your shooting percentage .
The three-guard lineup hurts Syracuse on the defensive boards. It forces Brandon Triche to play in the back on defense and while he is a great rebounding 6'4" shooting guard, he's not so good as a 6'4" small forward on the back line.
Fewer rebounds lead to more second chances for the offense and fewer run-outs for the defense.
Benefit: Opens Up the Inside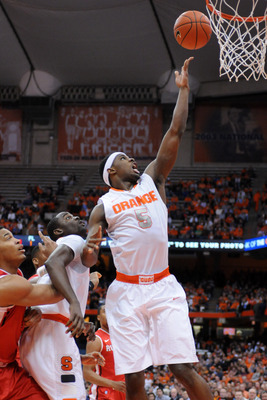 CJ Fair
USA TODAY Sports
Three good outside shooters on the court at one time should force the defense further out on the perimeter, thus opening up the inside and giving Syracuse's forwards more room to operate.
The Orange do need to get more points inside in their half-court offense. With three shooters perched along the three-point line, the defense has to extend, and that gives CJ Fair, Rakeem Christmas and Jerami Grant more room to work inside.
Spreading out like that could also help DaJuan Coleman who has been struggling to score inside. With more room he should find it a bit easier to finish.
Carter-Williams and Triche are terrific passers and able to make solid entry passes to the forwards, especially with the defense stretched.
Both are also very good penetrators and would have more room to operate to the lane with three great options available outside. Both can finish at the rim, find a forward inside or kick it out to one of the remaining two shooters on the perimeter. All are good options for the Orange.
Drawback: Smaller Lineup Gives Up More Points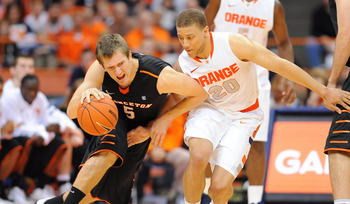 Triche gives up Inches and Points
Rich Barnes-USA TODAY Sports
You win basketball games by scoring more points than the other team. I know, I can't believe MENSA didn't want me either.
The three-guard lineup is designed to help out the offense with an extra shooter. But what happens when the other team has the ball with the Orange's three guards in the game at the same time?
One of them, in this case Brandon Triche, has to play as a forward on the back line of the 2-3 zone. Triche is one of the more intelligent players in college basketball, but even he had a brain freeze briefly against Villanova when he set up at the top of the zone on a Wildcat possession and Carter-Williams and Cooney were already there.
A few years ago, Andy Rautins spent some time his freshman year as the small forward in the back of the zone. Andy has an inch on Brandon but was about 25 pounds lighter that season. It was painful watching him get pushed around under the boards. He wasn't very effective.
Triche certainly has the strength to battle under the boards, but at 6'4" he is clearly undersized. Syracuse fans certainly remember 6'8" Hakim Warrick closing on Mike Lee and blocking his three-point attempt which sealed the 2003 National Championship for the Orange.
Would Brandon have even distracted him enough to throw off the shot?
Wow, for us older fans that brings back a horrible flashback to 1987's championship game when Brandon's 6'5" uncle, Howard Triche, just missed Keith Smart's shot.
I think you see the point.
Conclusion: Go Big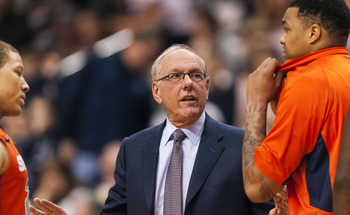 Boeheim needs Triche outside and Coleman inside
Howard Smith-USA TODAY Sports
What's the verdict then on the three-guard offense?
It may be a good concept but the execution appears to be lacking as Cooney is just not hitting enough shots. The half-court offense isn't getting the help it needs and the overall offense is suffering because the drop in defensive rebounding with Triche underneath hurts the transition game.
The three-guard lineup also seems to hurt the defense a bit as the back line is just too small.
We only saw the small lineup briefly against Villanova. Here's thinking it will continue to be a very rare sight.
Follow me on Twitter @sprtsramblngman
Keep Reading

Syracuse Basketball: Like this team?