The 5 Likeliest Toronto Maple Leafs to Be Traded in 2013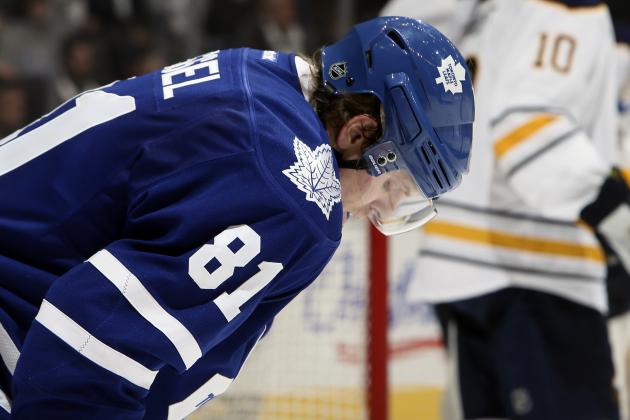 Abelimages/Getty Images

The Toronto Maple leafs are off to a somewhat rocky start this season with a 2-3 record after five games. The start is ominous in the fact that the Leafs are 0-2 on home ice and have blown two-goal leads in the last two outings.
Trade speculation is always rampant in Toronto and this roster needs upgrades in many key areas if the Leafs hope to take a step forward this year. The talk has already started regarding players that the Leafs should move, with Phil Kessel being the first man mentioned (by Damien Cox of the Toronto Star) as a candidate to move before the end of the season.
Considering factors such as contract status, roster strengths and weaknesses and who the team could get in return, here are the five Maple Leafs likeliest to be traded this season.
Begin Slideshow

»
The Leafs brought Liles in before last season to give them a puck-moving defenseman, and he played very well before a concussion derailed his season in December.
Despite signing a four-year, $15.5 million contract extension last January, Liles has not looked as strong since his return last March and is trying to get back to the very top of his game. He has three assists in his first five games and is plus-one, but the emergence of younger players Jake Gardiner and Mike Kostka has made Liles somewhat expendable.
A contending team looking for a mobile, puck-moving defenseman or power-play help may look to a veteran like Liles to fill those needs, and the Leafs' new management team would probably oblige.
The Leafs are clearly closer to rebuilding than they are to contending, so contending teams will be after veterans who can bolster their chances closer to the deadline.
A 27-year-old veteran of seven full seasons, MacArthur fits the bill—this is compounded by the fact that he was a Ron Wilson favorite and there are signs that he may not be able to hold his place on the Leafs' top two lines under Randy Carlyle.
MacArthur established himself as a top-six forward two seasons ago, and if he gets shuffled around and loses a regular spot there, he won't be a happy camper.
This could force the Leafs to move him and make room for another younger player.
A Hap Holmes Memorial Award and Calder Cup final run last season say that Ben Scrivens has already accomplished much of what he can in the AHL. It is time for him to make a permanent step up to the National Hockey League as a backup, but I'm not sure he fits in the Leafs' long- or short-term plans.
James Reimer is signed to a reasonable contract for the next two years, and if the Leafs bring in experienced help for him, Scrivens will be the odd man out.
The Leafs also have Jussi Rynnas pegged as the goalie with the biggest upside, so he will get a lot of games for the Marlies even if Scrivens gets sent down.
Scrivens could be an insurance throw-in for any team that does a goalie deal with the Leafs.
A close look at his development over the last two seasons supports the notion that Kulemin has regressed offensively in his career and the Leafs may be willing to move him to make room for James van Riemsdyk or Nazem Kadri on the top two lines.
Kulemin has nice chemistry with Mikhail Grabovski, but needs to produce better numbers if he is going to continue to get top-six minutes on the Leafs' roster.
His play has been solid this season and he is a strong defensive player. His status as a trade chip is likelier due to the fact that he is one of few Leafs that other teams covet.
The script seems to be playing out quickly on Kessel's time in Toronto and it could be a one-and-done contract for the scoring winger.
He has played well, but failed to produce this season and he looks like a frustrated player who is cracking under the pressure cooker of the Toronto market. He has not emerged as a leader the group can follow, and there is no time or room for an isolated, reluctant star in Toronto's current rebuild.
There's no doubt that Kessel is a good NHL scorer who would help a team full of established, strong leaders, and his current contract and cap hit are reasonable. He is not a leader or franchise building block, though, and I question his commitment with his choice to not play games during the lockout.
If his production and attitude remain questionable, the time is now for the Leafs to cut ties with this Brian Burke mistake while they still can.
Dwight Wakabayashi is a contributor to Bleacher Report NHL Toronto Maple Leafs and a Featured Columnist with Bleacher Report UFC.
Follow him on Twitter at wakafightermma