New York Mets' Most Overhyped Prospects Heading into Spring Training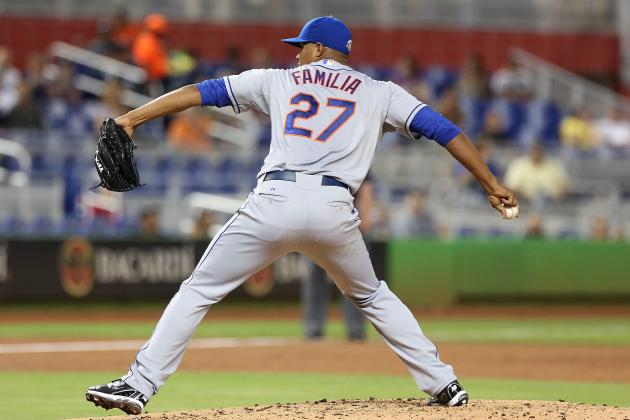 Marc Serota/Getty Images

Thanks to two frugal moves that were meticulously orchestrated by general manager Sandy Alderson, the New York Mets have a formidable farm system again. Now the organization will play the waiting game.
The two aforementioned moves, of course, are the acquisitions of Zach Wheeler from the San Francisco Giants for Carlos Beltran and the blockbuster deal that brought in Travis d'Arnaud and Noah Sydnergaard from the Toronto Blue Jays for R.A. Dickey.
Mets fans are all too familiar with the dreadful feeling of the organization putting together a crop of elite prospects only to see them fall through the cracks of the system (see: Generation K). Yet in a prime example of failing to learn from past mistakes, Mets fans, beat writers and other baseball pundits are hyping up this new era of prospects just as they did with Jason Isringhausen, Bill Puslipher and Paul Wilson in 1995.
Overhyping inexperienced players before they have established themselves can contribute to the downfall of a promising prospect, and it isn't just the names Wheeler, d'Arnaud and Syndergaard that have been on the tip of people's tongues.
Here you can find a look into the Mets farm system as the following list is made up of the most overhyped prospects in the organization heading into Spring Training.
Begin Slideshow

»
Nick Laham/Getty Images

Travis d'Arnaud will get his fair shake at establishing himself as the primary catcher of the New York Mets, and he certainly has the skill set to do just that, but it is disconcerting to invest so much in a backstop that had two bulging discs in his back in 2010 and tore his PCL last season.
The No. 17 overall prospect in baseball prior to the 2012 season, according to Baseball America, hit a robust .333 with 16 home runs and 52 RBI in a relatively small sample size of 67 games before injuring his knee.
Now remember, overhyped is not the same as overrated. The time to judge d'Arnaud and the value he brings to the Mets is a few years away, but he has some issues that need to be rectified—most notably his eye at the plate—if he is going to become the player that the Mets front office needs him to become.
Catchers are betrayed by their bodies earlier and more often than other position players. Sandy Alderson and the Mets talent evaluators don't appear inclined to handle this situation like the Washington Nationals did with Bryce Harper and find another place for d'Arnaud to play.
For now, it's fingers crossed.
Marc Serota/Getty Images

Matt den Dekker's name has been ping-ponging around New York Mets coverage at an increased rate lately because the team's current outfield is a vast wasteland of nothingness that will undoubtedly be the Achilles' heel of the team.
He has been mentioned by many as a viable roster option primarily due to his reputation of being an above-average fielder capable of patrolling cavernous Citi Field, but the truth is that he is a 25-year-old prospect who hit .220 in 317 Triple-A plate appearances in 2012.
It would be stingy not to mention that den Dekker did hit .340 in Double-A before being promoted, but given his age and mediocre set of skills, it's hard to look at the Fort Lauderdale native as a serious piece this upcoming season.
His most glaring problem is that he frequently looks lost at the plate. Last season with Buffalo and Binghamton, den Dekker whiffed a combined 154 times and walked just 34. That's not an impressive statistic from a guy with moderate power.
Will the Mets have den Dekker on the Opening Day roster? If they do, many will expect den Dekker to bring much more to the table than he is actually capable of providing.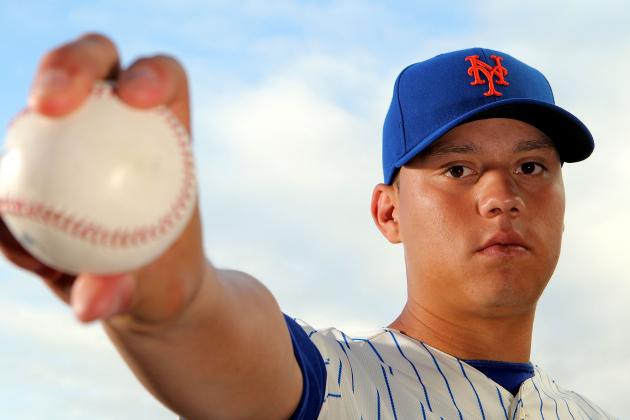 Marc Serota/Getty Images

Wilmer Flores has the bat to play an intricate role for a future New York Mets team, but it is still hard to determine what position he will call home later in his career. Mets fans have been hearing about Flores for what seems like years, but he's just 21 years old with a 6'3" frame that is likely to fill out substantially down the road.
Where does he figure in with this current lineup? MetsBlog noted that he will be playing second base and third base in the minors this season. The latter is obviously locked up at the major league level for the rest of the decade, and Terry Collins seems to like what Daniel Murphy does with his bat in the top half of the batting order.
A move to first would make sense, but that spot is blocked by Ike Davis who was the team's top offensive threat last season after his futile first two months. That leaves the two corner outfield positions as possible landing points,
Flores' bat could be a difference maker in the middle of the Mets lineup, but for now it seems like fans are talking about a player without a position.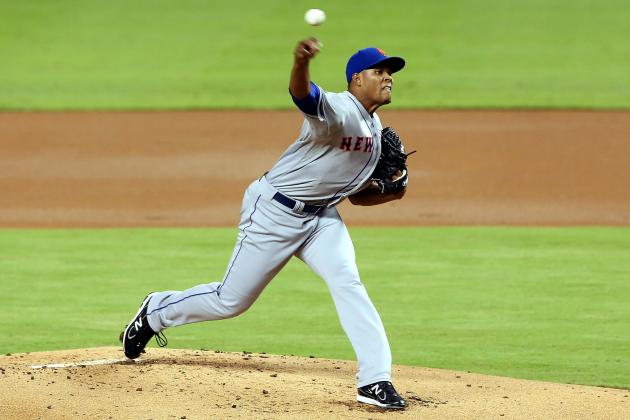 Marc Serota/Getty Images

The New York Mets have been touting Jeurys Familia as a crucial fixture in a future pitching corps since he was signed as an amateur free agent in 2007 when he was just 18 years old. At times he has shown that the praise is well-warranted, but in 2012, Familia proved why there are legitimate concerns when it comes to his value.
It looked like Familia took a step in the right direction during the 2011 season when it came to his command on the bump when he posted a 3.07 SO/BB ratio. However, he regressed in 2012 as that number took a large dip to 1.75.
At 6'4", 230 pounds, he has the build to become a mid-rotation starter or a back-end reliever, but he won't be doing much for this organization until he figures out how to consistently get the ball over the plate.
His major league sample size is too small to judge, as he recorded just 12.1 innings pitched as a September call-up, so the team won't know what he's working with until Spring Training is complete.