Prospects Left off 40-Man Rosters Who Are Closest to Making an Impact in MLB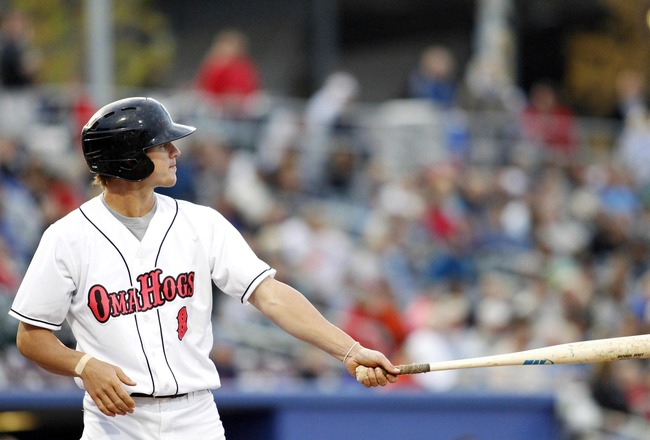 Unlike the Royals, the Rays seem prepared to #FreeWilMyers
Matt Ryerson-USA TODAY Sports
Whether or not a top prospect is on their team's 40-man roster has nothing to do with how they're viewed by the organization. Typically, it's a product of the player's proximity to the major leagues. If they are still housed in the lower minors, it simply doesn't make sense to allocate a roster spot for someone still several years away.
As a prospect ascends his organization's farm system, he is often added to the roster in anticipation of a call-up. Also, players are commonly included on the 40-man roster as a means of protection from the Rule 5 draft—a process that usually takes place in mid-to-late November.
Having said all that, there are numerous highly regarded prospects yet to be added to the 40-man roster who are likely to spend a majority of the 2013 season in the major leagues.
Here's a look at five of those players.
Nick Franklin, SS/2B, Seattle Mariners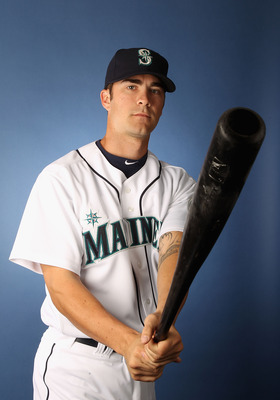 Christian Petersen/Getty Images
After a subpar 2011 season that was shortened due to injury, Franklin had an impressive bounce-back campaign last year between Double-A Jackson and Triple-A Tacoma.
Overall, the switch-hitting middle infielder batted .278/.347/.453 with 52 extra-base hits (11 home runs) in 121 games.
As he continues to near a promotion to the major leagues, Franklin will likely continue to see time at both middle infield positions. However, given his range and arm strength, he has a brighter future at second base, though the organization may try to keep him at shortstop for as long as possible, given Dustin Ackley's presence in the major leagues.
Travis d'Arnaud, C, New York Mets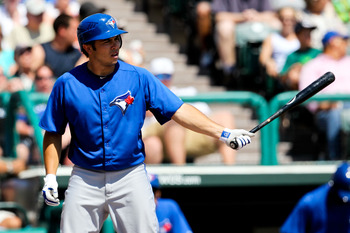 Daniel Shirey-USA TODAY Sports
Baseball's top catching prospect, d'Arnaud headlined the return to the Mets in exchange for Cy Young winner R.A. Dickey.
Last year at Triple-A Las Vegas, the 23-year-old batted .333/.380/.595 with 16 home runs in 67 games, but he missed most of the season after sustaining a knee injury.
In the wake of the trade, d'Arnaud is the Mets' catcher of the future. However, even though he's nearly ready to contribute in the major leagues, the organization will likely assign him to Triple-A to open the 2013 season, where he will work directly with right-hander Zack Wheeler as they both await a big-league call-up.
Jedd Gyorko, 2B/3B, San Diego Padres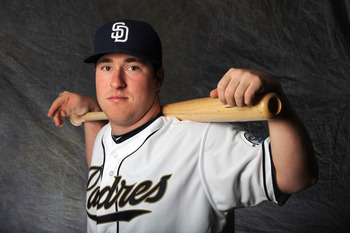 Rich Pilling/Getty Images
Despite posting a .786 OPS in 34 games at Double-A San Antonio to open the 2012 season, Gyorko received a quick promotion to Triple-A Tucson. Even though he saw playing time at a new position (second base), the 24-year-old's bat didn't suffer, as he batted .328/.380/.588 with 48 extra-base hits (24 home runs) in 92 games.
With Chase Headley entrenched at third base for the time being, Gyorko's clearest path to playing time is at the keystone. The deciding factor is whether the organization views his glove as big-league ready.
Oscar Taveras, OF, St. Louis Cardinals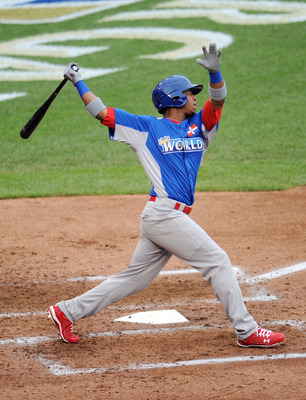 Peter G. Aiken-USA TODAY Sports
The best pure hitter in the minor leagues, Taveras has excelled at every level and shows no signs of slowing down.
As a 20-year-old last season, the outfielder batted .321/.380/.572 with 67 extra-base hits (23 home runs) and 56/42 K/BB in 124 games at Double-A Springfield.
Taveras is dangerously close to being big-league-ready. His bat is seemingly advanced enough to make the jump from Double-A to the major leagues. However, he's blocked at both corner spots by Matt Holliday and Carlos Beltran, respectively, so expect the outfielder to open the year at Triple-A, where he has the potential to torch Pacific Coast League pitching.
Wil Myers, OF, Tampa Bay Rays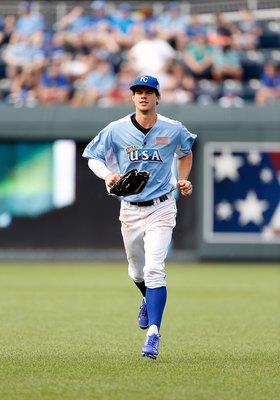 Jamie Squire/Getty Images
Myers enjoyed a monster campaign last season, batting .314/.387/.600 with 37 home runs in 134 games between Double-A Northwest Arkansas and Triple-A Omaha.
Despite ranking toward the top of every major offensive category, Myers was traded—along with three other prospects—to the Tampa Bay Rays in exchange for right-handers James Shields and Wade Davis.
Even if he has a tremendous showing during the spring training, Myers will likely open the 2013 season at Triple-A Durham. However, don't expect him to be there long, as Myers will likely be hitting in the middle of the Rays' order by early June.
Keep Reading