Setting Early Odds on the Offseason's Alex Smith Sweepstakes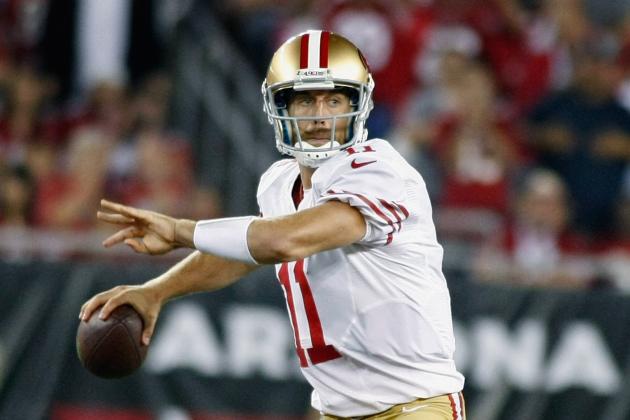 Ralph Freso/Getty Images

San Francisco 49ers quarterback Alex Smith will reportedly seek his release before the start of free agency, and there's no doubt quarterback-needy teams will line up to sign him.
Per Pro Football Talk's Mike Florio:
Look for Alex Smith to seek his release from the 49ers before free agency wp.me/p14QSB-74U2

— ProFootballTalk (@ProFootballTalk) January 28, 2013
Smith isn't going to attract the same kind of attention Peyton Manning did last year. But given his success as a game manager, putting together a record of 19-5-1 the past couple of seasons and becoming one of the most accurate passers in the league, he'll certainly be in demand.
Which teams are most likely to make a play on the much-beleaguered passer?
Begin Slideshow

»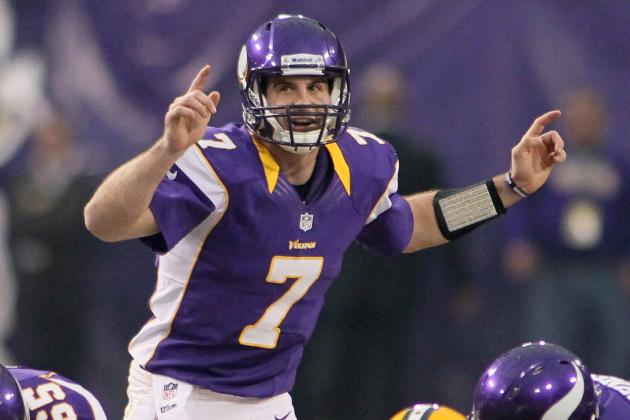 Andy King/Getty Images

After watching Kyle Rudolph go bananas at the Pro Bowl, it's not out of the realm of possibility that the Minnesota Vikings might be pondering (bad pun, I know) some competition for Christian Ponder.
Given the success Alex Smith had getting Vernon Davis the ball and the fact that the Vikings' offense is run through Adrian Peterson, Smith seems like a perfect fit for Minnesota.
It will be shocking to see the Vikings give up on Ponder so soon. After all, he did lead his team to a playoff berth in 2012. If provided with another weapon on the outside to complement Percy Harvin, and with another year under his belt, Ponder may prove to be better than most give him credit for.
Odds: 20-1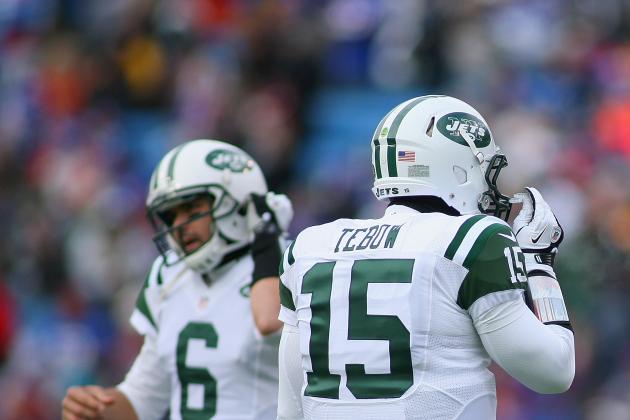 Rick Stewart/Getty Images

It's no secret that Mark Sanchez has regressed the past couple of seasons after a promising start to his career.
And given the trials Alex Smith has endured throughout his seven-year career, it would seem logical that he could be a tremendous help to Sanchez and the New York Jets.
Smith could step in and start, allowing Sanchez an opportunity to get back to basics and learn from a true professional.
Unfortunately, the Jets are strapped for cash, and the team has desperate needs across the board. Sanchez's $12.8 million cap hit has practically locked the Jets into starting him next year, and it'll be a big surprise if Smith were to end up wearing Gang Green in 2013.
Odds: 20-1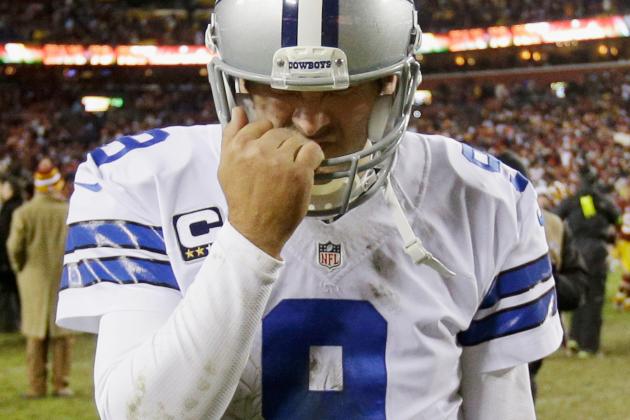 Rob Carr/Getty Images

Tony Romo is one of the most talented passers in the NFL, but his propensity for self-destruction at the worst possible times has hurt the Dallas Cowboys.
Given the fact that Alex Smith wants to go somewhere where he has a legitimate chance to start, this scenario isn't very likely. But we've seen other veterans like Jon Kitna and Kyle Orton be lured to Dallas after they were ousted by younger quarterbacks, and it wouldn't shock me to see Smith in a Cowboys uniform in 2013.
At the least, bringing in Smith would put more pressure on Romo to sharpen up his game.
Odds: 1:20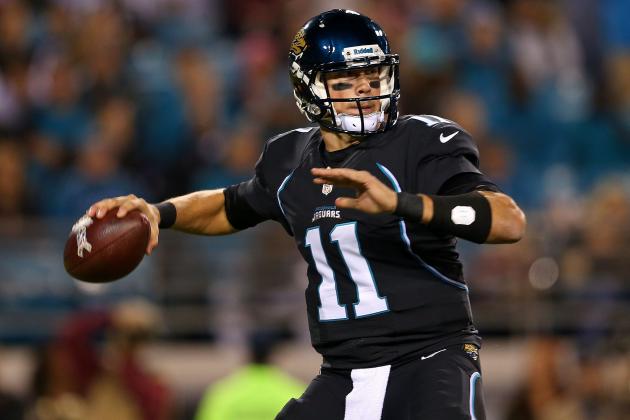 Mike Ehrmann/Getty Images

Neither Blaine Gabbert nor Chad Henne is suited to be a starting quarterback in the NFL at this time—not as a winning starting quarterback anyways.
Both players are horribly inconsistent, and an upgrade at the quarterback position would serve the Jacksonville Jaguars well.
Unfortunately for the Jags, I just don't see Alex Smith being interested in playing for another losing team. If the 49ers do indeed grant Smith the release he's reportedly seeking, it'll be his choice where he lands, and I will be stunned if he chooses Jacksonville.
Odds: 20-1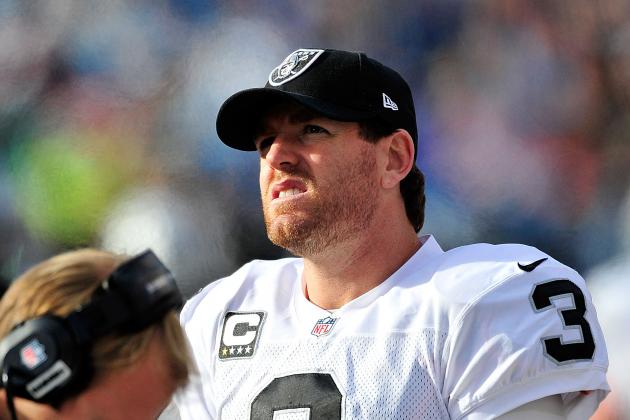 Grant Halverson/Getty Images

Alex Smith is the opposite of Carson Palmer—he doesn't throw a pretty deep ball, but he rarely turns the ball over.
While the Oakland Raiders might be willing to give Terrelle Pryor a chance to compete for the starting gig in 2013, the team needs a backup plan in case Pryor can't cut the mustard.
Alex Smith has developed roots in the Bay Area during his tenure in San Francisco, and landing in Oakland wouldn't turn his life upside down.
The biggest deterrent would be the Raiders' lack of talent at the wide receiver position and the team's lack of production in the running game.
Odds: 10-1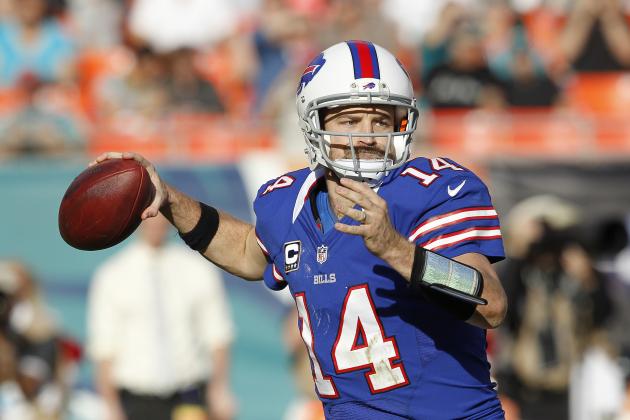 Joel Auerbach/Getty Images

The Buffalo Bills are in the same boat as the New York Jets, having recently extended Ryan Fitzpatrick's contract (not cheaply, either).
Unlike the Jets though, the Bills are not far from being competing for the AFC East.
With the pieces the team brought in on the defensive side of the ball last year, it's not inconceivable to believe Buffalo will feature a top 10 defense in 2013.
C.J. Spiller will certainly be heavily featured in Doug Marrone's new offense, which will improve on the Bills' explosive running attack.
The Buffalo offensive line has been among the best in the NFL at not allowing sacks the past couple of years, and the Bills seem like a nice spot for Alex Smith to land.
The only problem with this scenario is that Marrone will likely look to the draft for a young signal-caller, rather than to free agency.
Odds: 10-1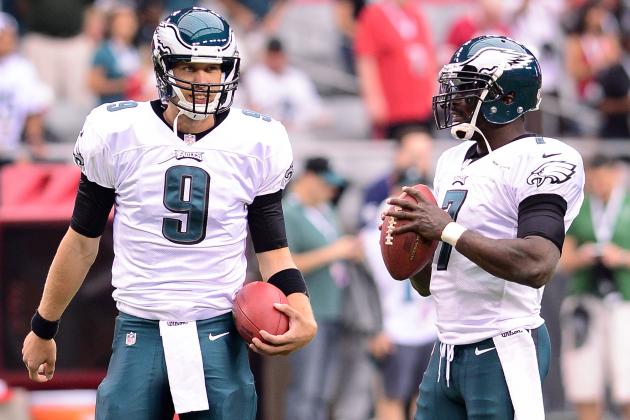 Jennifer Stewart-USA TODAY Sports

Chip Kelly has a lot on his mind these days.
His first priority will be figuring out who his starting quarterback be in 2013.
Michael Vick is likely going to be gone, thanks to his bloated $15.5 million base salary.
Nick Foles has shown promise, but I find it highly unlikely the Philadelphia Eagles will head into the 2013 season with him as the starter and no viable backup plan in place.
The Eagles will have a strong running game, and we know the team has incredibly talented pass-catchers on the perimeter. The biggest problem facing Philadelphia is its defense, and unless the offense is scoring a lot of points next season, the Eagles will likely lose more games than they'll win.
Alex Smith isn't a high-scoring quarterback, but he might serve as a good stopgap passer until Kelly finds his triggerman.
Odds: 10-1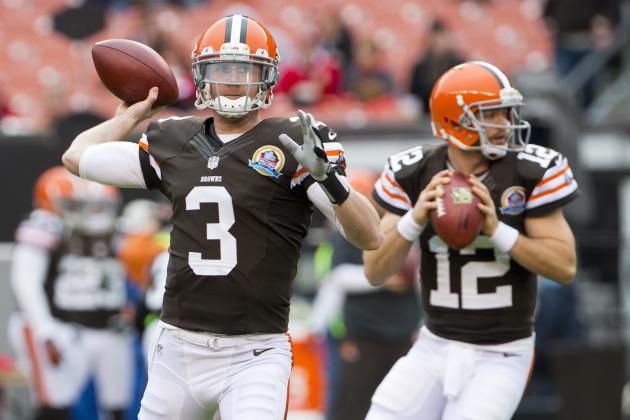 Jason Miller/Getty Images

How crazy is it that Brandon Weeden is older than Alex Smith?
Smith, at 28, already has seven years of NFL experience, and though he doesn't possess as much arm strength as Weeden, in every other conceivable way, he's Weeden's superior.
Colt McCoy is a scrappy quarterback who does well in a quick-hitting passing game, but the sad truth is that he's never going to be anything more than a backup in the NFL.
Norv Turner has already worked with Smith, during his season with the San Francisco 49ers, and it seems like the duo would have an easy time of picking up where they left off.
Given the way the Cleveland Browns are constructed—strong offensive line, excellent young running back, burgeoning receivers and a hard-hitting defense—the transition wouldn't be difficult for Smith, who would feel right at home.
Odds: 20-3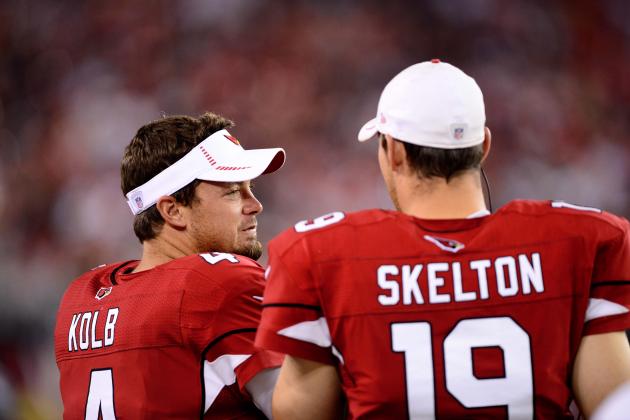 Mark J. Rebilas-USA TODAY Sports

The Arizona Cardinals need to improve their offensive line and running game, first and foremost.
Kevin Kolb wasn't horrible to begin the year, and though he's been horribly inconsistent throughout his brief tenure in Arizona, there's a chance he might be able to play well enough in 2013 to give Bruce Arians a decent chance at winning a few games.
That said, I'd take Alex Smith over Kolb 10 times out of 10.
Given the success Andrew Luck had under Arians last year with the Indianapolis Colts—without the benefit of a strong rushing attack and solid offensive line, much like the Cardinals will feature in 2013—it seems fair to assume Smith would succeed in much the same way.
With Smith's competitive nature and his feelings about getting passed over in favor of Colin Kaepernick, he may be interested in facing his former team twice a year too.
Odds: 20-3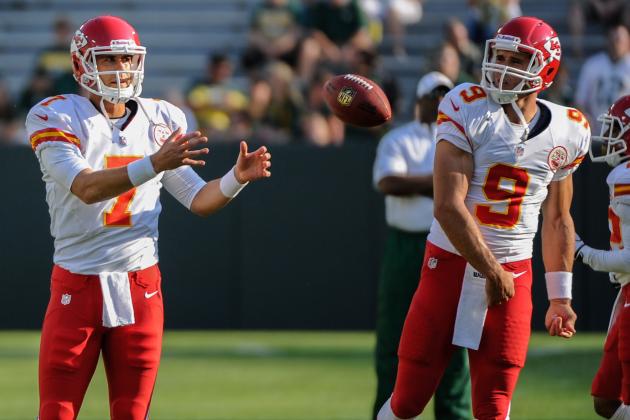 Benny Sieu-USA TODAY Sports

Of all the NFL teams looking for a quarterback in 2013, the Kansas City Chiefs seem like the best fit for Alex Smith.
Andy Reid is rooted in the West Coast offense, and Smith has plenty of experience in running the offense, thanks to his time with Norv Turner and Jim Harbaugh.
The Chiefs feature one of the NFL's most explosive running backs in Jamaal Charles, and if Dwayne Bowe returns, Smith would have a legitimate No. 1 receiver to throw to, along with a good young tight end in Tony Moeaki.
Kansas City's offensive line needs a bit of work, but as long as Reid makes good use of Charles in the running game, Smith would have the necessary time to make plays with his arm on play-action passes and short timing routes.
The Chiefs also have the pieces in place to feature a dominant defense, and Smith would be the perfect triggerman for an offense that won't need to score 30 points a game to win.
Odds: 5-1