6 Things Swansea City Are Doing Right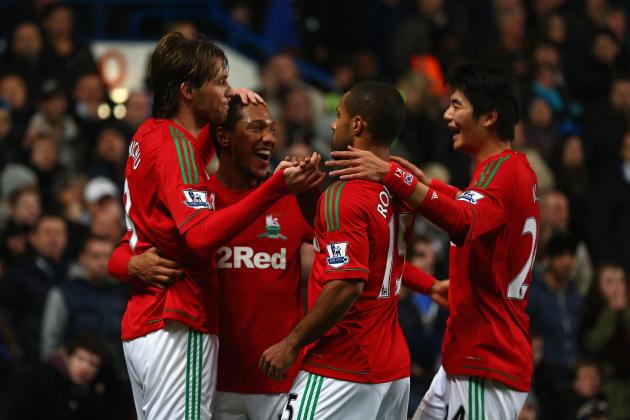 Clive Rose/Getty Images

English football has had a bit of a crazy week, hasn't it?
A League Two team making it to a major final. A player sent off for kicking a ball-boy. A non-league team dumping a Premier League team out of the FA Cup (on their own patch nonetheless!).
These things rarely happen. Some have never happened before and some will hopefully (ball-boy-gate) never happen again.
But in amongst all the excitement of the past week or so, important issues have been overlooked. The most significant of which is that Swansea City have made it to the League Cup Final.
Michael Laudrup's side put out European champions Chelsea over a two-leg semi-final without conceding a goal in either encounter. That is an impressive feat.
Swansea City are certainly a club on the rise. And for all the things that have happened for the first time this week, you can bet that this will not be the last time we see Swansea City achieving great things.
Here are a few things that Swansea City have got right that have enabled the club to progress so rapidly:
Begin Slideshow

»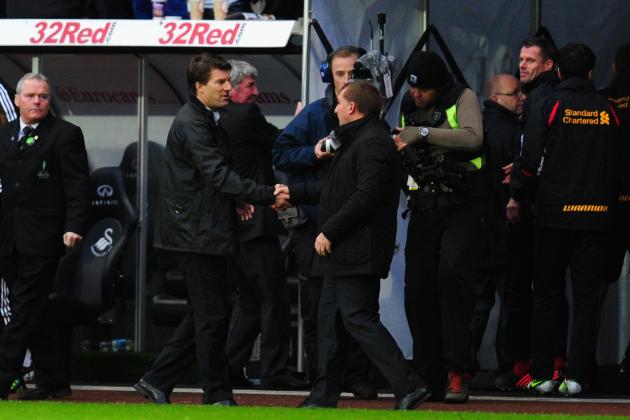 Stu Forster/Getty Images
Laudrup greets former manager Rodgers earlier this season
The appointment of Michael Laudrup always looked as though it could well be a shrewd one. Often when clubs lose a successful manager they will try and go in a different direction, looking to move forward with a blank canvas.
But the Welsh outfit felt there was no need for a drastic change. Chairman Huw Jenkins has always looked to appoint young, progressive managers. So in that respect, Laudrup certainly ticks all the boxes.
Swansea have brought in a manager who knows the technical side of the game inside out, which has enabled him to build on the principles already established by predecessors Brendan Rodgers and Roberto Martinez.
He also has experience of managing a club of a similar standing to Swansea in Spain, with a great deal of success.
At Getafe, Laudrup done a similar job to that which he has done at Swansea. He galvanised a team that was tipped for relegation at the start of the campaign, eventually taking them to a Copa Del Rey final and an eighth-place finish in La Liga.
With Swansea on the brink of League Cup success you would have to say that Getafe's success under the Dane does not look to be a coincidence.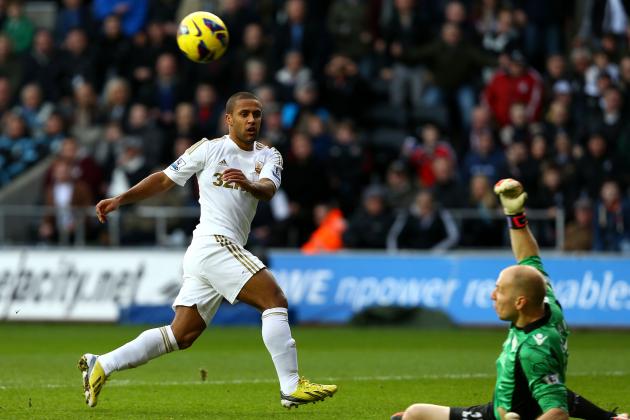 Jan Kruger/Getty Images

Sometimes, when a new manager comes in, a lot of the "deadwood" from his predecessor's reign will be cleared out, making way for the new man's signings. But to be fair to Laudrup, he seems to have given all of the current playing staff a chance to show their worth.
Long-standing Swansea man Leon Britton for example, has been given a more important role to play in the side following the departure of Joe Allen. He certainly hasn't disappointed.
Wayne Routledge is another player who is excelling under the Dane's stewardship. Having been around so many different clubs and finding himself on the fringes of Brendan Rodgers' first XI last season, he has been a key part of Laudrup's success.
He has earned a reputation as a bit of a journeyman, but Routledge is probably playing on a more regular basis and at the highest standard since his Crystal Palace days.
Laudrup has also shown that he is more than willing to give the young players a chance too. Swansea academy product Ben Davies was called upon to fill the spot of Neil Taylor who has a long-term injury.
The young man has took his chance, nailing down a starting place and improving with every game. He is going to be tough to shift from the side if he keeps up his current form.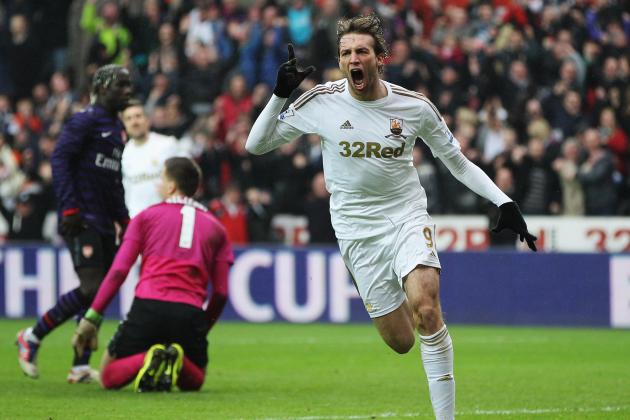 Ben Hoskins/Getty Images

It is inevitable that if a mid-table side has a couple of stand out players, then they will more than likely be snapped up by the perceived bigger clubs.
To that end, after impressive seasons Scott Sinclair and Joe Allen were both snapped up by Manchester City and Liverpool respectively. For clubs still relatively new to the Premier League like Swansea City, this usually presents a testing period.
Can the club continue to perform without their main men? Can suitable replacements be drafted in? In Swansea's case, the answer has been a resounding "yes".
Everyone knows about £2.5 million Michu, who looks to be a remarkable bit of business, but Swansea have made some astute signings all over the park.
One player who has not received the plaudits he perhaps deserves is centre-back Chico Flores. This is a player whose ability on the ball is matched by his defensive solidarity.
With Steven Caulker going back to Tottenham this campaign, a replacement was imperative and Chico looks to be an even better foil for the ever-present Ashley Williams.
It is no suprise therefore that the Swansea defence has already shut out Chelsea (twice), Arsenal, Liverpool and Everton already this season.
Johnathon De Guzman is another who has been steadily becoming acquainted with the English game. His best game for the club came recently, in a 3-1 victory against Stoke. De Guzman bagged two of the goals.
Michael Laudrup's knowledge of the Spanish market is certainly coming to the fore.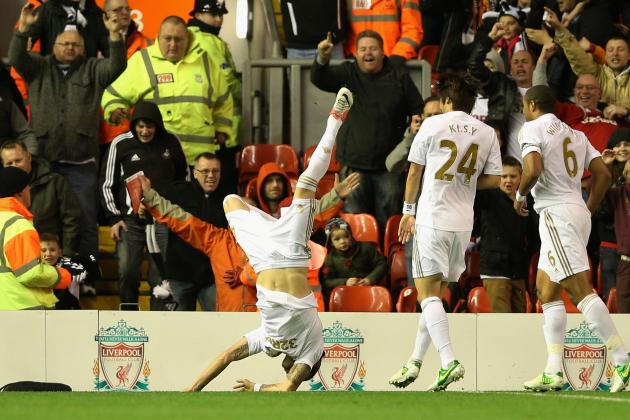 Clive Brunskill/Getty Images
Chico Flores celebrates a goal at Anfield
Despite all of their recent success, the club have done a good job of keeping their feet placed firmly on the ground.
You get the impression that this mentality is engrained in everyone within the club. The players, staff and chairman all highlight the importance of not getting carried away.
After all, it is not so long ago that Swansea were languishing in the lower reaches of the Football League.
How often have we seen sides get promoted to the Premier League and splash out on players that in reality, they might not be able to afford? A lot of these teams are relegated and have never come back since.
From a business point of view, the club is fantastically in keeping with this type of grounded, rational attitude.
They spend within their means, they sell players when it is wise and ticket prices (a touchy subject in some quarters of English football) remain reasonable for both home and away supporters. Do you ever see the Liberty Stadium empty?
A lot of credit for this has to go to chairman Huw Jenkins, who former manager Paulo Sousa recently cited as a key man in Swansea's rise to prominence.
As a result the club are making money, announcing in October that they achieved a £14.6 million profit for the year.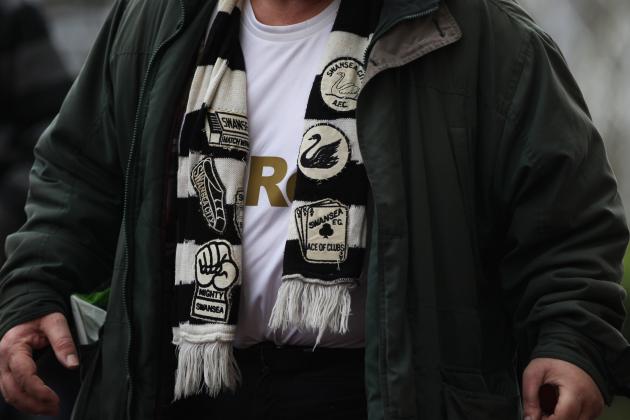 Ben Hoskins/Getty Images

When Swansea nearly dropped out of the Football League ten years ago, the Swansea City Supporters Society Ltd was set up in order to maintain the interest of the supporters within the club.
In truth, it was mainly set up to ensure that there would still be a club, such was the level of turmoil at the time.
Ten years on, the same trust still has a 20 percent holding in the Welsh club, as well as an elected member who sits on the board of directors. All Swansea season ticket holders are permitted to join the trust upon purchase of their ticket.
In an age where big-wigs and suits make the majority of decisions in regards to the running Premier League clubs, it is refreshing to see a set-up where the opinions of the fans are seriously taken on board.
Whilst it is common across Europe, there is not enough cases in the Premier League where fans have a say in all day-to-day club issues.
Again, Swansea are setting another trend that others should follow.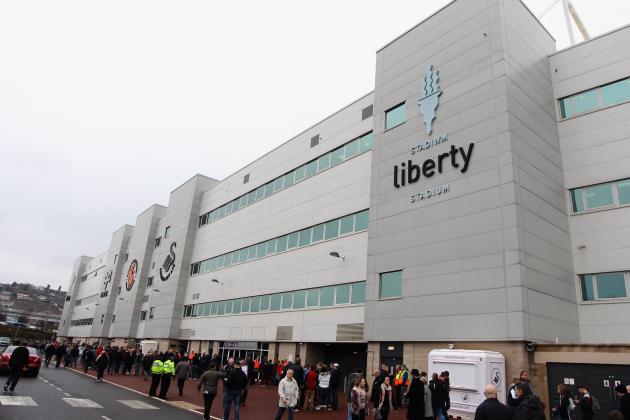 Ben Hoskins/Getty Images

Finally, the club do not seem content with their current successes and are daring to cast a glance towards bigger and better things in the future.
There are already plans in place to expand the Liberty Stadium, as the Swansea fan base will undoubtedly grow in accordance with the burgeoning reputation of the club.
Whilst the clubs hierarchy remain aware that they might not immediately be able to fill a 35,000-seater stadium, they have other goals that they are looking to achieve through this expansion. Once again they are looking ahead, with Phil Sumbler, the chairman of Swansea City Supporters' Trust noting the importance of getting the next generation of Swansea fans through the turnstiles:
"For games that don't quite sell out, it would give the club a great opportunity to look at local schools and appeal to a younger generation."
For those young Swansea fanatics, the future is certainly a promising one.
Follow me on Twitter @MattJFootball