Scouting Report on Each Red Sox Pitcher, Catcher Heading into Spring Training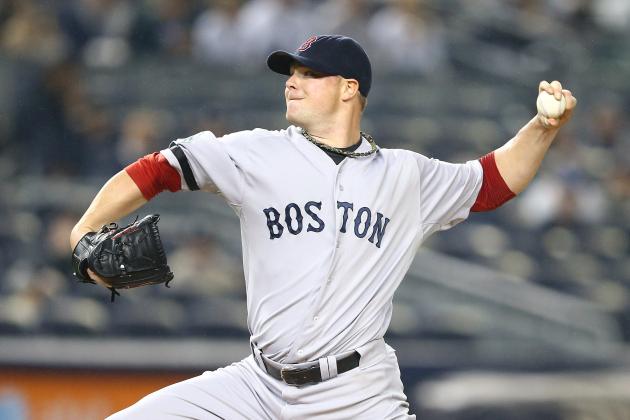 Al Bello/Getty Images
"Ace" Jon Lester is just one of many Sox pitchers looking to improve their performance in 2013.
With pitchers and catchers reporting to Spring Training 2013 on February 10, the Boston Red Sox are about ready to begin a new chapter in their organization's history. After the last two seasons ended in disaster, the multitude of new faces will be a welcome sight for fans and players alike.
The Sox still have a lot of question marks, but one thing that can't be questioned is the team's depth at the battery positions. In two weeks, an abundance of MLB-tested catchers and pitchers will report to Fort Myers as they vie for a select few spots on the final roster.
Let's take a look at each legitimate contender for spots on the pitching staff and behind the plate.
Begin Slideshow

»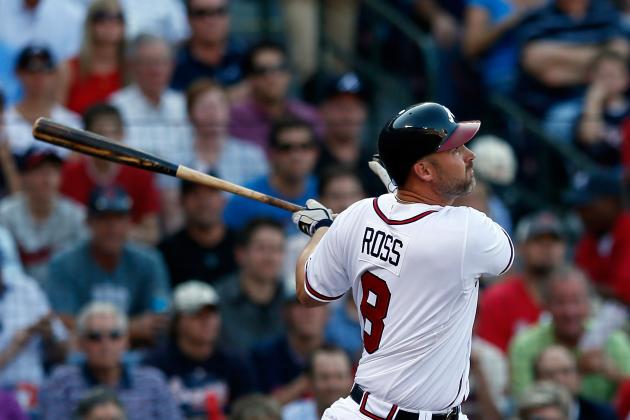 Kevin C. Cox/Getty Images

2012 Stats (with Braves): 62 G, .256 AVG., 9 HR, 23 RBI, .770 OPS
What the Sox's intentions are with their other two incumbent catchers remains unclear. Ross' role on the 2013 roster is clearly defined, however.
The veteran backstop is expected to play a similar role as he did with Atlanta and will likely put up a similar offensive output as well.
Ross is in Boston to mentor the younger catchers, bring an experienced voice to the pitching staff and help stabilize the clubhouse.
He should be able to fill exactly that role, but nothing more.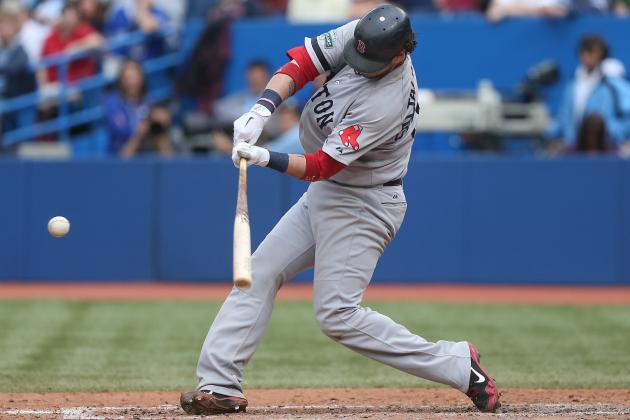 Tom Szczerbowski/Getty Images

2012 Stats: 121 G, .222 AVG., 25 HR, 59 RBI, .742 OPS
Presumably the starter at catcher, Saltalamacchia enjoyed a solid season at the plate in 2012. He posted career highs in hits, home runs, RBI and OPS despite hitting for a low average and striking out far too often (139).
For 2013, Salty will undoubtedly look to repeat his power numbers of last season, while lowering the strikeout totals that at times made him a liability at the plate.
As long as he isn't traded, the Sox can expect better numbers across the board from their regular backstop.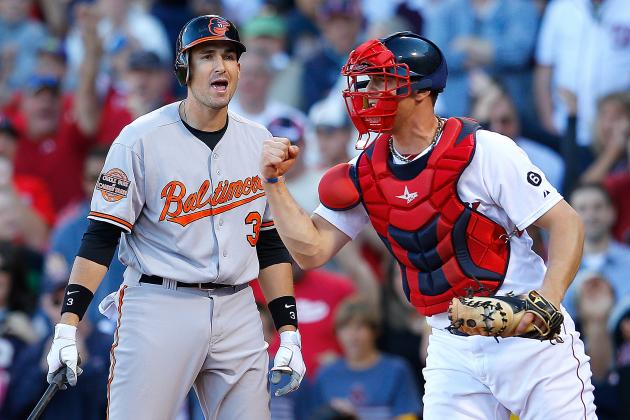 Jim Rogash/Getty Images

2012 Stats: 46 G, .157 AVG., 2 HR, 12 RBI, .459 OPS
Lavarnway will go to camp with the big league club, but given his performance from 2012 and the signing of David Ross, it is no sure thing he'll be on the MLB roster when the season begins.
While the entire 2012 season was a disappointment, Lavarnway's offensive regression was a particularly large letdown, as the Sox clearly wanted him to grab the starting role.
He is at a critical crossroads in his development. If Lavarnway doesn't have a good spring, he faces another season languishing down in Pawtucket.
However, if he forces the issue with a good performance in Ft. Myers, it would free up the Sox to move Saltalamacchia to fill holes in other areas of the roster.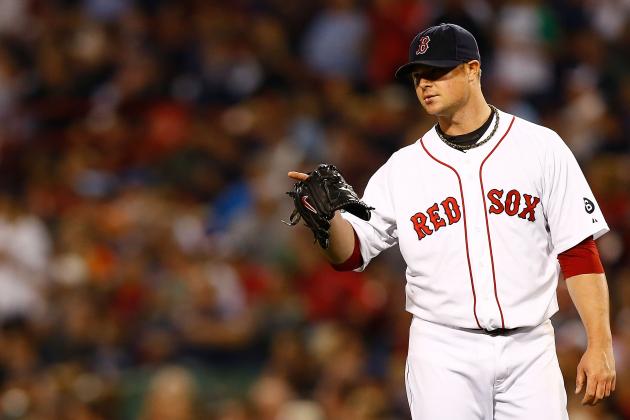 Jared Wickerham/Getty Images

2012 Stats: 33 GS, 205.1 IP, 9-14, 4.82 ERA, 1.38 WHIP
For the purported "ace" of the Red Sox rotation, Jon Lester was supremely disappointing in 2012. His ERA and WHIP were his worst for a full season, and his demeanor on the mound also took a surprisingly downward turn, as he glowered and yelled at umpires after seemingly every close call.
Fortunately, in 2013 he will likely return to form, as the return of John Farrell will help bring a level of accountability back to the pitching staff that was entirely absent under former manager Bobby Valentine.
Lester will benefit greatly from this newfound stability; he had the best seasons of his career when Farrell was his pitching coach. Look for a bounce-back season from the lefty in 2013.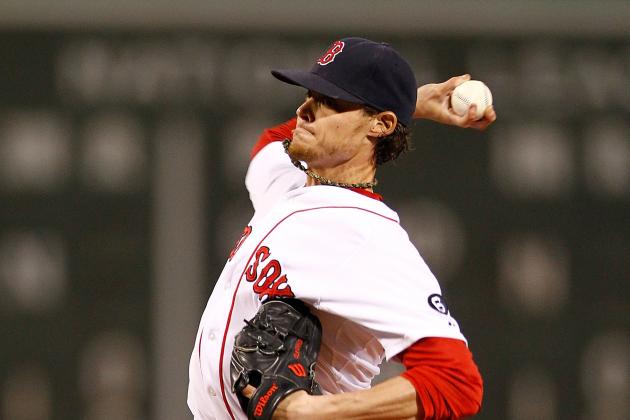 Jared Wickerham/Getty Images

2012 Stats: 29 GS, 189.1 IP, 11-8, 4.56 ERA, 1.33 WHIP
Buchholz bounced back after an injury-plagued 2011, posting strong numbers in the season's middle four months. If you removed his April and September numbers, Buchholz's ERA would have been over a full run lower, and he would have had the same number of wins.
If you excuse his poor start to 2012, the right-hander certainly looks like he'll have another strong season atop the Sox rotation in 2013. The key, as always, is if he can stay healthy.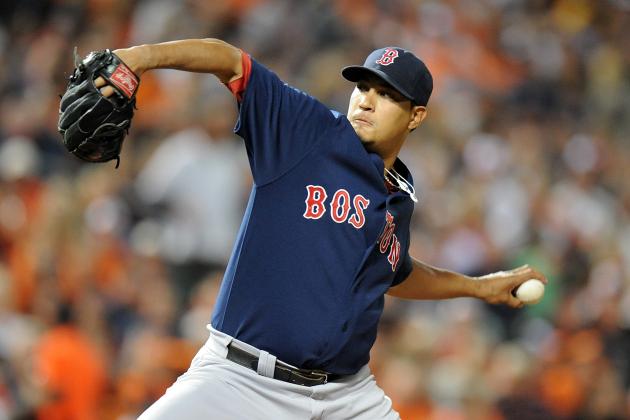 Greg Fiume/Getty Images

2012 Stats: 29 GS, 161.0 IP, 11-10, 4.86 ERA, 1.45 WHIP
It was an excellent first effort for Doubront last year, who, despite some inconsistency late in the year, ended up with a solid enough stat line for someone who was, functionally, a rookie. The 161.0 innings he threw were a career high, and he was the most consistent pitcher on the staff for the first half of the season.
This will be a fascinating season for Doubront, as he now will need to prove he can be successful for a full year.
If he can put together a full season like his first half last year, the Sox will suddenly have tremendous depth in the rotation.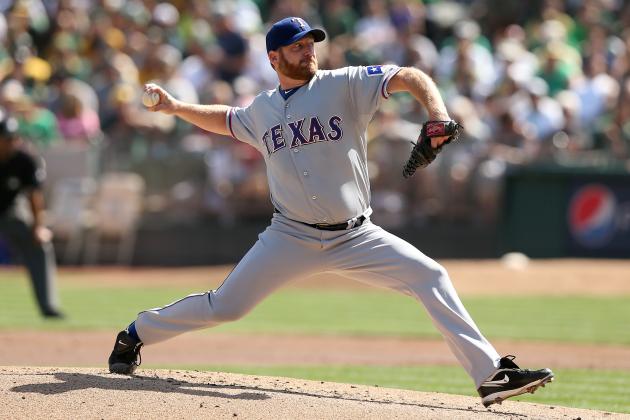 Ezra Shaw/Getty Images

2012 Stats (with Cubs and Rangers): 28 GS, 173.0 IP, 12-8, 3.38 ERA, 1.20 WHIP
Dempster was the National League's ERA leader when he was shipped from the Cubs to the Rangers at last year's trade deadline, and he initially struggled in his first foray with the American League.
However, his decent finish (6-2, 4.01 ERA in his last nine starts) served as an encouraging sign that the Canadian-born righty can thrive in the AL.
He'll be put to the test in the high-powered AL East, and Sox fans really don't know what to expect from him. It seems like anything is on the table, really. If he pitches great, no one would be shocked, while it wouldn't be surprising if he pitches poorly, either.
For what it's worth, his lifetime record in interleague play (11-15, 4.63 ERA) seems to indicate that he will be a decent enough No. 4 or 5 starter.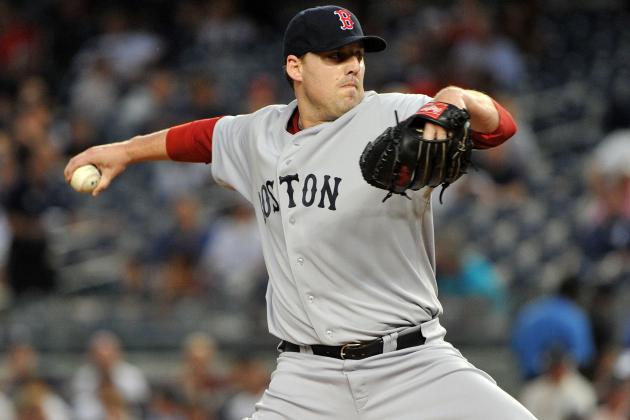 Christopher Pasatieri/Getty Images

2011 Stats (injured all of 2012): 28 GS, 160.0 IP, 12-12, 6.41 ERA, 1.62 WHIP
Lackey is a wild card in the Sox rotation, a man who once was good but has been such an epic failure in Boston that any halfway serviceable performance on the mound will be seen as a huge win.
His 2011 performance was positively heinous, but it is worth noting that he was clearly injured for much of that season given that he had Tommy John surgery immediately afterwards.
Lackey is reportedly in "great shape," according to new manager John Farrell (via The Boston Globe's Nick Cafardo). That could be the first sign pointing towards a year of reclamation for the once-proud right-hander.
With expectations this low, the pressure will finally be off.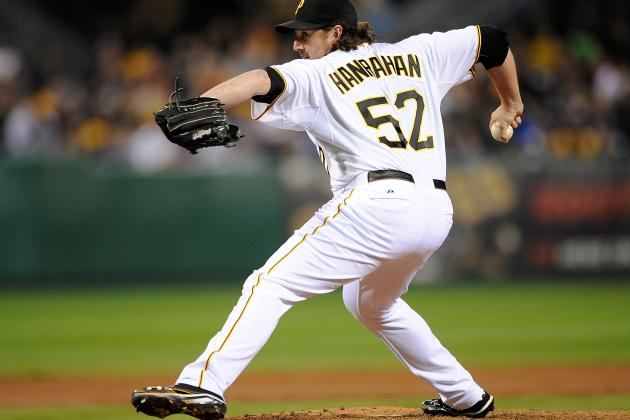 Joe Sargent/Getty Images

2012 Stats (with Pirates): 63 G, 36 Saves, 5-2, 2.72 ERA, 1.27 WHIP
It is always hard to assess how relievers will fare when changing teams and leagues (just ask Mark Melancon or Andrew Bailey), but Hanrahan seems to have the makeup to be successful in a Sox uniform. Having been an All-Star in each of the last two seasons, he clearly has the track record of success the Sox need.
There is a major difference, though, between the bright lights of Boston and the relative anonymity in which players live in Pittsburgh. Some players thrive on it (Jonathan Papelbon), while others wilt (Melancon, and many others).
How Hanrahan handles the spotlight from a mental perspective will make all the difference as to whether or not he is successful as the team's closer.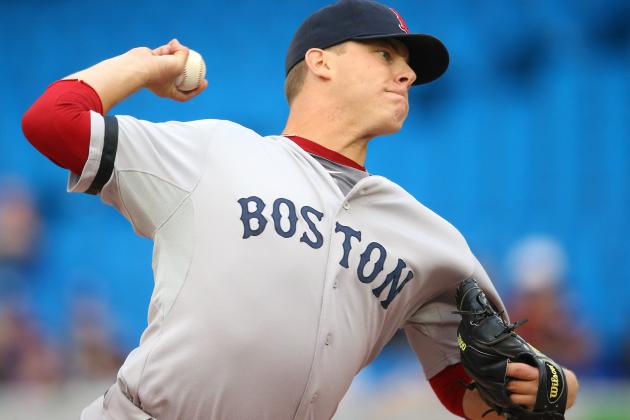 Tom Szczerbowski/Getty Images

2012 Stats: 19 G, 6 Saves, 1-1, 7.04 ERA, 1.89 WHIP
2012 was not a good year for Andrew Bailey.
Immediately upon joining his new team, he injured himself in a freak accident during spring training. After finally returning late in the season, he was horrible on the mound. Then, this offseason, he lost his closer's job without ever having a chance to defend it.
The good news is that 2013 can't get much worse. Bailey was an All-Star in two of his first three seasons—the guy knows how to pitch.
As long as he can stay healthy, it is reasonable to think he will either become an elite setup man for the Sox or could serve as valuable trade bait for another team.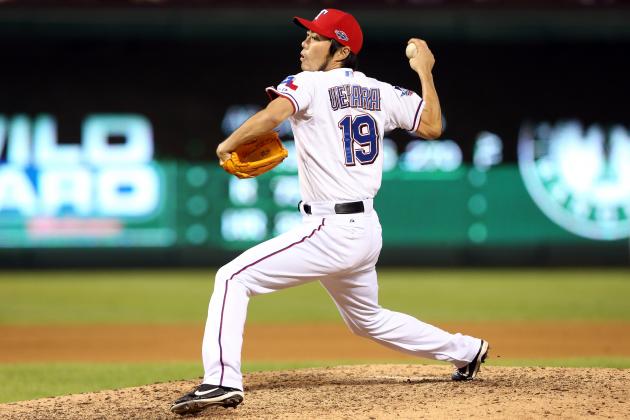 Ronald Martinez/Getty Images

2012 Stats (with Rangers): 37 G, 36.0 IP, 0-0, 1.75 ERA, 0.64 WHIP
Ever since Uehara converted from starter to reliever, he has been practically unhittable.
The 37-year-old Japanese right-hander has compiled a 2.36 career ERA in 145 appearances out of the bullpen, and the Sox are hoping he can be just as successful again this year.
Signed to a one-year deal, Uehara is a relatively low-risk signing. He also brings exceptional control to the mound, having walked only three hitters all season in 2012.
He will be a valuable asset in the seventh and eighth innings.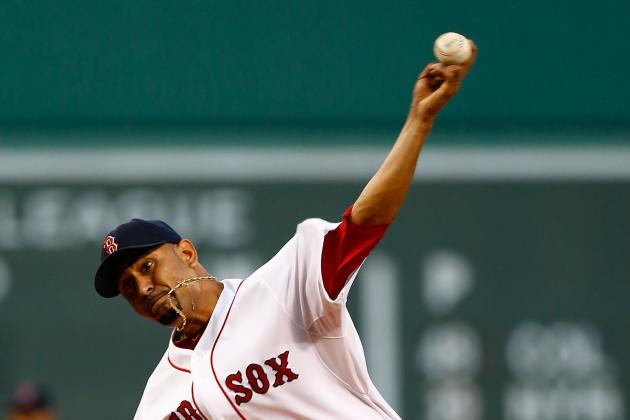 Jared Wickerham/Getty Images

2012 Stats: 37 G (9 GS), 76.1 IP, 3-4, 3.77 ERA, 1.23 WHIP
Morales was arguably the Red Sox's most valuable pitcher last season, working in pretty much every conceivable role. He started nine games and worked in both long and short relief situations.
This season, he will likely be used as the long man unless one of the starters goes down with an injury.
Morales is just 27 years old, so he is, in fact, likely still developing. Considering how good he looked at times last year, the Sox have a hugely valuable asset here.
The key will be finding the right role for him.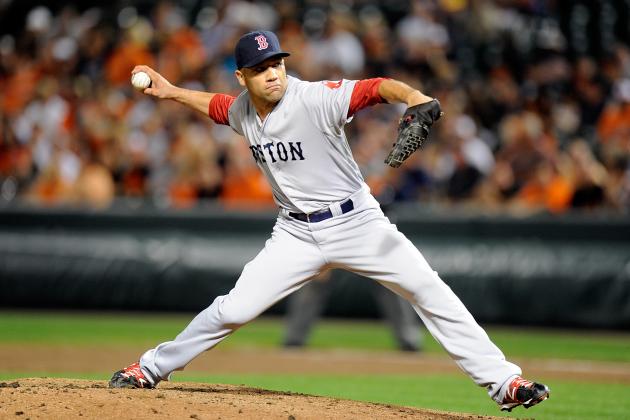 Greg Fiume/Getty Images

2012 Stats: 69 G, 25 Saves, 2-10, 5.36 ERA, 1.32 WHIP
At the end of last season, it looked as if the volatile Aceves was done in a Red Sox uniform.
But it appears he will be back. He will need to curtail his antics, though, if he wants to have any hope of sticking with the Sox for much longer.
His bad behavior overshadowed a solid year for the Ace, who embraced the unfamiliar role of closer after being passed over for a spot in the starting rotation.
He'll likely return to a setup role this season, and that consistency should pay off for the team in the form of a quieter, more effective Aceves.
Jared Wickerham/Getty Images

2012 Stats (with Diamondbacks and Red Sox): 63 G, 63.1 IP, 3-0, 2.70 ERA, 1.17 WHIP
Because Boston had so many flaws last season, the team's acquisition of Breslow flew under the radar. He was, however, excellent and deserves the two-year deal he just signed with the team.
Breslow will likely see a mix of low- and high-leverage situations in 2013, as he splits the lefty setup duties with Andrew Miller.
As someone who shuts down righties and lefties with equal ability (righties hit .224 off him, lefties .226 in 2012), the left-hander has proven that he can pitch in any situation the team needs.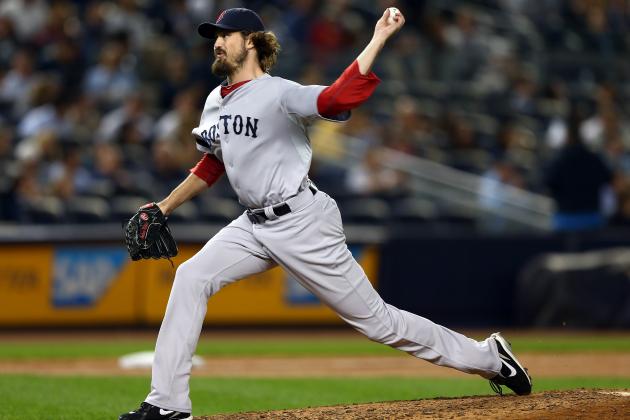 Elsa/Getty Images

2012 Stats: 53 G, 40.1 IP, 3-2, 3.35 ERA, 1.19 WHIP
Miller was a pleasant surprise out of the bullpen last year, making the transition from starter to lefty specialist. In 2012, he held left-handed hitters to a paltry .149 batting average over 87 at-bats.
He'll step right into the same role this season, but now expectations are a bit higher.
However, there is no reason to think he shouldn't be able to handle it. Expect Farrell to deploy him in any situation where the Sox simply need to get a left-handed hitter out.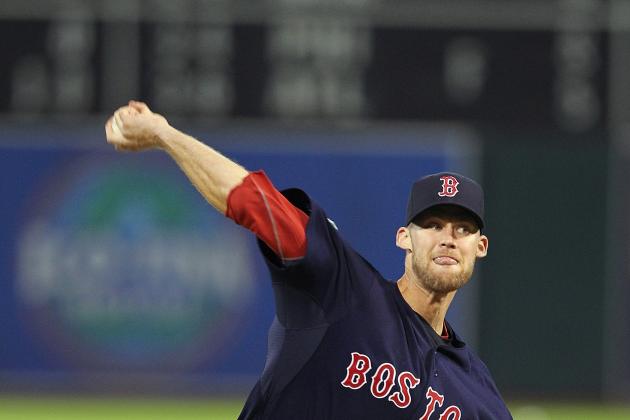 Tony Medina/Getty Images

2012 Stats: 17 G (10 GS), 59.1 IP, 5-6, 6.22 ERA, 1.74 WHIP
The drama surrounding Daniel Bard will be far different this spring than last year. It is no longer a question of where Bard should be pitching but if.
According to The Boston Globe's Nick Cafardo, Farrell said that Bard "looked very good" in a recent bullpen session, and the new manager plans to use Bard in the setup role in which he previously thrived.
The question will be if there's room for him on the MLB roster to do so.
If Bard can return to his old self under his old mentor, that would be a huge boon for the entire Sox staff. If he can't, the team has the depth to weather his loss, while he returns to Pawtucket to continue working out the kinks.