Real Madrid vs. Barcelona: Complete Preview, Predictions and Expectations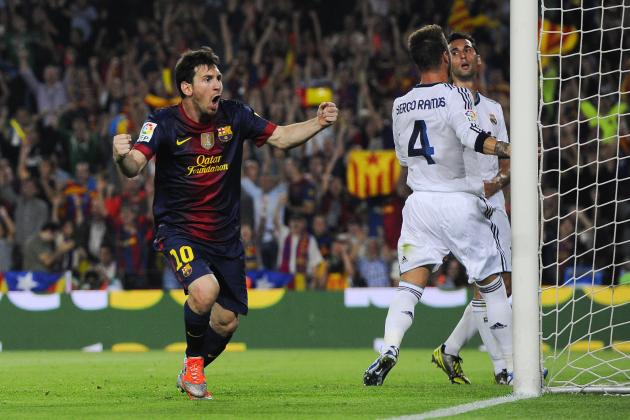 David Ramos/Getty Images

Real Madrid will play host to Barcelona on Wednesday in the first El Clasico of 2013. Advancement to the Copa del Rey finals will be decided over this two-legged affair, so both clubs have silverware at stake.
For Barcelona, the match will be all about gaining solid footing before the return leg at the Camp Nou. Away goals could mean more than ever, and La Balugrana will look to take a lead back home.
But for Real Madrid, the game will be about respect and setting up an important encounter at the Camp Nou. Real Madrid has been in Barcelona's shadow all season, and a big win at home would certainly give a bunch of confidence to the players.
El Clasico is always an intense match, and the encounter on Wednesday will be no different. Some stars will shine, some will falter, and a new chapter will be added to the legacy of the Spanish classic.
With such a huge game merely one day away, let's look at the preview, predictions and what fans everywhere should expect.
Begin Slideshow

»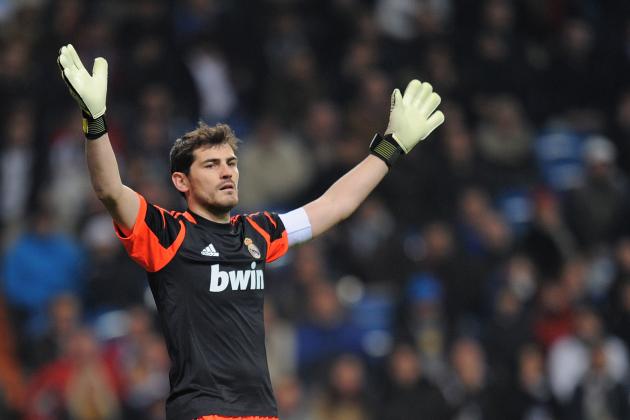 Denis Doyle/Getty Images

Real Madrid will have a lot to deal with in such a big match, but their task has just become much more difficult with so many stars set to miss the encounter.
Defenders Sergio Ramos and Fabio Coentrao will both miss the clash due to suspension, as will winger Angel Di Maria.
The Real Madrid defense will be thin with the two stars missing, but Di Maria's absence will be harder to overcome. Los Blancos will have the best chance to beat Barcelona with the counterattack, a tactical strategy for which Di Maria will be sorely missed.
But if suspensions were not bad enough, Real Madrid will also miss even more players due to injury.
Center-back Pepe and captain Iker Casillas will both miss the clash due to injury, and they may very well be the most desperately needed players for Los Blancos (via Foxsports).
Pepe has historically made things very hard for Barcelona's Lionel Messi, and his absence will surely leave the Argentine bearing down on the Madrid goal, which will be much more vulnerable with Casillas on the sideline.
It is apparent that things will be very tough from the start for Real Madrid, and that they will also have to be careful not to make things worse. Cristiano Ronaldo is one card away from suspension himself.
However, just because players will be gone does not mean things will be easy for Barcelona. If we know anything, it is that El Clasico is always difficult, and this match will be no different.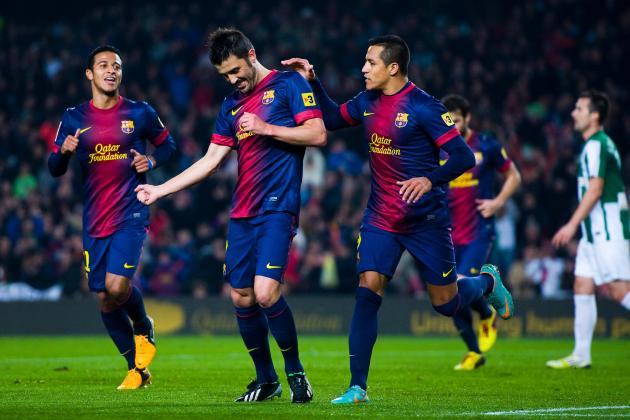 David Ramos/Getty Images

While Real Madrid will have to deal with injured and suspended players during the first leg, Barcelona is in a completely different position.
La Blaugrana will have the luxury of being able to field the strongest lineup their squad has to offer. But on top of starting strong, Barcelona will also enjoy an entire bench full of super-subs.
The Catalan giants were recently able to have their entire squad participate in training for the first time this season. For Real Madrid, this means that there will be countless scenarios for which they must prepare.
David Villa did pick up an injury in recent weeks, but was given clearance to return to action and put in a dominant display against Osasuna over the weekend (via fcbarcelona).
But not only is the entire Barcelona squad healthy, but they are all in fine form.
Lionel Messi and his fellow attackers have been terrorizing defenses this season, while the defense is beginning to settle down. Pedro has finally found his scoring ability, while Iniesta is having the best season of his career.
Entering the match at the Santiago Bernabeu, Real Madrid already know that they will be facing a very healthy and sharp Barcelona squad.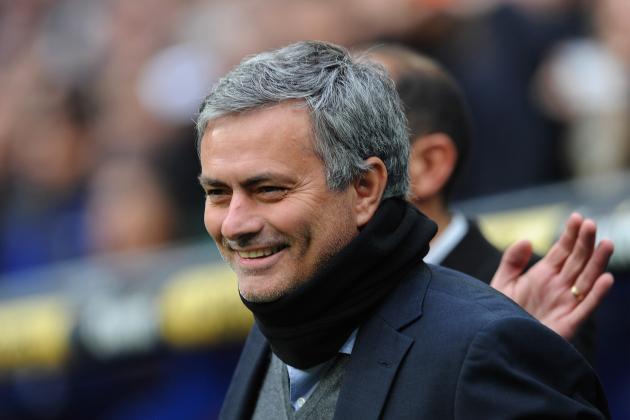 Denis Doyle/Getty Images

Football fans have grown accustomed to never knowing what Jose Mourinho is thinking. With a depleted lineup, expect the "Special One" to have something up his sleeve.
Real Madrid's lineup will not be released until kickoff, as usual, but there should be some interesting surprises at the beginning of the game. Mourinho may opt for a stronger defensive lineup, or he could even try a sweeper role with Michael Essien.
But one thing is certain: Barcelona are not going to be able to prepare for any particular Real Madrid lineup.
Barcelona may not even plan for Real Madrid, but instead may just focus on honing their style before the first whistle on Wednesday. But everyone should expect Mourinho to have a well-considered plan to combat the Barcelona tiki-taka style.
The Portuguese tactician continues to prove that he is brilliant in big games. If he is able to lead Real Madrid to a positive result, he would receive a huge vote of confidence from Madridistas.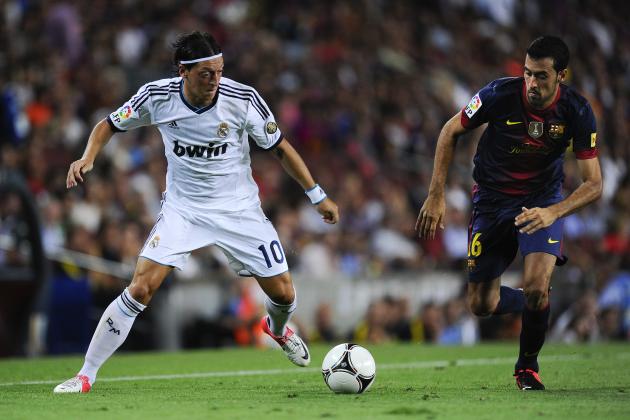 David Ramos/Getty Images

There will be many matchups in El Clasico for viewers to enjoy, but none will be as important as the battle between Sergio Busquets and Mesut Ozil.
With a depleted squad around him, most of the attacking play for Real Madrid will begin with Mesut Ozil. The German will be tasked with keeping the ball and starting the counterattack that will hopefully keep Barcelona honest.
Sergio Busquets, on the other hand, will be tasked with stopping Ozil. The Barcelona midfielder is the best in the world at his position, but he will certainly be tested while trying to stop the German.
Fans should expect each player to get the better of the other on multiple occasions, and it will certainly be the most entertaining matchup of the match.
But there will be other important matchups in this huge encounter. The Real Madrid defense will be relied upon to stop Barcelona star Lionel Messi, and Dani Alves will have a very tough job in slowing down the menacing Cristiano Ronaldo.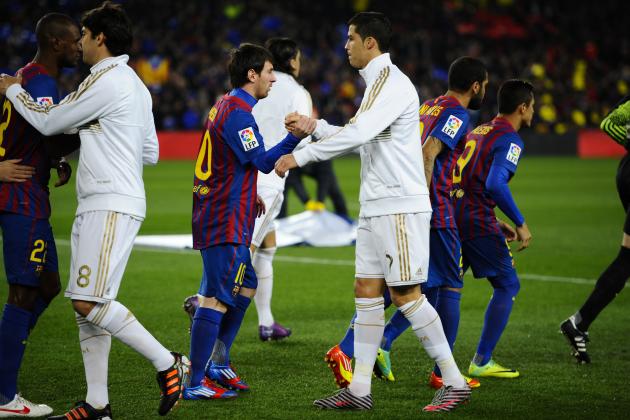 David Ramos/Getty Images

The last time the Spanish giants met, Lionel Messi and Cristiano Ronaldo both scored a brace to see their teams finish with a 2-2 draw. After such a dominant display, expect the rival duo to score again.
Lionel Messi is fresh off of his fourth consecutive Ballon d'Or and is in scintillating form. The Argentine has already scored over 35 goals this season, and with a weak Real Madrid defense in front of him, should certainly score at the Bernabeu.
Ronaldo has also been on a tear of late. Some might argue that his start to 2013 has been even better than Messi's. Ronaldo will have to carry the Real Madrid attack on Wednesday, and he is more than capable.
Cristiano Ronaldo has scored seven goals in his last six meetings with Barcelona, while Lionel Messi has been terrorizing Los Blancos since his career began (via Marca).
Viewers should absolutely expect a goal from both stars, and also expect "the best in the world" argument to turn another page.
El Clasico may very well be decided by which star scores more.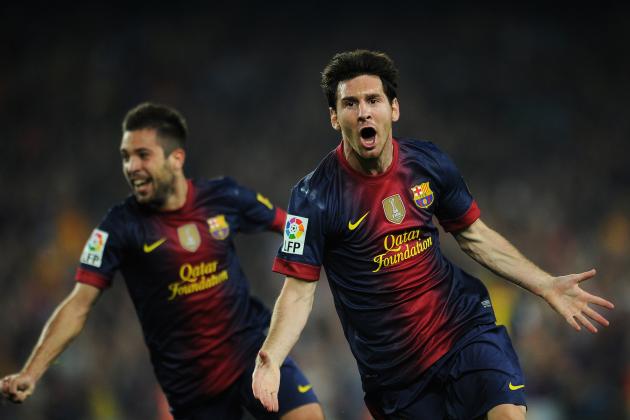 Jasper Juinen/Getty Images

Barcelona will enter the Santiago Bernabeu with the objective of winning the tie in the first leg. With Real Madrid forced to field a weakened defense, expect La Blaugrana to take full advantage.
Lionel Messi has been dominant for the entirety of the current season and will certainly cause the Madrid back line a constant headache. But the likes of Iniesta, Pedro and Cesc Fábregas have also been in great form recently.
La Blaugrana have begun to use Iniesta on the wing, which has worked wonders; that lineup will most likely be used again.
While Real Madrid focuses heavily on defense, the Catalans will slowly pick apart the fill-in defenders, which should result in multiple goals.
But for Barcelona, the away goals will be the most important aspect of their trip to Madrid.
If La Blaugrana can build a solid lead in the first leg, then the second leg will be entirely in their favor. By the time the two meet again, Real Madrid will be in better shape and will likely challenge the Catalans in a major way.
It is now that Barcelona must take the tie into their control. The first meeting will likely decide which team goes through, so except Barcelona to make the most of facing the shuffled Real Madrid defense.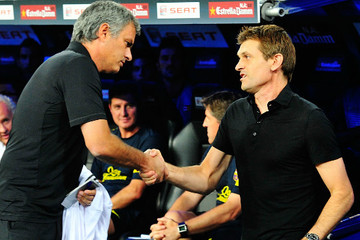 Before making any predictions, it is important that we all realize something very important: El Clasico has always been a very special and unpredictable affair.
No matter who plays in the game or the location of the encounter, analysts can never accurately predict what will happen in El Clasico. The match is too intense and emotional to know what will happen.
But despite the mystery of how the game will play out, everyone will have their opinion on what will happen. Below are some predictions for El Clasico based solely on the facts entering the match, but remember they are purely projections.
Predicting Real Madrid's Starting Lineup:
As stated earlier, Los Blancos will be without a few key players against Barcelona. One can never know what Jose Mourinho is planning, but AS has given some insight on who could start.
The defense will certainly be difficult to guess, but the starting keeper may be the toughest call to make. Newcomer Diego Lopez has stated that he is ready to play, and with his experience he may just start.
Diego Lopez
Michael Essien, Raphael Varane, Raul Albiol, Alvaro Arbeloa
Xabi Alonso, Sami Khedira
Gonzalo Higuain, Mesut Ozil, Cristiano Ronaldo
Karim Benzema
Predicting Barcelona's Starting Lineup:
There is no question as to what Barcelona's best lineup is. Entering a Clasico, fans should expect nothing less than the best La Blaugrana has to offer. And with a healthy squad, Barcelona is in prime condition to select their best XI.
David Villa may be deserving of a starting spot after such a wonderful performance against Osasuna, but at this point the club is still much better with Iniesta on the wing. Villa could be used as a super-sub though, along with Thiago.
Jose Manuel Pinto
Dani Alves, Gerard Pique, Carles Puyol, Jordi Alba
Xavi, Sergio Busquets, Cesc Fábregas
Pedro, Lionel Messi, Andres Iniesta
Predicting the Outcome:
As I said earlier, Barcelona will look to exploit a weakened Real Madrid. Though Los Blancos will certainly fight hard and make things difficult for Barcelona, the Catalans are still the favorites to win the match.
I predict a final score of 3-1 in the favor of Barcelona, though the game will be much closer than the score entails. Messi and Ronaldo will both score, but Andres Iniesta will be the man of the match.
Taking away three goals will be huge for Barcelona, but for Real Madrid the loss will be tough to swallow. Already trailing Barcelona in La Liga has been hard enough, but Jose Mourinho's job may be on the line with this match.
But no one will know the outcome until the final whistle is blown. El Clasico looks set to be a thrilling match, and world football fans everywhere should tune in for a very special treat.
How do you see the game playing out? Who should Mourinho look to for cover? Will Messi terrorize the Madrid defense? Don't forget to leave your thoughts and comments below.
Tre' Atkinson, The Catalan Blood of Bleacher Report. Follow @TreAtkinson
Check out my latest articles here.
Latest Players Rumored to be Coming to Camp Nou
Lessons from Barcelona's Victory over Osasuna