2013 March Madness Field of 68 Projections: Jan. 28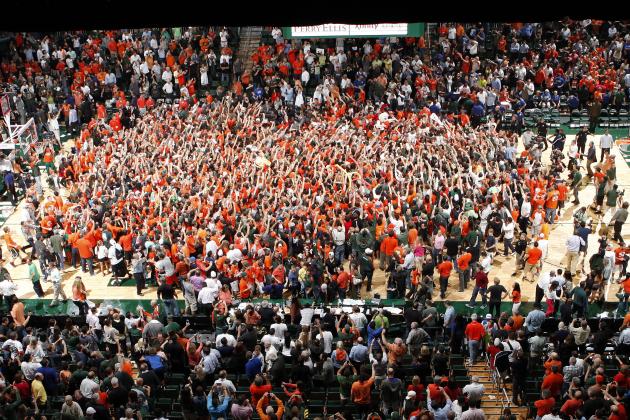 Joel Auerbach/Getty Images

Fourteen AP Top 25 teams suffered at least one loss last week, sending teams sliding up and down the S-curve in my latest projections.
As always, I am not trying to guess how teams will finish the year. Rather, I am simply seeding them based on their current resumes.
I like to break teams down into three categories:
1. Wallflowers are bubble teams, because everyone wants to get into the Big Dance, but not all of them have the guts to ask a girl out onto the dance floor.
2. An elite team that is safely in the field is "Dancing with a Hottie."
3. A school in the middle is "Dancing with Its Sister."
For two of the past three years, my final bracket projections have been more accurate than those of ESPN's Joe Lunardi, and I had the most accurate projections in the country in 2011.
I'll begin with the two First Four at-large-bid games:
(12a) Washington vs. (12d) UMass
(12b) BYU vs. (12c) Villanova
First 15 Teams Out: St. John's, Florida State, Memphis, Arizona State, Alabama, UTEP, St. Louis, Xavier, Temple, Charlotte, Kentucky, Maryland, Boise State, St. Mary's, Richmond
The projections are presented in slideshow format, with each major conference receiving its own slide.
First up is the ACC.
Begin Slideshow

»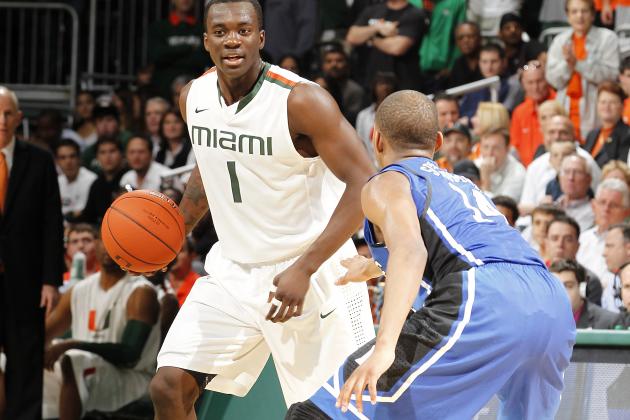 Joel Auerbach/Getty Images

Dancing with a Hottie: Duke (No. 2 seed), Miami (3)
Dancing with Its Sister: NC State (5)
Wallflowers: North Carolina (9), Florida State (second team out), Maryland (12th team out)
Duke's loss at Miami was not a surprise. The Hurricanes were at home, highly underrated and just a two-point underdog. However, the way they completely destroyed the Blue Devils was shocking. The U won 90-63, and for the first time in years, it appeared Duke players had given up during the game.
North Carolina slips a bit after its eight-point loss at in-state rival North Carolina State on Saturday night.
Florida State didn't do itself any favors getting crushed, 71-47, by Miami on Sunday. The Seminoles are just outside the field with a resume that features positives (their strength of schedule is No. 29, 4-4 vs. top 100, 6-3 road/neutral) and negatives (RPI 69, 1-4 vs. top 50, four sub-100 losses).
Maryland ran into an angry Duke team on Saturday, falling by 20 at Cameron Indoor. The Terps don't have any bad losses and they do own a nice win over NC State, but that's about it.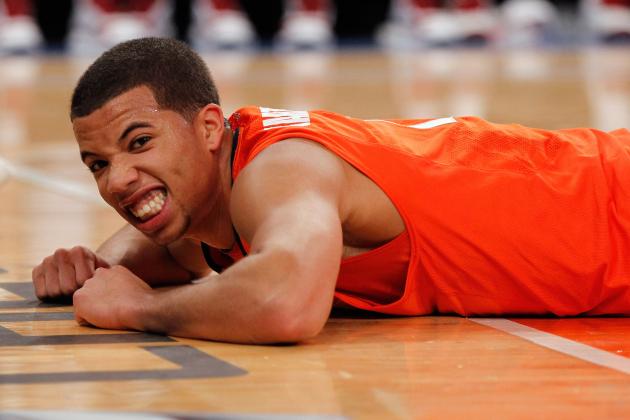 Mike Stobe/Getty Images

Dancing with a Hottie: Syracuse (No. 2 seed), Louisville (3), Cincinnati (4)
Dancing with Its Sister: Marquette (6), Georgetown (8)
Wallflowers: Pittsburgh (9), Notre Dame (9), Villanova (12c), St. John's (first team out)
Michael Carter-Williams went 4-of-17 from the field and 8-of-14 from the line, while committing five more turnovers en route to Syracuse's disappointing 75-71 overtime loss at Villanova on Saturday. The sophomore point guard shoots a dismal 36.5 percent from the field and a paltry 28 percent from beyond the arc. All season he has been a ticking time bomb, and the Orange hope he doesn't blow again in March.
'Nova, meanwhile, had the best week of any team in the country, knocking off Louisville before taking down Syracuse. The Wildcats have come out of nowhere to jump into the field.
Speaking of the Cardinals, they've now lost three in a row since starting the season 16-1 and climbing to the No. 1 ranking.
Georgetown has been difficult to figure out this season. The Hoyas began the campaign 10-1 before dropping three of five, but they picked up two huge wins last week over Notre Dame and Louisville.
Pittsburgh has been riding the same roller coaster. The Panthers started 12-1, then lost three of four, but have now won four straight.
St. John's has also reeled off four in a row to climb to my first team out. The Red Storm has acceptable computer numbers (RPI 51, SOS 27), a 2-3 record against the top 50 and a 5-5 mark vs. the top 100, but two really bad losses to San Francisco and UNC Asheville are keeping the Johnnies on the outside for now.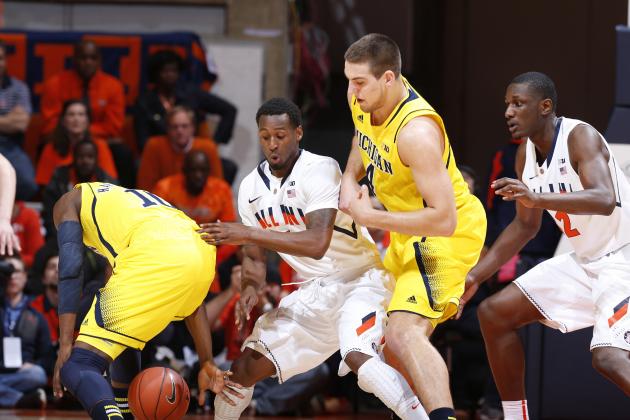 Joe Robbins/Getty Images

Dancing with a Hottie: Michigan (No. 1 seed), Indiana (2), Minnesota (4), Michigan State (4)
Dancing with Its Sister: Ohio State (6)
Wallflowers: Wisconsin (9), Illinois (10)
While nearly all the top teams in the country were losing last week, Indiana sidestepped the wreckage to beat Penn State and Michigan State. The Hoosiers have now won three straight since their curious home loss to Wisconsin and appear to be back on track.
The downward spiral continues for Minnesota, which lost at Northwestern and Wisconsin last week, scoring a grand total of 92 points in those two contests.
The Badgers, meanwhile, played two tight games against top competition last week, falling by two to Michigan State before beating the Gophers by one at home. Wisconsin now has two RPI top-25 wins (Indiana) and three over the top 50 (Illinois).
Speaking of the Illini, they lost by 14 to Michigan at home on Sunday and have now dropped four of five and six of nine.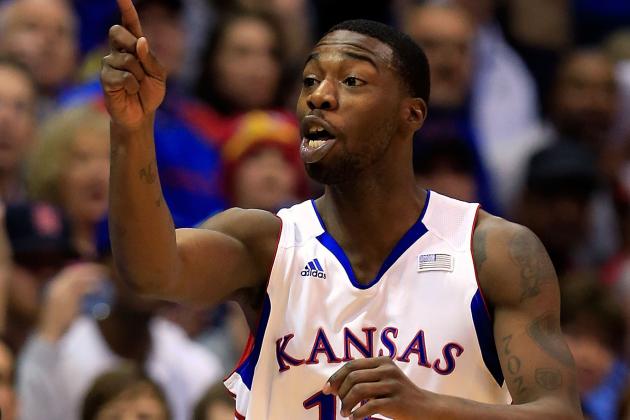 Jamie Squire/Getty Images

Dancing with a Hottie: Kansas (No. 1 seed)
Dancing with Its Sister: Kansas State (6), Baylor (7), Oklahoma (8)
Wallflowers: Oklahoma State (10), Iowa State (10)
Kansas State drops to a No. 6 seed following consecutive losses to Kansas and Iowa State last week, while Baylor is up to a No. 7 seed after wins over Oklahoma State and TCU.
Iowa State got a big win over Kansas State last week, but like Oklahoma State, the Cyclones are right on the bubble. Both teams have mediocre computer numbers, losing records away from home and just one or two marquee wins.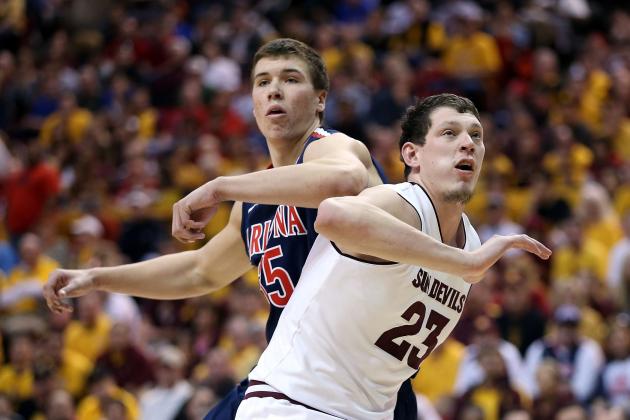 Christian Petersen/Getty Images

Dancing with a Hottie: Arizona (No. 1 seed), Oregon (4)
Dancing with Its Sister: UCLA (7)
Wallflowers: Colorado (10), Washington (12a), Arizona State (fourth team out)
Arizona lost at home to UCLA last week and some may have Indiana on the top line instead of the Wildcats, but the Pac-12 school still has a sparkling resume.
The Wildcats' RPI, overall strength of schedule and nonconference strength of schedule are all ranked fourth in the country, they are 3-1 against the RPI top 25, 5-2 vs. the top 50 and 8-2 against the top 100, and they are 7-1 away from home. Arizona ranks ahead of the Hoosiers in every one of those statistics.
UCLA's win at Arizona was more helpful to the Bruins' resume than their subsequent loss at Arizona State was hurtful.
Washington has dropped three straight and its RPI is hovering right around unacceptable at 74, but the Huskies barely remain in my field this week thanks to solid strength of schedule numbers (50 overall, 71 out of conference), a 5-4 record against the top 100 and their win over Colorado. UW has a big opportunity hosting Arizona on Thursday.
Arizona State improved its position with that victory over UCLA, but the Sun Devils are still on the outside due to just three top-100 wins and a dreadful 270th-ranked nonconference schedule strength.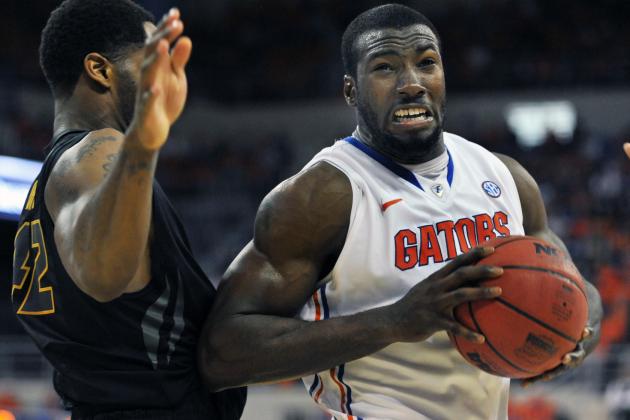 Al Messerschmidt/Getty Images

Dancing with a Hottie: Florida (No. 1 seed)
Dancing with Its Sister: Ole Miss (6), Missouri (7)
Wallflowers: Alabama (fifth team out), Kentucky (11th team out)
Let's welcome Florida to the top line. The Gators have been simply dominant of late, winning eight in a row by an average of 22 points.
Don't look now, but Ole Miss is 17-2. The Rebels have reeled off nine straight, don't have any sub-50 losses and are 5-1 in true road games.
Kentucky's latest loss to Alabama was too much for its resume to withstand and the Wildcats are now out of the field. UK's computer numbers are bad (RPI 62, SOS 61), they have no top-64 wins, are 3-4 away from home and are an atrocious 2-6 against the top 100.
The Crimson Tide are out of the field as well, though, because after beating Kentucky, 'Bama went out and lost to Tennessee. The Tide are just 1-3 against the top 50 and have three sub-100 losses.
Texas A&M has been removed from consideration thanks to a four-game losing streak that has dropped its record to 12-7.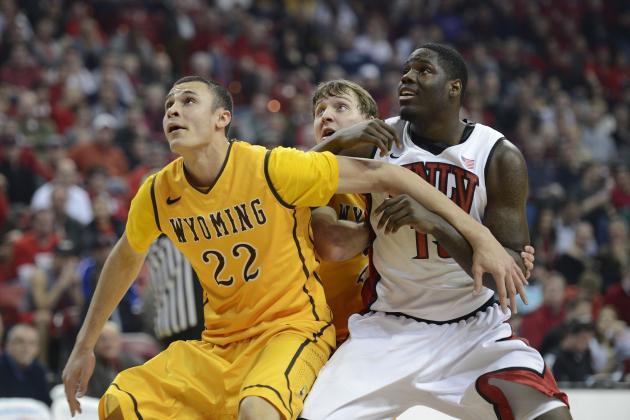 Jeff Bottari/Getty Images

Dancing with a Hottie: New Mexico (No. 3 seed)
Dancing with Its Sister: UNLV (5), San Diego State (5), Colorado State (8)
Wallflowers: Wyoming (11), Boise State (13th team out)
New Mexico scored just 34 points in a 21-point beatdown at San Diego State on Saturday. That was the biggest win of the season for the Aztecs.
UNLV is up to a No. 5 seed following a nice 12-point win over Wyoming on Thursday. That was an acceptable loss for the Cowboys, but their nine-point setback to Air Force at home two days later was not. Wyoming, which started the season 13-0, has dropped four of six since.
But Boise State is in even worse shape after falling at Nevada on Saturday. The Broncos have lost three of four and nothing other than their 6-4 road/neutral record is tournament-worthy. Their computer numbers are bad (RPI 66, SOS 121) and they have as many top-100 wins as sub-100 losses.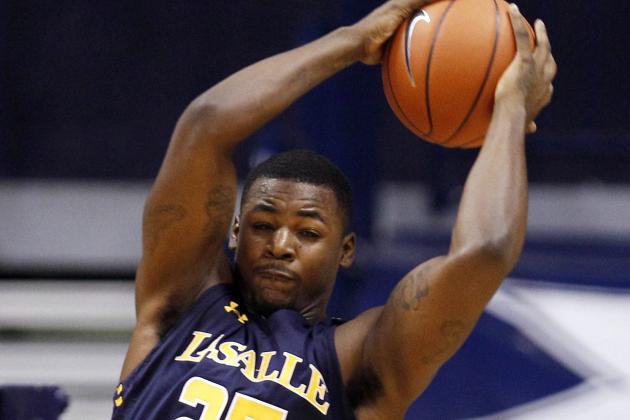 Frank Victores-USA TODAY Sports

Dancing with a Hottie: Butler (No. 3 seed)
Dancing with Its Sister: VCU (8)
Wallflowers: La Salle (11), UMass (12d), St. Louis (seventh team out), Xavier (eighth team out), Temple (ninth team out), Charlotte (10th team out), Richmond (15th team out)
If Villanova had the best week in the country, then La Salle had the second best. The Explorers knocked off Butler and VCU to climb from ninth team out to a No. 11 seed.
Virginia Commonwealth also lost to Richmond last week to slide all the way down to a No. 8 seed.
But beyond those top three teams, the A-10 is a mess. Six other teams are in consideration, but each of them barely has enough on their resumes to garner any attention. They are all between 53 and 72 in the RPI and between 49 and 86 in strength of schedule (other than Charlotte, which ranks 143rd).
They all have two or fewer top-50 wins and between three and four top-100 victories.
UMass is the only one of this group without a top-50 triumph and yet, it is the only squad to make it into the field. Why? The Minutemen's RPI is the best; they have only one sub-100 loss, are a strong 7-3 away from home and possess a solid 59th-ranked nonconference strength of schedule.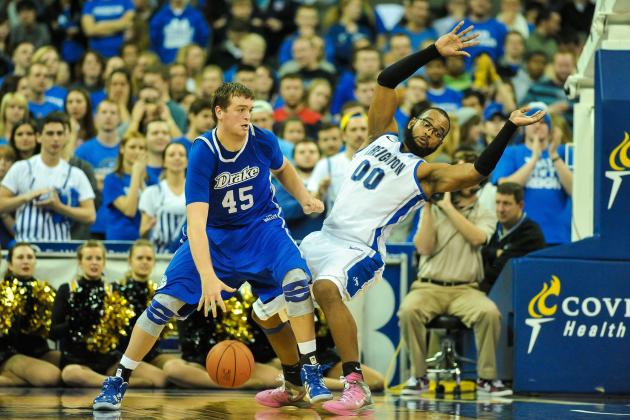 Eric Francis/Getty Images

Dancing with a Hottie: Gonzaga (No. 2 seed)
Dancing with their Sister: Wichita State (5), Creighton (7)
Wallflowers: Belmont (11), Indiana State (11), Southern Miss (12), Middle Tennessee (12), BYU (12b), Memphis (third team out), UTEP (sixth team out), Saint Mary's (14th team out)
Creighton suffered a bad loss at Drake last week to drop to a No. 7 seed.
Indiana State drops a line following a two-point loss at Illlinois State. The Sycamores are 12-7, but those wins over Ole Miss and Miami just keep getting better as does their 21st-ranked nonconference strength of schedule.
BYU lost at Gonzaga but barely hangs onto a spot. The Cougars' RPI (43), 6-5 road/neutral record and nonconference strength of schedule (60) are keeping them in the field for now. They also don't have any losses to teams ranked outside the top 70.
Neither Memphis nor Southern Miss have resumes that compare favorably to other bubble teams and so it is only the Golden Eagles who make the field this week as the automatic bid from Conference USA. The Tigers have won 10 straight, but over weak competition. Their schedule strength is 115th and they are 0-3 against the top 50.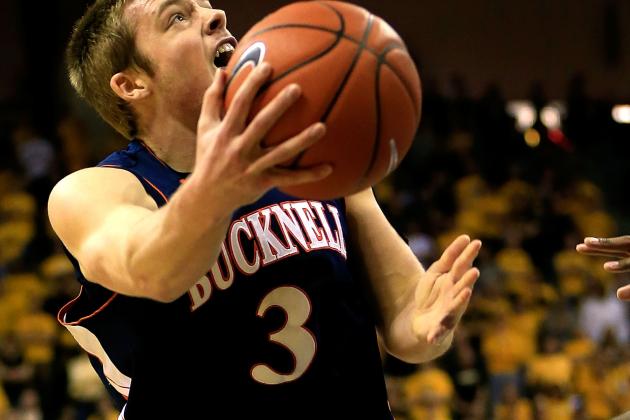 Jamie Squire/Getty Images

No. 13 Seeds: Bucknell, Stephen F. Austin, Louisiana Tech, Akron
No. 14 Seeds: Harvard, Valparaiso, Long Beach State, Stony Brook
No. 15 Seeds: Northeastern, Florida Gulf Coast, Davidson, Montana
No. 16 Seeds: Western Illinois, Niagara, Southern vs Charleston Southern, Norfolk State vs. Bryant
NOTE: Next week's projections will be published on Tuesday, Feb. 5.
Follow me on Twitter @JordanHarrison.