WWE Post-Royal Rumble Raw Roulette Live Results, Reaction and Analysis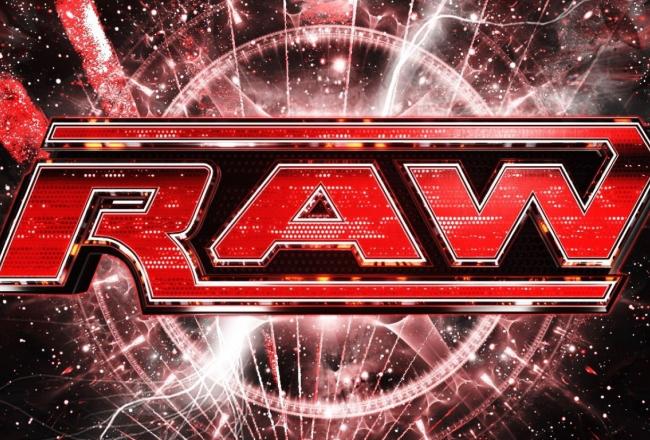 wwe-wallpapers.com

Welcome, ladies and gentlemen, to the Bleacher Report live Raw Roulette coverage for January 28, 2013.
The Royal Rumble is in our rear-view mirror, and we are now firmly on the road to WrestleMania. Get ready for three months of driving puns.
After a rather predictable pay-per-view, we get the return of Raw roulette tonight, as well as the first official address from Rocky as our new WWE champion.
John Cena won the Rumble match, which means we could find out whom he is facing at WrestleMania as early as tonight, as if we don't already know it's The Rock.
Alberto Del Rio, Antonio Cesaro and Team Hell No all retained their titles in hard-fought matches, and tonight we could see those feuds either continue or new feuds begin for those titles.
The Rumble also saw the return of Chris Jericho, who is apparently here for more than just a one-night stand with WWE.
Will the Shield attack The Rock again?
Will CM Punk blame them for losing the WWE title?
Will Cena throw a swerve and choose to fight the World champion at WM?
Can tonight's gimmick show make up for a lackluster Rumble?
Make sure to bookmark this page and come back tonight at 8 p.m. EST for the start of the live show and answers to these questions and more.
Follow me on Twitter @BR_Doctor
Thanks for joining me here on Bleacher Report and make sure to come back next week so we can do it all over again.
Well, that was a confusing show. On the one hand, we had a couple good matches and a couple great promos as well as the return of Brock Lesnar.
On the other hand we had some terrible segments involving the Roulette wheel and a Divas match that seemed like it was planned on the fly.
Overall, this was an average show with a few above average moments that stand out.
The Rock, Lesnar and Jericho all being back in WWE is making this feel like 2002 again.
Lesnar circles the ring as McMahon watches him from inside. Lesnar finally gets in the ring and Heyman looks as shocked as anyone.
Lesnar gets right in McMahon's face and McMahon doesn't back down. McMahon says Lesnar shouldn't do anything he will regret later.
Lesnar looks at Heyman and orders him to stand in the corner. Heyman begs Vince for his own good to leave the ring.
Lesnar lifts up McMahon and Heyman freaks out as he hits the F-5 on McMahon. Heyman tells Brock to leave and they leave with Heyman still screaming at him.
The show ends with McMahon down in the ring.
McMahon asks the crowd if Heyman deserves to be fired and Heyman tells him not to do this. McMahon says he is going to have to wish him well in his future endeavors.
As he is about to say Heyman is fired, Brock Lesnar's music hits and he makes his way out.
Called it.
Heyman says he has lied so much just in the name of survival, but he says right now he is swearing on everything that he is not lying about The Shield or Maddox.
McMahon shows the footage he was talking about. Heyman is showing Brad Maddox where to film his show.
Heyman says the Show is cancelled. He brings up how he and Punk used him to keep Ryback from winning the title.
Heyman says when they pay The Shield to do something they don't keep coming back for more, they wait for a call.
The Shield come up and Maddox begs to be able to leave and Heyman says he will take his beating and use it as a learning experience.
Heyman walks off and The Shield beat up Maddox. Heyman looks very unhappy after seeing the footage.
McMahon asks for an explanation and Heyman says it wasn't him in the video. He says it was an impersonator and he is being set up because of his success.
He was about to take credit for making CM Punk into what he is.
McMahon comes down after the break and he wastes no time in asking Heyman to come to the ring. He says if Heyman is looking or Punk, he is not going to find him because he was excorted out 10 minutes ago.
Paul comes out on the ramp and looks upset, but then he sucks it up and goes to the ring. He offers his hand to McMahon and McMahon eventually shakes it.
He puts on some hand sanitizer afterwards. He asks if Heyman has ever had Brad Maddox or The Shield under contract.
Heyman thanks him for the opportunity to settle this once and for all. He says he has never had anything to do with Maddox or The Shield.
McMahon asks Heyman if he has ever lied. Heyman brings up McMahon's Father before saying he has lied every day of his stinking life because he is a promoter.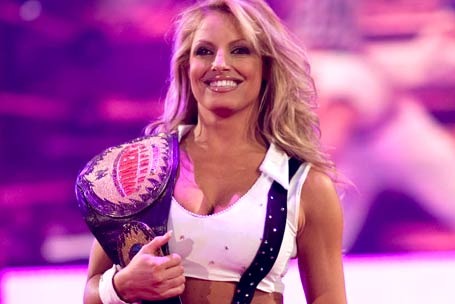 Trish is one of my top three WWE Women's Champions along with Lita and Mickie James. I can never decide on the order of that list.
Cole hypes McMahon giving Heyman a review for later. I wonder if Punk or Lesnar is going to have anything to do with this?
Team Hell No vs. Chris Jericho and Dolph Ziggler Part 2
After the break we see Jericho try to tag Jericho, and Jericho slaps him to tag him in. Jericho comes in hot and takes out Bryan and Kane.
He tries for the Walls of Jericho on Bryan, but Bryan counters and tags in Kane. Kane and Bryan mess something up and they start blaming each other.
ZIggler tags himself in and Jericho slaps Kane so he thinks it was Ziggler who did it. Kane Chokeslams ZIggler for the pin and the win.
Winners: Team Hell No
That was quick. I was wondering how they would fit in Heyman's review. Kane and Bryan keep arguing after the match and Cole throws to the next Hall of Fame inductee.
It's Trish Stratus!
Team Hell No vs. Chris Jericho and Dolph Ziggler Part 1
How awesome would this tag team of Jericho and Ziggler be if they actually got along?
Kane and Ziggler starts things off and Ziggler shows off a bit before we head to a break. The WWE app shows ZIggler keeping up the aggression on Kane.
Kane comes back with a big uppercut and then he tags in Bryan, who hits a running dropkick to Ziggler. Bryan works over the arm of Ziggler.
Bryan gets a two count with an arm hold he has on Ziggler. Ziggy fights back with elbows, but he runs into a knee lift before we head back to USA.
Jericho's music hits and he makes his way out after the break to a great ovation from the Las Vegas crowd.
Y2J welcomes us to Raw is Jericho and he says it is great to be back in the WWE. He says he was only gone for six months, but it felt like six years.
He is happy he was able to keep his Rumble appearance a secret. Jericho goes into full Y2J mode until Ziggler comes out with Langston and AJ.
Ziggler asks how Jericho is here, because he ended Jericho's career last year. AJ reminds us it was her who made Jericho put up his career.
He tells ZIggy to put a leash on his crazy little doggy. Langston tells Jericho to leave before he ruins his return.
Jericho asks what the E stands for in Big E Langston, his bra size?
Ziggler asks again why Jericho is here and Vickie comes on the big screen and she says it was her who signed Jericho to a new contract and she makes a match between Jericho and Ziggler.
She spins the wheel and it is a strange bed fellows match. They will be teaming up against Team Hell No in a tag match.
Kane's pyro hits and they make their way to the ring.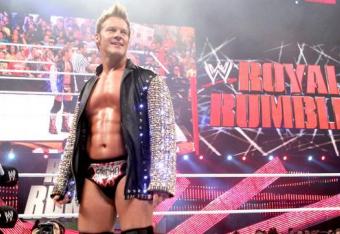 Ryder, Khali, Hornswoggle and Natalya are in the ring when we return. King tells us that they get to sing a WWE superstar's theme song.
Khali is first and he is singing Shawn Michaels' theme. He is terrible, as expected.
I thought Cole said things would get better.
3MB comes out and I have never been happier to see these guys. They put a top to something that could not possible be as bad as whatever they will do.
D-Mac does his best air guitar at Khali and Khali knocks him on his butt. Slater and Mahal attack and Ryder hits Mahal with the Rough Ryder while Khali knocks down Slater with a chop.
Hornswoggle hits Slater with the Frog Splash to end the segment. Khali's music hits and everyone dances.
This show is so up and down in terms of quality.
Chris Jericho is shown backstage and I know things will get better after the break. They have to.
During the break the WWE app shows Ryder spin the wheel and land on karaoke challenge with Khali.
Damien Sandow vs. Sheamus-Tables Match
Sandow is out first after the break, followed by Sheamus. The bell rings and Sandow tries to run out of the ring right away.
Sheamus catches him in the ring and gives him a beating. Sandow goes to the outside a second time and Sheamus follows, attacking Sandow with an elbow to the head.
He slams Sandow into the steel steps and then goes for a table under the ring. Sandow baits Sheamus into coming outside again and then he attacks him.
Sheamus ends up hitting a table into Sandow, knocking Sandow down. Sandow attacks Sheamus' shoulder and Cole reminds us that The Shield hurt that shoulder earlier.
Sandow puts Sheamus' arm in the table leg and starts stomping on it.
Sheamus ends up coming back with a battering ram and then he grabs Sheamus by the beard and sends him into the corner.
Sandow hits the Elbow of Disdain and then sets up a table. The crowd is actually chanting "Thank You Sandow." for a few seconds.
He lays Sheamus on the table and then goes to the top rope. Sheamus gets up and stops Sandow so he can hit the Irish Hand Grenades.
Sheamus picks up Sandow and hits White Noise through a table to get the win.
Winner: Sheamus
That match was pretty decent.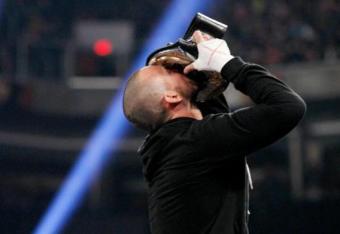 Punk tells the crowd to shut their mouths and then he runs down The Rock about mocking both of them by flushing his title reign down the toilet.
He says the title was handed to The Rock like everything else in his life. Punk says in 20 years we will all be calling him a genius.
Probably true.
Punk says if Rock had any respect for his family he would hand the WWE title back to him and apologize.
Punk is on fire tonight.
Rocky says if Punk had a set, he would walk down to the ring and take his title back. Rock says "Punk, you can either face him like a man or stand on the ramp like a punk-ass bitch."
Punk makes fun of Rock needing to swear. Punk says he should face Rock in a bunch of cities where WWE has live events, making fun of the fact that Rock won't be at house shows.
Punk lays out a challenge for Elimination Chamber for the title. Rock says the rematch is on for Elimination Chamber.
Punk just worked a mic better than The Rock in that segment.
The Rock comes out to a huge pop and he poses with the title in typical Rock fashion. He grabs a mic, but as usual, he can't talk until the cheers die down.
The Rock says there is only one word to describe his journey, finally.
He hypes the crowd with a few signature catchphrases and says "Finally, The Rock is WWE Champion."
Rock talks about how important the title is to him and how he is more proud of this moment than any other moment of his entire career. That should be taken as a compliment by Punk.
Rock says he has thanked everyone he knows and now he wants to thank the fans. Thank us by giving us a new title design, Rocky!
He talks about the 435 day reign of CM Punk as WWE champion and how CM Punk came out and called the crowd "Nothing." He says the days of Punk looking like a tattooed homeless freak with a fat manager with twinkie tits are over.
He says this is now the people's era. This brings out CM Punk.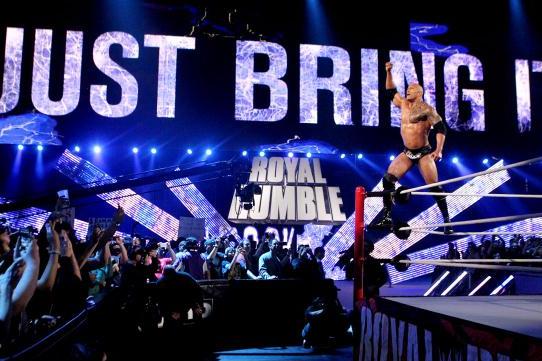 After the break we get a replay of Cena being attacked by The Shield. Justin Roberts brings out The Rock for his first promo as WWE champion.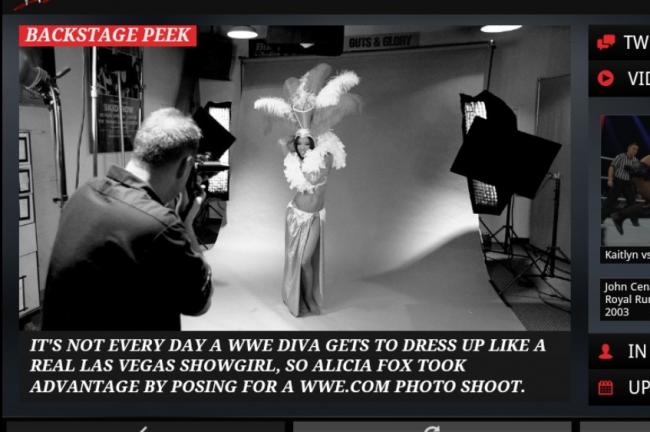 Tamina vs. Kaitlyn
Katie backs Tamina into the corner and Ramina comes out with a hard right hand. She lifts Katie up and hits an Alabama Slam.
Tamina keeps Katie grounded with a headlock. JBL says he is going to find the next Mrs. Layfield out here tonight.
Katie fights up and ends up putting one of the girls hats on Tamina.
All the Divas storm the ring and start fighting for some reason ans the two with an actual match just watch from the sidelines.
Kaitlyn's music hits. Did the match end?
No Contest
Ha! Cole says "I promise folks, things will get better."
JBL says "I hope so."
Wow! All the Divas are around the ring dressed as showgirls as Tamina and Kaitlyn are in the ring for a lumberjill match.
Ricardo Rodriguez comes out to introduce Alberto Del Rio for the bodyslam challenge.
Big Show comes out looking pretty pissed and he attacks Del Rio right away. Del Rio fights back, but he gets a KO punch to the face.
Show pulls out some duct tape and he drags Del Rio to ropes and tapes his hand to the middle rope. Show wraps the hand about 30 times in tape. There is no way Del Rio is getting out of that.
Show grabs Ricky and hits a chest chop in the corner. Del Rio comes to and sees his situation. Del Rio can't break free as he watches Ricky get destroyed.
Show tapes up Del Rio some more and then hits the KO Punch on Ricky. Show teases hitting Del Rio with another punch and then he finally hits it.
He just demolished Del Rio and Ricky. JBL was justifying Show's actions by saying it was payback.
We return from break to see Tensai standing in the ring wearing a robe. He pulls it off to reveal a teddy.
WHAT THE HELL HAS HAPPENED TO GIANT BERNARD!
King informs Tensai that this is a dance off and not a lingerie match and Tensai is pissed.
Clay goes first for the dancing and he and the funkadactyls do their thing. Tensai doesn't want to dance and King tries to talk to him about it.
King says this is Vegas and what happens in Vegas stays in Vegas.
Especially if it is being broadcast on live TV around the world, right King?
Clay calls for some music and Tensai unleashes some ridiculous dance moves. Cole has the line of the night when he says "This is God awful. Somebody should blow up the roulette wheel."
Ron Simmons is shown watching on a monitor backstage and he says Damn. JBL says "I know that guy."
We see Vickie spinning the wheel and Del Rio gets a bodyslam challenge. Vickie says if Del Rio can slam Big Show it will be the greatest trick Vegas has ever seen.
ADR says anything can happen in Vegas and walks off.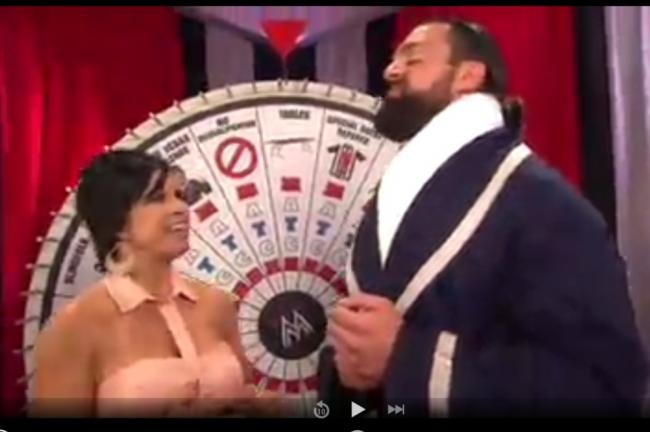 Brodus Clay comes out for the dance off with Tensai. During the break we see Damien Sandow spin the wheel to get a tables match.
We go backstage after the break and see the wheel land on a lingerie pillow fight. We pull out to see Tensai and Brodus Clay standing there.
Tensai refuses and walks off. Vickie tells Clay to spin a different wheel and he lands on dance off. Of course he did.
Clay says he will tell Tensai about the change to the challenge, but then laughs and walks away. This is going to be awful, isn't it?
Cole throws to a clip of Royal Rumble fan fest.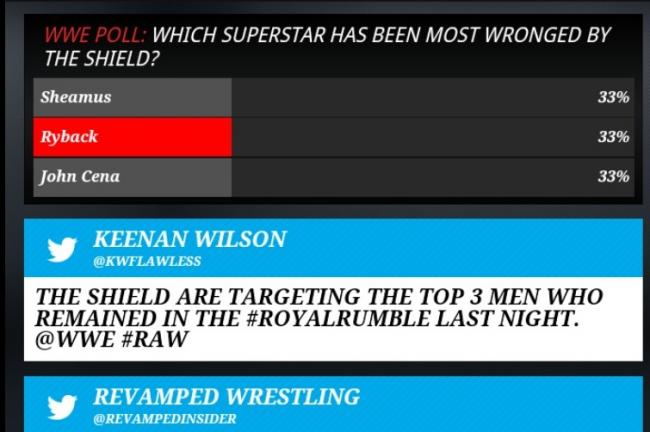 The Shield make their way through the crowd and JBL thinks Cena should try and run. Cena stands his ground and all three men attack him.
The overtake Cena in the corner and beat him down. Sheamus' music hits and he comes out and he gets beat down as well.
Ryback's music hits and he comes out to make the odds even. Ryback tosses Ambrose and Rollins over the top rope, but they pull him out and throw him into the steel steps.
Sheamus gets run into the steel post and then Cena comes back and tries to beat on them, but they get him down again.
They hit the triple powerbomb on Cena in the middle of the ring and then leave up the ramp as we head to break.
Cody Rhodes vs. John Cena
After the break we see Cody in the ring waiting for Cena. Cena comes out to a mixed response and we get underway.
Cena hits an early hiptoss and dropkick to Rhodes to send him into the corner. Rhodes leaves the ring after being hit with a fisherman suplex.
He grabs a mic and says this is a waste of time and tries to leave. Cena grabs him and sends him in the rng so he can hit all his signatures.
Cena hits the Five Knuckle Shuffle and then the AA for the pin and the win.
Winner: John Cena
After the match Cena grabs a mic and asks if some of the people booing him bet on someone else.
He says he is the only person who is able to come down here and say he won the Royal Rumble and that is him.
Cena talks about how he gets to choose which champion he faces at WrestleMania. He says this is his most difficult decision, like he won't just pick the Rock.
A Cena sucks chant breaks out for a few moments and then Cena keeps talking about how the WWE title will either be around CM Punk or The Rock's waist at WrestleMania.
He brings up how Punk has beat him in their last six matches and how The Rock beat him when they faced off.
When you really think about it, he has lost a lot of matches in the past year.
Cena asks the crowd if he should choose the WWE or World title to go after. Cena says he will not wait to make his decision.
He says he is going to face whoever is WWE champion at WrestleMania. As he keeps talking The Shield's music hits.
This article is
What is the duplicate article?
Why is this article offensive?
Where is this article plagiarized from?
Why is this article poorly edited?