Luke Rockhold vs. Vitor Belfort Head-to-Toe Breakdown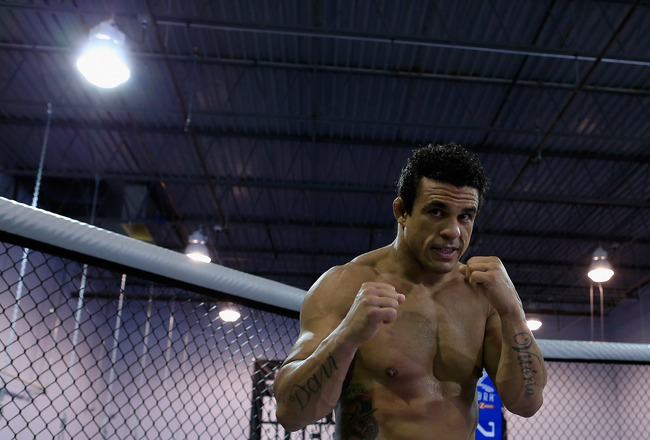 Chris Trotman/Getty Images
Of the five Strikeforce middleweights coming over to the UFC after Zuffa's January dissolution of the brand, champion Luke Rockhold is the man with the biggest price tag on his head.
He carries the gold from the rival promotion, and the UFC is keen to test him against its own finest talent—talent such as Vitor Belfort.
Belfort has become one of the toughest middleweights in MMA since making his 185-pound debut in 2008. He's won every one of his matches at that weight except the anomaly against Anderson Silva—never leaving the second round with any one of those opponents.
That makes a compelling reason to pit the two men against each other, and the UFC is already working to make that fight happen later this year.
Here's how the pair breaks down head-to-toe.
Striking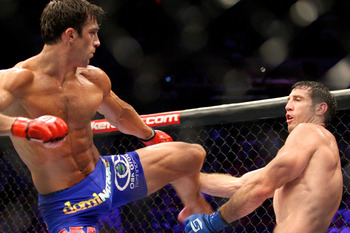 Scott Olmos-USA TODAY Sports
Vitor Belfort is a phenomenal boxer. He has some of the fastest hands in MMA and burst on the scene with a string of blistering sub-one-minute knockouts, including against Wanderlei Silva back in 1998.
None of that power has left him in his twilight years, and his decisive one-kick knockout of Michael Bisping in his last fight proves how versatile he is on his feet.
But Luke Rockhold too has a stellar stand-up game. He was able to knockout veteran Keith Jardine inside the first round when they fought in January last year, and his fight against Ronaldo Souza, which secured him the belt four months before, was a Muay Thai clinic.
Rockhold also has a size and reach advantage which could play into it while they are on their feet. However, we've seen Belfort hold his own against much taller and rangier strikers, in particular when he fought against Jon Jones last year, so Rockhold shouldn't be too much of a problem.
Advantage: Vitor Belfort
Takedowns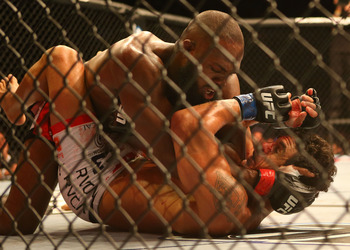 Tom Szczerbowski-USA TODAY Sports
Neither fighter is known for their wrestling, but both have shown the ability to stop takedowns from high-level grapplers.
When he won the title against one of the most dangerous grapplers on the planet, Ronaldo Souza, Rockhold was able to stuff all his opponent's takedown attempts and win the fight on his feet.
Belfort also has a stolid takedown defence, however, in his last fight against Jon Jones, he was repeatedly taken to the mat where he was finally finished in the fourth round.
But Rockhold is no Jones and is unlikely to shoot for the double-leg during their fight which means this part of their skill is probably balanced.
Advantage: Even
Submissions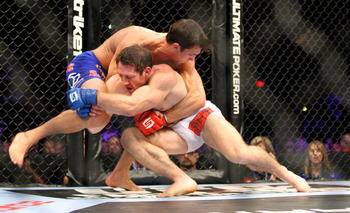 Scott Olmos-USA TODAY Sports
Vitor Belfort is a Carlson Gracie BJJ black belt, and while he has less than a handful of submission wins in his career, we saw recently against Jon Jones how lethal he can be off his back.
His first round "almost-armbar" against Jones was the closest anyone's come to beating the young light heavyweight champion, and back at UFC 142, he finished Anthony Johnson in the first round via rear-naked choke.
But Belfort hasn't made submissions as integral a part of his game as Rockhold has. The American fighter has five grappling submissions in his 10 wins and has never been tapped-out himself.
Advantage: Luke Rockhold
Strength and Conditioning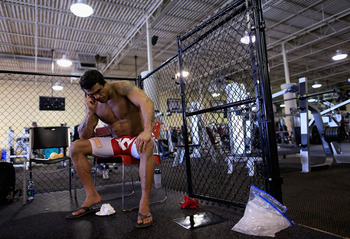 Chris Trotman/Getty Images
Vitor Belfort has rarely completed three full rounds in his entire career, which stretches all the way back to 1996. He wins by finishing the fight early, usually with his fists.
In fights he's had which have gone into the third round and beyond, Belfort has lost six out of seven times.
Luke Rockhold, on the other hand, has looked strong from bell-to-bell in his decision wins. In his last title defence against Tim Kennedy, although lacklustre in execution, Rockhold maintained his dominance for the entire five-round contest.
His fight against Ronaldo Souza was similar, as he gained in stature as the fight went into the championship rounds.
Unless Belfort can finish him early, as the fight progresses, the advantage goes to Rockhold.
Advantage: Luke Rockhold
Intangibles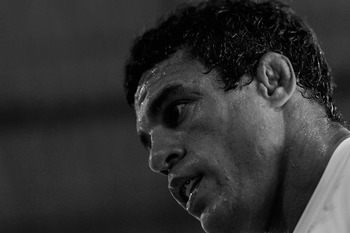 Chris Trotman/Getty Images
Both fighters will be entering this contest at the peak of their careers. Vitor Belfort has never looked as good as he did in his fight against dangerous middleweight Michael Bisping earlier this month, and he looks hungry enough to want to taste gold one last time before retirement.
However, he has a history of wilting under pressure during key fights in his career. That includes multiple losses to Randy Couture, Tito Ortiz, Anderson Silva and, of course, Jon Jones.
Whether he can hold his composure against Luke Rockhold, like he did against Bisping in his last fight, remains to be seen.
Rockhold, for his part, has looked consistent in all of his last nine straight wins and will be carrying that momentum into his fight against Belfort.
He has youth on his side, but doesn't have the experience of Belfort or as many big-name opponents in his win column. That could tip the contest in Belfort's favour.
Advantage: Vitor Belfort
Keep Reading