Mario Balotelli to AC Milan: What His Exit Would Mean for Man City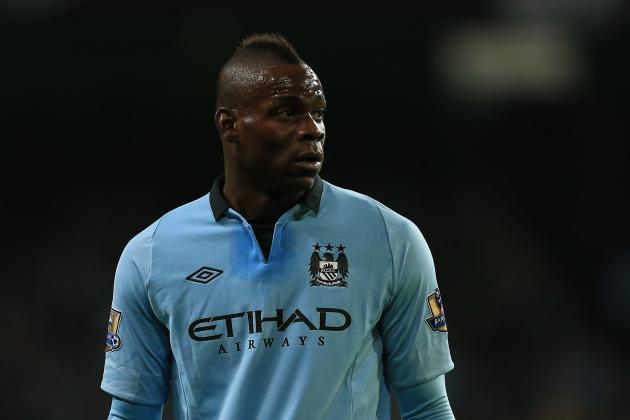 Richard Heathcote/Getty Images

The Mario Balotelli situation is complicated.
Conflicting reports surface every hour, but speculation doesn't drag on to this extent unless something's in the works. Goal.com believe the Italian is set for a move, and Roberto Mancini very recently admitted the deal could go through.
What does his possible exit mean for Manchester City then?
Begin Slideshow

»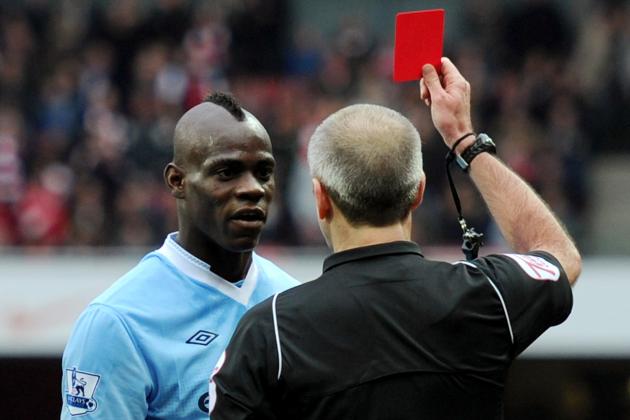 Michael Regan/Getty Images

Without Mario Balotelli, Manchester City's red card average will drop significantly.
He's cost his team multiple times by doing something foolish, receiving four red cards last season alone and missing 11 games through suspension.
After a second yellow card at the Emirates in a loss to Arsenal late on, Roberto Mancini stated the Italian would never play for him again. He later reneged on his words—and it was Balotelli who assisted Sergio Aguero's spine-chilling winner against Queens Park Rangers—but the phrase "end of my tether" sprang to mind.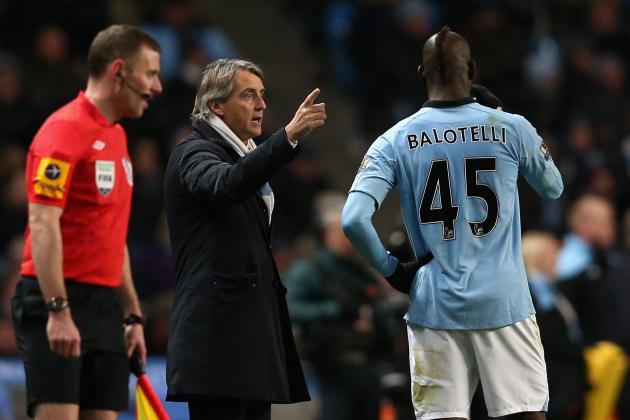 Clive Brunskill/Getty Images

As if Roberto Mancini doesn't have enough to worry about.
He manages one of the richest clubs in the world, people constantly speculate about his future and he has a huge squad to rotate and keep happy.
Luckily for him, the large majority of his players are model professionals. However, judging by Mario Balotelli's list of antics, the Italian probably doesn't fall into that category.
Mancini spends a lot of time defending, coaching and man-managing the enigmatic striker. These efforts are draining, and cutting the striker loose could free up a lot of time for other, more important things.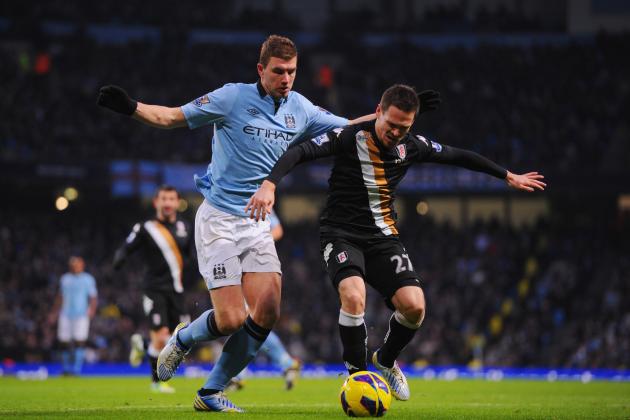 Michael Regan/Getty Images

Roberto Mancini is right to employ four world-class strikers, but he's often found it difficult to juggle them no matter what quantity of games lays on the roster.
The most effective starting duo has been Carlos Tevez and Sergio Aguero, and that Argentinian connection has blocked Edin Dzeko and Mario Balotelli's path to the first team on a consistent basis.
Dzeko is the most disgruntled, but Balotelli's exit would see him move up to third choice and get a good share of games.
Jasper Juinen/Getty Images

Or will Roberto Mancini just buy another one to replace Mario Balotelli?
Let the fantasy signings begin!
Edinson Cavani, Radamel Falcao, Gonzalo Higuain...
Edin Dzeko might not get so lucky. In fact, he could become spectacularly unlucky if the gaffer signs someone to fill the void and they turn out to be a very stable human being.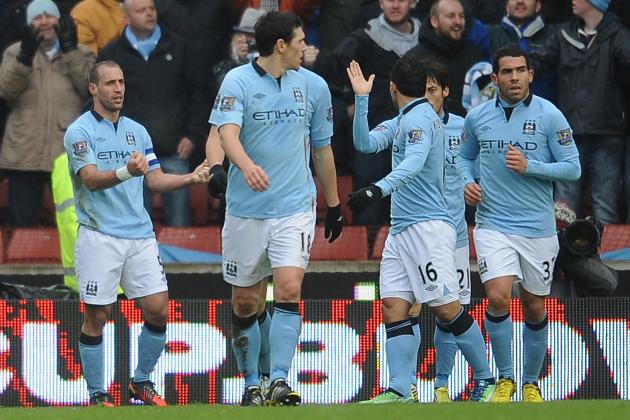 Christopher Lee/Getty Images

Perhaps the biggest impact will be felt on the training ground.
As much as you like to get behind your colleagues, it's difficult not to be annoyed when said colleague misses 11 games through suspension and commits crazy acts that lose you games.
How many training ground bust-ups have there been involving the Italian? Micah Richards and Roberto Mancini have been nose-to-nose with him at a very minimum.
Carlos Tevez caused waves with his incident in Bavaria, but Balotelli's multiple acts have outshone the Argentine's one.