English Premier League: Latest EPL Rumors, Preview and Predictions for Week 24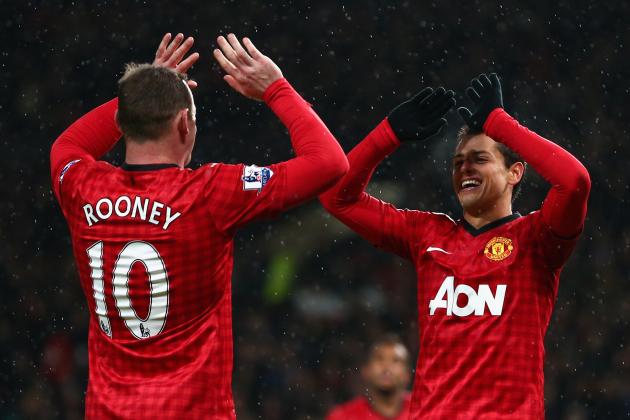 Clive Mason/Getty Images

English Premier League action returns in full force this week after many clubs spent the weekend focusing on the FA Cup. The halfway point of the EPL season is now clearly in the rear-view mirror, meaning every match is key as teams battle for position.
Manchester United enter the two-match week as the league leaders, but only by five points, which is down from seven. It also means rival Manchester City could take the top spot by week's end if everything fell their way.
The ongoing battle between Tottenham, Everton and Arsenal for fourth place is just as intriguing. The clubs are separated by just four points, and Liverpool are among the teams lurking with hope of making a run down the stretch.
As if the week needed any more reason for fans to pay close attention, the midseason transfer window also comes to a close. So let's look at some of the latest news and rumors on that front before previewing and making predictions for this week's matches.
Begin Slideshow

»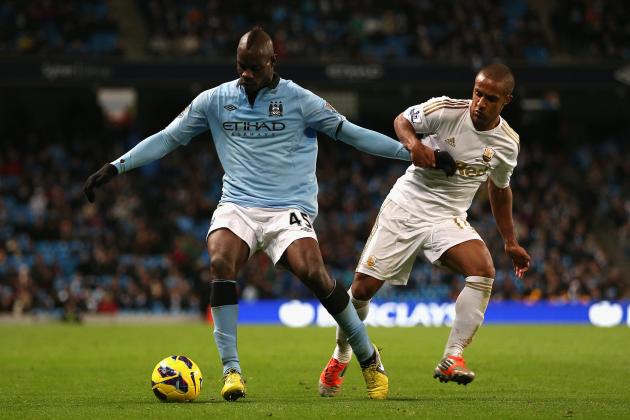 Clive Brunskill/Getty Images

The situation surrounding Mario Balotelli has changed several times during the window. Manchester City played their cards close to the vest with the polarizing striker, but the time to make a decision is now just days away.
Greg Stobart of Goal.com reports AC Milan are making a late push to land the 22-year-old Italy international. He states a deal is looking more likely than at previous points during the window, but no agreement has been reached.
Balotelli has scored just one goal in 14 league appearances for City during the current campaign. Normally a player with that type of production wouldn't generate much interest, but his upside is what AC Milan would be banking on. It's also why City is hesitant to let him go.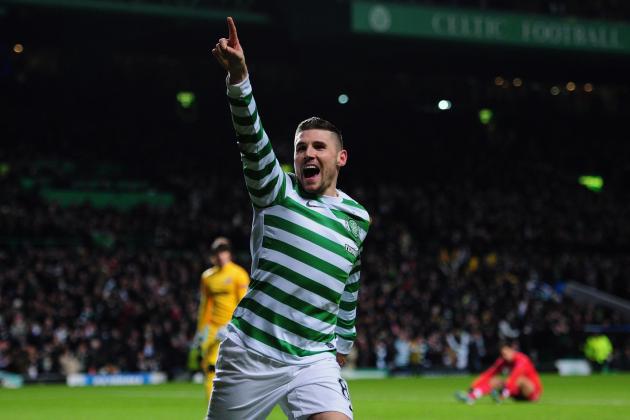 Stu Forster/Getty Images

Even though Gary Hooper has been linked to multiple Premier League sides since the start of January, it seems like he's been more of a backup plan. Well, it's reached the point in the window where backup plans become the top priority.
Sure enough, Simon Jones of the Daily Mail reports Norwich are getting ready to offer £7 million for the Celtic star. Newcastle, Sunderland and Tottenham are other clubs that have kept him on their radar in recent weeks.
Hoops is a natural goal-scorer who's finally starting to get the recognition he deserves after Celtic's strong showing in the Champions League group stage. He would be a terrific addition for Norwich, but they must work quickly to get a deal done.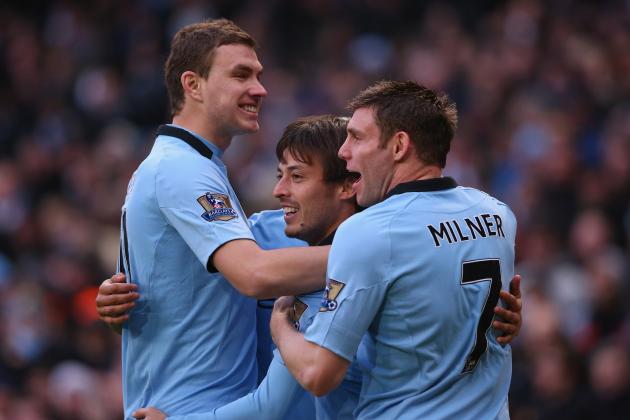 Alex Livesey/Getty Images

It will be a telling week for Liverpool. The Reds have a midweek clash with Arsenal before facing off with Manchester City over the weekend. So it's crucial that they quickly bounce back from their shocking FA Cup loss to Oldham.
City didn't have their best performance in a Cup match against Stoke either, but still managed to escape with a 1-0 victory. That's the difference between the top clubs and the ones simply battling for European spots. They find ways to win when not in top form.
The sides played to a 2-2 draw at Anfield earlier in the campaign and fans expect another back-and-forth match on Sunday. If the Reds can earn even four points in their matches this week, it will provide a huge boost to their European chances.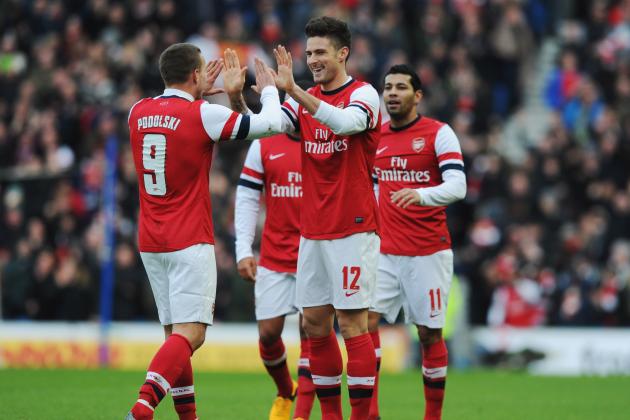 Steve Bardens/Getty Images

Top Matches
Arsenal vs. Liverpool
Arsenal scored a 5-1 victory over West Ham last week in a make-up match, once again showing off their scoring depth. That was something Liverpool lacked during the early portion of the season, but Daniel Sturridge is proving to be a good addition and Steven Gerrard has stepped up.
Prediction: 2-2
Everton vs. West Bromwich Albion
The Toffees are tied for the league lead with 11 draws. They will need to turn some of those into wins during the second half to earn a top-four spot. West Brom have cooled off after a quick start and should only provide marginal resistance.
Prediction: 2-1 Everton
Other Matches
Manchester City 2 Queens Park Rangers 0
Stoke City 1 Wigan Athletic 0
Tottenham Hotspur 2 Norwich City 1
Fulham 2 West Ham United 1
Manchester United 3 Southampton 1
Chelsea 2 Reading 1
Aston Villa 1 Newcastle United 1
Sunderland 0 Swansea City 0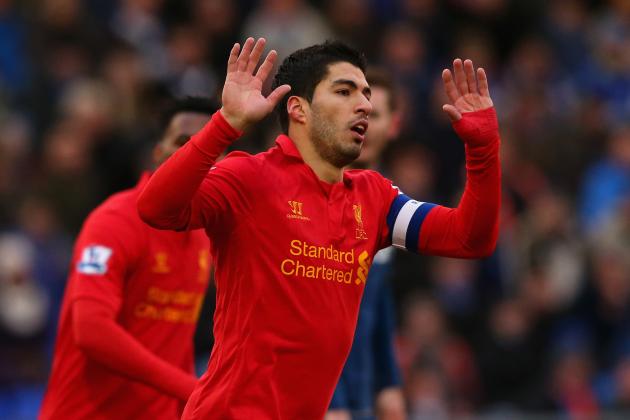 Alex Livesey/Getty Images

Top Matches
Manchester City vs. Liverpool
City know their margin for error in order to pass United by season's end is slim. The most important thing is taking care of business on home. They must be prepared for a fired-up Reds side that will be looking to have a statement week after the FA defeat.
Prediction: 2-1 Manchester City
West Bromwich Albion vs. Tottenham Hotspur
This match is the last stand for West Brom. If they want to rekindle the early magic and make a run toward a European spot, it starts with this match. Tottenham suffered a surprising FA Cup loss to Leeds, so it will be interesting to see how they bounce back this week, as well.
Prediction: 1-1
Other Matches
Queens Park Rangers 1 Norwich City 0
Arsenal 3 Stoke City 1
Everton 2 Aston Villa 1
West Ham United 1 Swansea City 0
Manchester United 2 Fulham 0
Newcastle United 2 Chelsea 2
Reading 1 Sunderland 1
Wigan Athletic 1 Southampton 1