What Memphis Grizzlies Need from Each of Their Bench Players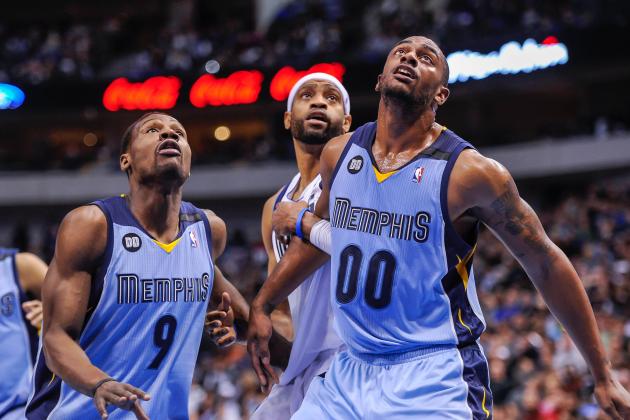 USA TODAY Sports

The Memphis Grizzlies saw a shift in the makeup of their bench after they dealt three role players on Jan. 22. That move meant a few guys would have to step up to make up for the losses.
Marreese Speights' departure meant Darrell Arthur would have to step up and take a larger role as a scorer. Arthur has been a significant scorer off the bench for Memphis, but he'll be called upon to do more with the fourth-year player gone.
Since Speights' floor spacing was one of his major abilities, Arthur's range will become even more important.
The loss of Wayne Ellington worsens the Grizzlies' three-point shooting capabilities. Quincy Pondexter's long-range aim is missed even more now.
Here's a list of what each player will be asked to do since the trade went down, including requests for each of the new Grizzlies.
Begin Slideshow

»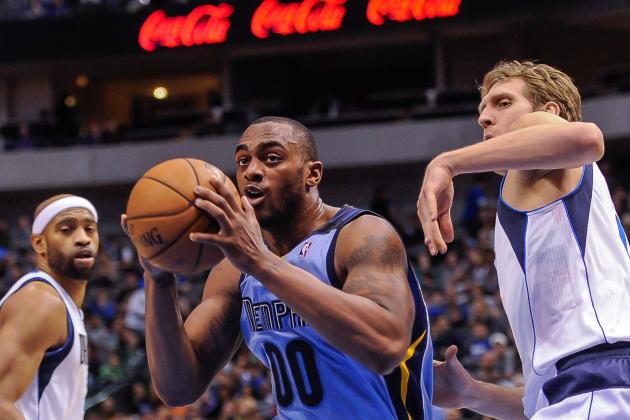 USA TODAY Sports

Darrell Arthur has emerged as the most reliable bench scorer with Marreese Speights gone and Quincy Pondexter injured. He's scoring seven points per game and has posted at least eight points in nine of the last 15 games.
Still, he leaves a bit to be desired. Arthur's 47 percent shooting is a bit lower than his career average. He could ensure reliability by hitting half his shots more often.
Arthur is often hot from the outside. If he can keep it steady, he can spread the floor and sustain the Memphis offense enough to support its health. His scoring will be much-needed with the Grizzlies bench in its current state.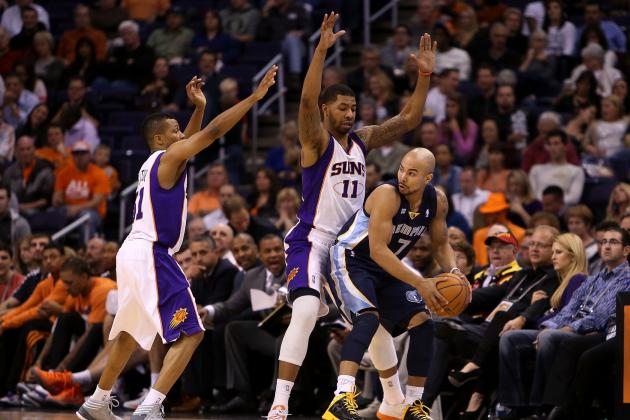 Christian Petersen/Getty Images

Jerryd Bayless hasn't done much to earn applause. He doesn't shoot well and hasn't controlled the ball. He puts up 5.5 points per game on 39.4 percent shooting. At 30.1 percent from three-point range, he gives Lionel Hollins no reason to confide in his outside shooting.
Bayless seems incapable of handling the ball effectively. He turns it over 2.9 times per 36 minutes and in 20.4 percent of possessions.
With Mike Conley out for the short term, Bayless seems likely to take the starts. In order to prove himself as a holdover, the former Toronto Raptor needs to show some ability to control the ball. He started nicely on Sunday with just one turnover against the New Orleans Hornets.
He'll have to put out a few more performances like that in order to make people think any differently of him.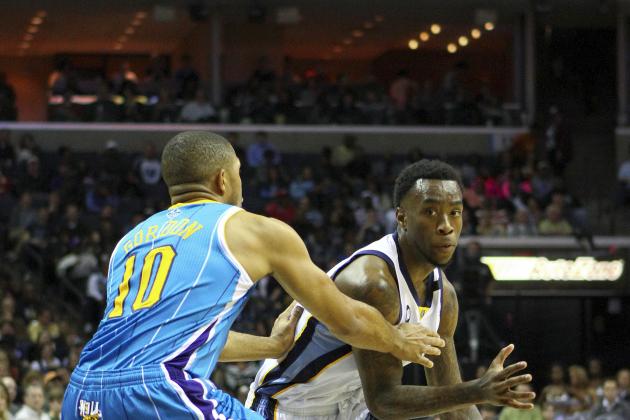 Spruce Derden-USA TODAY Sports

The biggest knock on Tony Wroten coming in was his struggle controlling the ball, especially on off-handed drives. He hasn't improved very much yet. His D-League numbers didn't impress. The Washington product coughed it up 2.5 times per game while serving with the Reno Bighorns.
In sparse NBA action, he hasn't done any better. He's averaging 2.54 turnovers per 36 minutes in 11 games. On Sunday, he had two turnovers, both in the first half.
Unless Mike Conley ends up missing an extended period of time, Wroten likely won't earn a great deal of time. Lionel Hollins won't trust him if he can't hold onto the ball. However, the rookie can catch his eye if he works hard and improves his ball-handling skills.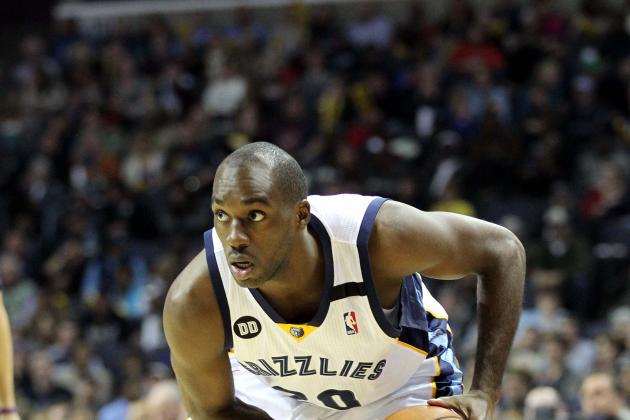 USA TODAY Sports

Quincy Pondexter had been the Grizzlies' leading bench scorer and three-point shooter before going down with a knee sprain. He averaged 6.7 points per game and shot 42 percent from beyond the arc.
His three-point shooting has especially been missed, since the team has largely been mute from long range since December. The Grizz are now 23rd in three-point field-goal percentage. The problem has only grown with the departure of three-point specialist Wayne Ellington.
Scoring is unpredictable for this team's bench. Divining which player will step up and score in double figures is difficult. Darrell Arthur is the only one who has done it more than five times, and he's only been in double digits in a quarter of the games he's played.
According to The Commercial Appeal, he started his recovery last week and should begin with the elliptical and shooting this week.
His return date hasn't been set, but it will be welcome when it comes around.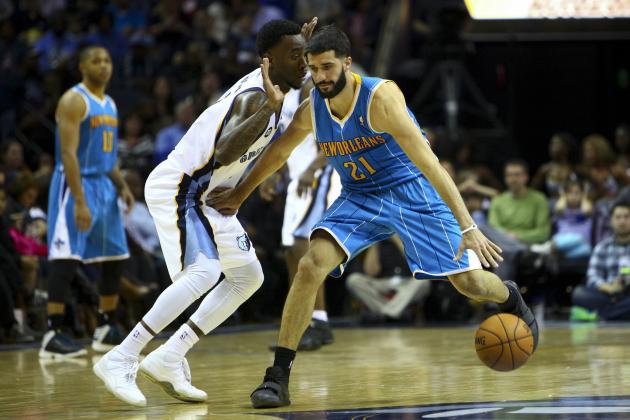 Spruce Derden-USA TODAY Sports

Chris Johnson, who joined the Grizzlies after the Speights trade, was simply expected to plug a hole in the roster. In just three games, he's done a reasonable job. Johnson has 20 points, including 10 against the Brooklyn Nets on 4-of-6 shooting.
He has seven rebounds in the last two games.
Another good performance against the Philadelphia 76ers on Monday should earn a reward. If he can drop a few buckets and grab a few rebounds, he should be able to hang on longer in Memphis.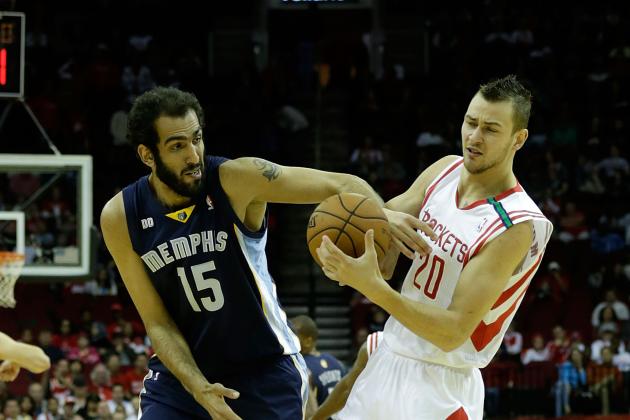 Scott Halleran/Getty Images

Hamed Haddadi doesn't have a problem doing things to catch people's eyes. He blocks shots left and right, amounting 2.5 per 36 minutes. He's done a decent job grabbing rebounds in his brief playing time, pulling down 9.9 per 36 minutes.
Meanwhile, he does some bad things that also catch people's attention. The Iranian center frequently commits unnecessary fouls. He averages 6.2 per 36 minutes. He sometimes has trouble controlling the ball in the paint. He periodically drops passes.
Discipline isn't nearly as much of a problem as conditioning for Haddadi. However, it's a more controllable aspect of his game at this point in the season. If he can avoid making mistakes, he may be able to take advantage of the depletion of the frontcourt reserves and stay in the game a bit longer.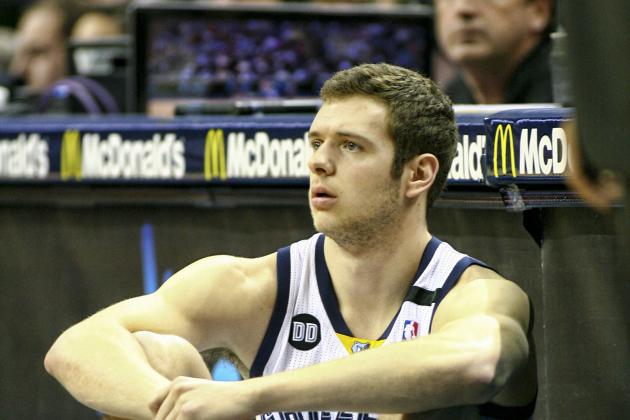 Spruce Derden-USA TODAY Sports

Lionel Hollins isn't the type to throw newcomers into the fire, especially if they're as unproven as Jon Leuer. Hollins generally eases them in and waits for them to prove that they deserve significant minutes.
At that, big-man minutes are hard to come by on a team that gives both its two starting bigs more than 35 minutes per game.
Leuer needs to do something to make himself stick out in order to gain a foothold in the Grizz rotation. He's only played 56 games in his two-year NBA career. He averaged 12.1 minutes per game in 2011-12 with the Milwaukee Bucks and 9.3 per game this season.
Leuer has struggled to put the ball in the hoop in the current campaign. He's shooting 34.5 percent from the field. In two of the three games in which he had five or more shots, he missed more than half his attempts.
To catch Hollins' attention, Leuer needs to shoot accurately in his short time on the floor. If he can get the chance, two nice inside shots in the span of a few minutes could win him a few extra minutes on the floor.