5 Improvements Dwight Howard Must Make to Impress Kobe Bryant
Stephen Dunn/Getty Images
Dwight Howard needs to make some improvements to meet Kobe Bryant's approval.
I don't imagine it's easy to play alongside Kobe Bryant. Or rather, in Kobe Bryant's shadow.
Especially not after being "The Guy" on your own team for eight years, the way Dwight Howard was before coming to the Los Angeles Lakers.
Kobe's style of leadership is demanding. He expects maximum effort every night and is driven solely by his mission to win championships. His idea of fun is kicking back and watching game film of his next opponent.
Dwight isn't wired that way, and the two stars' clash of personalities has caused some friction in the locker room. Reports have leaked out about near fights and verbal altercations between the two, and while those reports may be overblown, where there's smoke, there's fire.
Bryant has made it clear that the Lakers remain "his" team (not that he ever had to clarify) and as such, Howard's role will be one of deference to Bryant as long as the two remain teammates. If Howard truly wants to be successful with his current franchise, he has to learn how to fall in line and let his play do the talking.
Here are five improvements Dwight can make to appease the Mamba.
Begin Slideshow

»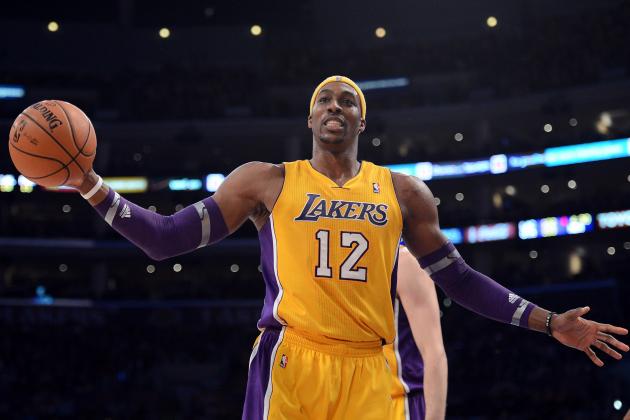 Harry How/Getty Images

Obviously, Dwight Howard is a happy-go-lucky sort of guy. That's all well and great, but on a Kobe Bryant-led team, that type of attitude is frowned upon.
I don't buy the logic that just because Howard is prone to smile he can't win titles, but there's no doubt he sometimes tries to make light of serious matters. It may be nothing more than a defense mechanism, but to someone like Kobe, it comes off as childish and nonchalant.
Howard also needs to quit whining. In a Mike D'Antoni system with Kobe Bryant and Steve Nash in the backcourt, there aren't going to be too many possessions where the Lakers just throw it to Dwight in the post and let him go to work.
He must recognize this and accept his role if he wants to help his team. Dwight can still get his numbers by finishing pick-and-rolls, putting back offensive rebounds, cutting to the rim at the right time and beating his man down the floor for transition hoops.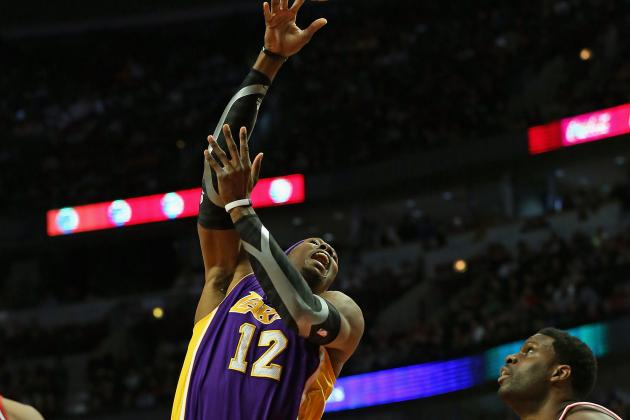 Jonathan Daniel/Getty Images

If Dwight Howard wants to earn the right to complain about a lack of shots and touches, he has to prove he can be an efficient offensive option on his own.
Right now, that simply isn't the case.
The Lakers don't have any good reason to let Dwight work alone on the block. Howard ranks 77th in the NBA in post-up plays, according to Synergy Sports, at 0.76 points per possession.
He only shoots 46 percent on post-ups and turns the ball over an astounding 19.3 percent of the time in those situations. The Lakers are much better off running post-ups for Kobe Bryant, who actually ranks tops in the league with 1.09 points per possession on post-ups, making 58 percent of his field goals from the post.
Also, when Howard gets the ball without the opportunity for a quick finish, there is always the fear that opposing teams will just foul him and send him to the line instead of letting him get a good look at the basket.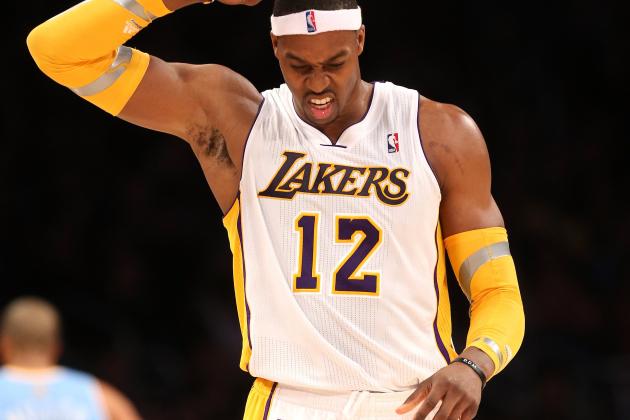 Stephen Dunn/Getty Images

The Lakers as a team have really struggled with turnovers, ranking in the bottom 10 in the league in turnover rate, and Dwight Howard has only contributed to that.
Howard currently sports the third worst turnover rate of his career. As I mentioned before, he gives the ball away on more than 19 percent of his post-up plays. He also coughs it up an astronomical 23 percent of the time after making a catch while cutting to the basket. That's absurd.
Just from watching the games, it's noticeable how many times Dwight gets stripped, either while making a move in the post or while going up for a shot or even after bringing down an offensive rebound (Don't forget to keep the ball high, Dwight!).
These live-ball turnovers lead to transition opportunities for the other team and that's really hurt the Lakers this year, as they give up more fast-break points than any other team in the league.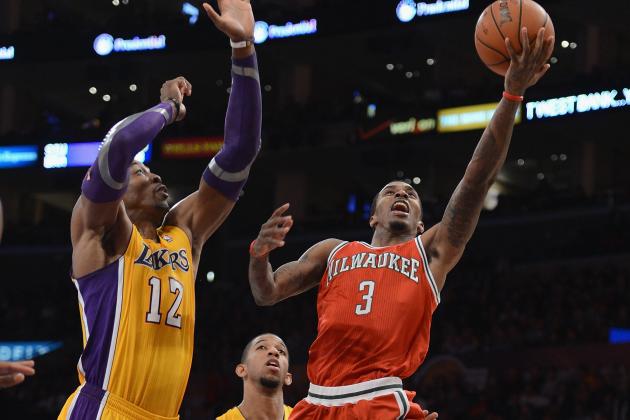 Harry How/Getty Images

You'd think any team that adds a dominant defensive center in his prime, a guy who has been named the NBA's Defensive Player of the Year in three of the past four seasons, would improve dramatically on defense.
Again, that hasn't been the case.
The Lakers have actually regressed, ranking 18th in defensive efficiency in 2013, five spots lower than they were in 2012.
Naturally, the Lakers' defense drops off when Howard is off the floor, but even when you consider only the minutes that Howard is playing, the Lakers would still rank outside the top 10 in points allowed per possession.
The most disappointing aspect of the defense has been rim protection, something that Howard is supposed to specialize in. Only 10 teams allow their opponents to shoot a higher percentage from the restricted area, and the Lakers allow more shot attempts from that zone than any of those 10 teams.
The result: only Portland gives up more points in the paint on a nightly basis. That's something that has to improve for the Lakers to win consistently.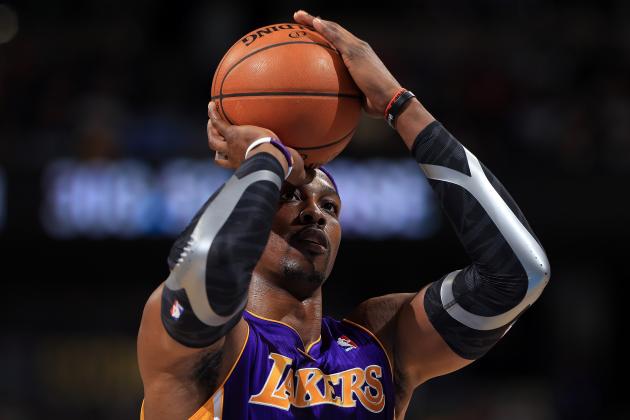 Doug Pensinger/Getty Images

It's obvious, really.
Teams would rather send Dwight to the line than concede any easy basket. Heck, many of them would rather do that than let the Lakers get off any shot at all!
He has to make them pay for doing that.
What I don't understand is that after a rookie season in which he shot a promising 67 percent from the line, he shot 59 percent with almost zero variation for six consecutive seasons. (Seriously, he was between 58.6 and 59.6 percent every single year.)
He had established a track record of (relative) success from the stripe. Then all of a sudden his free-throw percentage plummeted 10 percent last season and has stayed in that same neighborhood this year.
How does that happen? Whatever the reason, if Dwight wants to impress Kobe Bryant, he has to knock down his foul shots, at least at the rate he previously proved he was capable of.