WWE Royal Rumble Aftermath: WWE Did Everything Right at the Royal Rumble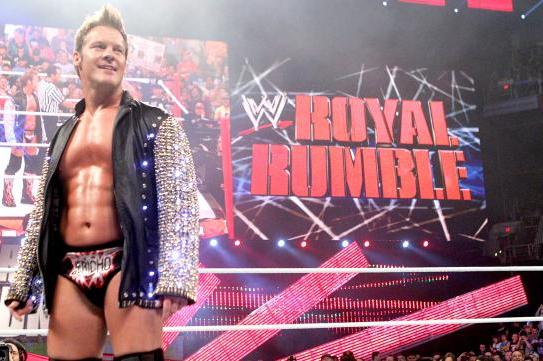 Credit: WWE.com
On a night where CM Punk's historic title reign was blown away by a part-timer, I can see that the headline "WWE Does Everything Right" may cause a slight reaction.
I promise you, this has not been done to merely annoy the IWC, this article is not "trollacious" (I have made this word up and I enjoy it).
In all honesty, I think the best outcomes were all achieved.
On the night that truly is full of the most thrills and spills on the WWE calendar, the company seemed to actually have its head screwed on. Creative had planned ahead and even the commentary team were up for it.
So, let's go slideshow! (This slideshow sucks!)
Begin Slideshow

»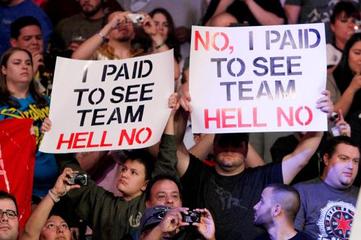 Credit: WWE.com (Also, this is brilliant)
The early body of the pay-per-view was obviously all a mere sideshow to what was to come, but it was all on the money and seemed to be full of guys who knew the night was a big one.
Cesaro was quite obviously the right winner of the pre-show US title match, and the WWE are doing very well to build not only his future main-event capabilities, but also a big moment for the man who defeats the anti-America heel.
Jack Swagger, if you are ever coming back, then beating that man is the way to make us care.
The tag team titles stayed in the right place, too. I would suggest that keeping the belts on two men hugely over with the crowd is good for everyone involved in that division, and frankly there is nowhere better for two hugely talented stars to go at the moment.
Alberto Del Rio carried on his face turn momentum with another grueling victory over Big Show, a solid move for his career.
But really, the main crux of this article involves the two main events of the show. The Rumble match and the WWE Championship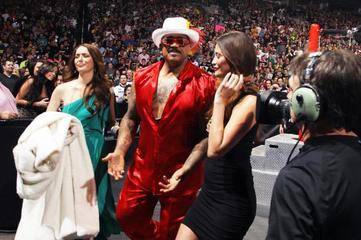 Credit: WWE.com
The comebacks and surprises started early this year as Dolph Ziggler ranted on and on about fearing no man that could walk down that ramp as the second entrant of the Rumble.
Ziggler was shook as a legend entered; you could say his walls were broken down.
Chris Jericho got an absolutely huge reaction as he walked out onto the stage and down the ramp.
It was a mark-out moment, it got the night really going and I think it really set the tempo for a Rumble match that eclipsed last year's event in every single way.
Unlike 2012, the comebacks were not a constant stream of rubbish. They did not dilute the event.
Goldust entered as another shock, got the kind of reaction he never did as a full-time roster member, and got greeted with a sense of drama, too.
Cody Rhodes sold the moment brilliantly and gave it a real feeling of importance.
The Godfather got another huge pop, milked his entrance like a true pro, refused to waste anyone's time by being eliminated in 17 seconds and then milked his exit with the music still going!
Finally, the injuries to WWE's luchador duo were put to memory as Sin Cara and Rey Mysterio reappeared on our screens.
Their presence in the Tag Team division could be huge if they settle into a run.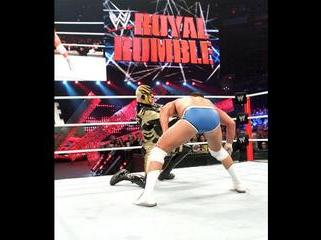 Credit: WWE.com
There are a few subtle and not-so-subtle things that go down in a Royal Rumble.
Those of us who watch WWE week in, week out will have seen a few things that could indicate future feuds.
First off, WWE reignited a feud of a few months ago and now none of us really know where this one could go. Is Jericho vs. Ziggler going to kick off all over again? Is Jericho back for his usual Rumble to WrestleMania run? Could these two be dueling over the World Heavyweight Championship soon?
Is there anything more than a nostalgic pop in Goldust's return? There is clearly a lovely feud to be built around Cody vs. Goldust, Rhodes vs. Rhodes.
The undercard of WrestleMania would be truly enhanced by such a match. It would be a fine way to end the career of one of the company's most unique stars in Goldust and give Cody another fine notch on his CV. It's a nice chance to let Dusty come out for WrestleMania, too.
We were given more reasons to wonder when the relationship between Kane and Daniel Bryan will go from uneasy friendship to explosive rivalry. That one still has distance left to run.
Less obviously, but one clearly in the pipeline, is the confrontation of Sheamus and Randy Orton.
They had a few little moments, following some signs of friction in recent weeks, some tension clearly in the air, enough to suggest there is more to come. This was my favourite; subtlety is an art, but there is something brewing there.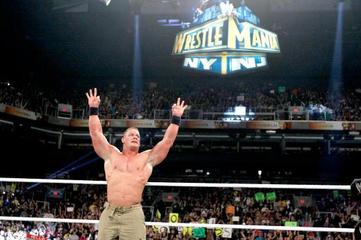 Credit: WWE.com
Calm down! I can feel that X-Pac heat on my neck!
John Cena was the right winner.
Ryback got some big eliminations. But there was every reason to have Cena get the better of him.
John Cena is WWE royalty. The man is main event, and he does deliver when it comes to WrestleMania. He faces criticism every day, but he pulls it off for the big events.
His part in CM Punk's title reign is unquestionable; he has been a huge part of how good every match they put on together has been.
The Rock vs. Cena match at last year's WrestleMania was undeniably gripping, too.
If nothing else at least he will not be overshadowing the title picture with his side feuds!
He is the face of the company, the redemption story of a title shot with The Rock is perfect WWE storytelling, it will be another huge match, and not exactly the first one-on-one we will see twice. And that's all with the assumption CM Punk does not get his face in the WWE title scene for WrestleMania.
You know for a fact this is not a Rumble winner who will fade to insignificance, too. There was not many in that match who deserved the huge momentum from a win.
Ryback is too green, Sheamus won last year, Ziggler has Money in the Bank, Orton has had a ridiculously up-and-down year and no one else is nearly main-event quality.
Face it, the WWE Title match will be huge at WrestleMania, bigger than Punk vs. Jericho by a distance, and you cannot complain with that.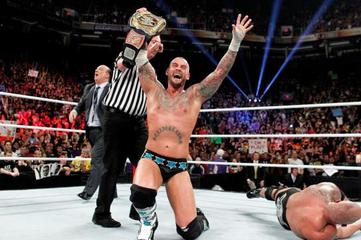 Credit: WWE.com
This one will annoy a few less people, but there is still much indignation in CM Punk losing.
I am not sure we will have ever got a good reaction from Punk fans after he lost the belt.
It had to end one day, The Rock winning the title is huge. CM Punk has been given a huge compliment by the company, they have made him a true main eventer.
He has shone in the feud with one of the greatest of all time, had the longest title reign in modern history and will remain one of the top draws on Raw.
This was no pathetic title loss. He has not been fed to Cena, this defeat will open up that feud to reignite in the future.
Defeat will be wonderful for CM Punk.
It also gives him a lot of places to go with his character now. Not only will we see CM Punk the heel without his title, we get to see him chase The Rock, a development in his relationship with Paul Heyman and possible future feuds.
If he is not involved with the WWE title now, then there are probably only two names on the horizon for him.
The Undertaker is the most likely. That is massive, it will be a monumental feud and will not be a relegation for Punk in any way.
The other direction is Brock Lesnar. Far less likely, but another star.
Punk will now be saved from going stale and rehashing the same feuds over and over. A different angle to approach old foes and different avenues for him to approach will appease the Punk fans who get to see more variety from the best in the business.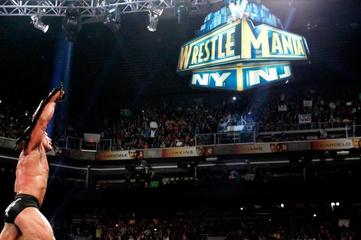 Credit: WWE.com
The Rock winning is massive for the fans, the product and the company.
The man is putting in a proper shift in this return, and whilst he is not as good as The Rock of old, he is still a wonder to witness at work.
Like Cena, The Rock having the title brings prestige to it.
He still performs in the ring, he still performs on the mic and he still has an aura around him.
His victory is an acceptable way to lose, losing to a bona fide legend, Punk is not weakened.
And when he's dethroned, it will be a huge moment.
The chase for his title will be the focal point for every Raw until WrestleMania.
When he's gone, there is no reason Punk and Cena cannot be main event together again. It will make that feud huge again and fresh too.
Most importantly, it's really exciting. The product is electrified by The Rock mixing regularly with Cena and Punk.
It's not like he's running off to Hollywood with the title. He'll be part of the WWE, he'll be at Elimination Chamber and he'll be at WrestleMania.
Take off the smark glasses, sit back and enjoy an exciting product that is building for stellar matches on April 7.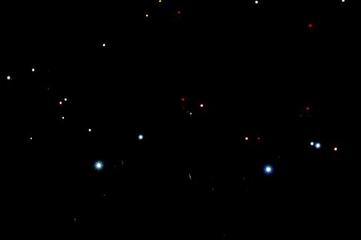 Credit: WWE.com
Finally, I think the WWE used The Shield very well.
It is very intriguing, we all knew CM Punk was not going to win with The Shield involved.
Yet they appeared, for no benefit of Punk.
So, who are they attacking The Rock for?
It did not help CM Punk, on the face of it it does not help Heyman, The Rock was actually on top at that point so it's no favour to him (let alone no one really wants to go through a table).
Who are they working for? Are they working for anyone? What was the intention behind the attack? Will they reappear in this story? (Yes).
It was a big scalp for The Shield, taking out The Rock and being a huge talking point in the main event of the PPV.
And we are no closer to working out their goal. Fighting injustice seems to be just talk.
I want to know more, I guess I am going to have to watch more to find out. Those tricky swines have got me tuning in again; it was their plan all along.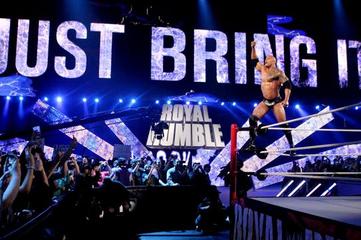 Credit: WWE.com
The booking had logic, foresight and intention.
That's what I watch WWE for. To be excited by what has happened and what is to come.
On this night, we saw huge developments for a lot of characters. There are new stories to be told for so many individuals in so many different ways.
The best part about having passion for sports entertainment, the part that is better than supporting a sports team, is that setbacks in the ring can be exciting for the characters of your favorite wrestlers.
I am extremely intrigued to see the direction and the changes for CM Punk.
Punk fans love him for how well he portrays his character, how brilliant his brain is as well as how good he is in the ring. He will react accordingly, there will be differences and he will be fantastic to watch going in a new direction.
He could not forever be the man who spoke about his title reign. Now there is something else for the mouthpiece, new pipebombs and a difference in his approach.
The Rock will carry a sense of prestige, and Cena will be far more bearable with his intent on main events and title wins.
John Cena was best as the underdog and for the first time in absolute years, he has reason to be portrayed as one. He has direction, too; Cena needs direction to perform.
And we've got new feuds, resolutions of stories still going and the Road to WrestleMania truly beginning,
You can hate me for supporting a Cena win in the comments below, I fully respect your opinions and believe me, I'm no Cena fan. To hear me talk wrestling in audio form, listen to me weekly on the V2 Wrestling Podcast and follow me on Twitter @The_Wilkerson