UFC 156: Evan Dunham vs. Gleison Tibau Head-to-Toe Breakdown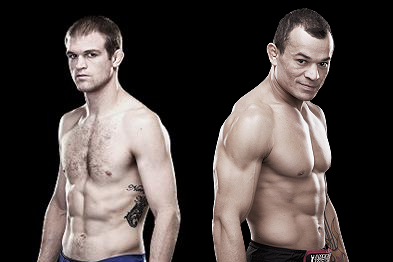 Photo: ufc.com
UFC 156 is one of the most stacked cards in UFC history. There is so much star power on the event that a stellar lightweight battle between Evan Dunham and Gleison Tibau has been relegated to the FX preliminary card.
Tibau will be making his 18th UFC appearance in this fight against a man who was once considered the brightest prospect at 155 pounds.
With Dunham earning Fight of the Night bonuses in three of his last five encounters, this is undoubtedly a can't-miss fight that promises fireworks.
Here is a head-to-toe breakdown of Evan Dunham vs. Gleison Tibau.
Begin Slideshow

»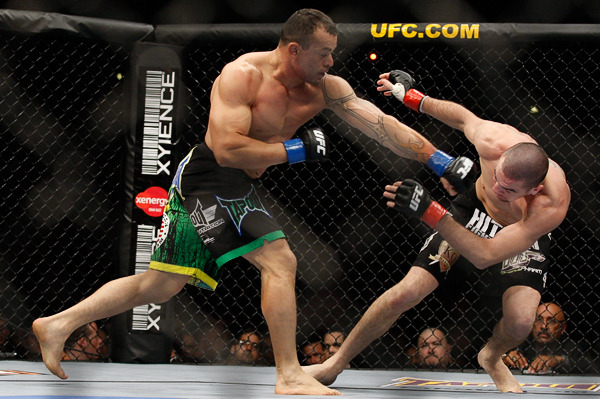 Photo: edmulholland.com
Although both fighters are known for their non-striking attributes, both Tibau and Dunham are dangerous strikers in their own right.
Tibau generates a lot of force when he sits down on his punches. Between short uppercuts and powerful hooks, the Brazilian has dropped opponents in the past; however, he typically uses his strikes as a way to disguise takedown attempts. His most dangerous punches come from close quarters.
Dunham is a more well-rounded striker who is dangerous with knees, elbows, kicks and punches. Despite giving up an inch in reach to his opponent, the Xtreme Couture fighter will utilize his long legs to strike from afar while picking Tibau apart on the outside.
Advantage: Dunham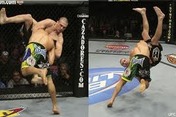 Photo: ufc.com
Despite Evan Dunham being well versed as a wrestler, there is little question that Gleison Tibau takes the advantage in this category.
Tibau ranks second in all-time UFC takedowns with 64. The only man who has wrestled an opponent to the ground more often is Georges St-Pierre, who has 75.
Additionally, Tibau is incredibly difficult to take down. According to FightMetric, Tibau has the best takedown defense in all of MMA with a 91.8 percent success rate of fending off his opponents.
Advantage: Tibau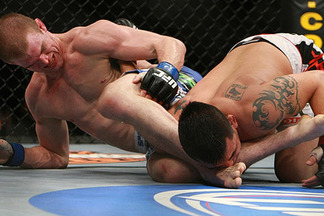 Photo: ESPN.com
Gleison Tibau is a black belt in BJJ, and in his last fight, he was pushed to his grappling limits by Francisco Trinaldo. Tibau was able to defend a rear-naked choke and arm-triangle choke, although both maneuvers were too close to completion for comfort.
Evan Dunham is a grappling wizard who has made opponents look silly once they hit the ground. At UFC 119, Dunham threatened Sean Sherk with chokes nearly every time a takedown was attempted.
Dunham used his slick grappling to submit Efrain Escudero and control Tyson Griffin in early UFC appearances. He should have the edge here once this battle goes to the ground.
Advantage: Dunham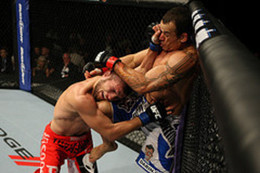 Photo: Josh Hedges/Zuffa LLC/Getty Images
Earlier, the topic of fighting in close quarters was discussed. That analysis took a look at striking outside of the clinch. Here, we will take a look at this fight after a clinch is initiated.
Tibau is a dangerous fighter from the clinch because he is so versatile. In the attached image, you see Tibau deliver a flying knee despite being pressed against the cage by his opponent. This, mixed with his incredible trip takedowns, make him very dangerous.
Dunham has some nasty short elbows on his side; however, it is unlikely that he would win a clinch battle against a foe like Tibau.
Advantage: Tibau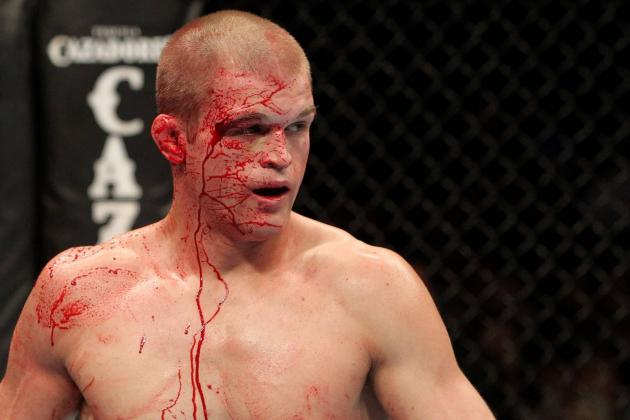 Photo: espn.com
This is a tough fight to predict. Ultimately, the best way to predict the outcome comes by looking at each man's record against similar opponents.
Tibau has met finesse strikers with dangerous jiu-jitsu before in the form of Jim Miller and Rafael dos Anjos. Neither bout was a blowout, although Tibau lost decisively to Miller. His split-decision win over dos Anjos came by the narrowest of margins.
Dunham has squared off with great wrestlers before. In fights with Nik Lentz and Sean Sherk, Dunham was able to remain on his feet and use his striking advantage to dominate both men.
Expect this fight to be contested mainly on the feet. Dunham will look to keep this fight standing in hopes of staying out of bottom position against his heavily muscled opponent. That will lead to a bloody encounter between two lightweights who don't know how to give up.
Dunham will threaten with submissions to return to his feet in the event that takedowns do occur. For that reason, this is his fight to lose.
Prediction: Evan Dunham defeats Gleison Tibau via decision
Author's Note: To any Wikipedia fans who are going to say "but Dunham lost to Sean Sherk," it is important to note that Dana White called that decision a robbery. Evan Dunham was clearly the superior fighter that night who did not deserve to see his flawless record receive a blemish.