NCAA Tournament 2013: The 10 Bubble Watch Games of Week 13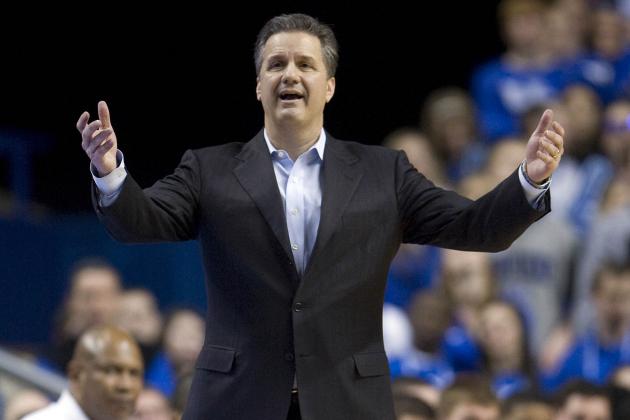 Mark Zerof-USA TODAY Sports

Selection Sunday is just seven weeks away, and the Bubble picture is only marginally clearer now than it was six days ago. However, I've always found that things start to come into shape as we flip the calendar from January to February, so these next seven days will be crucial in determining those last few teams to get an invite to the Big Dance.
Based on my latest bracket projection, what follows are the 10 games in the upcoming week with significant implications for teams on the bubble.
It's still a bit too early in the season to say that a win clinches a berth or that a loss eliminates a team from consideration, but these games will certainly move the needle in one direction or the other for both teams involved.
Begin Slideshow

»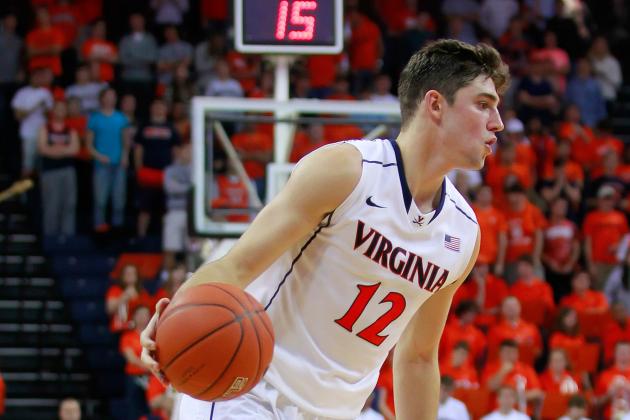 Geoff Burke-USA TODAY Sports

Implications for NC State (16-4, RPI: 15):
The Wolfpack have lost two of their last four, and the two games after this one are against Miami and Duke. A loss to the Wahoos could mean they're on their way to losing five of seven games during a critical stretch of the season.
In addition to avoiding disaster, it would be nice to see if the Wolfpack can win a true road game against a better team than Boston College.
Implications for Virginia (14-5, RPI: 101):
The Cavaliers played one of the worst non-conference schedules in the country (337th), and have been fighting an uphill battle for relevance ever since losing three games against the Colonial Athletic Association.
They're on a three-game winning streak, but they'll likely need to win at least two of their four remaining games against Miami and the Tobacco Road schools if they're going to get that RPI up to an acceptable level.
Prediction:
Because UVA is involved, it'll be a close low-scoring game, and I think the Cavaliers pull off a mini-upset.
Virginia 62-58.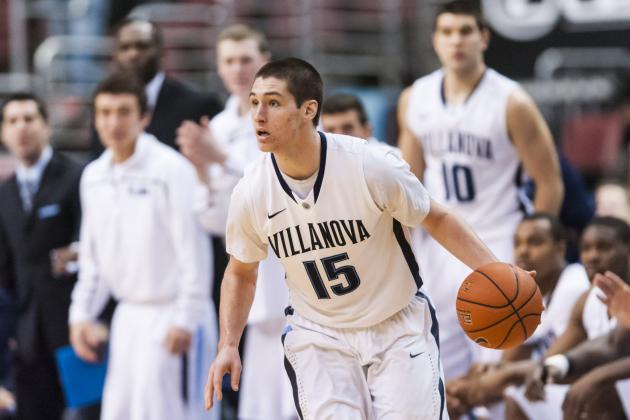 Howard Smith-USA TODAY Sports

Implications for Villanova (13-7, RPI: 52):
It's tempting to think that Villanova belongs in the tournament after last week's wins over Louisville and Syracuse, but there's still a lot of work to be done.
A win over Notre Dame would give the Wildcats their fourth RPI Top 50 win, but more importantly, they won't suffer their eighth loss of the season with 10 games left to play.
Implications for Notre Dame (16-4, RPI: 45):
These are the games the Irish will need to win in order to stay in the tournament field.
Losses to Syracuse or Louisville won't kill them, but losses to Villanova, Pitt or St. John's could result in a shifting of the Big East pecking order.
Prediction:
These teams have been the definition of inconsistency thus far in 2013, but I think Villanova's hot streak will continue for at least one more game.
Villanova 72-65.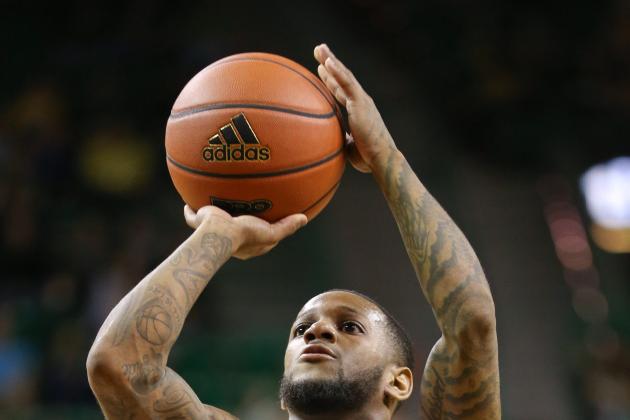 Jim Cowsert-USA TODAY Sports

Implications for Oklahoma (13-5, RPI: 24):
This is Oklahoma's fourth game in a stretch of seven that will make or break its season. The Sooners have already lost road games to each of the Kansas schools and face both of them at home in the upcoming two weeks, with Texas, Baylor and Iowa State peppered in between those battles.
A win over Baylor would instantly become their best of the season.
Implications for Baylor (14-5, RPI: 34):
With a win, the Bears would retain sole possession of second place in the Big 12, which may be difficult to preserve as the season progresses, since they've already played four of their eight games against the dregs of the conference.
Aside from the rematch in Oklahoma and the season-ending game against the Jayhawks, this is Baylor's best remaining shot at an RPI boost.
Prediction:
Baylor has been surprisingly reliable over the course of their past 10 games, and all signs point to the Bears being the better team.
Baylor 73-71.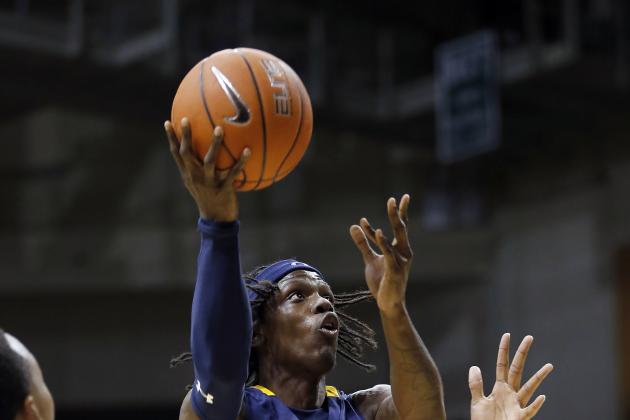 USA TODAY Sports

Implications for Massachusetts (13-5, RPI: 62):
The Minutemen are coming off of their biggest win of the season, and immediately get the chance to pick up an even bigger one.
I'm having difficulty believing they could get an at-large bid, but it's within the realm of possibility, as long as they beat La Salle.
Implications for La Salle (14-5, RPI: 26):
In the span of less than a week, the Explorers went from an irrelevant team with a strangely high RPI to a legitimate mid-major threat, by virtue of knocking off both Butler and VCU.
Even if they lose their remaining games at Temple and at Saint Louis, they can get to 22-7 and be comfortably in the tournament field. Aside from those two games, this one against Massachusetts is the biggest potential stumbling block left on their schedule.
Prediction:
Odds are you don't know a single player on either of these teams, but you'll want to familiarize yourself with La Salle, because they're going to win this game and potentially cause some problems in your bracket as a No. 10 seed.
La Salle 74-62.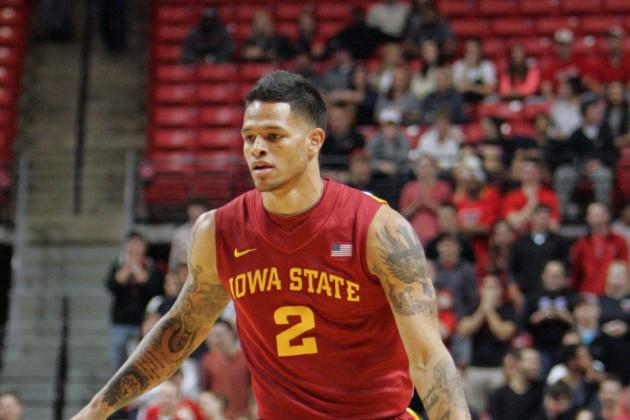 USA TODAY Sports

Implications for Iowa State (14-5, RPI: 39):
In the past five days, the Cyclones have suffered their worst loss and secured their best win of the season.
I still think they're the second best team in the Big 12, but we'll certainly figure it out between now and February 20.
Implications for Oklahoma State (13-5, RPI: 42):
The Cowboys' three best wins of the season all came in a span of four days back in mid-November. Since then, they're merely 2-5 against the RPI Top 150. A home loss to Iowa State would likely knock them out of the field of 68 for the time being.
Prediction:
I don't foresee either team winning by double digits, and in a single digit game, I'll take the senior leadership of Korie Lucious over the freshman mistakes of Marcus Smart.
Iowa State 68-63.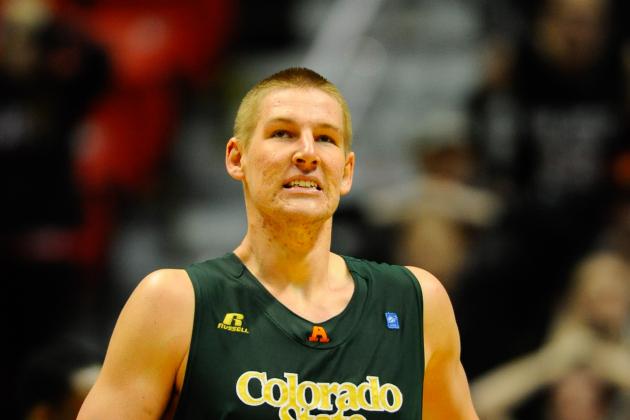 USA TODAY Sports

Implications for Boise State (14-5, RPI: 58):
Regardless of who they were playing with or without, the Broncos have lost three of their last four games, two of which came against the conference's bottom three.
A loss to Colorado State would just about cement their place outside of the tournament field, barring some sort of miraculous run through the month of February.
Implications for Colorado State (16-4, RPI: 23):
With Wyoming and Boise State dropping games left and right, the Rams are in the driver's seat for the fourth bid out of the Mountain West; and with the way they battled San Diego State and New Mexico on the road, I wouldn't be surprised if they won the conference outright.
A home loss to Boise State and/or Wyoming in the upcoming week would plant a seed of doubt, but they absolutely look like a tournament team for now.
Prediction:
Two weeks ago, I would've made a strong argument for Boise State in this game.
As is, Colorado State 79-64.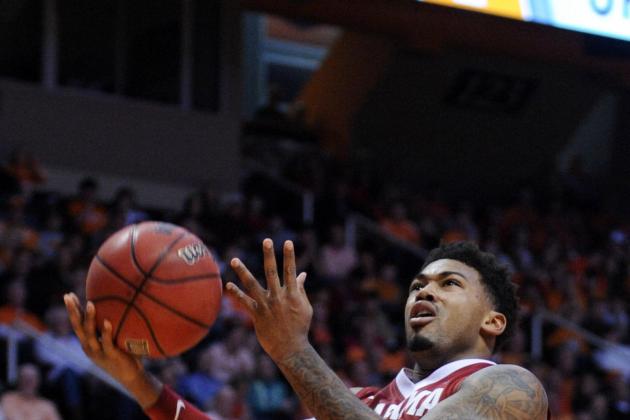 USA TODAY Sports

Implications for Arkansas (12-7, RPI: 83):
Florida and Ole Miss are quite good, and Missouri will belong back in that upper echelon once Laurence Bowers returns.
Beyond that, the SEC is an absolute crapshoot. There isn't a single thing about the Razorbacks' resume that suggests they could play their way to a fourth-place finish, but stranger things have happened.
Implications for Alabama (12-7, RPI: 63):
Despite the one-point road loss to Tennessee this weekend, I still think Alabama gets to 13-5 in conference play, and I'm still concerned that the home losses to Dayton, Tulane and Mercer will be a big problem come Selection Sunday.
A win over Arkansas wouldn't give their resume much of a boost, at least when compared to how much a loss would damage their resume.
Prediction:
Arkansas is 1-6 in road/neutral games, and their lone win came against Alabama A&M.
Alabama 70-53.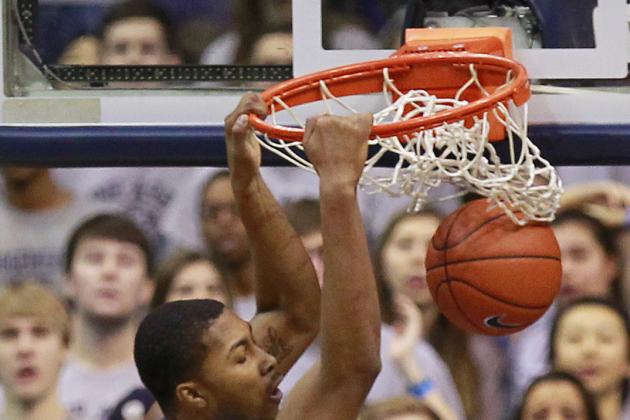 Geoff Burke-USA TODAY Sports

Implications for St. John's (13-7, RPI: 50):
The Red Storm is on a four-game winning streak, and will likely extend it to five with a home game against DePaul before this rematch with Georgetown. With Villanova's recent surge, St. John's is arguably the ninth best team in a Big East conference that definitely isn't sending nine teams to the tournament.
The Johnnies have seven games left against teams in the RPI Top 50 and will need to win at least four of those games to have a strong case for an at-large bid.
Implications for Georgetown (14-4, RPI: 38):
Similarly to Notre Dame, the Hoyas are in great position to make the tournament as long as they don't start losing games to the middle-of-the-pack Big East teams.
This weekend's win over Louisville was their fourth against the RPI Top 50, and they'll have plenty of chances to add to that list.
Prediction:
The Johnnies are hot, but the Hoyas are better.
Georgetown 61-50.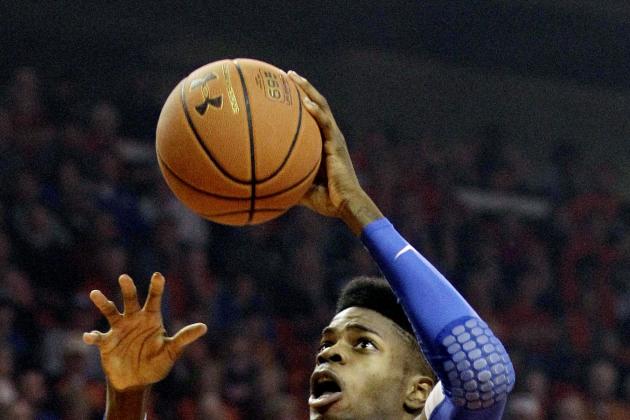 John Reed-USA TODAY Sports

Implications for Kentucky (13-6, RPI: 61):
Unless the Wildcats pick up a win over Ole Miss on Tuesday, a second loss to the Aggies would just about finish their season.
It's hard to believe that the reigning champion could miss out on the tournament altogether, but then again, North Carolina suffered the exact same fate three years ago.
Implications for Texas A&M (12-7, RPI: 83):
The Aggies were looking like one of the teams to beat in the SEC after going into Lexington and absolutely sticking it to Kentucky over the final six minutes. Since then they've lost four straight games, two of which were against arguably the two worst teams in the conference.
Factor in the earlier home loss to Southern University, and this might be a team struggling to make the NIT, let alone the NCAA Tournament.
Prediction:
Kentucky hasn't been great, and this certainly won't propel them into the field of 68, but they will live to fight another day.
Kentucky 78-59.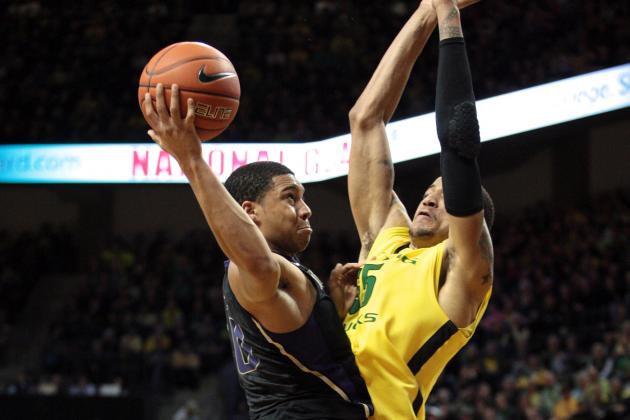 USA TODAY Sports

Implications for Arizona State (16-4, RPI: 53):
The Sun Devils have been surprisingly good, but they still have a lot to prove between now and March 9.
The win over UCLA was great and certainly pushes them into the field at the moment, but with seven of their remaining 11 games coming on the road, I'm concerned they might suffer a few indefensible setbacks before all is said and done.
The 255th-ranked non-conference strength of schedule will hurt their standing with the committee, but if they can get to 13-5 in the Pac-12, it'll be tough to pass them up. They're currently at 5-2 with road games left against Colorado, UCLA and Arizona, so they probably shouldn't use up any of those three "losses to give" this week against the Washington schools.
Implications for Washington (12-8, RPI: 70):
I don't actually think the Huskies are an at-large candidate at the time of writing, but if they can win two out of three against UCLA and the Arizona schools, then we'll talk.
They are 5-4 against the RPI Top 100, but they've also lost four games to teams with an RPI of 126-plus; and three of those four games were played at home.
Prediction:
Arizona State is the better team, but on this particular night, I like Washington to break a four-game losing streak to keep tourney dreams alive.
Washington 81-79.