Ohio State Fooball: Urban Meyer's 5 Biggest Offseason Concerns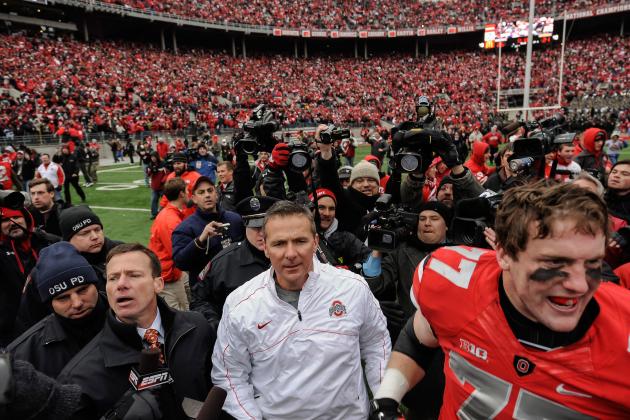 Jamie Sabau/Getty Images

Urban Meyer has enjoyed a great first 14 months as head coach of the Ohio State Buckeyes, but that doesn't mean there still isn't work to be done.
Though OSU went 12-0 in 2012, it had its fair share of flaws that will carry over into 2013.
The Buckeyes are one of the top teams in the country going into next season and have a great opportunity to win their first national championship since the 2002 season.
There are some things about this team that Meyer has to worry about and will need to address during spring ball in a few months.
Here are his five biggest concerns.
Begin Slideshow

»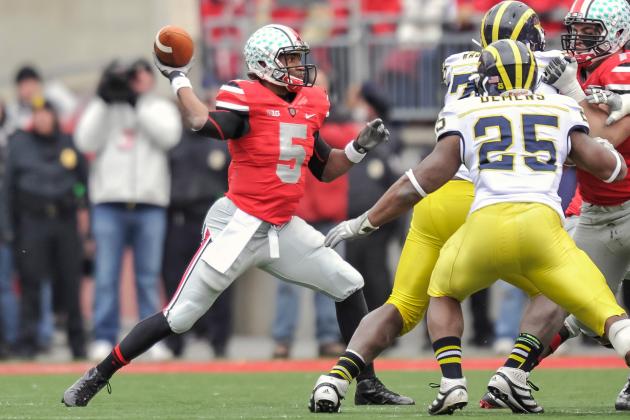 Jamie Sabau/Getty Images

Ohio State's offense was far better in Meyer's first season than it was the year before, averaging nearly 13 more points and 105.6 more yards per game in 2012 than in 2011.
Braxton Miller's growth had a lot to do with it as well as the spread running game, but OSU's passing game was very up-and-down last season.
Miller is not where he needs to be as a passer, but he definitely had his moments, throwing for over 200 yards four times in 2012. He did it just once in 2011—OSU's 40-34 loss at Michigan.
He has quite a few mechanical issues to work on and he needs more consistent play from his receivers. That should be a big focus in the spring.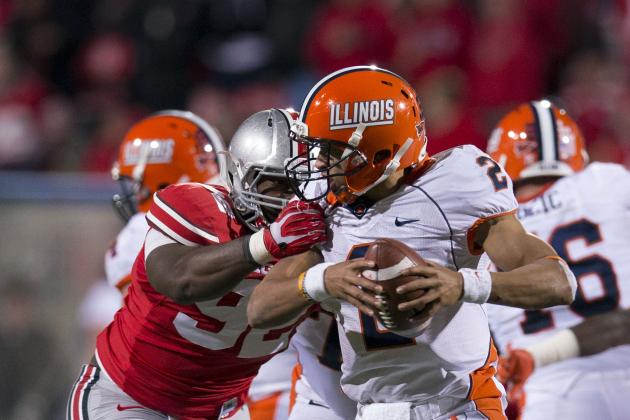 Greg Bartram-USA TODAY Sports

Rarely does a major program have to replace an entire starting unit, especially all four starters on the defensive line.
That is OSU's challenge this season. Not only does it lose John Simon, who was the heart and soul of the OSU defense for the last two seasons, but Johnathan Hankins left early for the draft. B/R's Matt Miller projects the junior DT to be a first-round draft pick.
Those losses are going to be very difficult to overcome.
That is where OSU's D-line recruiting in 2012 and 2013 will have to make the difference, particularly in its two most hyped prospects: Noah Spence and Adolphus Washington.
The duo played significant snaps last season—especially Washington, who played great football at the end of the season. They will need to take big leaps in the offseason to begin the work of replacing two stars in Simon and Hankins.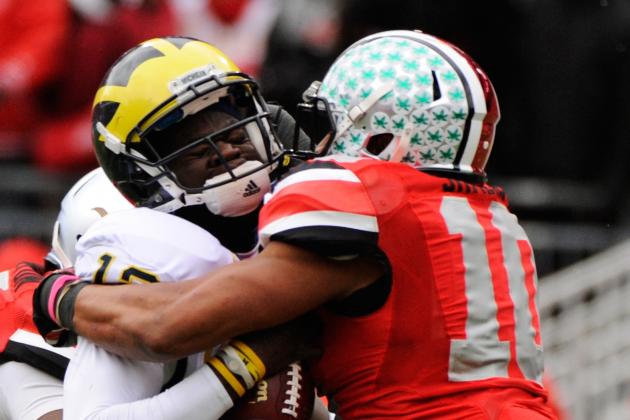 Jamie Sabau/Getty Images

Ryan Shazier may be one of the most talented linebackers in the Big Ten, but even the great players need help.
He is the only returning starting linebacker and thus the leader of a very green, unproven group of linebackers.
Junior Curtis Grant and sophomore Josh Perry saw the most time in base defenses out of the group on the roster, but that doesn't mean starting spots are guaranteed to them.
Fellow sophomores Jamal Marcus, Camren Williams and David Perkins all have a chance as well after good years in kick coverage. Don't sleep on 2013 recruits Trey Johnson and Mike Mitchell getting on the field early either.
Out of this large group of youngsters, at least two need to be able to step up and become leaders to give Shazier some help at the linebacker position.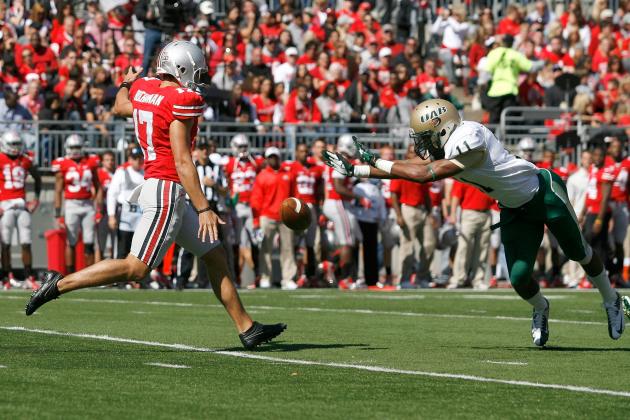 Kirk Irwin/Getty Images

Urban Meyer is known as a great special teams coach, and while that group made big plays, it also gave up big plays.
OSU blocked a few punts, but also had some blocked as well. It had a punt return for a touchdown by Corey Brown against Nebraska, but two weeks later gave up a 100-yard kickoff return TD to Purdue.
The Buckeyes managed to overcome those special teams mistakes, but will need to learn how to minimize those mistakes without taking away from the big plays they made.
Special teams is one of the more underrated facets of the game and the good teams know how to make big plays in this department in addition to avoiding bad ones.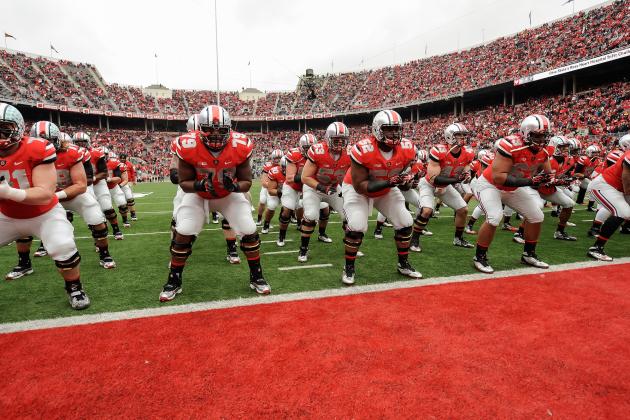 Jamie Sabau/Getty Images

Not being able to play in a bowl, and possibly the national championship game last season, still hurts for the Buckeyes and their fans.
Not getting the extra 15 practices during the bowl season will hurt even more, especially with a youth-laden Buckeye team. Those are 15 opportunities for this young group to get better that it won't get back.
The onus of making up for that lost time will be on everyone from Meyer and the coaching staff on down to maximize their time in the weight room this winter and on the practice field in the spring.
It's not sure how much those lost practices will hurt this team, but it's a huge blow to a team that grew throughout the 2012 season.
How the Buckeyes get around that will be one of the more underrated angles to the 2013 season.
Follow me on Twitter @bielik_tim for the latest college football news and updates.