Power Ranking the Big Ten with Less Than a Month 'Til March Madness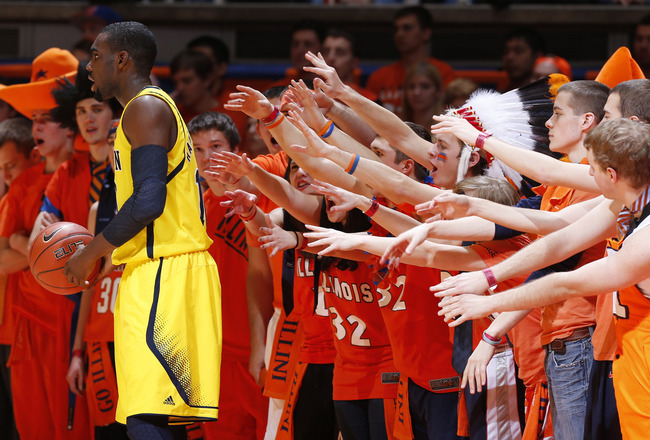 Joe Robbins/Getty Images
The Big Ten is starting to heat up as teams get set for the final stretch of games before postseason tournaments.
Teams are losing on the road, quality battles are being played and there has been lots of movement in conference standings.
Certainly a split between the conference's top and bottom teams is starting to become clearer.
The two top Big Ten teams will battle it out this Saturday for the top spot.
Every week that goes by means another week closer to March Madness.
12. Penn State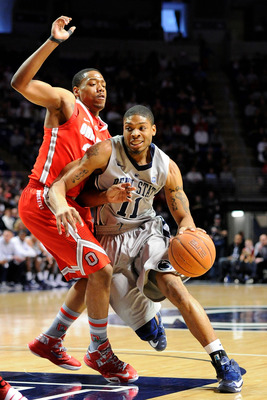 Rich Barnes-USA TODAY Sports
Record (Big Ten): 8-12 (0-8)
Reasons for Ranking: Penn State still hasn't found any luck in Big Ten play. They aren't a bad team, but they just aren't as good as the rest of the conference. Certainly next year will be different, when guard Tim Frazier returns from injury and so do D.J. Newbill and Jermaine Marshall.
It's not likely that the Nittany Lions will be able to finish the season with a Big Ten victory, since the rest of schedule doesn't get any easier.
11. Nebraska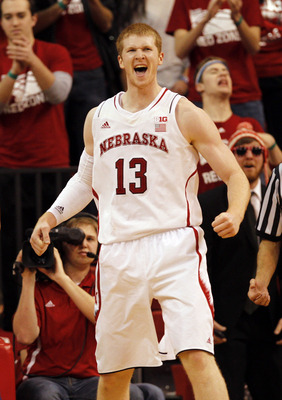 USA TODAY Sports
Record (Big Ten): 11-10 (2-6)
Reasons for Ranking: Nebraska is just slightly better than Penn State because of its two Big Ten wins. The Cornhuskers defeated Penn State on Jan. 19, then beat Northwestern on Jan. 26. Certainly a home win against the Wildcats isn't huge, but it shows promise for this team.
Head coach Tim Miles has done a very good job with his team in his first year at the helm. The Cornhuskers have improved a lot from their first Big Ten loss of the season against Ohio State to now.
10. Iowa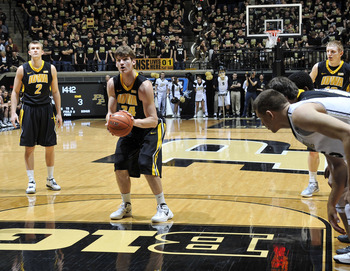 USA TODAY Sports
Record (Big Ten): 13-7 (2-5)
Reasons for Ranking: Iowa has been a very difficult team figure out. Over the last four games, the Hawkeyes defeated Northwestern and Wisconsin, and then lost to Ohio State and Purdue. This shows that the Hawkeyes haven't been very consistent in Big Ten play.
However, I could see Iowa winning three of its next five games because of playing PSU twice and Northwestern at home. I don't see the Hawkeyes making a push for the tournament, unless they can pull off another big conference win or two against a team from the top half of the standings.
9. Illinois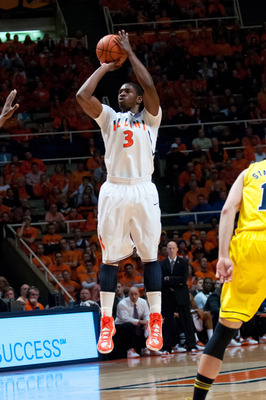 Bradley Leeb-USA TODAY Sports
Record (Big Ten): 15-6 (2-5)
Reasons for Ranking: Illinois has been having troubles in Big Ten play because opponents have figured out how to defend its offense.
The Fighting Illini have lost four of the last five games because of scoring problems. They are averaging 73 points per game on the season, but only 60 points per game over the last five games. These losses have given first-year head coach John Groce a wake-up call. If Illinois doesn't win some games soon, then it won't make the NCAA tournament.
8. Northwestern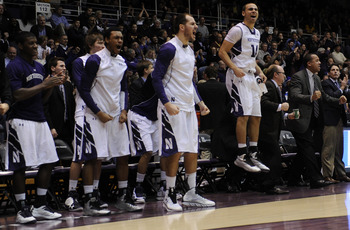 USA TODAY Sports
Record (Big Ten): 12-9 (3-5)
Reasons for Ranking: Northwestern is one of those Big Ten teams that has jumped in the rankings over the last two weeks. Defeating Illinois on the road and Minnesota at home are good victories for this squad. Holding the Golden Gophers to 48 points is a victory in itself.
Guard Reggie Hearn has been playing really well. Hearn scored 20 and 13 points in the Illinois and Minnesota victories. The Wildcats need to continue to play the way they have been through the rest of the season.
7. Purdue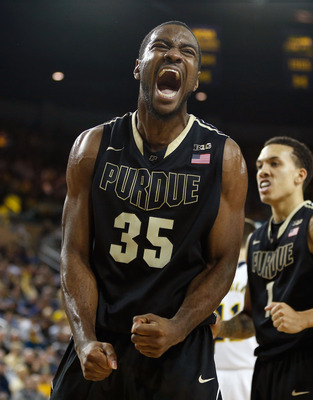 Gregory Shamus/Getty Images
Record (Big Ten): 11-9 (4-3)
Reasons for Ranking: Purdue didn't do so well in its non-conference play because they are a young team that played against some good competition. Now it has matured and is starting to play better in the middle of Big Ten play.
The Boilermakers have won four of their last five games. In their lone loss to Michigan on the road, Purdue kept up with the Wolverines for most of the game, but didn't finish strong. This Wednesday, the Boilermakers have a big rivalry game against the Hoosiers, which will be a good test for them.
6. Minnesota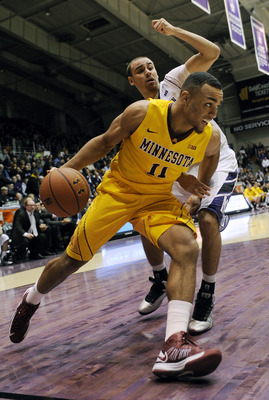 USA TODAY Sports
Record (Big Ten): 15-5 (3-4)
Reasons for Ranking: Minnesota is starting to drop out of the top half of the Big Ten standings because of its recent play. The Golden Gophers have lost their last four games. Minnesota should've beat Northwestern and Wisconsin, but didn't. The Gophers had poor shooting efforts in both games.
Minnesota will be a March Madness team, but it needs to play a lot better over these next few weeks. Luckily, it can regain its confidence with home games against Nebraska and Iowa, which should be easy victories.
5. Wisconsin
Joe Robbins/Getty Images
Record (Big Ten): 14-6 (5-2)
Reasons for Ranking: The Badgers aren't the most talented team in the Big Ten, but they play hard each and every game. Head coach Bo Ryan does a great job of preparing his team for big games. Beating Indiana on the road is their best win of the season.
Wisconsin beat the Hoosiers because it played its slow style and was able to close out the game. The Badgers need to continue to have success in Big Ten play so they can earn a high seed in the tourney.
4. Ohio State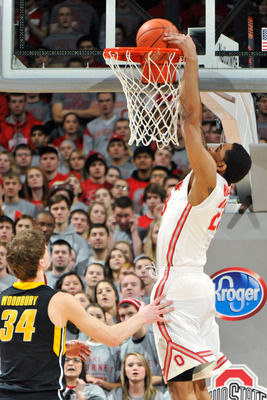 Jamie Sabau/Getty Images
Record (Big Ten): 15-4 (5-2)
Reasons for Ranking: Ohio State's offense has been very one-dimensional thus far. When you have a player like Deshaun Thomas on your roster, you need him to score 15 to 25 points per every game. But there hasn't been consistent scoring from other players.
The Buckeyes have won three of their last four games. Their lone loss came on the road against Michigan State. This week the Buckeyes will face the Badgers at home, which will be a good test against a solid defense.
3. Michigan State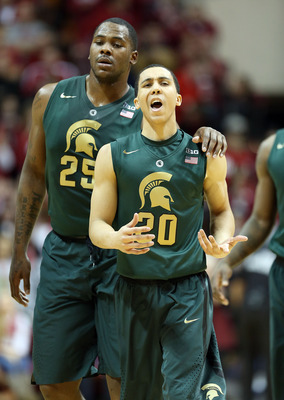 Andy Lyons/Getty Images
Record (Big Ten): 17-4 (6-2)
Reasons for Ranking: The Spartans have a really talented team from top to bottom. When their leading scorer, Keith Appling, was in foul trouble against Indiana, Gary Harris and Adreian Payne stepped up. Although Michigan State lost by five points, they kept the game close and limited Cody Zeller.
If the Spartans can continue to play the way they did against the Hoosiers, then they will win a lot more games this season and could make a deep run in the tourney.
2. Indiana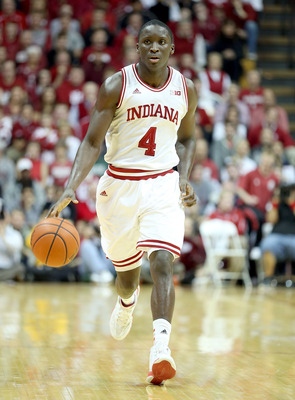 Andy Lyons/Getty Images
Record (Big Ten): 18-2 (6-1)
Reasons for Ranking: Indiana needs to continue to shoot well, if it is going to have success on the road in the Big Ten. Cody Zeller wasn't the player of the game against the Spartans, but Victor Oladipo was because he did a little bit of everything on the court (21 points, seven rebounds, six steals and three blocks).
The Hoosiers will be tested on the national spotlight with College Gameday and Michigan coming to town on Saturday. It should be a good game between two of the best teams in the country.
1. Michigan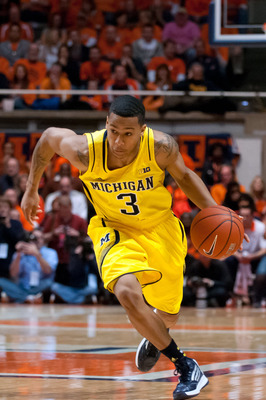 Bradley Leeb-USA TODAY Sports
Record (Big Ten): 19-1 (6-1)
Reasons for Ranking: After Michigan slipped up on the road against Ohio State, it returned with three consecutive wins.
Trey Burke has been playing like the National Player of the Year because of how valuable he is to this team. Burke has been a nightmare for all Big Ten teams, and we will see if that continues against the Hoosiers.
Although Michigan is a relatively young team, it is playing extremely well thus far. The Wolverines are going to be tough to beat in the NCAA tournament.
Keep Reading