Grading Each Chicago Bulls Player's Performance at the Midseason Mark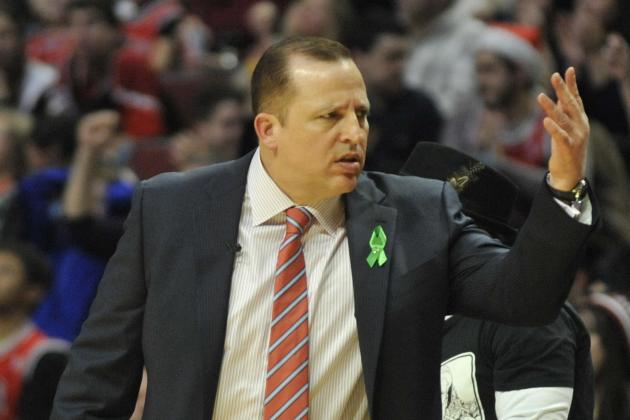 David Banks/Getty Images

The NBA is at its midway point and the midseason grades for the Chicago Bulls are in.
The Bulls entered the unofficial second half of the 2012-13 season with a 26-17 record. Currently, they are in first place of the NBA Central and are only three games behind the Eastern Conference leading Miami Heat.
It has been a year full of surprises. Not only do the Bulls have a chance at home-court advantage in the East, they were rewarded with two representatives for the upcoming NBA All-Star Game. The distinction is an ode to the perseverance and resolve the Bulls have displayed all year. It is proof that you must continue to play on despite the hand that you are dealt with as a team.
Overall, I give the Bulls an A at the midseason mark. Bulls head coach Tom Thibodeau gets a B in what has become his best coaching job. The only thing that prevents him from getting an A is his reluctance to adjust his rotations in a faster manner.
Begin Slideshow

»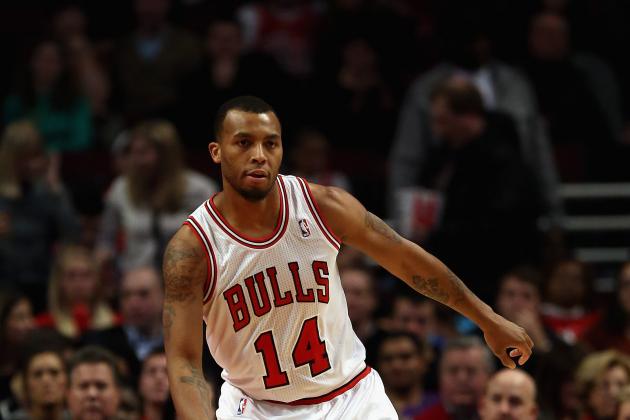 Jonathan Daniel/Getty Images

Vladimir Radmanovic, Small Forward, D
Vladimir Radmanovic makes his biggest impact as a cheerleader glued to the bench. Instead of being used as a player who stretches opposing defenses, his talents are marginalized. I have said it once and I will say it again, does it make sense for Radmanovic to have a roster spot over a young player that can be developed by the Bulls coaching staff?
Daequan Cook, Shooting Guard, Incomplete
The shooting ability of Daequan Cook makes him an appealing player for the Bulls regular rotation, but unfortunately, he is a late addition to the team. As he gets further acclimated with his teammates, I believe he will have a larger role. Cook's strength is the three-point shot. The Bulls are tied for last in the Association in three-point shots made, with 4.7 per game. Cook eventually will be used. Until then, it is too early to grade his performance.
Marquis Teague, Point Guard, C
Judging Marquis Teague is a tough chore. On one hand, he has played good basketball, but on the other hand, he has not played enough. This is partly because coach Thibodeau has the tendency to play guys he trusts. Bulls fans all over would love to see what the rook can do when he is given meaningful minutes in a basketball game. I hate to say it but barring an injury to either Kirk Hinrich or Nate Robinson, that will not happen. To Thibodeau's credit, he has played Teague in his last-minute defensive lineup to close out games.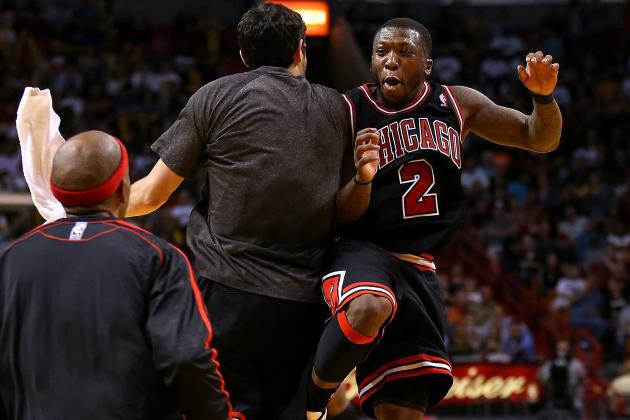 Mike Ehrmann/Getty Images

Nate Robinson, C
The moment that you fall in love with Nate Robinson, he does something that forces you to take it back. This backlash comes from his sketchy shot selection. Poor shot selection is the only reason why Robinson gets a C versus getting an A.
While needing an offensive spark, coach Thibodeau calls on Robinson to add some firepower, some oomph. Robinson provides it and more. In the Bulls' recent loss to the Washington Wizards, Robinson scored a team-high 19 points. Unfortunately, those 19 points came from 19 shot attempts. That is too many shots for a point guard, let alone a backup.
Kirk Hinrich, C
Kirk Hinrich has been better as of late, averaging 11.4 points, while shooting 58 percent from the field in his last five games. He has finally raised his season scoring to 7.0 PPG, but it is not enough. Hinrich is putting statistics closer to a backup point guard rather than the starter. The goal is to keep opposing defenses honest. Simply put, Hinrich must become more aggressive on offense.
Hinrich's season average for shot attempts are 6.2 a game, but he needs to take at least 10-14 shots. This will earn the respect of the defense, allowing more scoring opportunities for his Bulls' teammates.
On the other side of the ball, Hinrich has relied on his footwork to make up for his lack of speed and quickness. We are used to his uncanny ability to keep in front of his man; the fact that he has not this year may suggest that he is favoring an injury.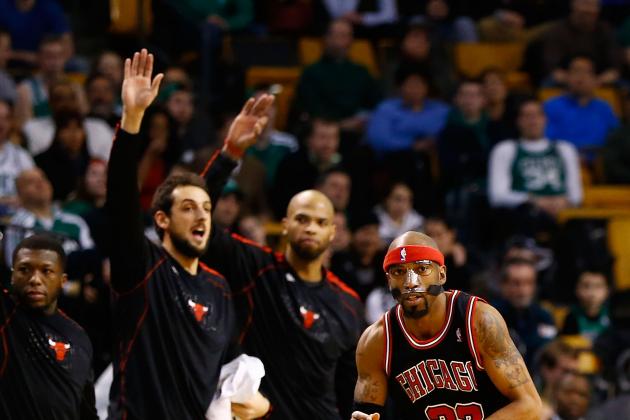 Jared Wickerham/Getty Images

Marco Belinelli, B
Is it me, or has Belinelli saved the Bulls when they have needed some help? There was the big game-winning basket in Boston against the Celtics just over a week ago. Then there was a second game-clincher, this time versus the Detroit Pistons. Those clutch performances make it easy to forget his problems with consistency since returning to the bench in favor of Richard Hamilton.
Belinelli's shooting in the month of January is a woeful 38 percent, a far cry from the 42 percent field goal shooting from December, when he had 12 starts. The slump has not affected his confidence, thankfully, as the Bulls would certainly have a few less W's in the win-column without him.
Richard Hamilton, B
Oh how much do we yearn for Richard Hamilton to be the "Rip" of old. If you haven't noticed, he is the "Rip" of old, just in shorter stretches. Over 48 minutes, Hamilton has averaged 23.5 PPG. His highest scoring output over 48 minutes was 29.3 PPG in the 2002-03 season. That was 10 years ago, his third NBA season.
Every once in a while, Rip will show a sign that he is still capable of scoring 20 points a contest, which is a good thing. He looks to be pacing himself while not logging a ton of minutes.
Rip has played steady basketball on both sides of the floor. Come playoff time, we will see how much playing steady can pay off.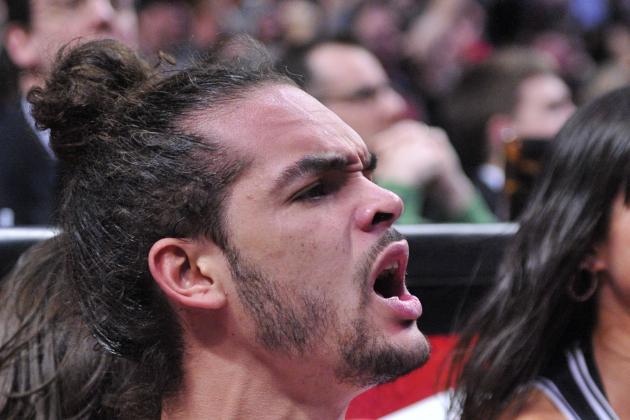 Rob Grabowski-USA TODAY Sports

Nazr Mohammed, D
Must I even bother going over why Nazr Mohammed gets a D? He simply does not play enough to warrant a grade higher than that. He did have a good showing against the Los Angeles Lakers, when he engaged with Lakers' center Dwight Howard several times to force him into making mistakes.
Joakim Noah, A
Joakim Noah is having a spectacular year. He has notched a triple-double, flirted with two more and he was named to the All-Star team for the first time. It is that Noah has taken his leadership role with the Bulls seriously. As he goes, so does the team. When he is energized and ready to play, his teammates, while feeding off his emotions, step up to the challenge also.
Defensively, Noah is blocking shots and altering others, something that he did not do in previous years.
If there is any criticism, it is minor. Noah still has the tendency to over-commit on defense in order to help a fellow teammate. This often will leave the lane open for guard penetration and easy layup opportunities for the opposing team's frontcourt player. This is just a minor blemish on an otherwise sparkling season.
Rob Grabowski-USA TODAY Sports

Jimmy Butler, B
If I were Jimmy Butler's teammate, I would tell him to "shoot the ball!" Butler is an awesome defender who can take his opponents offensive game completely away. Now if only he were more willing to look for his offense more.
It is a problem for your point guard, sans Derrick Rose, Russell Westbrook and Tony Parker to take a ton of shots. It is okay for a wing player to hoist 19 shots if it is during the flow of the offense. When that happens, you know that your team has moved the ball well, and your point guard is racking up the assists.
It is the job of Hinrich and Robinson to put Butler in the best positions to score, but at the same time, Butler must be willing to take the shots. It is the only reason why he does not get an A.
Luol Deng: A
I can stop my analysis of Luol Deng's season by saying he was named an NBA All-Star for the second time. That distinction should say it all, but I must say that this has been his best year as a pro, and the hamstring injury that has sidelined him, will make him better.
After leading the NBA in minutes played, Deng gets to rest up from his current ailment as well as any lingering injuries that he has suffered from. When he returns to the lineup, he should be refreshed, refocused and ready for the second half of the year.
If anyone told you that Luol Deng would average over 17.4 PPG, 6.4 RPG and 3.0 APG at this point, would you have believed them?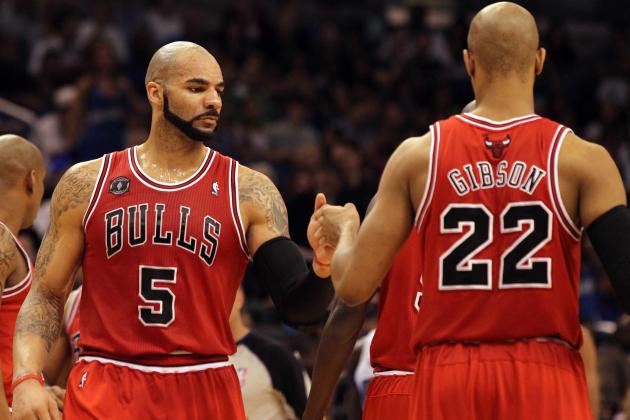 Kim Klement-USA TODAY Sports

Taj Gibson, B
Don't call it a comeback, but the Taj Gibson Bulls' fans felt should start over Carlos Boozer has slowly returned. Gibson's defense, rebounding and shooting have all improved as the season has progressed. Every statistical category has risen in the month of January.
Is this because he is no longer feeling the pressure of having to live up to the status of his contract extension, or because he finally adapted to playing without Omer Asik? My conclusion is a little bit of both. Gibson earned his new deal by playing strong defense, mixing in a hint of scoring here and there. He has gone back to that. He has also learned how to play off Joakim Noah and Boozer, both of whom are different players than Asik.
Carlos Boozer, B
Carlos Boozer should be an All-Star this season. I repeat; Carlos Boozer should be an All-Star this season! He is one of the league leaders in double-doubles, he is the Bulls' go-to player in the first and second quarter and his defense, wait for it, is the best it has ever been at any time in his career.
Fans who have been clamoring for the Bulls to amnesty him must take a backseat. Stuff it! Save it for later! Now is not the time for such an idiotic discussion. In fact, the Bulls would be on outside looking in in the playoff picture if it were not for Boozer's stellar play. While he is not the team's MVP, they need him and he is playing at his highest level in quite some time.
Time to fess up; you know that I am right.