WWE Royal Rumble 2013 Results: CM Punk vs. the Rock, Live Coverage Big 4 PPV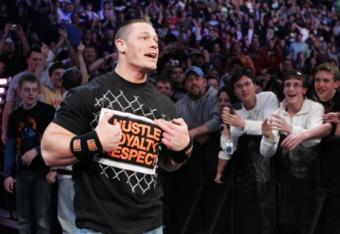 From WWE.com

The Royal Rumble is here as WrestleMania season kicks into high gear. John Cena enters the Royal Rumble as the odds-on favorite, with names like Randy Orton, Sheamus, Ryback and even Dolph Ziggler figuring to upset the apple cart.
Let's premier this cockfight:
WWE Tag Team Championship: Team Rhodes Scholars over Team Hell No
World Heavyweight Championship: Alberto Del Rio over Big Show
WWE Championship: The Rock over CM Punk
2013 Royal Rumble: John Cena wins the 2013 Royal Rumble
Follow Big Nasty on Twitter all night for Tweets, retweets and live updates throughout Royal Rumble!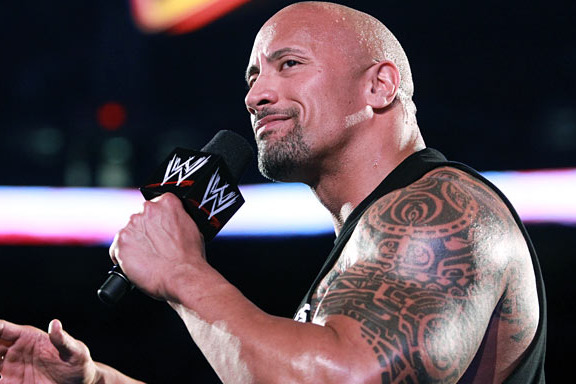 Punk and Rock exchange blows to start the match and The Rock got the better of the exchange, sending Punk flying to the outside.
The two brawled on the outside as "let's go Rocky" chants interchanged with "CM Punk" chants. "Rocky" chants started up as the match shifted in CM Punk's favor. The crowd remained split, chanting "boots to asses/knees to faces" as Punk continued to ground Rocky.
The Rock battled back momentarily but Punk answered with a back heel kick as he continued his assault, working over Rock's internal injuries.
Dove to the outside and connected with an axe handle smash on The Rock, but began to sell his surgically repaired left knee.
Punk hit a suicide dive on The Rock after dumping him to the outside. Rock dodged a spring board clothesline by Punk and immediately went after his injured knee. A Rock Bottom attempt was countered by CM Punk, who tried for the GTS. Rock countered with a Sharpshooter but Punk rolled through and slapped on the Anaconda Vice. Rock broke the hold with a rollup attempt followed by a DDT.
Rock tried for another Rock Bottom, but Punk turned it into a crucifix and was countered as Rock rolled through with a Sharpshooter. Punk forced the rope break as the Rocky contingent booed.
The match went to the outside as Rock set Punk up on the table. Punk battled back and teased the GTS, but The Rock hit a Rock bottom on the table as the table collapsed before the move was able to be completed.
Rock followed up with a Rock Bottom on the outside. He only received a nearfall after pinning Punk in the ring. Punk connected with a roundhouse kick on The Rock as the two men stirred.
Punk and Rock went back and forth exchanging punches. Rock hit the ropes and connected with a flying clothesline followed by a spine buster.
The Rock went for the People's Elbow, but the lights went out and The Rock was heard being put through the table in the dark. Michael Cole insisted that it was The Shield as Punk rolled Rock back in the ring.
Punk pinned The Rock for the win. He kicked Rock out of the ring and celebrated with Paul Heyman as fans — and The Rock's mother — were shown in disbelief.
Vince McMahon came out.
Vince was about to strip Punk of the WWE Championship but Rock stopped him and insisted that the match be restarted. McMahon started the match as Punk immediately went after The Rock. Punk hit the knee in the corner and went for the GTS, but Rock countered and hit The People's Elbow for the win.
Winner: The Rock
This Match as a Royal Rumble Winner: Hulk Hogan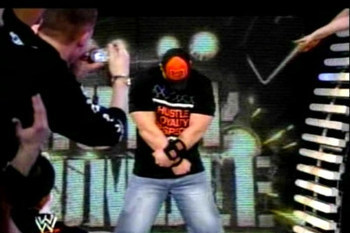 | | | |
| --- | --- | --- |
| Draw | Entrant | Eliminated By |
| 16 | Bo Dallas | Wade Barrett |
| 17 | Godfather | Dolph Ziggler |
| 18 | Wade Barrett | Bo Dallas |
| 19 | John Cena | Winner |
| 20 | Damian Sandow | Ryback |
| 21 | Daniel Bryan | Antonio Cesaro |
| 22 | Antonio Cesaro | John Cena |
| 23 | Great Khali | Kane |
| 24 | Kane | Daniel Bryan |
| 25 | Zack Ryder | Randy Orton |
| 26 | Randy Orton | Ryback |
| 27 | Jinder Mahal | Sheamus |
| 28 | Miz | Ryback |
| 29 | Sin Cara | Ryback |
| 30 | Ryback | John Cena |
Winner: John Cena
This Royal Rumble as a Royal Rumble winner: John Cena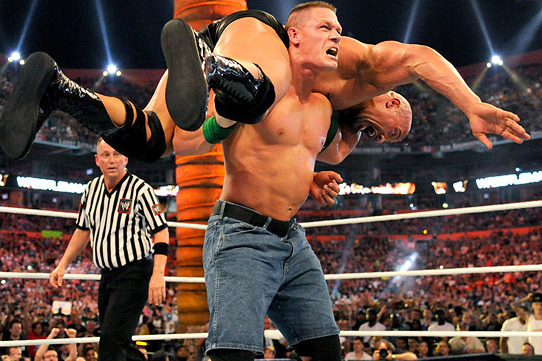 Key Royal Rumble spots:
Chris Jericho returned to a thunderous ovation.
Santino tried his Cobra finisher on multiple participants and was quickly eliminated.
Goldusts' return elicited feverish "Goldust" chants as him and Cody Rhodes tried to one-up each other throughout.
Kofi Kingston used JBL's chair to wheel his way back into the Royal Rumble.
Daniel Bryan assaulted three different superstars with yes kicks upon entering.
Kane was eliminated by Daniel Bryan. Bryan was thrown over the top rope into Kane's arms and Kane dropped him after much pleading by Bryan.
| | | |
| --- | --- | --- |
| Draw | Entrant | Eliminated By |
| 1 | Doph Ziggler | Sheamus |
| 2 | Chris Jericho | Dolph Ziggler |
| 3 | Cody Rhodes | John Cena |
| 4 | Kofi Kingston | Cody Rhodes |
| 5 | Santino Marella | Dolph Ziggler |
| 6 | Drew McIntyre | Chris Jericho |
| 7 | Titus O'Neil | Sheamus |
| 8 | Goldust | Cody Rhodes |
| 9 | David Otunga | Sheamus |
| 10 | Heath Slater | John Cena |
| 11 | Sheamus | Ryback |
| 12 | Tensai | Kofi Kingston |
| 13 | Brodus Clay | Multiple Superstars |
| 14 | Rey Mysterio | Wade Barrett |
| 15 | Darren Young | Kofi Kingston |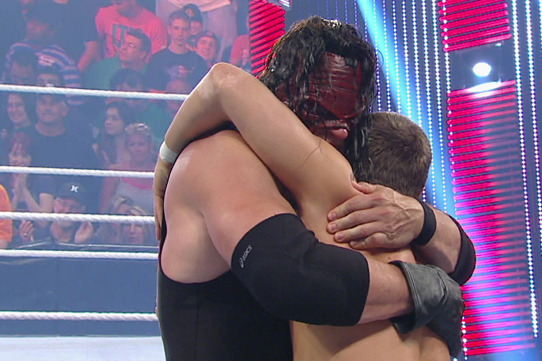 Daniel Bryan started off dominating the offense. He tagged in Kane while Rhodes was locked in the surf board maneuver. After a drop kick to teh knee, Rhodes tagged in Sandow but Kane continued his offense.
Bryan was tagged in as he peppered Sandow with yes kicks. The tides turned after Bryan pursued Sandow on the outside, with Rhodes and Sandow working in quick tags and working over Daniel Bryan.
Bryan finally made the hot tag to Kane who laid out Sandow with a right hand and squashed him in the corner. Sandow and Rhodes momentarily overtook the offense, but Bryan connected with a missile drop kick on Sandow.
Kane choke slammed Rhodes and Bryan slapped on a Yes lock for the win.

Winners: Team Hell No
This Match as a Royal Rumble Winner: Sheamus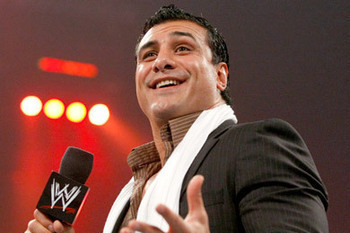 Del Rio had flurries of offense early, but was continuously thwarted by the Big Show. Big Show controlled the pace of the mach for much of the early goings as the fans got behind Del Rio with chants of "Big Show Sucks!"
Del Rio got back into the match with a seated senton on The Big Show. Del Rio then begun to work Big Show's arm. A subsequent cross arm breaker was countered by The Big Show, who slammed Del Rio with a modified electric chair maneuver.
With the match at a slowed pace, The Big Show grabbed hold of a chair, but dropped the chair after Del Rio drop kicked him.
Del Rio struck Show with multiple chair shots as the crowd chanted "si!"
Big Show caught Del Rio from the top rope and choke slammed him. Del Rio answered the ten count at nine as Show once again seized control of the match.
Del Rio bought himself some time with a low blow on the Big Show as show answered the ten count.
Show scaled the steel structure atop the ramp as he pulled Del Rio up with him and choke slammed him through a table. Del Rio got up at nine as the crowd cheered.
Big Show went for a spear on Del Rio, but Del Rio moved and Show went crashing through the timekeeper's area. After getting to his feet at nine, Del Rio hit Show multiple times with a chair, including one shot where Show's arm was on a steel step.
Del Rio slapped on the cross arm breaker as Rodriguez duct taped Show's feet to the bottom rope. The crowd counted in Spanish as Big Show struggled helplessly and Alberto Del Rio won.
Winner: Alberto Del Rio
This Match as a Royal Rumble Winner: Rey Mysterio Jr.