Nebraska Football Recruiting: Power Ranking Bo Pelini's Recruiting Classes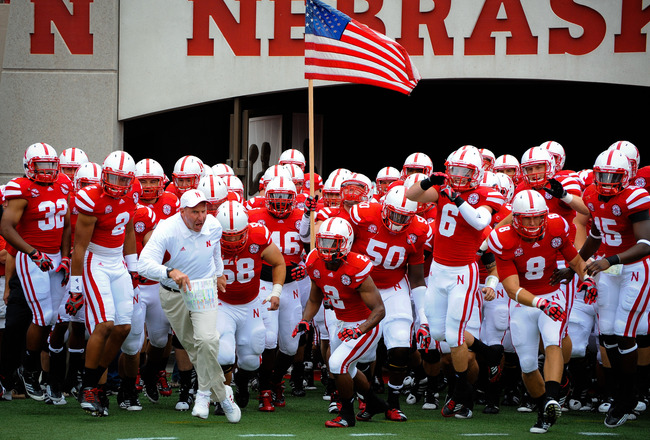 Eric Francis/Getty Images
The class of 2013 will be head coach Bo Pelini's sixth in charge of Nebraska football recruiting. As signing day draws near, and Nebraska fans become increasingly worried about the lack of trophies in the cabinet, more focus than ever is put on Pelini's acumen as a recruiter.
So in a shameless recycling of an idea from last year, let's take a look at all of Pelini's recruiting classes and see how they stack up against each other. As we learn more about the players recruited in the more recent classes, the grades of those classes can change from year to year, of course.
No. 6: Class of 2011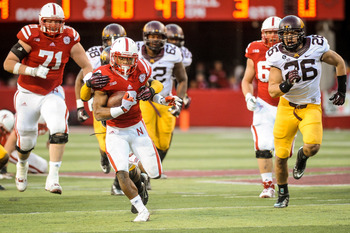 Eric Francis/Getty Images
Total class size: 20
Standout player: Ameer Abdullah
Stars: Jamal Turner, Daimion Stafford
Contributors: Joe Carter, Kevin Williams
Potential stars: Mauro Bondi, David Santos, Charles Jackson
Busts: Bubba Starling, Aaron Green, Tyler Moore, Ryan Klachko, Givens Price
2010 looked like the year that Nebraska would accumulate an offensive line that could grow and mature together, anchoring Nebraska's offense for years to come. But with the defections of Tyler Moore and Ryan Klachko and the lack of progress from Givens Price, in a real sense Nebraska is all but starting over from the work in 2010. The transfer of Aaron Green and the failed chase of Bubba Starling also helped to make the 2011 more about misses than hits.
No. 5: Class of 2012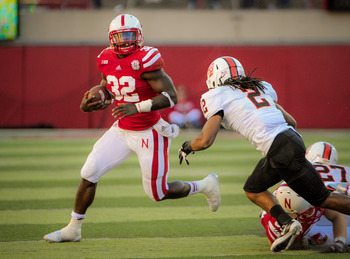 Eric Francis/Getty Images
Total class size: 17
Standout player: Imani Cross
Stars: Too early to tell
Contributors: Too early to tell
Potential stars: Tommy Armstrong, Thomas Brown, Vincent Valentine
Busts: Mohammed Seisay, Zaire Anderson (injury-related)
Given Nebraska's lack of experience on defense, a lot of players from last year's class will get a chance to shine in 2013. Imani Cross was the only true freshman who got any kind of significant playing time last year, but that will change in a hurry next season. It's tough to label Mohammed Seisay and Zaire Anderson as busts, but injuries derailed their season last year and both will be competing for playing time next season.
No. 4: Class of 2010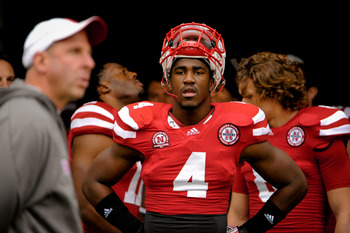 Eric Francis/Getty Images
Total class size: 21
Standout player: Lavonte David
Stars: Kenny Bell
Contributors: Quincy Enunwa, Ciante Evans, Josh Mitchell
Potential stars: None
Busts: Corey Cooper, Brion Carnes, Tobi Okuyemi, Walker Ashburn, Donovan Vestal, Andrew Rodriguez
While Lavonte David may be one of the two best defensive players Bo Pelini has coached, the unfortunate fact is that the 2010 class was full of a lot of misses, particularly on the offensive and defensive lines. Nebraska's struggles in the trenches in 2012 can be linked to the struggles with the 2010 class.
No. 3: Class of 2013
Total class size: 23 so far (25 targeted)
Standout player: Johnny Stanton
Stars: Too early to tell
Contributors: Too early to tell
Potential stars: Terrell Newby, Josh Banderas
Busts: Too early to tell
While Nebraska's 2013 class is still in flux, signs are good that NU will be inking a top 20 class nationally. While it was tempting to put Terrell Newby as the highlight of the class, it's just too hard to look past Johnny Stanton. When Nebraska can land an Elite 11 quarterback and make his commitment stick, it does nothing but good both for the individual class and for Nebraska's prestige as a destination for top athletes.
No. 2: Class of 2009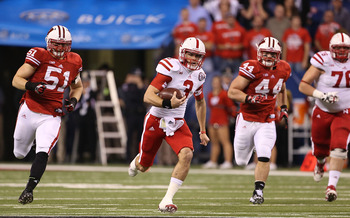 Leon Halip/Getty Images
Standout player: Taylor Martinez
Stars: Rex Burkhead, Eric Martin, Dejon Gomes
Contributors: Jason Ankrah, Brandon Kinnie, Jeremiah Sirles, Brent Qvale
Potential stars: Cole Pensick, Thaddeus Randle
Busts: Cody Green, Dontrayveous Robinson, C.J. Zimmerer
Yes, I know many of you will be upset that I put Taylor Martinez as the standout player of the class over Rex Burkhead. And don't get me wrong, Burkhead was a great (and probably underappreciated) back. But Martinez looks ready to set himself in Nebraska's record books for a long time to come.
No. 1: Class of 2008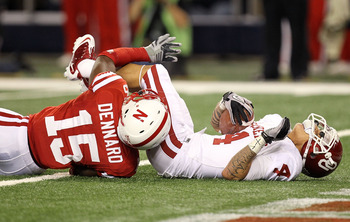 Ronald Martinez/Getty Images
Total class size: 28
Standout player: Alfonzo Dennard
Stars: Will Compton, Ben Cotton, Kyler Reed, Baker Steinkuhler
Contributors: Cameron Meredith, Sean Fisher, P.J. Smith, Courtney Osborne, Tim Marlowe
Potential stars: None
Busts: Khiry Cooper, Steven Osborne, Kody Spano, Collins Okafor, Lester Ward
Bo Pelini's first class brought a number of players who anchored Nebraska through the 2011 and 2012 seasons. It is likely no accident that a defensive coach like Pelini did much better with his defensive recruiting than his offensive recruiting in year one, although that script has curiously flipped as Pelini has grown as a recruiter.
If you'd like to contact Patrick to schedule an interview, provide feedback or get advice on which type of chocolate goes best with fresh fruit (spoiler alert: dark), send an e-mail to patrickrunge@gmail.com.
Or, you could always...Follow @patrickrunge.
Keep Reading

Nebraska Huskers Football: Like this team?