Manchester United: Is Wayne Rooney Living in Robin Van Persie's Shadow?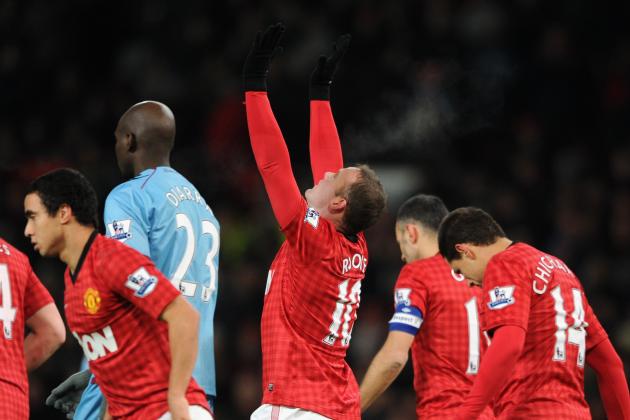 Chris Brunskill/Getty Images

A stunning through ball from Anderson and Wayne Rooney did the rest.
Manchester United demolished Fulham 4-1 in the FA Cup fourth round Saturday, with the Englishman's second-half effort the pick of the goals.
With goal-scoring extraordinaire Robin van Persie absent from the Red Devils lineup, Rooney helped pick up the slack, involving himself in most of his team's meaningful attacks.
There have been whispers this season, though, from an increasingly vocal minority, that claim the Englishman is currently living in Van Persie's shadow.
With his recent change of position to a deeper-lying midfielder, has his worth to Sir Alex Ferguson's side diminished?
It is a glorious time to be a Manchester United fan, but is it so glorious for Wayne Rooney?
Begin Slideshow

»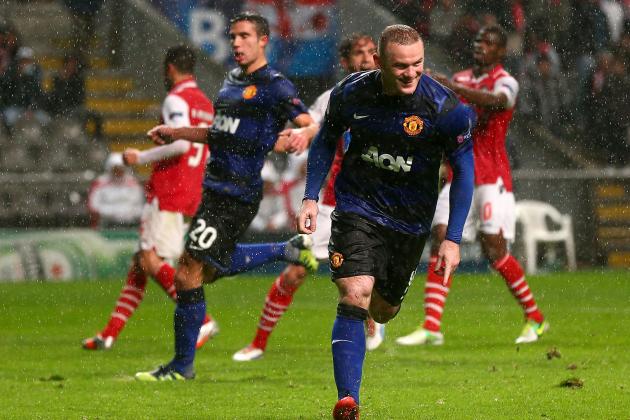 Clive Rose/Getty Images

Let's get one thing out of the way first—Wayne Rooney was, and still is, a world-class footballer.
Known primarily as a forward, the Englishman's qualities are so diverse and complete, it is often remarked of him that he could play any outfield position on the pitch.
On the popular website WhoScored.com, one that tracks team and individual statistics, he is one of a very small number of players who is described as having "no significant weaknesses."
He is certainly a devastating finisher in and around the box, but I would argue that this is not even his strongest attribute.
Rooney is close to being a complete player—he can shoot, pass, even tackle when he needs to.
He once said of himself: "I feel I'm a good enough footballer to play anywhere on the park. That's not being big-headed. I feel I am capable of doing that. If the manager wants me to play there, I have no problem in doing that" (via BBC).
We are yet to see anything this season to indicate that this has changed.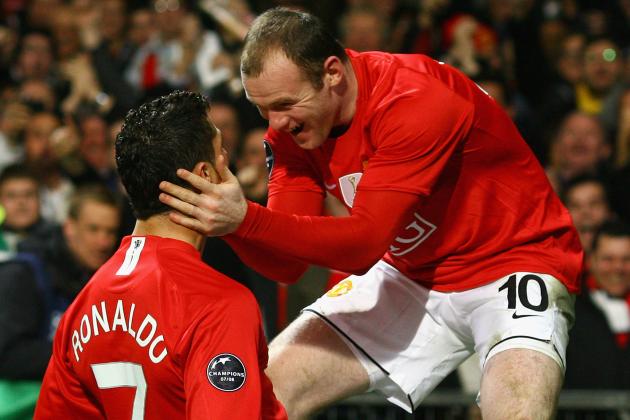 Alex Livesey/Getty Images

Wayne Rooney clearly enjoyed his time playing alongside Portuguese superstar Cristiano Ronaldo in the Manchester United lineup—who wouldn't?
Though the latter's achievements in his final two seasons at Old Trafford eclipsed anything his peers were doing throughout Britain at the time, Rooney was by no means an admiring bystander.
He may not have scored as many goals as Ronaldo, but his contribution was vital to a sustained period of excellence for the Red Devils.
The Englishman is, by nature, a person who wants to win; pure and simple.
When Ronaldo was dominating the spotlight, there were no complaints coming from his teammate, and similarly now with Van Persie's arrival.
He will do what's best for the team, devoid of selfishness. Robin van Persie is the better finisher of the two, so Rooney will find other ways to help the United cause.
Club stalwart Ryan Giggs recently spoke of his admiration for him, telling the Daily Mail that:
Wayne is the kind of player who can score goals, but if someone is scoring more he's not too bothered. He's quite happy setting goals up and pitching in with important goals like he did on Sunday.

It's like when Cristiano was here, he scored a lot of goals. It's similar with Wayne, he's not just an out-and-out goal scorer. He's more than that. He's the catalyst to everything good that we do.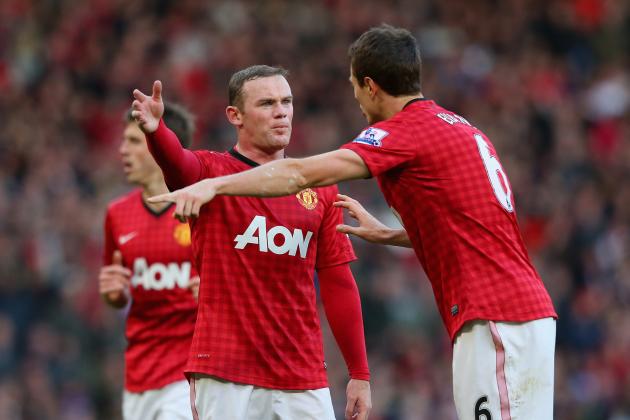 Alex Livesey/Getty Images

Earlier this season, Rooney tweeted the following:
Great win today. Really enjoying my new midfield role. Always involved in the game.

— Wayne Rooney (@WayneRooney) October 7, 2012
With all of the hoopla surrounding Robin van Persie's extraordinary strike rate this season, one has to remember that he is playing in a position he has occupied for almost the entirety of his career.
Rooney, on the other hand, has played in his new-fangled central midfield role in a little over a dozen games.
When you put that in perspective, also taking into account the injuries he has suffered, he perhaps deserves a similar amount of praise as his teammate.
He has the highest assists per appearances percentage with seven in 12 starts in the Premier League, as well as seven goals to his name this term (via WhoScored.com).
Improvement has been noticeable over the past few months for Rooney.
At first he was susceptible to trying to do too much —attempting a few too many "Hollywood" long balls and defence-splitting through balls.
But he is learning every game where to make himself available for a pass, when to switch possession to the flanks and when to try and pick out Van Persie through or over the opposition back line.
It is a lot to ask a footballer to switch positions midway through his career, but if you were to ask it of anyone, Rooney would be that man.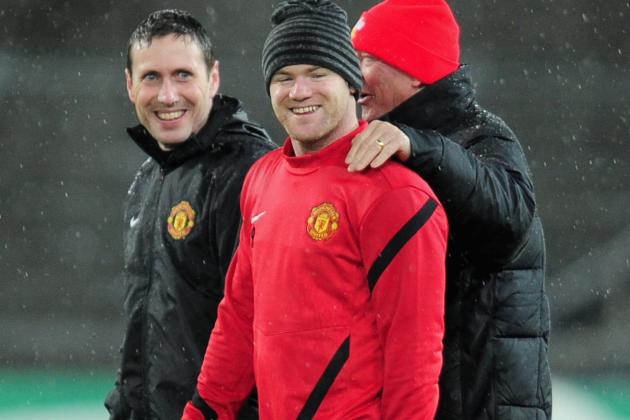 Jamie McDonald/Getty Images

Both fans of Manchester United and pundits alike are quick to criticise Sir Alex Ferguson for his reluctance to reinforce in central midfield.
You can even add my name to that list—I cried out for the Scotsman to sign PSV's Kevin Strootman before the season began.
But there is genius behind the madness, a genius that takes time for people to fully recognise.
Michael Carrick has long been a player who takes half a season to get to peak form, and once that happens he is virtually undroppable.
Anderson has the potential to be the box-to-box enforcer that the side craves, while Tom Cleverley has come on leaps and bounds already.
With Shinji Kagawa and Rooney as the more attacking central midfield options, an in-form United has a spine to match most in Europe.
After a hard-fought win over Otelul Galati in the Champions League in 2011, Fergie was quick to point out that playing in midfield was a long-term option for Wayne.
"His selection of passes at times was very good and he showed great energy and determination. We got a really good performance out of him. He has all the qualities you need to be a central midfield player," he told reporters (via BBC).
Has this season's transition been the plan all along?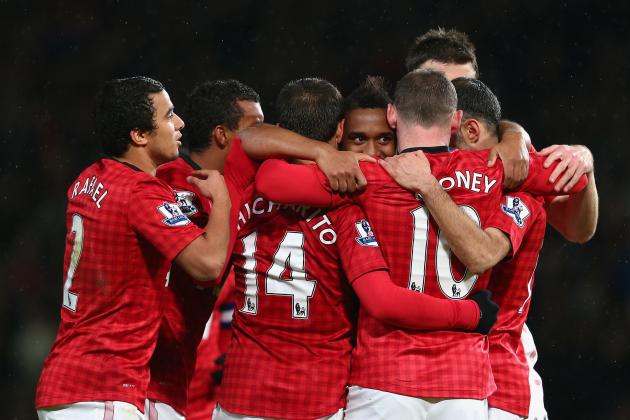 Clive Mason/Getty Images

Under the strain of a team and a club relying on him so heavily in the 2009/10 season, Wayne Rooney buckled under the pressure, literally.
The injury he suffered in the Champions League quarterfinal first leg against Bayern Munich virtually put paid to his side's hopes in all competitions.
No one-man team has ever claimed a bevy of trophies in football. Even the greats had a supporting cast behind them.
Adding Van Persie to the mix only makes Manchester United stronger and more viable in both the domestic and European game.
Don't get me wrong, though, the side has played better this season with Rooney in the lineup. Without him, they look a weaker proposition.
Though things haven't been as drastic as 2009/10 when the Englishman had to endure spells on the sidelines, a fully fit Rooney will be required to perform when crunch time comes later this year.
All signs point to that being a realistic eventuality. Just don't say "treble"... yet.
How do you believe Rooney's role at Old Trafford has changed this season? Is he still a player vital to United's hopes?