How the Boston Celtics Exposed the Miami Heat's Biggest Flaws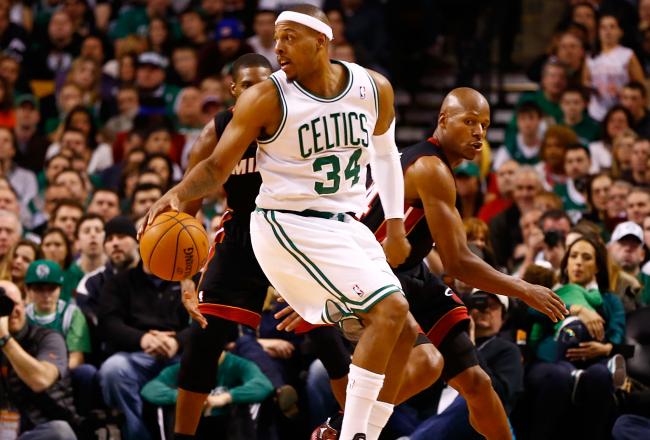 Jared Wickerham/Getty Images
In any NBA game that ends with 10 minutes of extra time, whoever wins is usually the beneficiary of an extra lucky bounce or two—a moment of good fortune as opposed to any schematic advantage carried out over the course of 58 minutes.
Sunday's thrilling double-overtime battle between the Miami Heat and Boston Celtics was no different.
If Paul Pierce had followed Shane Battier to the perimeter on what ended up being LeBron James' game-tying three-pointer with seven seconds left in regulation, the Celtics probably wouldn't have needed two overtimes to get the win. Conversely, if Ray Allen had knocked down his attempted open corner three with the Heat down two near the end of the second overtime, the Heat could've won.
There are a half-dozen other examples of sequences that went one way but could have easily gone the other. However, the simple fact that the Celtics played their bitter rivals so close (the game was tied at halftime) without Rajon Rondo was a testament to several decisions enacted by Doc Rivers and his staff and inspiring efforts from a majority of Celtics who've struggled mightily in recent weeks.
The Celtics closed the game with a small lineup, beating the Heat at their own game by playing Pierce and Jeff Green beside Kevin Garnett.
Valuing points and ball-handling ability over defense late in the game, Doc Rivers decided to play Jason Terry and Leandro Barbosa over Courtney Lee and Avery Bradley for a majority of the last overtime. The decision paid off, as Terry led all players with four points in that final five-minute period.
Another crucial part of the Celtics victory was their surprising ability to protect the ball without a primary ball-handler. The Heat came away with only six steals in 58 minutes, a disappointing number for an offense that scores the sixth-most points off turnovers in the league. It's a part of who they are, and Boston did a great job setting the pace on its own terms.
However, a lack of fast-break points wasn't the biggest reason the Heat lost; it was their decision to lean on one-on-one drives into the teeth of Boston's defense.
This season, the Heat's offense has revolved around the three-point shot. They make 8.3 per game, which is sixth most in the league. But in the first half, they attempted only four shots from behind the arc. Here's the chart.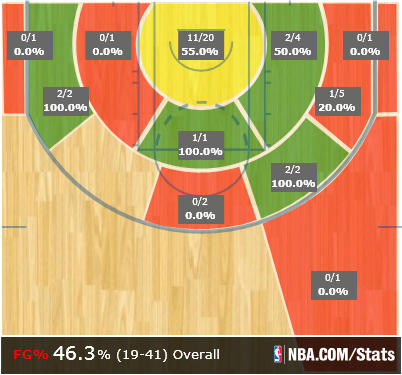 The Heat finished the game 5-of-23 on threes (3-of-12 in the fourth quarter), but their inability to attempt more early on hurt them. Instead of attacking Boston with the most deadly shot in basketball—swinging the ball around, penetrating the lane and finding open looks from behind the arc—Miami settled for isolation attempts on far too many possessions.
Since Bosh, James and Dwyane Wade teamed up, much has been made of their continuous improvement to play cohesively with the ball. This season, 11.4 percent of their offense has come on isolation sets, according to Synergy. But against the Celtics, Miami finished 24 percent of its sets in isolation.
The Heat played right into the Celtics' hands here, attacking the strength of their defense with stagnant possessions that had very little side-to-side ball movement. (Jeff Green deserves a ton of credit with his individual defense on James, especially in the fourth quarter when he held him to five points on four shots.)
In this video example, James dribbles around the perimeter and gets a few screens from teammates but doesn't use them to attack. (One of them is set by Allen, who strangely rolls through the paint instead of popping out behind the three-point line; all this did was muddle up any driving lane for LeBron.)
Once all options were exhausted, the ball was swung to Wade, who had precious seconds to either take a jumper or try and drive into Boston's stacked defense. Pierce did a great job making him hesitate, and the result was a contested long two in a wasted crucial possession.
In the end, this game was less about Boston taking advantage of Miami's flaws than it was Miami failing to accentuate its own strengths. Recently, the Celtics haven't had an answer for Miami's crunch-time offense, but for whatever reason, the Heat weren't interested in attacking them where it hurt the most in this game.
This article is
What is the duplicate article?
Why is this article offensive?
Where is this article plagiarized from?
Why is this article poorly edited?