Ronaldo, Messi and...Luton Headline the Weekend World Football Awards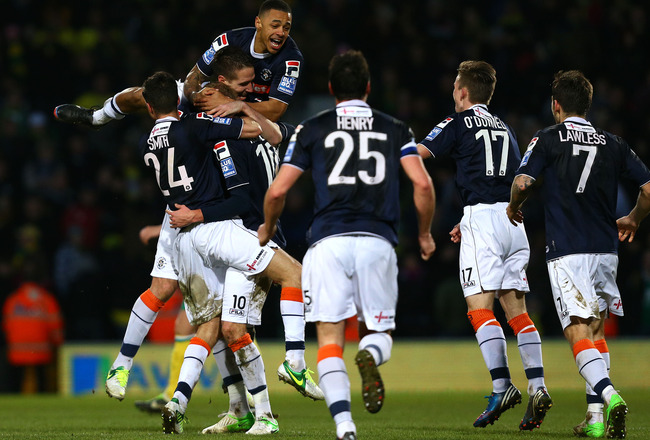 Jan Kruger/Getty Images
Every January, it seems, we agonize over the lost lustre of the FA Cup and eulogize the memories of cup ties past.
We recall the Sunderland-Leeds final of 1973 and Sutton United's win over Coventry City and, while we brush up on the teamsheets from Yeovil or Altrincham, declare the magic of the cup to be well and truly gone, the sheen to have vanished from world football's oldest knockout competition.
Then Luton beats Norwich at Carrow Road and all is right with the world once more.
I have news for you: The FA Cup is as exciting as it ever was, and if it doesn't seem that way, it's only because the glories of yesteryear tend to take on a romantic element that the present will have to wait a generation to attain.
But the magic hasn't gone anywhere, and years from now we'll look back at the fourth round of the competition's 132nd instalment with the same fondness currently reserved for the Southampton team of 1976 or Wimbledon of 1988.
Not surprisingly, the FA Cup features prominently in this weekend's World Football Awards, beginning on the next slide with the category "Upset of the Weekend." Enjoy.
Upset of the Weekend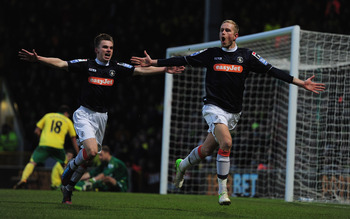 Scott Rendell scored the only goal for Luton against Premier League side Norwich on Saturday.
Jamie McDonald/Getty Images
There was no shortage of matches to choose from. MK Dons' hammering of Queens Park Rangers at Loftus Road caught the eye, as did each of Sunday's three FA Cup matches—Brentford 2-2 Chelsea, Leeds 2-1 Spurs, Oldham 3-2 Liverpool. And in the Africa Cup of Nations, Heldon's 91st-minute winner against Angola in Port Elizabeth ensured Cape Verde would progress to the tournament's quarterfinal stage.
Still, Luton's win over Norwich was special. It had been 24 years since a non-league side had toppled a member of English football's top flight, but Luton—who play fifth-tier football in Conference National—sent their visiting contingent of fans into raptures when, with 10 minutes to play, JJ O'Donnell's cross from the left was met by substitute Scott Rendell, who slipped the ball past Declan Rudd for what proved to be the winner.
Luton's accomplishment is all the more impressive when looked at contextually. Twice in the last decade the Hatters went through the uncomfortable business of administration, and in 2008-09 they were docked 30 points en route to relegation to Conference National for the first time in their history.
Worst Refereeing Decision of the Weekend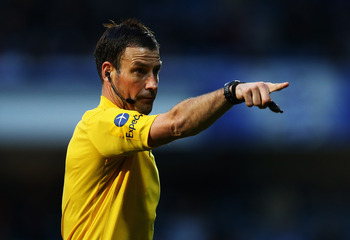 Mark Clattenburg should have penalized Damien Duff for handball at Old Trafford.
Paul Gilham/Getty Images
This shameful gong goes to Mark Clattenburg, who denied Manchester United a stonewall penalty midway through the first half against Fulham when Damien Duff clearly handled the ball inside the area.
Not that United particularly needed the spot-kick. Only three minutes had past when Ryan Giggs successfully converted his penalty following an Aaron Hughes handball, but even that decision (which was the correct one) should not have prevented Clattenburg sending United to the spot for the second time in the first half.
As it turned out, United went on to beat the Cottagers 4-1 at Old Trafford and will face Reading in the FA Cup's fifth round.
Grey-Haired Performance of the Weekend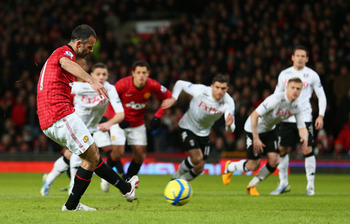 Ryan Giggs scored this penalty and also picked up an assist against Fulham.
Clive Mason/Getty Images
It isn't all that often Ryan Giggs is deployed as a winger anymore, but he got the call to play out wide on Saturday and turned back time as his Manchester United side easily dispatched Fulham in the FA Cup.
Giggs, who turned 39 in November, easily handled Cottagers right-back Sascha Riether at Old Trafford, and in addition to opening the scoring from the penalty spot after just three minutes, he also picked up an assist on Javier Hernandez's second goal of the night in the 66th.
Overall, the silver-haired put in a considerably more useful performance than Nani, United's other winger, who is 13 years Giggs' junior.
Transfer Rumour of the Weekend
Didier Drogba, shown here representing Ivory Coast, is likely headed to Galatasaray before February 1.
Gallo Images/Getty Images
It looks as though Didier Drogba is headed to Galatasaray.
News of the former Chelsea striker's impending arrival in Istanbul first came through Turkish outlet Hurriyet ahead of Sunday's derby between Galatasaray and Besiktas, and shortly before kickoff the Turkish league's official broadcaster, LigTV, also ran with the story.
A transfer from Chinese side Shanghai Shenua could be completed as soon as Tuesday, and as Drogba is not cup-tied in Europe it means Galatasaray will be able to use him in the Champions League knockout stages. They face Schalke in the Round of 16 next month.
Cheer of the Weekend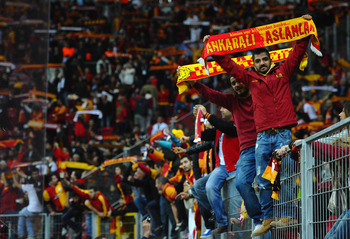 The Galatasaray fans welcomed Wesley Sneijder in full voice on Sunday.
Laurence Griffiths/Getty Images
Matches between Galatasaray and Besiktas typically have Turk Telecom arena pulsating, but with a pair of new signings on either bench Sunday's Istanbul derby was particularly loud.
Had there been a roof, the crowd would have blown it off when Wesley Sneijder replaced Emre Colak in the 57th minute. Sneijder, whose move from Inter Milan was completed early last week, had drawn a thunderous ovation when he began his warm-up along the touchline after the restart, and the supporters when berzerk when he was finally introduced.
Dentinho, who made his Besiktas debut not long after, didn't receive quite the same treatment, but he'll no doubt be shown similar appreciation when he plays his first home match on February 2 against Karabukspor.
Duel of the Weekend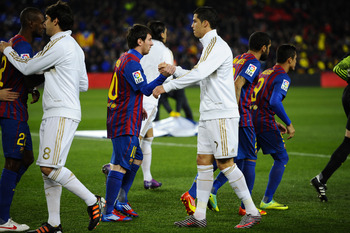 Lionel Messi and Cristiano Ronaldo combined for seven goals on Sunday.
David Ramos/Getty Images
Anything you can do...
Real Madrid couldn't find the back of the net in the first half against Getafe on Sunday, but after Sergio Ramos opened the scoring just eight minutes after the restart Cristiano Ronaldo fired a hat-trick through the open floodgates. The Portugal captain has now scored 33 goals in all competitions this season and has tallied 10 times in seven matches in 2013.
...I can do better
Barcelona destroyed Osasuna 5-1 in Sunday's late kickoff thanks to four goals from Lionel Messi, the second of which represented his 200th league goal for the Catalan giants. Messi has now scored 44 goals in all competitions this season and has bagged nine in 2013. Barcelona are 15 points ahead of Real Madrid after 21 rounds in La Liga.
Best Anthem Rendition of the Weekend
Leandro and Diego played the Brazilian National Anthem on their guitars ahead of Mirassol-Corinthians on Sunday.
Brazilian duo Leandro and Diego occasionally play the national anthem ahead of matches, and on Sunday they were on hand, with their guitars, to play the Hino Nacional Brasileiro before Mirassol's Campeonato Paulista match against Corinthians.
Corinthians, the reigning Copa Libertadores and Club World Cup champions, won the match 1-0 thanks to a goal by Romarinho.
Underdog Story of the Weekend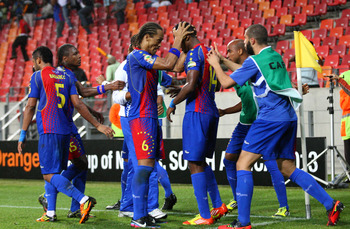 Cape Verde beat Angola 2-1 on Sunday and are through to the quarterfinals of the Africa Cup of Nations.
Gallo Images/Getty Images
Having never before participated in a major competition, Cape Verde was hardly fancied to go far at the 2013 Africa Cup of Nations. And after failing to win either of their opening two matches (they drew 0-0 with South Africa and 1-1 with Morocco), it looked as though their fate was sealed after just 33 minutes on Sunday when Angola went in front through a Nando own goal.
What followed was one of the most dramatic comebacks in Cup of Nations history.
With Morocco and South Africa simultaneously engaged in a thrilling contest in Durban, Cape Verde's persistence was rewarded in the 81st minute when Fernando Varela equalised for the islanders. And exactly 10 minutes later they sealed their progression to the quarterfinals when Heldon found the back of the net.
Considering that Cape Verde also beat Cameroon just to qualify for this tournament, their success in making it through to the last eight makes them the "Underdog Story of the Weekend," if not the story outright.
Keep Reading