Power Ranking the 8 Most Overrated NFL Draft Prospects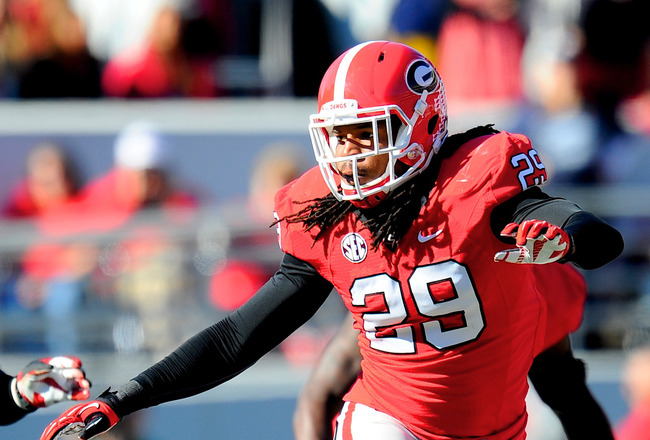 Jarvis Jones is one player who could take a drastic fall in the 2013 NFL draft.
Dale Zanine-USA TODAY Sports
The 2013 NFL draft is approaching, and as in every draft before, some overrated prospects will not live up to the hype.
NFL draft prospects are graded by teams and the media, and unfortunately some are overrated each and every year. This means outsiders set expectations for their NFL performance before they have even been selected.
This year there are several prospects who many think will be taken at a point that does not match up with their skills and abilities. Predicting where prospects land can be difficult as a variety of factors go into each pick—teams don't just pick on talent alone.
In the following slideshow we will identify some 2013 NFL draft prospects who have become overrated and will not live up to the hype—and may not be selected as high as some think.
Let's take a look.
8. Mike Glennon, QB, N.C State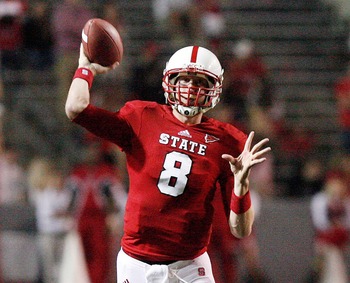 Mike Glennon is having issues living up to the hype.
Mark Dolejs-USA TODAY Sports
Mike Glennon is another quarterback flirting with being classified as a first-round pick, which does nothing but reinforce the supposition that the position overall is extremely weak this year.
Glennon threw for over 4,000 yards and 30 touchdowns with N.C. State a year ago and is a massive prospect at 6'7" and 220 pounds.
While Glennon looks fine on paper, his issues come up mostly on film. Glennon has average technique, especially when it comes to footwork. This deficiency causes him problems getting the ball down the field, especially when under pressure.
During the Senior Bowl, Glennon completed just three of his 10 attempts for 16 yards—not exactly living up to the hype.
Like every quarterback, Glennon has many chances to up his stock and is fortunate enough to play the position.
7. Zach Ertz, TE, Stanford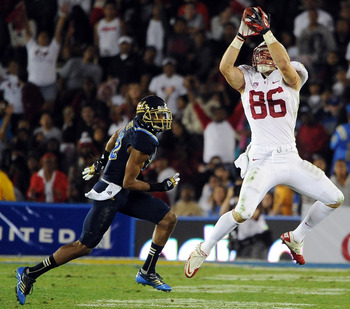 Zach Ertz is hailed as the best tight end in the draft.
Jayne Kamin-Oncea-USA TODAY Sports
Zach Ertz is the consensus best tight end entering the 2013 NFL draft, but that is not saying much considering how weak the overall position is this year.
Ertz is a monster at 6'6" and 250 pounds, but you would not know it on tape. He struggled when it comes to run blocking and is not athletic enough to be an effective receiver at the next level.
Almost 900 yards and six touchdowns last year allowed Ertz to explode onto the scene. But lacking an ability to be a dynamic receiver is going to cost him in the NFL.
The tight end position has changed. In the past, Ertz would be a top pick. Now tight ends are expected to be elite receivers and efficient blockers. Ertz is neither of these and should not be labeled as a first-round pick.
6. Robert Woods, WR, USC

Robert Woods NFL Player Comparison

Robert Woods was productive at the college level, but that is to be expected while playing at USC and catching passes from quarterback Matt Barkley.
Woods may have been even more productive and the consensus No. 1 receiver off the board in the 2013 NFL draft if he could simply stop dropping passes.
At 6'1" and 190 pounds, Woods is a bit small for the NFL, at least if he wants to be a No. 1 receiver. He has solid speed and shines when running routes, which is in large part what allowed him to stand out from a talented pack of USC receivers.
It is a long climb for Woods to solidify himself as a top talent in the draft. There is a lot of time left, but right now the odds are stacked against him.
5. Montee Ball, RB, Wisconsin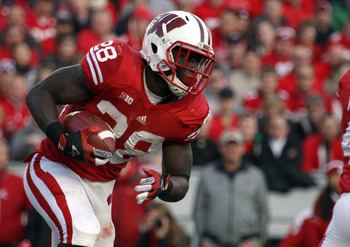 Montee Ball had a stellar collegiate career and is thought by many as an elite prospect.
Mary Langenfeld-USA TODAY Sports
Montee Ball has a lot of momentum heading into the 2013 NFL draft after piling up over 5,000 yards and scoring 77 touchdowns at Wisconsin.
Ball has solid size at 5'11" and 215 pounds. He is extremely smart when it comes to making his reads and cutting upfield in a hurry. Throughout his career he flashed an ability to make defenders miss in open space—or simply bowl them over.
The knock on Ball at this point is the tread on his tires. He rushed almost 1,000 times in college, and it is unknown how well he will hold up in the NFL. It also does not help that his numbers are helped by a pro-caliber offensive line that paved the way for him on every attempt.
It is hard to dislike much about Ball, but in no way should he be considered the best running back in the class or worthy of being selected before the third round.
4. Keenan Allen, WR, California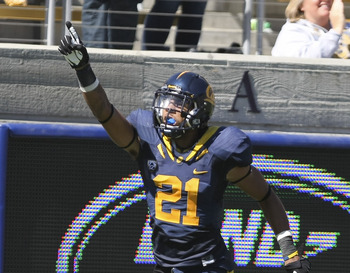 Keenan Allen was productive in college, but that does not always translate to the NFL.
Kelley L Cox-USA TODAY Sports
Keenan Allen is a big name out of California who has recently seen his draft stock rise to the heights of first-round consideration.
Allen has decent size at 6'3" and 210 pounds. The problem is he lacks the size and speed combination that made players like A.J. Green and Julio Jones top-flight prospects who wound up being taken in Round 1.
Allen has a serious lack of straight-line speed. He is agile in the open field, which gives him a good chance at quality yards after the catch. This means he is more of a possession receiver, and those should never be taken in the first round.
There are a lot of things to like about Allen. He has good hands and runs pristine routes. He simply lacks dynamic traits that make him deserve a high selection.
3. Jarvis Jones, DE/OLB, Georgia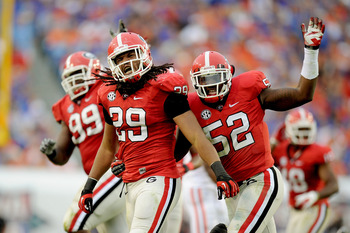 Jarvis Jones has medical issues that could hinder him at the next level.
Kevin Liles-USA TODAY Sports
Georgia's Jarvis Jones is slated by most as a top-10 pick at the very worst in the 2013 NFL draft but that is being kind when taking everything around Jones into consideration.
Jones is likely off the draft board for many teams in the first round because he has a condition in his spinal column called spinal stenosis, which could limit his career.
The issues for Jones do not stop there. He is thin for the NFL at 6'2" and 240 pounds. He is a great athlete but could be overwhelmed in certain situations.
Jones is a complete package who led the nation in sacks a year ago with 14.5. He played the run well and flashed when dropping into coverage.
Unfortunately for Jones, he was not consistent enough in all areas and has medical issues. He is a great value near the second round but taking him in the early first would be a mistake.
2. Manti Te'o, ILB, Notre Dame
Manti Te'o is hailed by some as the best inside linebacker in the draft.
Jonathan Daniel/Getty Images
Off-field issues aside, Manti Te'o of Notre Dame is potentially not the best available prospect at inside linebacker in the 2013 NFL draft.
Te'o was productive throughout the course of his collegiate career—but flip on the film and a few issues come to light.
For one, Te'o has solid size at 6'2" and 255 pounds. He does not always play that thick. Te'o has issues at the point of attack and sometimes has problems bringing down ball-carriers on his own.
Te'o plays with a unique physicality and is not as slow as as one would think for an inside linebacker. His main issue in pursuit are the angles he takes, which at times takes him out of plays entirely.
There are better inside linebackers in the 2013 NFL draft, such as Alec Ogletree and Arthur Brown. Te'o's on-field issues and off-field distractions will knock him down a peg no matter how overrated he may be.
1. Ryan Nassib, QB, Syracuse

Ryan Nassib NFL Player Comparison

Syracuse quarterback Ryan Nassib has been mentioned in some circles as a first-round pick in the 2013 NFL draft, and there is some merit to those claims.
Nassib has good size at 6'2" and 220 pounds. He had a successful campaign last year while throwing for over 3,700 yards and 26 touchdowns.
That is where the good for Nassib begins to fade.
The Senior Bowl was a major opportunity to prove that he is worthy of being taken in the first round. He ended up looking rattled, completing just four of his 10 attempts for 44 yards and an interception.
The performance once again proved Nassib is shaky in the pocket and consistently makes bad reads. There is plenty of time to turn things around, but right now he has shown nothing worthy of a first-round selection.
Follow me on Twitter for more NFL news and analysis.
Keep Reading