Detroit Red Wings vs Chicago Blackhawks: 5 Things to Watch for in Tonight's Tilt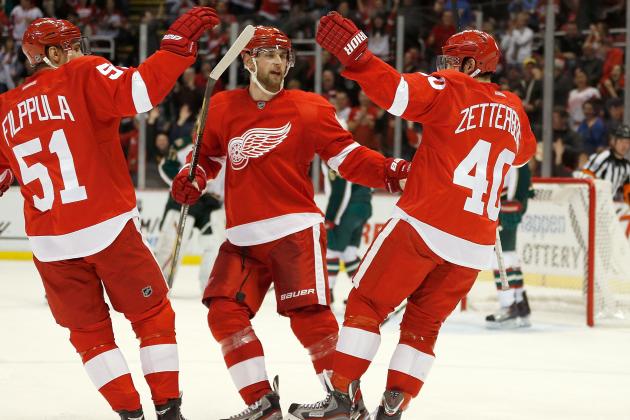 Gregory Shamus/Getty Images

The Chicago Blackhawks will take on the Detroit Red Wings tonight in what is the most important game of the young season for the Wings.
Patrick Kane, Jonathan Toews and Marian Hossa have all been electric, as Chicago has been playing a blistering brand of hockey, going unbeaten so far this season. Corey Crawford has also been steady in net.
The Red Wings, on the other hand, have already be ransacked by injuries and are looking for consistency early in the year.
Here are five things to keep an eye on in the important Central Division matchup tonight.
Begin Slideshow

»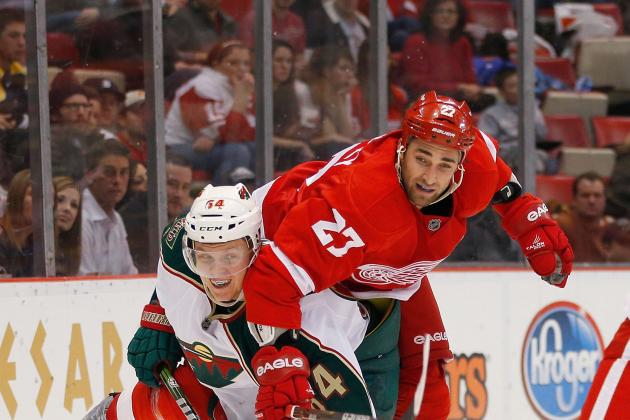 Gregory Shamus/Getty Images

I've watched every second of every Detroit Red Wing game thus far, and the only thing that has stuck out to me more than Damien Brunner being awesome is how awful Kyle Quincey has been.
Am I the only one who doesn't still have vivid flashbacks of newcomer Vladimir Tarasenko cutting through Quincey every time I hear someone say the word "butter"?
Didn't think so.
All grudges aside, Quincey has to be better. Straight up. The 'Hawks will have the last change tonight, and you can bet your hockey pants that they will try and line up any combo of Marian Hossa, Patrick Kane and Jonathan Toews against Quincey and his sand-skating self at every chance they get.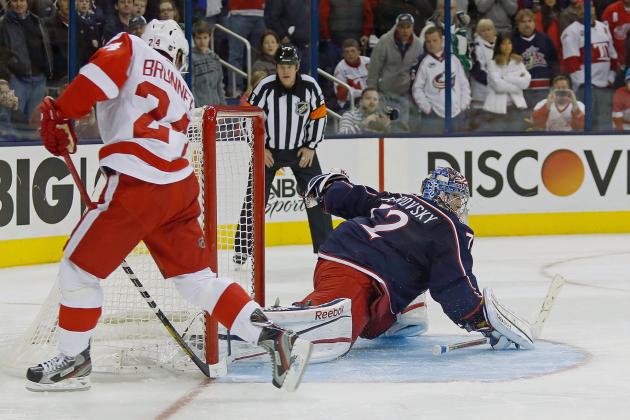 Kirk Irwin/Getty Images

The gap is closing a bit now that Pavel Datsyuk and Henrik Zetterberg are returning to form, but I still maintain that Damien Brunner has been the best forward for the Detroit Red Wings thus far.
His game has translated seamlessly to the NHL, and he's been among one of the slickest and most notable forwards I've seen in the league so far. Brunner has been no Tarasenko, but he's still made things happen on nearly every shift he's been on the ice.
What's impressed me most has been his ability to jump right into the best hockey league in the world and play against other squads' best defenders. He'll have his hands full with Duncan Keith and Co. tonight.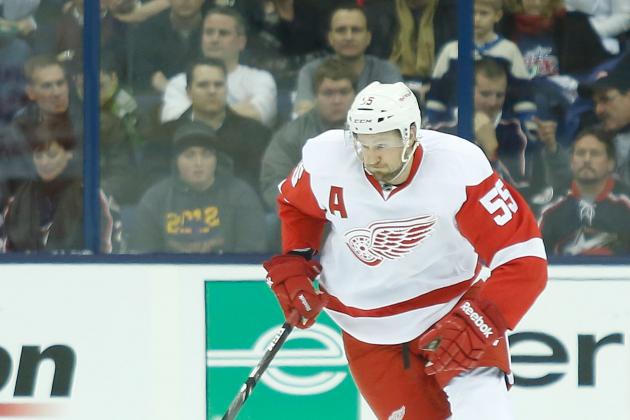 Kirk Irwin/Getty Images

We haven't seen a huge, massive, earth's atmosphere-altering hit from Niklas Kronwall yet so far this season. I'll be the first to admit that the Swede has added much more to his game over the last few years than the timely hit.
But that doesn't mean I wouldn't like to see one every now and again.
Detroit will need to play physical against the Blackhawks. The Columbus Blue Jackets gave them fits last night with their physicality and pushed Chicago more toward the "looking human" line than any other team has thus far.
It wasn't a relentless offensive attack that the Jackets brought against the 'Hawks; it was constant pressure on the puck and the puck-carrier. Make the talented guys in Chicago's top-six absorb some hits and it'll change the complexion of the game.
This begins with Kronwall.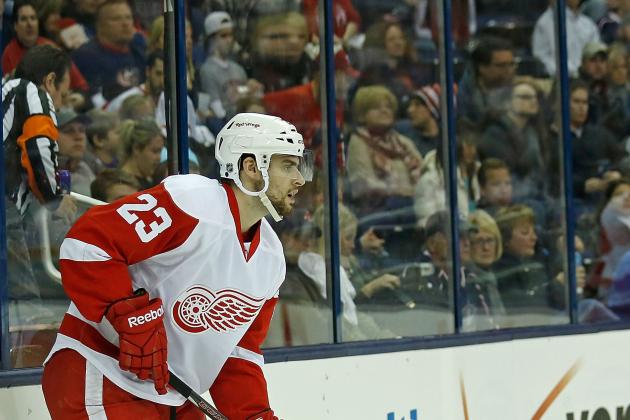 Kirk Irwin/Getty Images

I don't gasp every time Brian Lashoff ends up with the puck on his stick while there is pressure on him in the defensive zone. That's more than I can say for several of Detroit's defensive units at the moment, and I'd like to keep it that way.
He's making the most of his opportunity with the big club right now, playing solid hockey in all three zones and shooting when he gets the chance instead of always trying to make the cute play.
Lashoff continuing to be mostly unnoticeable will only be a positive for the limping, hodgepodge group of Detroit blueliners.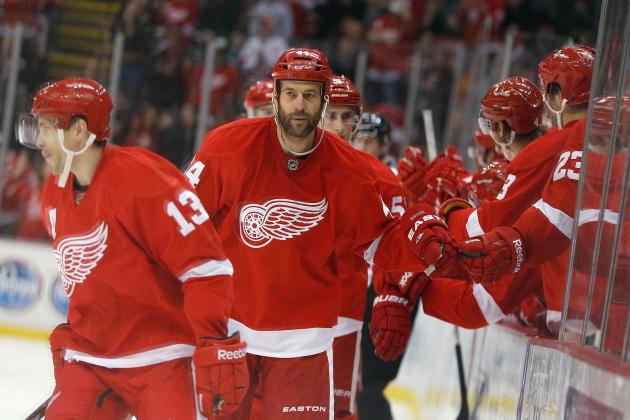 Gregory Shamus/Getty Images

It's no mystery to anyone paying attention to the NHL that the Central Division is one of, if not the strongest division in the NHL.
It's also no mystery that the Detroit Red Wings, once the class of the division, are now feeling the heat on their collective heels from everyone besides the Blue Jackets (who are still better than people realize or give them credit for).
As such, this is a statement game for the Wings. They were embarrassed by St. Louis in the season opener and have taken the week to find their game legs. Getting Todd Bertuzzi back is huge for the top six, and Brendan Smith has looked great so far in this young season.
The time is now to issue a warning to Central Division foes: "Don't sleep on us" needs to be the message here.
Chicago has yet to lose a game, and Kane, Hossa and Toews have been alarmingly effective so far. If the Red Wings can hand the 'Hawks their first loss, it'll give them some breathing room in the standings and in the press.
Tales of Detroit's demise have been swirling for a week now. Time to serve the NHL notice.
Franklin Steele is a hockey analyst for Bleacher Report. Follow him on Twitter for someone to talk hockey with 24/7, or like him on Facebook so you can say you liked him before all your friends. He'll make you chili and send you an Internet high-five.