Predicting NBA Trades Nobody Will See Coming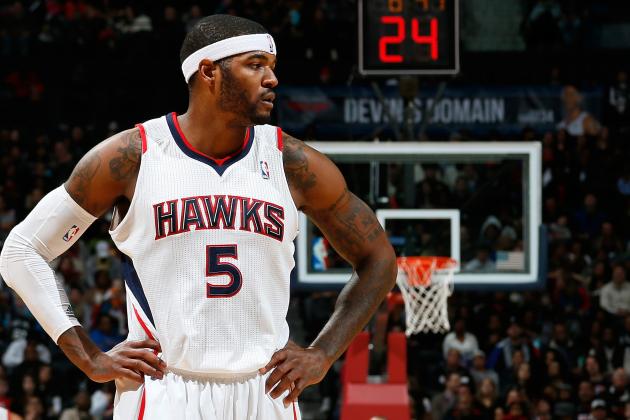 Kevin C. Cox/Getty Images

Every year during the lead up to the trade deadline, rumors and speculation rule the day. Players are "on the block," and teams are "listening to offers."
But many times, trades come out of nowhere.
As February 21 nears, there will inevitably be at least one deal that stuns everybody. It may feature the high-profile names who have been making headlines for weeks or include less-heralded players who never expected to wear a different jersey this season.
These are five such trades that could go down in the next month.
Begin Slideshow

»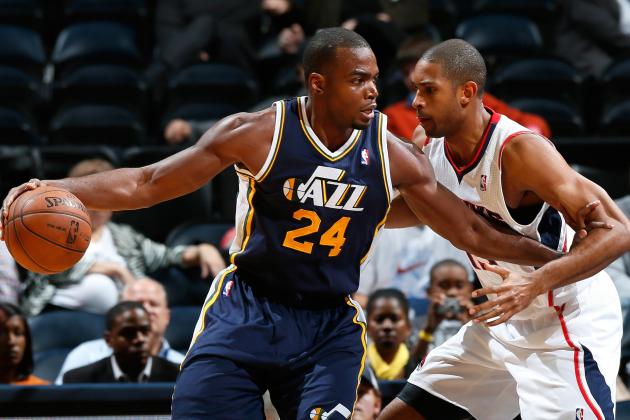 Kevin C. Cox/Getty Images

In Paul Millsap, the Utah Jazz have one the best assets in the league. He represents the best of both worlds: a big man who can play and is also on an expiring contract.
Popular wisdom says that the Jazz should auction him off for young players and draft picks. In the post-lockout world, however, they are unlikely to get many enticing offers for a coveted scorer who could turn out to be just a half-season rental.
So rather than flip Millsap for middling draft assets who may not pay off for another half decade, if ever, the Jazz will move him for the point guard they need right now.
Utah's three best young players—Derrick Favors, Enes Kanter and Gordon Hayward—are maturing, and it needs a player who can lead it as it evolves.
Kyle Lowry, someone who now seems expendable in Toronto, is just that guy.
Millsap will give the Raptors the frontcourt security they need to fill out the core of their roster. The offer of a starting job should entice him to re-sign there this summer, which would allow Toronto to find someone—anyone—to take Andrea Bargnani off its hands.
In Jonas Valanciunas and Ed Davis, the Raptors have a few young big men who give hope for a bright future, and DeMar DeRozan increasingly looks like a reliable option on the wing. Adding Millsap to that mix will only heighten the team's ceiling as they get closer to relevancy.

(The Raptors would have to throw in Aaron Gray to make the salaries work under the league's trade rules.)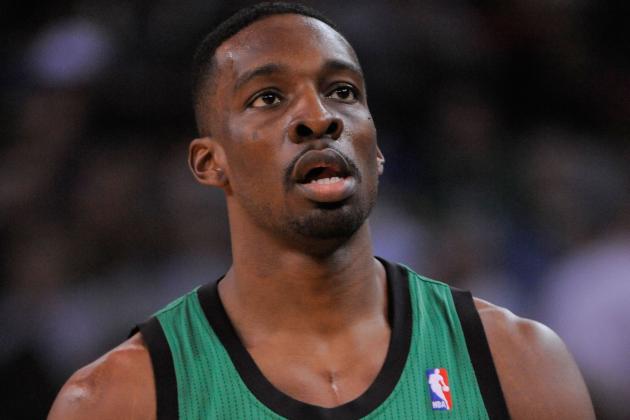 USA TODAY Sports

If the Boston Celtics don't blow up the roster in light of Rajon Rondo's season-ending knee injury, this is the type of trade we can expect them to make.
Moving Jeff Green for Marvin Williams would allow them to hedge their bets. The Celtics won't lose much in terms of how well they finish out the season, but they will begin the process of tidying up their long-term salary-cap problems.
Green and Williams make almost the same salary (about $8.5 million per season), but while Green's contract is for four seasons, Williams' only lasts two more.
If Boston is really going to stick it out with Kevin Garnett and Paul Pierce for another season or two, this is the least the franchise can do to ensure that it will have some financial flexibility when Rondo does return to full strength (likely in 2014-15).
As for the Utah Jazz, Green is the better talent here. That is their motivation.
Green also is still getting back into the day-to-day life of the NBA after a lot of time away from the game following the heart procedure that sidelined him for the entire 2011-12 season. Better days may be ahead. His contract will probably always be a little steep, but this is the NBA, so that is par for the course.
Moreover, Green has the ability to earn his salary in a way that Williams never will. That doesn't mean it will happen, but it at least could.
Unfortunately for the Jazz, Salt Lake City has never been a free-agent destination, so these are the type of tradeoffs they sometimes have to make if they hope to acquire productive players. Picking up a solid rotation player who may yet develop into a defensive force may be a good risk to take if all the Jazz have to give up is a highly mediocre player in Williams.
(Since Boston needs a point guard and Utah will likely want the Celtics to throw in a sweetener, the teams will add Fab Melo and Jamaal Tinsley to the deal.)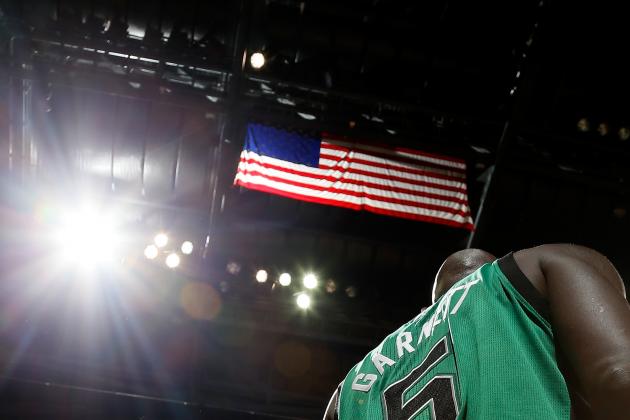 Kevin C. Cox/Getty Images

While I feel that the Boston Celtics will wait until the offseason to move some of their higher-profile players, I'm not above hedging my bets either.
If Boston does make a move before the deadline, expect it to be huge.
Given the two players' relative value throughout the league, it stands to logic that Kevin Garnett is more likely to go than Paul Pierce. Besides, unless Danny Ainge gets an offer that's too good to refuse (in the actual sense, not The Godfather sense), it would just be unseemly to ship out a player who has only ever worn Celtic green.
Instead, Ainge will try to get the best young player he can for Garnett, provided KG waives a no-trade clause.
If the Los Angeles Clippers are serious about trying to win a title this season, they will have to consider trading Eric Bledsoe for Garnett. If Ainge throws in Courtney Lee, it will be even tougher to turn down.
Sure, Bledsoe has the potential to be one of the best players on a contender team in a few years, but Kevin Garnett could be the third-best player on the first Clippers team to ever win a title.
That has to mean something—even to a scrooge like Clipper owner Donald Sterling.
(Bledsoe wouldn't be the only rotation players the Clippers would have to part with. They would need to send back more in salary, most likely Chauncey Billups and Lamar Odom.)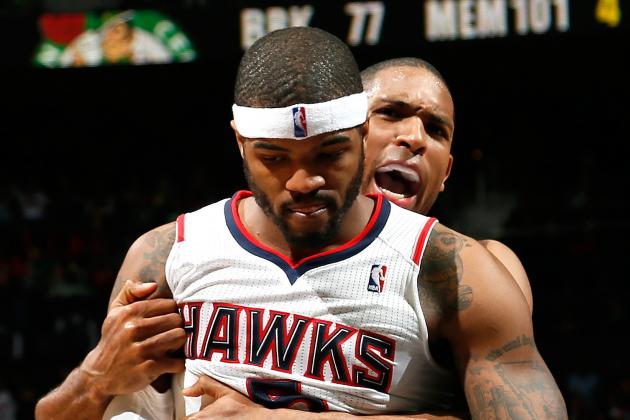 Kevin C. Cox/Getty Images

Rarely do we see a top-tier NBA player get traded for only unproven prospects and draft picks. But that is exactly what may happen with Josh Smith—especially if Danny Ferry and Daryl Morey spend enough time talking on the phone
In Ferry and Morey, of the Atlanta Hawks and Houston Rockets, respectively, these two general managers seem ideally suited to bargain in today's NBA.
Neither has proven that they can build an excellent team, but each has shown that they value cheap assets and draft picks.
And that is what will be the foundation of this deal.
Last summer, Ferry moved Joe Johnson for a package that seemed more out of Major League Baseball than the National Basketball Association. He now seems poised to do the same with Josh Smith.
If that is his goal, he will find no better partner than Houston.
The Rockets are eager to acquire a marquee big man and can offer multiple draft picks or any number of young, intriguing players. They are also under the salary cap, so it will make the math easier.
It seems unlikely that Ferry will get Houston to part with Chandler Parsons, and Jeremy Lin would be more of a luxury than a necessity in Atlanta, considering that Jeff Teague is the better point guard.
But some combination of Patrick Patterson, Terrence Jones, Marcus Morris, Royce White and picks should get it done.
There is always the chance that some other team sends Ferry an offer for a bona fide, proven producer. But my guess is that Ferry prefers cheap players and draft picks who won't bog down his salary cap.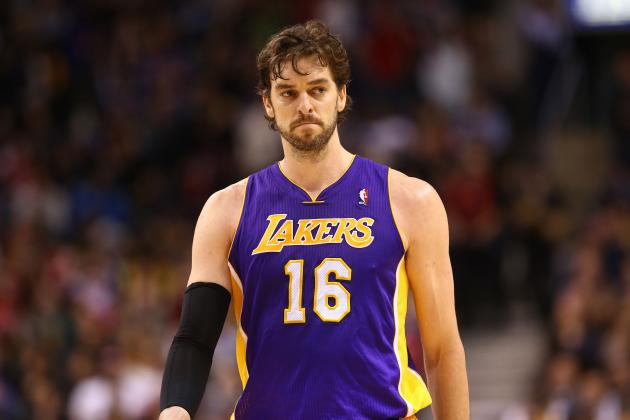 Tom Szczerbowski-USA TODAY Sports

Pau Gasol and Dwight Howard are not going to work together—not under Mike D'Antoni. It may be a silly reality, but it is the world that the Los Angeles Lakers have created for themselves.
Unfortunately, given his huge salary, trading Gasol—especially as bad as he has played recently—will not be easy, and the return is not going to be good.
But moving him to the Washington Wizards for Nene and Trevor Ariza, as bad as it initially sounds, could go a long way toward adding some defensive resistance, depth and mobility to a franchise which sorely lacks all three.
It will not be a panacea by any means—that should be obvious from the names involved—but the additions will give a team that is likely to miss the playoffs this season more players to incorporate into its strategy next year or use as assets in future trades.
For the Wizards, they get out from underneath two unsightly contracts and can sell a marquee acquisition to their fanbase. Gasol may not be the same guy he was even two years ago, but fans in D.C. know his name and might come out to watch.
With John Wall back running the team and a Hall of Famer in the middle, the team should—at least aesthetically—start to show some sustained improvement.
If so, the franchise can finally start a new era in earnest and hopefully put all the losing and sordid affairs of the past few years in the rear-view mirror for good.