Michigan vs. Illinois: Live Score, Updates and Analysis for B1G Showdown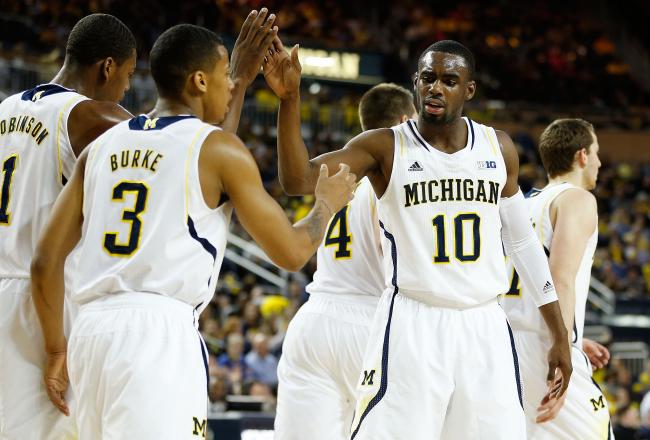 Tim Hardaway Jr. will look to guide the Michigan Wolverines past the Illinois Fighting Illini.
Gregory Shamus/Getty Images
If there were any questions as to whether or not the No. 2 Michigan Wolverines deserved to become the top team in the national polls come Monday afternoon they were put to rest at Assembly Hall in a 74-60 rout of the Illinois Fighting Illini.
Michigan got in the lane early and often thanks to great cuts from freshmen Glenn Robinson III and Nik Stauskas, but the Wolverines' big men were able to do a lot of damage inside as well despite the fact redshirt junior forward Jordan Morgan left the game with a right ankle injury early in the first half.
Freshman Mitch McGary and sophomore Jon Horford combined for 13 points and 13 rebounds in the victory.
All of Michigan's starters, with the exception of Morgan, finished the game with at least 12 points. Sophomore point guard Trey Burke led all scorers with 19 points, in addition to five assists, five rebounds and three steals.
The Fighting Illini fell behind early in the first half and continued to miss three-pointers as the deficit mounted. Illinois only shot 36-percent from the field and were six-of-27 from beyond the arc.
The loss dropped Illinois to 2-5 in Big Ten Conference play, while the Wolverines improved to 6-1 in league games and are expected to take over the No. 1 spot in the polls on Monday after a 19-1 start to the 2012-13 season.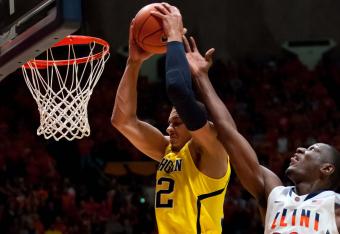 After showing some rust in the first half on Thursday against the Purdue Boilermakers, the Michigan Wolverines led for nearly the entire contest in their win over the Illinois Fighting Illini.
Michigan attacked the basket early and often, got plenty of open looks and were the beneficiaries of outstanding performances from reserve big men Mitch McGary and Jon Horford.
The scoring load was primarily carried by the starting five, which combined for 57 of Michigan's 74 points.
The Wolverines are expected to rise to the top of the polls for the first time since 1992, which is quite an accomplishment for head coach John Beilein, his staff and the entire program for that matter.
Considering how far away Michigan was from being a contender in the mid-2000s, it is remarkable that the Wolverines are now considered one of the favorites to win the Big Ten Conference and potentially a national title.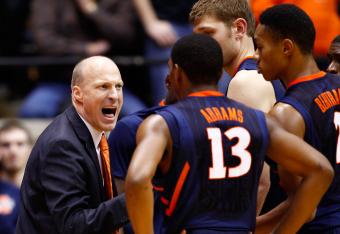 The Illinois Fighting Illini have some major flaws Michigan was able to exploit, and unless head coach John Groce finds a way to restore this team's confidence the Orange and Blue may not even make the NCAA tournament.
Illinois is lacking a floor general, which led to 14 turnovers and the Fighting Illini were dominated in the paint due to their lack of an established big man. The Wolverines were able to score over 30 points in the paint against Illinois.
The Fighting Illini also failed to attack the basket with any consistency, so Illinois hung around the perimeter and jacked up 27 three-pointers. Illinois only managed to connect on six of those shots.
Groce and the Fighting Illini have some serious issues to address going forward if they hope to rebound from this current skid in time to make the NCAA tournament.
Michigan 74, Illinois 60 - End of Game
Michigan runs out the clock and has now beaten Illinois for the fourth time in five meetings.
Michigan 74, Illinois 58 - 1:00 2nd Half
Although Burke has struggled with his jump shot again tonight (seven-of-18), but he has still managed to score 19 points, dish out five assists and pull down five rebounds.
Michigan 71, Illinois 54 - 3:10 2nd Half
Horford goes to the deck and corrals a loose ball, which allows Michigan to bleed clock on its next possession.
Despite missing almost every attempt, Illinois continues to jack up three-pointers with little success. The Fighting Illini are now six-of-25 from beyond the arc.
Michigan 70, Illinois 54 - 4:07 2nd Half
Burke beats the shot clock with a runner, but Abrams ends the 9-0 Michigan run with an easy bucket inside. The Wolverines have been beaten down the floor on two straight trips now.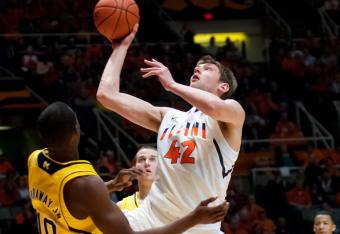 Michigan 66, Illinois 50 - 5:59 2nd Half
Illinois simply does not have the talent on the inside to slow down Michigan's bigs. Myke Henry failed to rotate back and help out on Horford, who finished inside with ease. Horford now has six points off of the bench tonight.
Michigan 64, Illinois 50 - 6:46 2nd Half
Michigan continues to dominate the paint. The Wolverines have 36 points there tonight and Robinson just added two more points to his scoring total with a back-door cut and finish.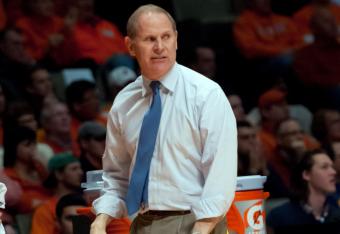 Michigan 59, Illinois 48 - 8:19 2nd Half
These extensive minutes McGary is playing tonight will pay huge dividends for Michigan come tournament time. Great offensive board and put-back by the freshman big man.
Burke comes up with a steal and dunk moments later.
Michigan 55, Illinois 48 - 9:08 2nd Half
Richardson ignites the crowd with a three-ball, but Illinois still has a huge hole to climb out of.
Michigan is getting a little sloppy on the offensive end of the floor now with some turnovers. This one is not over yet.
MLive.com's Nick Baumgardner discusses the positive impact Max Bielfeldt has had in the absence of Jordan Morgan:
More solid positioning from Bielfeldt -- he's got 4 points and 2 boards off the bench.

— Nick Baumgardner (@nickbaumgardner) January 28, 2013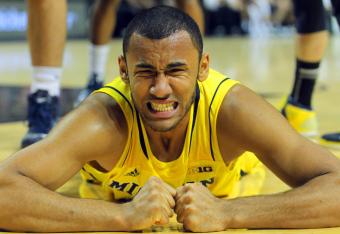 Michigan 52, Illinois 39 - 11:44 2nd Half
Horford displays some inconsistency there for Michigan. He managed to make reverse lay-in on a great pass from Stauskas on one possession, but couldn't handle a feed from Burke the next trip down the floor.
Michigan 50, Illinois 39 - 12:55 2nd Half
Paul makes a nice break on the inbound pass to come up with a steal and used some nifty ball handling to get an open dunk.
Michigan 50, Illinois 37 - 13:35 2nd Half
Illinois cannot get anything to fall. Griffey got an open trey from the corner, but he missed his 20th straight three-point attempt.
The Wolverines still have all the momentum and Illinois will need Brandon Paul to knock down some shots to get back in this one.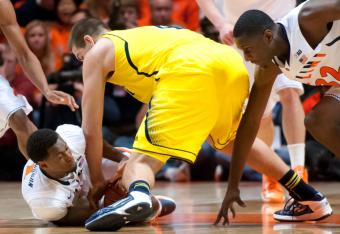 Michigan 50, Illinois 37 - 14:28 2nd Half
Brandon Paul slips, which results in the ninth turnover of the night for Illinois.
Beilfeldt rips away a rebound from Griffey and finishes at the rim. Glenn Robinson III steals a loose ball away from Paul on the following possession and kicked it to Burke for the lay up.
Michigan trying to pull away again, but the Fighting Illini have been able to answer the Wolverines' runs up to this point.
The latest on Jordan Morgan's injury from Rod Beard of The Detroit News:
Jordan Morgan has sweatpants and workout shirt on...doesn't look like he's playing again tonight.

— Rod Beard (@detnewsRodBeard) January 28, 2013
Jeff Goodman of CBS Sports is witnessing some of that Stauskas swagger:
Stauskas buries another 3 -- and then has a few choice words for the Illinois students.

— Jeff Goodman (@GoodmanCBS) January 28, 2013
Michigan 43, Illinois 37 - 16:10 2nd Half
Redshirt freshman big man Max Bielfeldt air balls the first of two free throws and missed the second as well.
Illinois has cut Michigan's lead in half and Bielfeldt is going to see his biggest minutes of the year with McGary and Horford resting on the bench.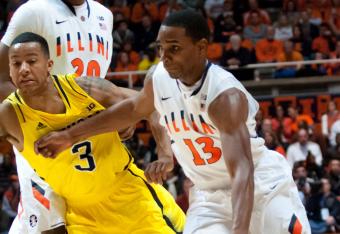 Michigan 41, Illinois 34 - 17:11 2nd Half
A strong finish by Sam McLaurin in the paint results in a three-point pay for Illinois. Robinson got inside for the Wolverines on the following possession, but could not finish at the rim.
Abrams steals a lazy inbound pass and turns it into two points.
Michigan 37, Illinois 29 - 19:19 2nd Half
Impressive finger-roll lay up on the fast-break by Hardaway Jr., who extends Michigan's lead to double digits for the first time.
Jon Horford will start second half for Morgan

— Matt Shepard (@ShepMatt) January 27, 2013
Illinois needs to settle for fewer jump shots in the second half and take the ball to the rim more often, but the Fighting Illini will not be able to win this one unless they find a way to keep Michigan out of the lane.
Another interesting stat from the first 20 minutes of action:
Teams combined for only one free throw in the first half -- Burke's miss on the and-one

— Mark Snyder (@Mark__Snyder) January 27, 2013
Almost half of Illinois' field goal attempts in the first half came from beyond the arc. Unfortunately, the Fighting Illini only knocked down five-of-15 shots from distance though.
Robinson looked like the best all-around player in the first half:
Hafltime Leaders: Burke - 9 pts, 5 reb, 2 ast; Stauskas - 9 pts, 2 reb, 1 ast; Robinson - 6 pts, 3 reb, 1 ast. #MICHvsILL

— Michigan Basketball (@umichbball) January 27, 2013
This article is
What is the duplicate article?
Why is this article offensive?
Where is this article plagiarized from?
Why is this article poorly edited?

Michigan Wolverines Basketball: Like this team?