Pittsburgh Steelers: 2012 Draft Class Will Be Key to a Successful 2013 Season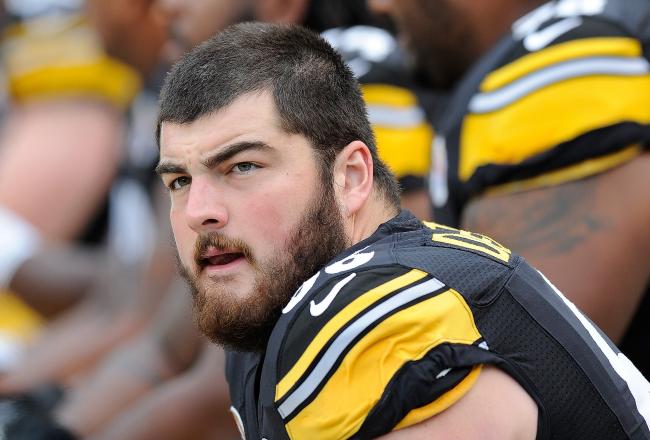 Joe Sargent/Getty Images
The 2012 Pittsburgh Steelers' draft class had so much promise. They selected some of the top prospects in the draft while addressing their needs along the offensive line and at inside linebacker and nose tackle.
But things did not go well for the nine-man draft class.
David DeCastro and Sean Spence suffered severe knee injuries in the preseason, Mike Adams was hampered with an ankle injury and Alameda Ta'amu was suspended for a drunken driving incident (per the Pittsburgh Post-Gazette).
Ta'amu wasn't the only one that had legal problems.
The Steelers' official website put out a press release announcing that Chris Rainey would be waived for a domestic battery incident in Florida.
Beyond top picks, the Steelers drafted four players in the seventh round. Only David Paulson and Kelvin Beachum would make the roster, as Toney Clemons and Terrence Frederick did not survive the final cuts.
Despite the issues with the draft class, there is still a lot of promise as to what they can bring to the team in 2013. The Steelers will depend on the remaining six players from the 2012 class to continue to develop and reach their potential.
One of the players whom they will need to drastically improve is Ta'amu.
When drafted in the fourth round, Ta'amu appeared to be the nose tackle of the future. His massive frame was perfect for the middle of a 3-4 defense, and he looked to be the future anchor of the defense for years to come.
That was not the case.
Ta'amu struggled in camp and was never able to make an impression. However, the Steelers did keep him even after his legal problems, so there is still hope.
The expectations should not be too high for Ta'amu as he enters his second year, but he should at least be depended on in a backup role.
Steve McLendon should take over for Casey Hampton at nose tackle, leaving the backup spot open for Ta'amu. All he needs to do is come in and play a few snaps a game when McLendon needs a break.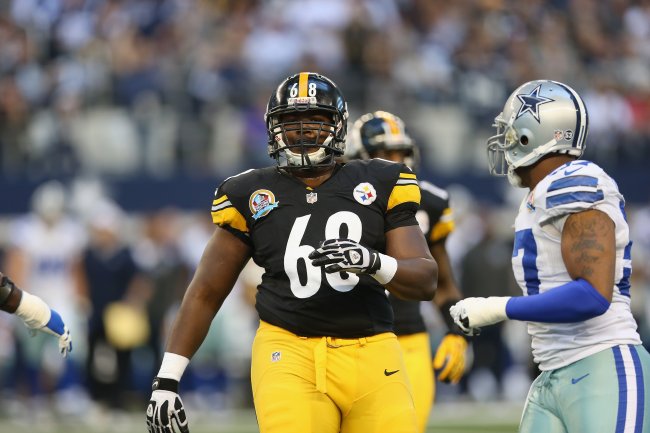 Ronald Martinez/Getty Images
There will be much higher standards for the rest of the 2012 draft class.
Beachum may have been the biggest surprise last season, not just making the team, but also stepping in at right tackle when injuries got the best of Adams and Marcus Gilbert.
Not only did Beachum start five games at right tackle, he actually looked pretty good. While he doesn't have the talent of Gilbert or Adams, Beachum did not look out of place and did enough to, at the very least, be the top backup for this upcoming season at both tackle and guard.
There is a chance that Beachum could start in 2013 if the Steelers decide to part ways with the oft-injured Willie Colon.
Beachum's stocky build and athleticism make him a nice fit for guard. He has good feet after playing left tackle in college and demonstrated this while playing right tackle for the Steelers.
Beyond his athleticism, Beachum has a mean streak that is needed if the Steelers want to revive their running game.
Beachum got involved with a couple of scuffles in training camp, as he went all out in the effort to make the team. His hard work paid off, as he was able to learn both the guard and tackle position at the NFL level.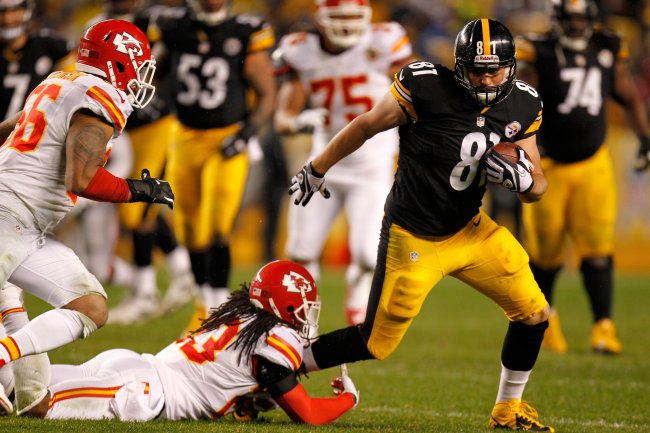 Gregory Shamus/Getty Images
Even if he doesn't start, he will almost certainly play at some point given all of the injuries that the Steelers have experienced along the offensive line.
Paulson is another player who was far from a lock to make the final roster but did, making a great impression.
Not only did Paulson make the team, but he also earned the job as the backup to Heath Miller. Now he may be the opening day starter at tight end if Miller is not ready to return from his ACL injury.
Paulson is not particularly fast or strong; however, he does a lot of things well, and that is why he earned playing time last season. He will not be able to duplicate Miller's numbers, but he does have the capability to be a strong second option if he continues on his developmental path.
Which second-year player needs to step up the most?
It is important for the Steelers to have a good second tight end to throw out there when in the two tight end set.
Right now, they lack size at the receiver position, and having two big-bodied tight ends who are receiving threats will help present matchup problems for opposing defenses.
While Paulson may be stepping in for a player recovering from a major knee injury, Sean Spence is a player that the Steelers could really use if he is able to return from his catastrophic knee injury.
So far, the rehab appears to be going slowly, according to the Pittsburgh Post-Gazette's Ed Bouchette.
That is a concern, considering the Steelers have a need at inside linebacker with Larry Foote being a free agent.
At worst, the Steelers can bring back Foote and work Spence into the lineup when he returns to health. Ideally, Spence will be ready to go for the start of the season.
If Spence can fill the void next to Timmons, the Steelers will have two of the most athletic inside linebackers in the league. That will be important as they look for ways to continue to improve their pass defense.
In fact, it was Spence's ability to run with the faster running backs and tight ends that made him such an intriguing pick. His athleticism is far superior to Foote's, and he would add another new dynamic to the defense.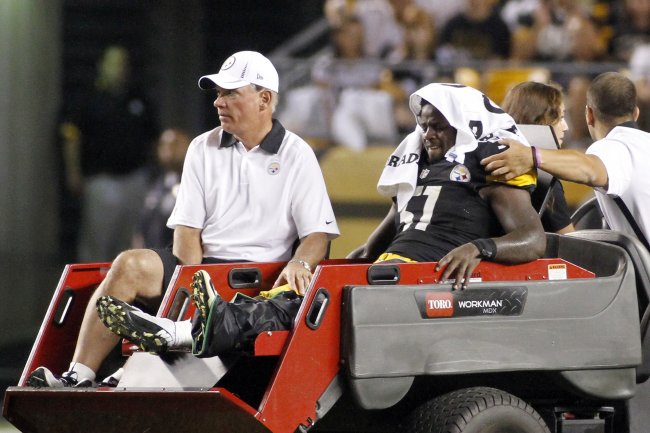 Justin K. Aller/Getty Images
There has been a lot of talk about the Steelers defense being old, and inside linebacker was one of those areas that they needed to get younger. Spence's presence would do just that.
What the Steelers do in the draft will say a lot about how they feel concerning Spence's recovery and long-term future with the team.
If the team believes that Spence can come in and contribute this year, they will be able to avoid drafting an inside linebacker early and focus on other areas of need. The Steelers would still be wise to add depth at the position later in the draft.
And while any contribution from Spence and the previously mentioned rookies will be a huge boost to the Steelers' 2013 chances at making the playoffs, there is nothing more important than getting a solid performance from their top two rookies in 2012.
DeCastro and Adams were drafted to help rebuild the offensive line, and they flashed that potential in their limited playing time last season.
DeCastro played in only four games last year and showed clear signs of rust after sitting out most of the season. He has to get stronger and continue to work on his technique, but he did demonstrate the ability to be very good.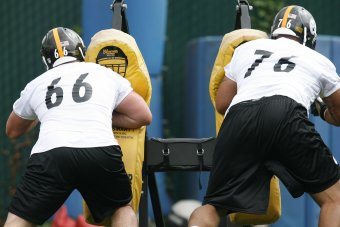 Charles LeClaire-USA TODAY Sports
Adams may have shown even more upside, as he helped reinvigorate the ground game in the middle of the season when the team had its best rushing totals of the season. But he was only able to start six games before injuring his ankle.
In that time, Adams showed that he can be a dominant run-blocker once he engages with a defender, but needs a lot of work protecting the quarterback.
With another offseason, these two should continue to develop and provide the Steelers with a formidable right side of the offensive line.
Even though they showed improvement last year, the Steelers offensive line struggled and was one of the reasons that a consistent ground game was never established.
Without a balanced attack on offense, the Steelers were never really able to get into a rhythm offensively besides a three-game stretch in the middle of the season. As a result, they once again had problems putting points on the board.
For the offense and the team to realize their full potential, it is going to have to start up front with the offensive line. The Steelers will need DeCastro and Adams to live up to their potential and win the war in the trenches.
The Steelers need these two as well as the other second-year players to step up their games and be even better in 2013 than they were in 2012. By stepping up their game, these players can help remove the Steelers from the sting of an 8-8 finish last year and lead them to a successful 2013 season.
This article is
What is the duplicate article?
Why is this article offensive?
Where is this article plagiarized from?
Why is this article poorly edited?

Pittsburgh Steelers: Like this team?