Rating the Tottenham Players in FA Cup Deafeat to Leeds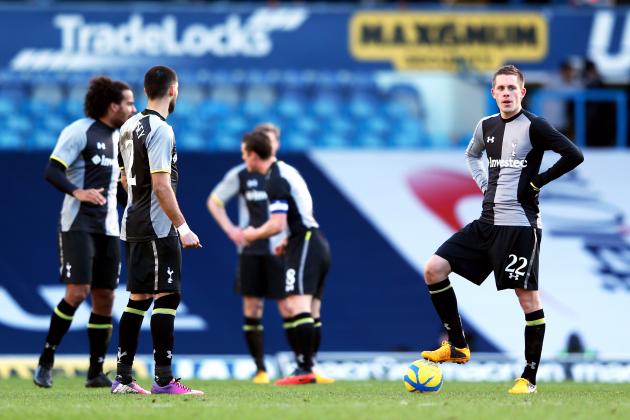 Michael Steele/Getty Images

Tottenham's chance for domestic cup glory this season came to a grinding halt with a 2-1 loss to Championship side Leeds United in the FA Cup fourth round Sunday.
While Spurs supporters can take solace in some obvious silver linings from this cup defeat, i.e. the chance for their side to concentrate on earning a Champions League spot and progressing in the Europa League for the rest of the season, it is difficult to feel too great after such a poor display in a knockout tournament.
Blame can certainly be spread around the club, including to manager Andre Villas-Boas, who played a very weakened lineup against a club in Leeds that has proved a dangerous cup opponent.
However, the bulk of the blame must lie on the players, who were simply not up to par Sunday.
So just how bad were Tottenham's players on Sunday?
These are the ratings, graded out of 10, for the players on their exit from the 2012-13 FA Cup.
Begin Slideshow

»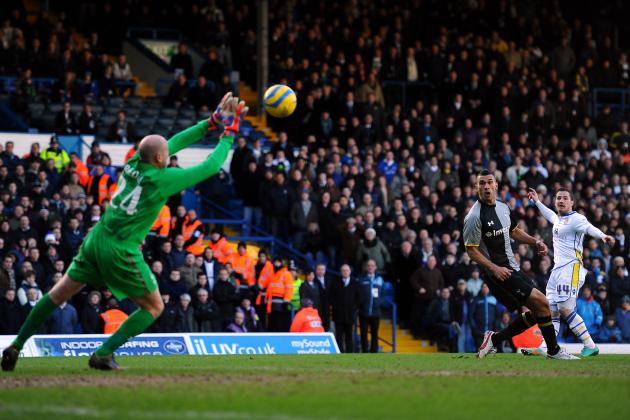 Laurence Griffiths/Getty Images

Brad Friedel: 6.0
American keeper Brad Friedel got the start in place of regular keeper Hugo Lloris, who was left out in a case of squad rotation.
Friedel couldn't find a way to prevent the two goals, but he did do well on one or two occasions, including a one-on-one save on Ross McCormack to keep his side in the match.
It's nice to see the 41-year-old still playing at a high level and giving Tottenham a good second option in the net.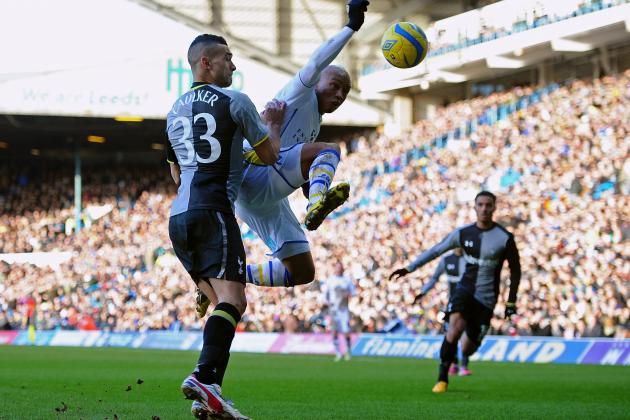 Laurence Griffiths/Getty Images

Benoit Assou-Ekotto: 5.5
For a player making his first start since September 1, BAE made a solid showing. His best moment came late in the match when, his side trailing by a goal, he showed off his long-ball skills with a beautiful pass to Jonathan Obika that nearly led to the equalizer.
However, Assou-Ekotto could have done more to support attacking moves. Perhaps his link with Gareth Bale is a bit rusty given his time on the sidelines.
Jan Vertonghen: 4.0
Since he came to White Hart Lane in the summer, Vertonghen has been a model of consistency and has made a strong case for Tottenham's best player this season.
Unfortunately, this match flew in the face of all that as the Belgian had what was quite possibly his worst match in a Spurs shirt.
Jan had trouble marking Ross McCormack and looked quite out of sorts on more than a few occasions.
After he failed to play against Manchester United last weekend, perhaps there is some issue bothering Vertonghen at the moment.
Steven Caulker: 3.0
To say Caulker had a rough day of it would be a seismic understatement.
The England centre-back was at least partially to blame for both Leeds goals, getting caught in a miscommunication with Kyle Naughton on the first and getting easily beaten on the second.
Even past that, he looked completely out of it, miskicking the ball on multiple occasions and looking very slow.
Caulker has shown quite a bit of potential in the past, so one might want to chalk this one up to a bad day at the office.
Kyle Naughton: 3.5
Getting a rare start at his natural position of right-back, Naughton put in a shift that was well below the standards he set on the left.
Naughton was the clear culprit on the first goal, inexplicably letting the ball slip through him to Luke Varney for the breakaway.
Such a performance does nothing to help Kyle keep his spot at left-back, especially since Assou-Ekotto has planted seeds of doubt as to the England player's ability.
Substitute
Kyle Walker: 5.5
Walker came in for Naughton just about on the hour and did much better than his namesake.
Late in the match, Walker took a few important corners that, per usual, turned into nothing.
It would be great to see him give up these responsibilities and, with the threat of his powerful shot, lurk on the edge of the box.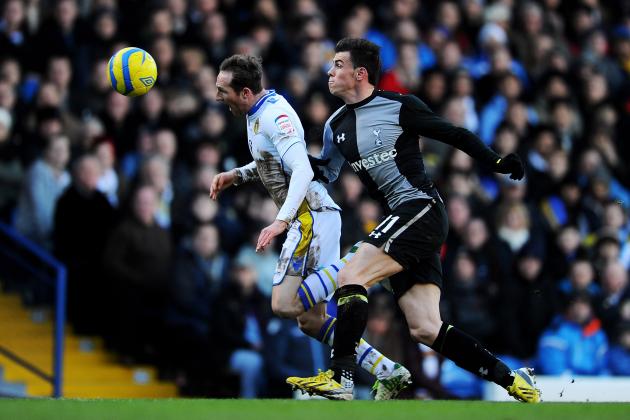 Laurence Griffiths/Getty Images

Gareth Bale: 6.5
In the first half, Bale put forth a poor display by his lofty standards, as he made poor decisions in the final third and left a few goals on the table.
The Welshman really upped his game in the second half, though, and ended up as the focal point for all Spurs attacks.
Bale got the assist for the only Spurs goal and came close to pulling Tottenham back into the tie.
Tom Huddlestone: 4.0
Huddlestone was stifled for the most part and had a tough time influencing the match with his passing.
The only glimmer Tom showed throughout his match was the tackle he put in on Luke Varney in the penalty area.
Gylfi Sigurdsson: 3.5
Was Sigurdsson on the pitch for the entirety of his spell in this match?
In the first few minutes of the match, the Icelander had a free header from a Bale in-swinger that he should have put away.
Afterward, Gylfi completely faded out of the match and did next to nothing before being substituted on the hour.
Scott Parker: 5.0
Parker put in the type of work he is known for, but wasn't quite at his best in this one.
Right from the first whistle, Scottie looked a bit out of it, uncharacteristically losing the ball and misplacing a pass to allow a very early Leeds chance.
In the end, Parker did okay and fought as hard as he could, but he certainly could have been better.
Aaron Lennon: 4.5
After such a fine display against Manchester United a week ago and in a match against his former club, one would have expected Lennon to be at his best Sunday.
Alas, such is the unpredictable nature of the England winger.
Lennon did a few nice things early in the match, but he quickly grew frustrated and faded out of the match entirely.
Still, he sent in a pair of crosses to Clint Dempsey that the American should have put away.
Substitute
Moussa Dembele: 5.5
Dembele came on with about half an hour to try to salvage the match for his side.
While Dembele did more to influence the match than the man he replaced, Tom Huddlestone, Moussa just couldn't find that bit extra to cause the equalizer.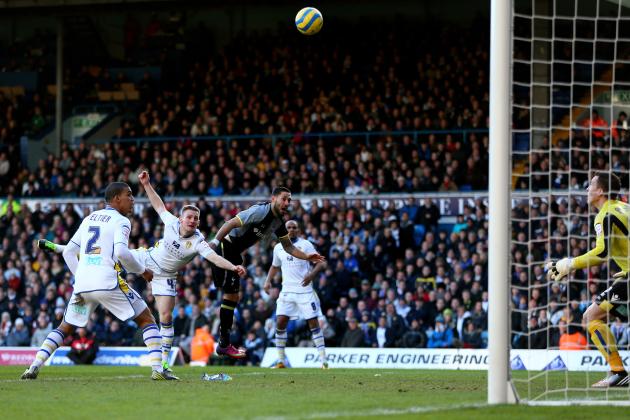 Michael Steele/Getty Images

Clint Dempsey: 5.5
For the second straight match, Dempsey found a goal to salvage what was a poor individual performance and save him from criticism.
The American just couldn't seem to find a way to influence the attack in the first half and produced a pair of disappointing misses in promising situations.
His goal in the 58th minute, though, was well taken and got his side back within shouting distance.
Credit should go to Clint there, as he never seems to stop working out there.
Substitute
Jonathan Obika: 5.0
The 22-year-old Obika, the only recognized striker in the squad, came on for Sigurdsson at about the hour and showed some promise.
After making some nice runs, Obika came close to becoming Spurs' hero with a late-match run into the box.