Best Moments from Pride 21-27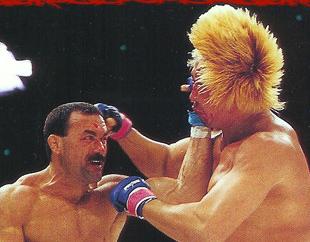 cagesideseats.com
I think it's safe to say that Don Frye is a man among men. When he fought at Pride 21, he showed that being macho is cool.
Facing Yoshihiro Takayama, Frye put on a fight of the year with his opponent. Both men held each other's head and threw bombs.
After 6 minutes of awesomeness, Frye earned a TKO stoppage win and gave fans one of the craziest, most fun fights in MMA history.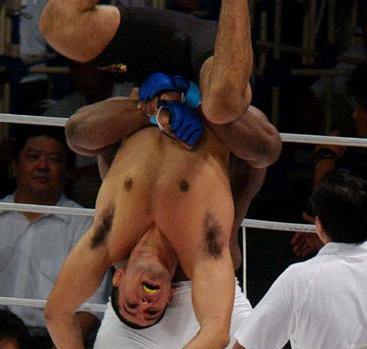 club.ntu.edu.tw
Before becoming one of the biggest cans in MMA history, Bob Sapp was actually a fierce competitor that inflicted fear and pain in his opponents.
Many fans were interested to see Antonio Rodrigo Nogueira take on Sapp in a battle of power vs. technique.
Early on, things looked grim for Nogueira. Sapp actually utilized a piledriver on Nogueira that looked like it would knock out most people.
Nogueira would come back later in the fight, tapping the stronger Sapp with a nasty armbar.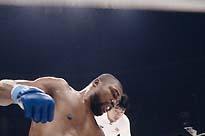 en.susumug.com
Rampage Jackson's fight against Igor Vovchanchyn is a great example of why Jackson was such a successful fighter in Pride. The fight involved big slams, brutal ground-and-pound and a nasty stoppage.
Using his superior wrestling, Jackson tossed Vovchanchyn around the ring like a bag of dirt. Achieving the mount, Jackson used scary punches to the body that hurt Vovchanchyn, which allowed him to open up punches to the head.
The stoppage was a huge win for Rampage.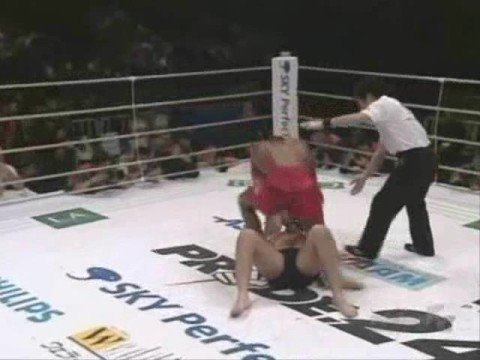 popscreen.com
Alistair Overeem is known for his striking, but his knees are especially devastating.
He demonstrated this at Pride 24 when he downed Bazigit Atajev with a knee to the body. It was devastating, as it crippled the Russian and stopped the fight .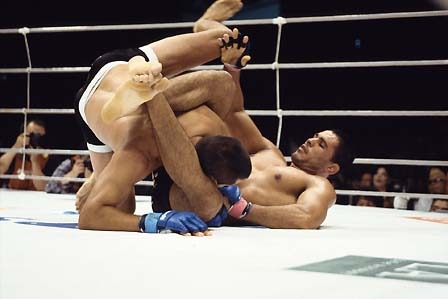 en.susumug.com
Dan Henderson is one tough dude to finish. However, Antonio Rodrigo Nogueira was up for the challenge.
In the third round, Nogueira got Henderson to grapple with him and caught him in a fight ending armbar. It was a beautiful finish.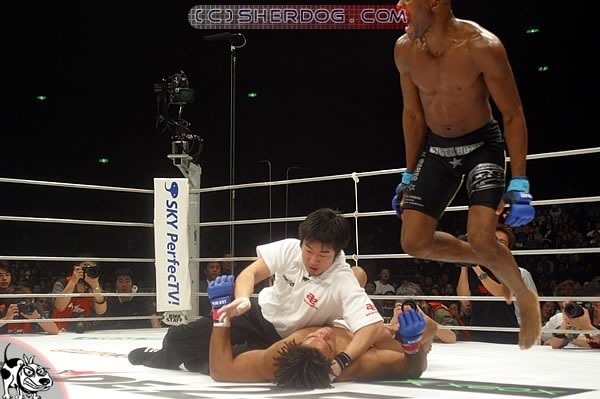 sherdog.com
Current UFC Middleweight Champion Anderson Silva met former UFC Welterweight Champion Carlos Newton at Pride 25. Many expected their fight to be close.
About six and half minutes into the first round, Silva destroyed Newton with a flying knee and followed it up with some unnecessary punches.
It was just one more finish for the highlight reel.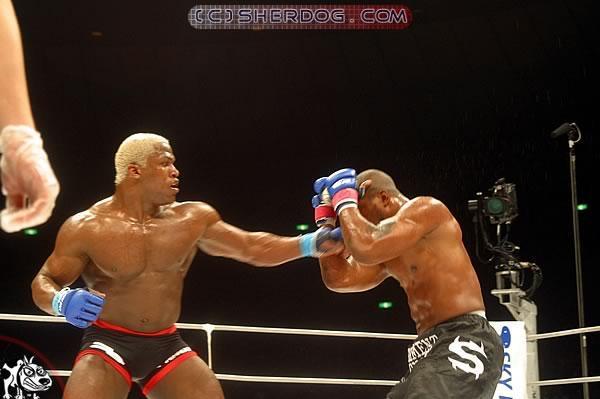 sherdog.com
Rampage Jackson was looking to become the top contender to Wanderlei Silva's crown. First, he had to get by the always-game Kevin Randleman.
After some great action featuring top-notch takedown defense, Jackson clipped Randleman with some power punches. He finished him up on the ground and earned his shot at Silva.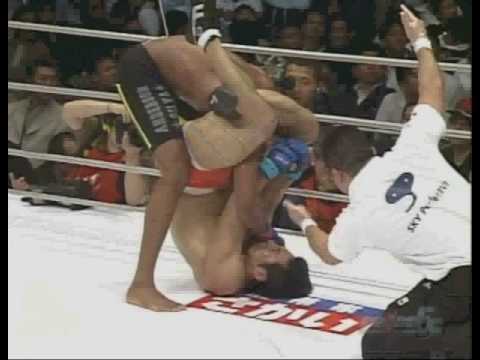 mmaspot.com
For those of you who are not sure who Daiju Takase is, all you really need to know is that he owns a 10-13 record and that one of those wins came over Anderson Silva.
Pride 26 was the event where it happened, and it came via triangle choke. It's hard to believe Silva could lose to a guy as unsuccessful as Takase.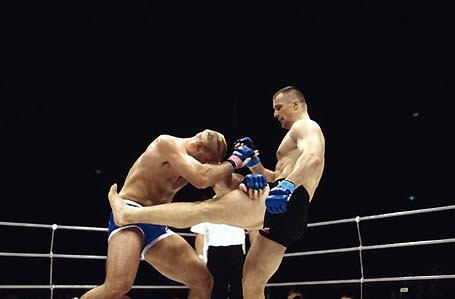 en.susumug.com
Mirko Cro Cop is famous for his head kicks, but at Pride 26 he utilized a different type of kick.
Duking it out with Heath Herring, Cro Cop dug his shin into Herring's liver and the American crumbled to the mat. It was a thing of beauty and devastation.
en.susumug.com
The 2003 Pride Middleweight Grand Prix is one of my favorite tournaments in MMA history. The opening round matched up Chuck Liddell and Alistair Overeem in a fight sure to please all.
"The Iceman" needed just over three minutes to KO the monstrous Overeem. The win advanced him to the semifinals against Rampage Jackson.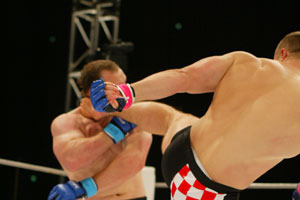 Right leg hospital, left leg cemetery.
Mirko Cro Cop's legendary saying basically came true at Pride: Total Elimination 2003 when he knocked Igor Vovchanchyn into another dimension with a brutal head kick.
It's one of the best finishes in MMA history.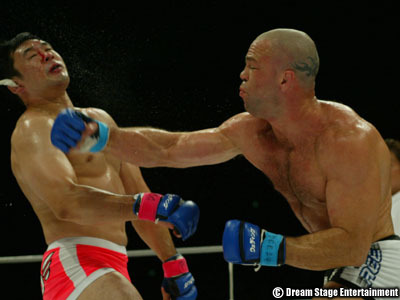 tapology.com
You have to give Kazushi Sakuraba credit. Even though he kept getting knocked out by Wanderlei Silva in previous fights, he would not give up finding that elusive win.
Unfortunately, he wouldn't get that win at Pride: Total Elimination 2003.
About five minutes into the fight, Silva's fist crashed into Sakuraba's skull and put his lights out. He would need to search for that win at another time.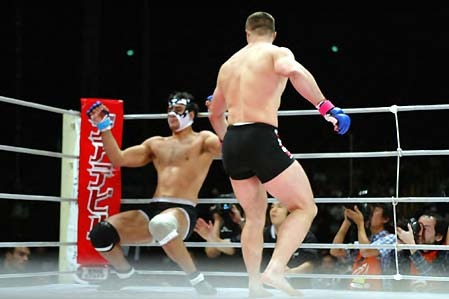 ko.susumug.com
WWE wrestler Alberto del Rio used to fight professionally and was actually pretty decent at it. Though he is just a "fake" wrestler, he actually had a respected Greco-Roman wrestling background.
His encounter with Mirko Cro Cop was not what he hoped it would be.
46 seconds into the fight, Cro Cop labeled "Dos Caras Jr." with a head kick and effectively ended his night.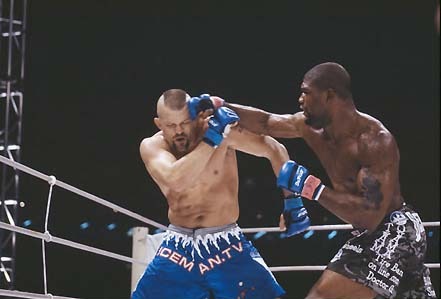 en.susumug.com
The semifinals of the Pride middleweight tournament pitted two UFC Light Heavyweight Champions before their respective title reigns.
Liddell failed to follow his game plan and proceeded to get whipped by Jackson. As he took more and more damage in his corner, his people threw in the towel for him, giving Rampage the win.
themmanews.com
Antonio Rodrigo Nogueira was a submission machine in Pride, and he continued to show that at Pride: Final Conflict 2003.
Facing feared striker Mirko Cro Cop, Nogueira utilized a beautiful armbar to get the win over the Croatian. It is just one of his many wins that has cemented his legendary status.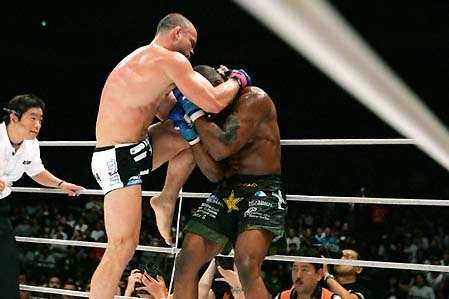 tkohub.com
Rampage Jackson finally got his shot at Wanderlei Silva in the finals of the 2003 middleweight grand prix. For most of the fight, Jackson was doing a great job.
Then the clinch came.
Silva used the Thai clinch to unload some massive knees on Rampage. A number of violent strikes later and Silva had knocked Rampage out to win the bout.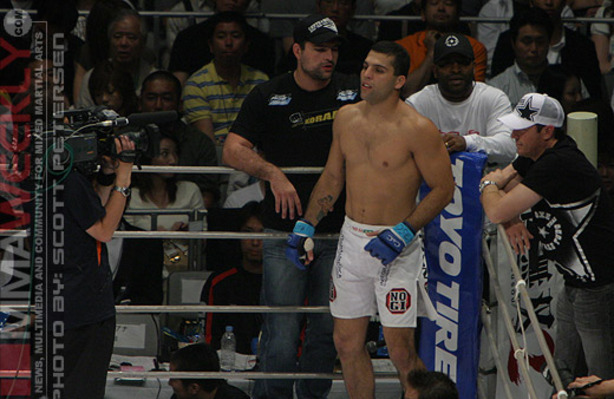 MMAweekly
Murilo Rua is the lesser-known brother of Mauricio "Shogun" Rua, but he had moments in Pride of his own. One came at Pride: Shockwave 2003.
Meeting up with Akira Shoji, Rua used a devastating flying knee to nearly decapitate his Japanese counterpart. Brutality is almost an understatement here.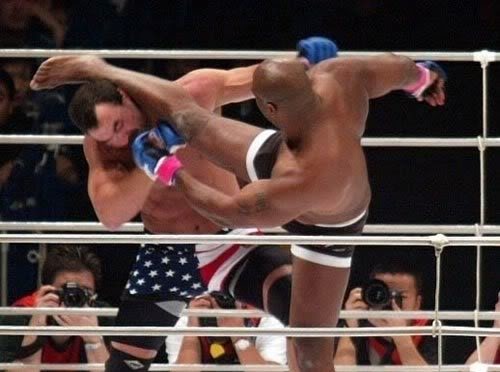 tumblr.com
Don Frye is a legend, but 39 seconds of standing with Gary Goodridge was too much.
Goodridge plowed through the legendary American with a devastating head kick, ending the mustached man's night in a hurry.