Anthony Pettis and the 10 Best Strikers in the UFC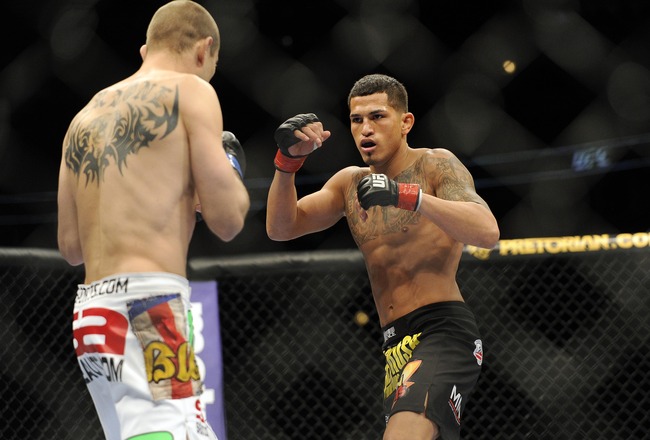 David Banks-USA TODAY Sports
As you are likely aware, Anthony Pettis laid waste to Donald Cerrone Saturday night at UFC on Fox 6, and in doing so probably positioned himself as the next challenger to the lightweight title.
Pettis got the job done with a crackling stand-up game that saw him once again launch himself off of the cage in order to strike his opponent with more leverage. There's no question that "Showtime" nickname is fully appropriate.
But where does this performance land Pettis on a list of the UFC's 10 best strikers? Read on, why don't you. The list is based on a combination of creativity, diversity of attack, speed and power.
It's not the only metric I used, but for informational purposes I included the number of wins each fighter has by TKO, KO, taps from strikes and doctor/injury stoppages related to strikes. For convenience, I'm referring to those collectively as striking-related stoppages, or SRS.
10. Pat Barry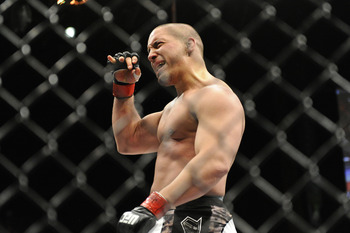 Josh Holmberg-USA TODAY Sports
Division: Heavyweight
Career SRS wins: Seven
The rock-solid former kickboxer carries knockout power in several of his body parts. He can even put you down with leg kicks; just ask Dan Evensen about that one.
9. Carlos Condit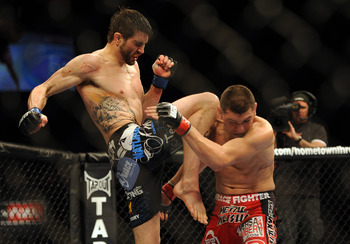 Kelvin Kuo-USA TODAY Sports
Division: Welterweight
Career SRS wins: 13
Carlos Condit is a pretty well-rounded fighter, but his bread and butter is the lethal mixture of Muay Thai, boxing and kickboxing he uses to bloody opponents from all points in the stand-up phase.
8. Dominick Cruz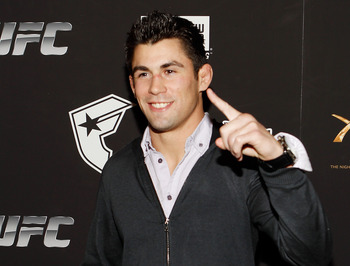 Isaac Brekken/Getty Images
Division: Bantamweight
Career SRS wins: Seven
Lineal bantamweight champ Dominick Cruz doesn't use his striking to acquire knockouts. As many fans know (and lament), Cruz is predominantly a point fighter; think lay-and-pray but with striking.
I don't prefer to think of it that way. Cruz uses crazy angles, crazy movement and just a flat-out crazy knowledge base to confound and torment other fighters. He's 19-1 and hasn't lost in more than four years, so I'd say he's doing something right.
7. Anthony Pettis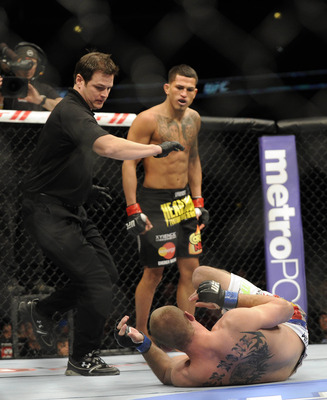 David Banks-USA TODAY Sports
Division: Lightweight
Career SRS wins: 10
First there was the Showtime Kick, then on Saturday night there was the Showtime Knee. But pointing only to those ready-made highlight reels is reductive. The third-degree Tae Kwon Do black belt can punish you with kicks to the head or to the body, punches, elbows, you name it.
The bottom line is that Anthony Pettis is a magician as an MMA striker. His fights are undoubtedly appointment television until further notice.
6. Lyoto Machida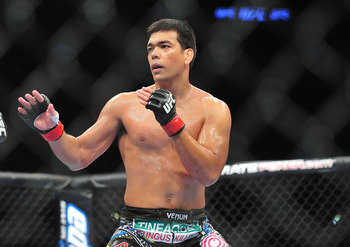 Gary A. Vasquez-USA TODAY Sports
Division: Light heavyweight
Career SRS wins: Seven
Got three extra hours? Find a hardcore MMA fan at a party and ask about Lyoto Machida's striking game.
To be certain, there's a lot to talk about, with the leaning back and the balance and the patience and the accuracy and the hey, hey, hey.
In all seriousness, it was great to see him regain his mojo on Ryan Bader. Can't wait for his tangle with Dan Henderson in February. Talk about a clash of styles.
5. Jon Jones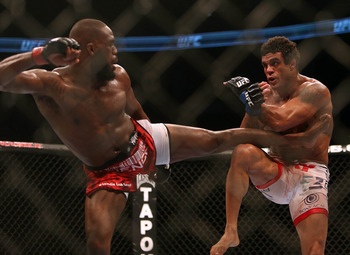 Tom Szczerbowski-USA TODAY Sports
Division: Light heavyweight
Career SRS wins: Eight
The superlatives are all worn out when it comes to describing Jon Jones' striking. His incomparable ranginess and in-game skills and smarts give him a larger toolbox than maybe any other fighter ever. What's really scary, though, is how far down he's gone into that toolbox at the ripe old age of 25.
4. Jose Aldo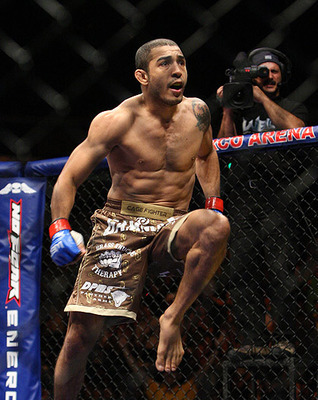 Photo credit: The MMA News
Division: Featherweight
Career SRS wins: 14
Few fighters alive have nastier kicks and knees than featherweight champ Jose Aldo. I actually heard something about him maybe fighting some time soon. Does anyone else remember anything about that?
3. Junior Dos Santos
Jon Kopaloff/Getty Images
Division: Heavyweight
Career SRS wins: 12
Junior dos Santos loses a few points for being primarily a boxer and thus relatively uniform in his attack. But as you can see via his No. 3 slot, he didn't really lose that many. And whatever he did lose he regained for overall general destruction of people's faces and souls.
2. Alistair Overeem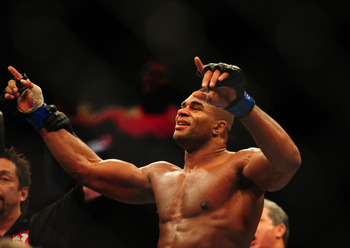 Mark J. Rebilas-USA TODAY Sports
Division: Heavyweight
Career SRS wins: 16
The centaur who amputated his own backside uses his lower body like the, uh, mighty octopus uses his, uh, beak.
I'm not so great with animal similes and metaphors. But what IS great is Alistair Overeem's striking. OK, turn the slide now.
1. Anderson Silva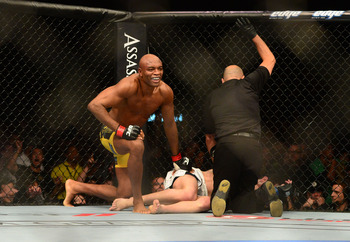 Mark J. Rebilas-USA TODAY Sports
Keep Reading