Where Super Bowl XLVII Will Be Won or Lost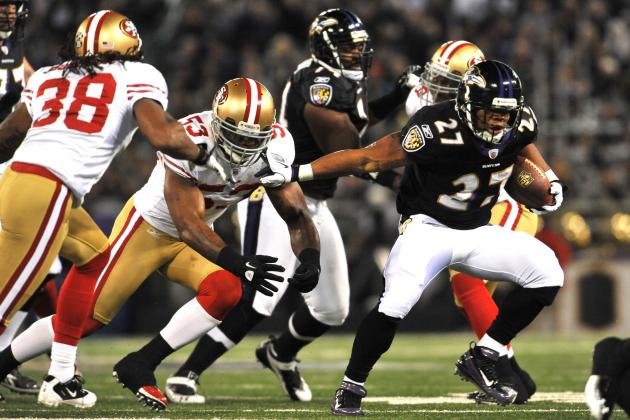 Larry French/Getty Images
Ray Rice will need to come up with a big game in Super Bowl XLVII.
No one party will be responsible for the outcome of Super Bowl XLVII.
The following slideshow will address various issues facing both teams in the Super Bowl, identifying aspects of the San Francisco 49ers and Baltimore Ravens that fans should keep an eye out for in the big game.
Roughly 14 months ago, these teams met in Baltimore in Week 12 of the 2011 regular season, and both appear to have changed for the better since that meeting.
Super Bowl XLVII promises to be an exciting, close and physical game that will be filled with plenty of emotion and drama. With both teams motivated to play their best game of the year, and so much at stake, you have the overwhelming feeling that this will be a Super Bowl for the ages.
Begin Slideshow

»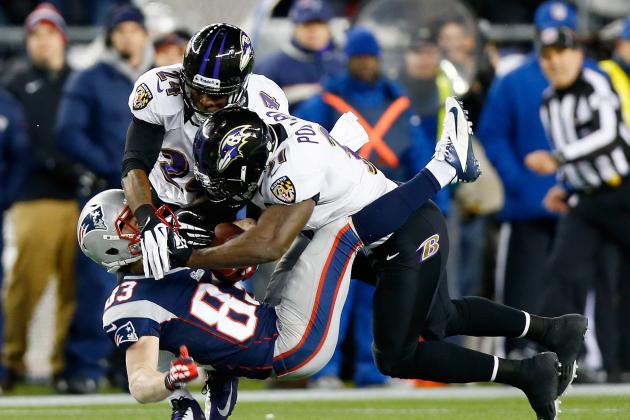 Jared Wickerham/Getty Images
Bernard Pollard has been delivering some huge hits in the playoffs.
The San Francisco 49ers and Baltimore Ravens secondaries are two of the most physical and intimidating units in the NFL.
For San Francisco, players like Dashon Goldson and Donte Whitner have demonstrated through the playoffs in the last two years how quick they are to arrive at the ball. They aren't afraid to lay some serious wood on any receiver, and if they can strip the ball away, all the better. If they get fined for their hits, well, that just comes with the territory.
With Baltimore, look at the hits that Bernard Pollard and Ed Reed have been dishing out in the playoffs. Pollard knocks out one key Patriots player every time Baltimore meets New England. If he can do that against San Francisco, it would be a big turning point, just like his hit on Stevan Ridley in the AFC Championship Game.
I suspect that both secondaries will look to step up early and deliver some big hits. If they can get under the skin of any receiver to make him think twice about going up for a catch, then they have already gained an advantage.
One key aspect of Super Bowl XLVII will be how the officials let the secondary members play. If they call it tight, it will definitely have an impact on how the game is played.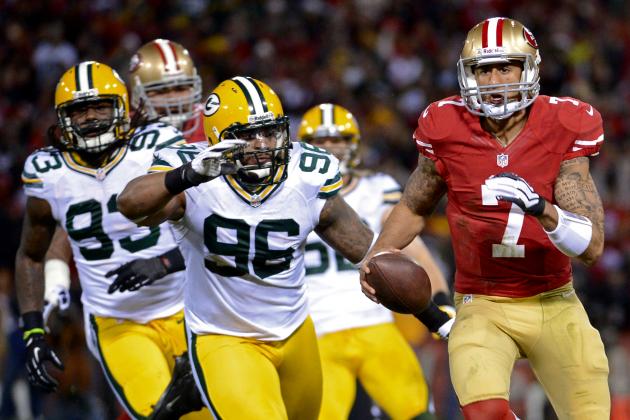 Harry How/Getty Images
Colin Kaepernick is off to the races versus Green Bay in playoffs.
On NFL Total Access on the NFL Network last weekend, ex-NFL GM Charley Casserly wondered how well Baltimore will be able to defend the 49ers' read-option. Casserly pointed to Baltimore's game against the Washington Redskins and Robert Griffin III as the only true test they have had against a quarterback that runs something similar.
Casserly stated:
Against RG3 in the regular season, Washington averaged six yards every time that Griffin ran the ball to the outside on the option read. Whenever Griffin handed it off to Alfred Morris on the inside, the Redskins averaged seven yards per carry. If the Ravens can't improve those numbers against the 49ers, they will be in trouble.
With two weeks to prepare for the Super Bowl, one would assume that Ravens defensive coordinator Dean Pees will come up with a better idea of how to defend the read-option.
There will be tremendous pressure on Terrell Suggs and Paul Kruger to react properly and execute the Ravens' counter. If either player struggles, especially when Kaepernick keeps the ball, that could turn into huge gains.
Before we just assume that Pees can come up with a better game plan, we need to reflect on what happened to the Atlanta Falcons. Even though highly respected Falcons defensive coordinator Mike Nolan came up with a better plan to stop Kaepernick than Green Bay did, Atlanta still allowed Frank Gore to exploit big holes up the middle.
But every other opponent for the 49ers only had one week to prepare. We will see if the extra week off allows Pees to come up with a better solution.
For Baltimore, it boils down to the defense needing to pick its poison. Who do you want to stop, Kaepernick or Gore? Nobody has been able to devise a scheme to stop both players yet; you can try, but that might create a situation where both players hurt you instead of just one.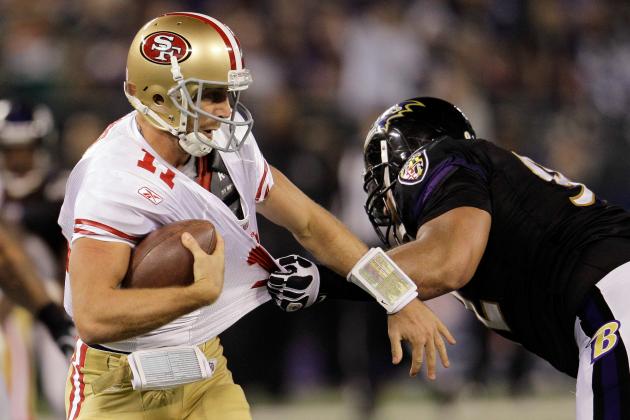 Rob Carr/Getty Images
Baltimore sacked Alex Smith nine times last year.
When the Baltimore Ravens hosted the San Francisco 49ers in "Harbaugh Bowl I" back in Week 12 of the 2011 regular season, the Ravens had their way with Alex Smith, sacking him nine times in the game. The leaders in the sack parade that day were Terrell Suggs with three, Cory Redding (now with the Indianapolis Colts) with 2.5 and Haloti Ngata with two.
The 49ers are generally considered to have one of the best offensive lines in all of the NFL, but they sure didn't look like it against Baltimore.
Granted, Colin Kaepernick isn't Alex Smith, so one can assume that he will be evade some of that pressure due to his mobility. Kaepernick is capable of being sacked, however, as defenses have racked up 12 sacks against him in his last seven games. However, some of those can be attributed to Kaepernick's lack of experience and that he is still learning on the job.
The 49ers offensive line is definitely a solid unit, but the Ravens defense was able to create some looks last time that San Francisco wasn't ready for. You would have to think the 49ers will be better prepared this time around.
By the way, in addition to the nine sacks, the Ravens were credited with 12 hits on Smith.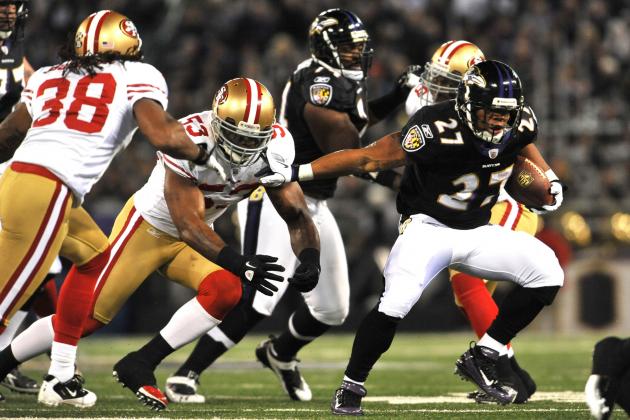 Larry French/Getty Images
Jim Caldwell will get Ray Rice involved early in Super Bowl XLVII.
We have seen situations where offensive coordinators go into Super Bowls and use one of their star players as a decoy, thinking that the opposition will be devoting personnel to stopping that player.
If Ravens offensive coordinator Jim Caldwell were to apply that strategy to Ray Rice on Sunday, that would be disastrous for the Ravens. The Baltimore offense revolves around Rice, and getting him into the flow of the game is vital. Caldwell needs to let Rice establish some sort of rhythm, as he is an important part of what makes the Ravens offense tick.
It is one thing to use Rice for play fakes, but to give him anything less than 20 touches would be a serious mistake.
While it is safe to assume that the 49ers defense will be keying on Rice in their schemes, it is important for Baltimore to call enough plays for him in the first quarter to get him involved and fully invested in the game.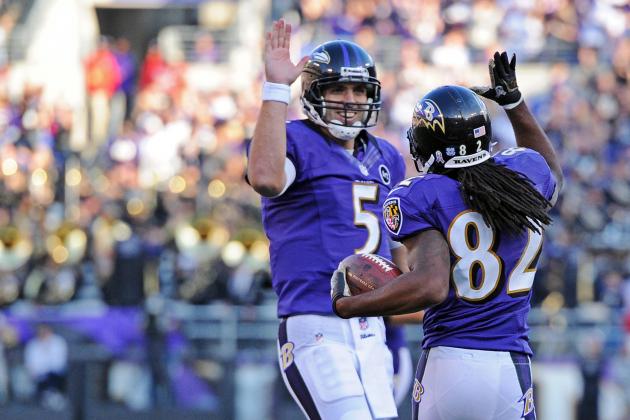 Patrick Smith/Getty Images
Flacco has put the ball up deep for Smith and Boldin.
The Baltimore Ravens offense keeps defenses honest by throwing the ball deep down the field. They've displayed that in every game this postseason.
For one thing, Joe Flacco throws an accurate deep ball, almost always giving Torrey Smith and Anquan Boldin an opportunity to make a play. Due to their chemistry and repeated success in the playoffs with the deep passes, it would be a major surprise if the Ravens didn't attempt three to five long passes during the game.
Completing the long pass isn't always mandatory for them to be effective. The mere fact that the Ravens think they can beat San Francisco's secondary by attempting a few long passes will keep the 49ers defense honest. Baltimore can discourage them from creeping up too close to the line of scrimmage, which ultimately gives Ray Rice a few more steps to set up the secondary for missed tackles.
With the way that Boldin and Smith have been coming up with long receptions, there is no reason to suddenly stop trying to connect on a few big plays. One big play can help to change the momentum and get your fanbase back into the game.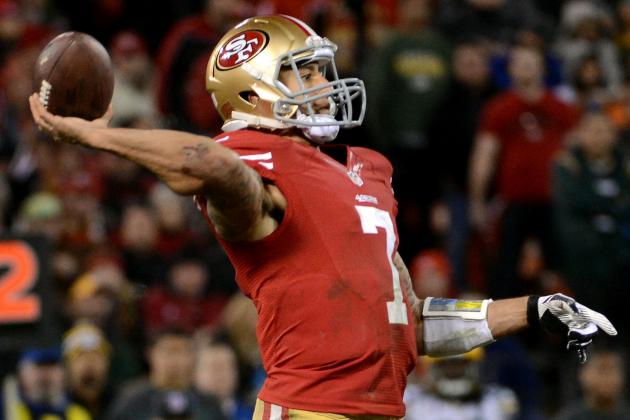 Harry How/Getty Images
Will Greg Roman let Kaepernick play early on or keep it conservative?
Everybody keeps waiting for Colin Kaepernick to blink. With just nine career NFL starts under his belt, Kaepernick appears oblivious to all of the pressure and attention that he receives.
You would think that starting in the playoffs would have caused Kaepernick to be nervous or let some doubt creep in to affect his confidence level. But when he threw the early pick-six to Sam Shields in the playoff game against Green Bay, you saw no signs of panic.
Kaepernick remained in control, and in less than four minutes, he found a way to atone for his mistake by scoring on a 20-yard run.
That begs the question: How will offensive coordinator Greg Roman let Kaepernick approach the start of the Super Bowl? Will the 49ers intentionally call conservative plays in the first quarter to let Kaepernick maintain his composure and find some rhythm? Or will they throw caution to the wind, take off any restrictions and just let him play?
In a contest that figures to be tight throughout, every possession matters. Teams don't have the luxury of throwing drives away to let players get their feet wet. How long will it take before the 49ers try their first read-option, and how long before Kaepernick takes off on a scamper to see how well the Ravens are prepared to defend against him?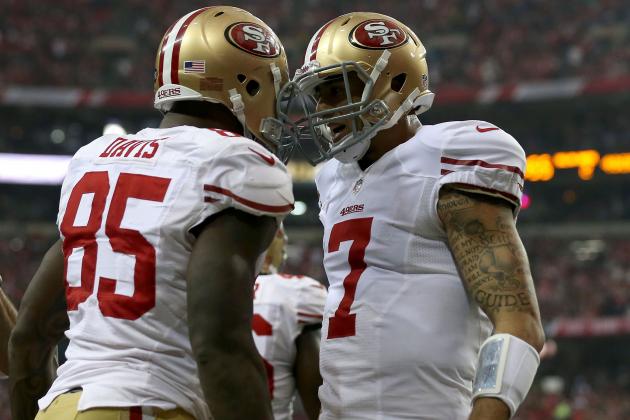 Streeter Lecka/Getty Images
Colin Kaepernick unleashed Vernon Davis in the NFC Championship Game.
The Super Bowl has a way of creating heroes out of role players. Part of that is the element of surprise, and part of it could be chalked up to fate.
That means we shouldn't ignore the potential contributions of Delanie Walker and Ed Dickson.
For San Francisco, Vernon Davis was the second-leading receiver on the team. He caught 41 passes for 548 yards and five touchdowns with an average of 13.4 yards per reception. Walker was the 49ers' fifth-leading pass-catcher, hauling in 21 passes for 344 yards, three touchdowns and an average of 16.4 yards per catch.
For Baltimore, Dennis Pitta was the third-leading receiver with 61 receptions for 669 yards and seven touchdowns. He averaged 11.0 yards per reception. Dickson managed to come up with 21 receptions but didn't score a single touchdown in the regular season. He averaged 10.7 yards per catch and gained 225 yards.
With the way Davis exploded in the NFC Championship Game, you would think Kaepernick will be looking to exploit him against defenders that won't be able to keep up with his speed.
Flacco, meanwhile, has demonstrated clear chemistry with Pitta and trusts his ability to make plays.
Look for both of the main tight ends to be involved early and play a key role in the game. But like we said up top, don't sleep on Dickson or Walker. One of them could step up and score a big touchdown in Super Bowl XLVII.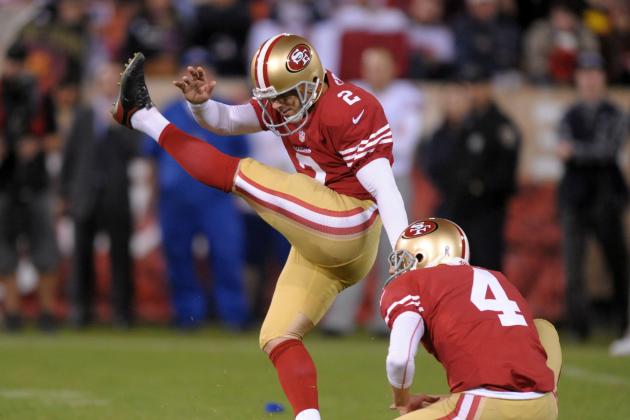 Kirby Lee-USA TODAY Sports
David Akers is testing the patience level of Coach Harbaugh.
The Harbaugh brothers have experienced their fair share of anxious moments with field-goal kickers.
John Harbaugh, of course, watched in disbelief when Ravens kicker Billy Cundiff missed a routine field goal at the end of regulation in the 2011 AFC Championship Game that would have tied the game.
Jim Harbaugh has witnessed a nightmare season from David Akers, as he only converted 29 of 42 field-goal attempts on the year, which equates to an abysmal 69 percent. Akers is even worse in the postseason, as he is just 50 percent, making one and missing one field goal so far.
If San Francisco is in field-goal range and facing a fourth down and two yards or less, don't be surprised if Jim Harbaugh opts to go for the first down in lieu of another adventure with Akers.
For the Ravens, John Harbaugh will need to determine how well his rookie kicker Justin Tucker is handling the pressure of the Super Bowl. For every Jim O'Brien and Adam Vinatieri, there is a Scott Norwood.
If this game boils down to a field goal at the end, we will truly learn firsthand how much confidence and faith the coaches have in their kickers.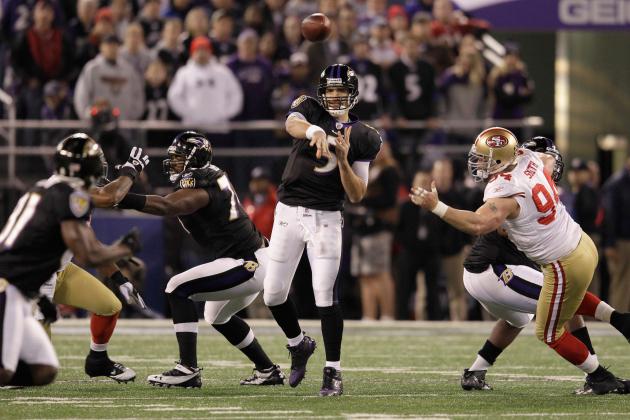 Rob Carr/Getty Images
Joe Flacco had all day to throw when these teams met in 2011.
There is no doubt that the San Francisco 49ers have an outstanding team defense. They have gifted athletes on all three levels, and their linebackers are arguably the best in the NFL.
But as we put all aspects for the Super Bowl under the microscope, we have to express concern about the lack of pressure from the 49ers' pass rush.
Against Green Bay, which allows Aaron Rodgers to be sacked far more than the average quarterback, the 49ers only managed to come up with one sack for the game. The same thing happened against Matt Ryan when they played in Atlanta.
Aldon Smith has not managed a single sack in his last five games. Justin Smith is gradually improving from his triceps injury, but if he isn't 100 percent, it limits how effective Aldon can be.
Flacco has been deadly on his long passes in the postseason. The last thing the 49ers need is for him to be allowed to stand back there in the pocket and wait for his receivers to complete their double-move patterns. That would be trouble for San Francisco.
In that 2011 regular-season meeting, the 49ers never sacked Flacco and were only credited with three hits. That won't cut it in Super Bowl XLVII.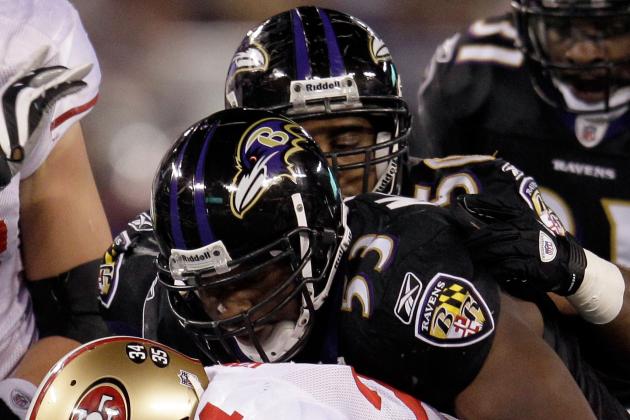 Rob Carr/Getty Images
San Francisco will look for Frank Gore to help grind out big yards.
Super Bowl XLVII will feature two teams that like to establish the run and have the physical strength to control the line of scrimmage. It's these similarities that should make for a great game.
The team that is able to establish its ground game the best will have the greatest chance of keeping the opponent off balance. If you have a defense on its heels, that is a major step toward reaching your team goals.
Consider how close these teams are from a big-picture perspective.
Baltimore averaged 24.9 points this season, while San Francisco averaged 24.8 points. The Ravens offense generated 39 touchdowns this year, while the 49ers offense generated 40 touchdowns. Baltimore took the ball away 25 times this year, which is the same as San Francisco's total.
Both teams have shown strong mental character in being able to rally from behind on the road, which is never easy to do. If the ball doesn't bounce their way, don't expect either team to get too out of sorts, despite how animated their head coaches are known to get on the sidelines.
With so many similarities between these teams, look for clock management to be a major factor here.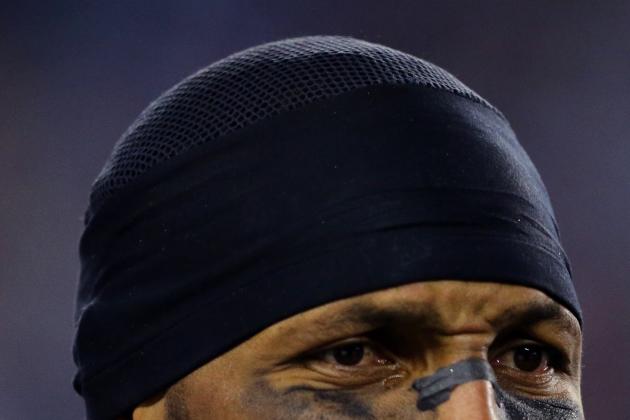 Al Bello/Getty Images
Ray Lewis will have the Ravens sky-high for this game.
The emotional level of this game will undoubtedly be close to a fever pitch. With Ray Lewis going out on his final ride, you know the Ravens want to send him out as a winner. But there are some players on the 49ers that won't be back next year, and they would like to win a Super Bowl ring as well.
Teams playing with that much emotion have to guard against getting too worked up or too emotional to the point that they are no longer in control.
Another intangible will be the way this game is called by the officials. With some of the violent hits we have witnessed in the playoffs, it will be interesting to see if the officials let them play, or if they will look to crack down on big hits to defenseless players.
It is a little odd to find two franchises that have never lost a Super Bowl game in team history. The teams are a combined 6-0 in Super Bowl games, but unfortunately one team will need to lose for the first time on Sunday.
Who will be the hero of Super Bowl XLVII? Jacoby Jones could return a kick for a score, or LaMichael James may break a long run. Maybe rookie kicker Justin Tucker or Ravens backup running back Bernard Pierce surprises with a big play. Randy Moss could step up with some clutch receptions, or David Akers could make Jim Harbaugh look like a genius. Maybe the Ravens' special teams will get burned again like they did against Denver.
We will all find out soon enough which of these factors turned out to be the most crucial in determining the outcome of Super Bowl XLVII.