NHL: Week 1 Western Conference Power Rankings Based Solely on Performance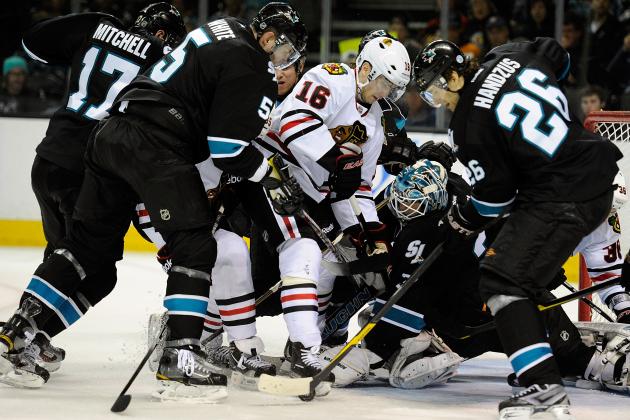 Thearon W. Henderson/Getty Images

It sure is great to have hockey back.
As we expected, there have already been big surprises and great, memorable moments.
When people do power rankings at the beginning of the season, they are usually a little skewed. If a team that is supposed to be good gets off to a slow start, it is still ranked fairly high. And if a team that is supposed to be bad gets off to a fast start, it is still ranked relatively low.
This slideshow, however, will examine how each team looked in its first week of play, taking into account more than just its record, but not taking into account the team's expectations.
Where does your team rank?
Begin Slideshow

»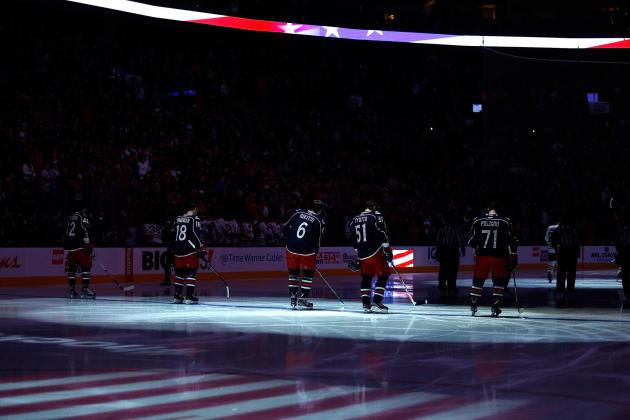 Kirk Irwin/Getty Images

OK, the Jackets are where everyone thought they would be.
They looked decent in their first two games, which included a shootout win against Nashville and a shootout loss against Detroit. After that, they went on to lose the next two games by four goals each before losing Saturday night to Chicago.
At a minus-nine already, Columbus easily has the worst goal differential in the conference.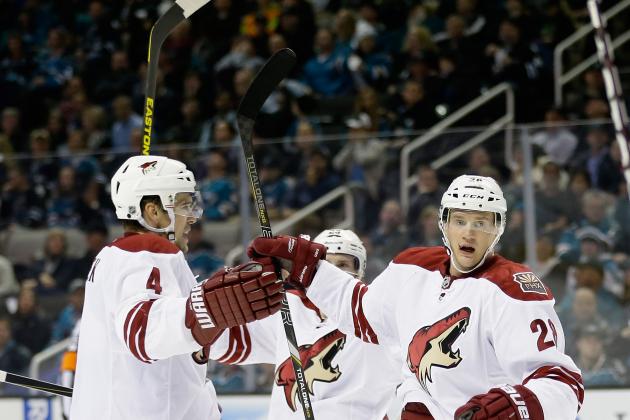 Ezra Shaw/Getty Images

The season didn't start too well in the desert, as the Coyotes had trouble keeping the puck out of their net, giving up 10 goals in their first two games.
They finally got a win against Columbus, but blew a 3-1 third-period lead in a 5-3 loss to San Jose.
In the Coyotes' Saturday night's loss to Los Angeles, the Kings scored as many goals as they had in their previous three games combined.
Also, Phoenix goalie Mike Smith was injured. Even though he didn't start the year off on the right foot, his loss could hurt the team.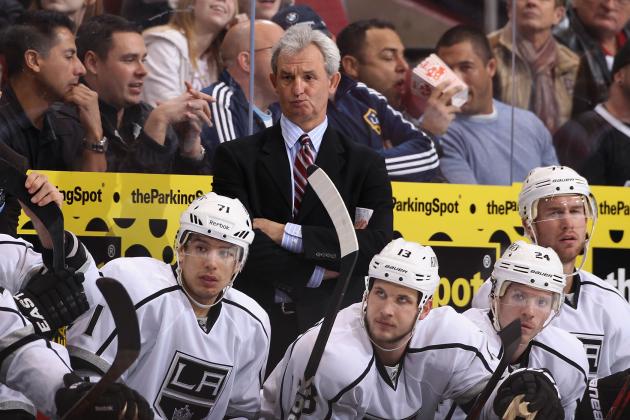 Christian Petersen/Getty Images

The defending champs desperately needed their win against Phoenix Saturday night to avoid going 0-4 to start the season.
While the Kings were four seconds away from getting a 1-0 shutout win in Edmonton a few nights ago, their ability to score has been a problem. They opened the season with a 5-2 loss to Chicago and followed that with a 3-1 loss to the Colorado Avalanche.
They looked better against Phoenix, but it is tough to tell if they have gotten back on track.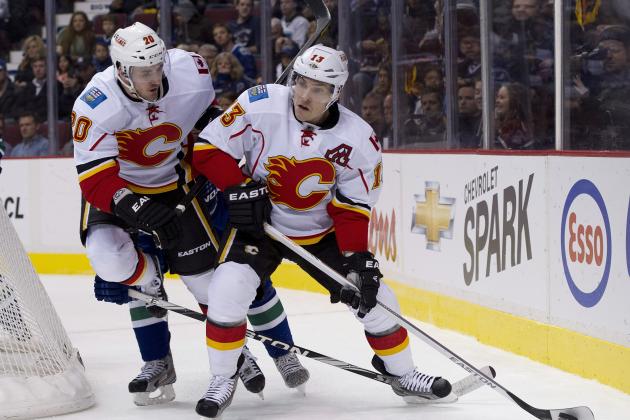 Rich Lam/Getty Images

Like Los Angeles, the Flames are also 1-2-1. However, scoring has not been nearly as much of an issue.
After losing their first game 4-1, the Flames scored four goals in a loss to Anaheim, beat Vancouver in a shootout and finally got their first win Saturday night against Edmonton.
Calgary also had to deal with the loss of several injured players such as Jiri Hudler, who made his return Saturday night.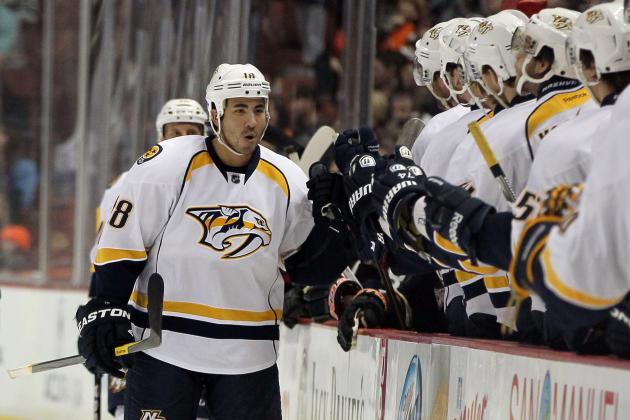 Victor Decolongon/Getty Images

We had a lot of questions about this team coming into the season. A week later, we have just as many, maybe more.
Three of Nashville's five games have been shootout losses and its regulation loss was a 3-0 shutout against the Blues. Their only win came in a tight game at Minnesota against former Predator Ryan Suter.
The Predators haven't looked great, but they haven't looked awful, either. After more than half of their games have been shootout losses, it is hard to tell which direction the team is headed.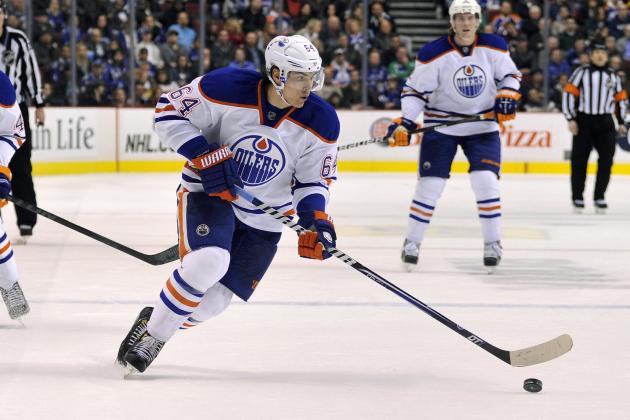 Rich Lam/Getty Images

The Oilers are one of the toughest teams to rank. Their only two wins have required extra time, and they were four seconds away from being 1-3 before a miracle goal by Nail Yakupov and an overtime winner by Sam Gagner.
In their second game, the Oilers surrendered six goals to the San Jose Sharks—in the same period.
Edmonton has looked good at times, but its inconsistency has raised questions.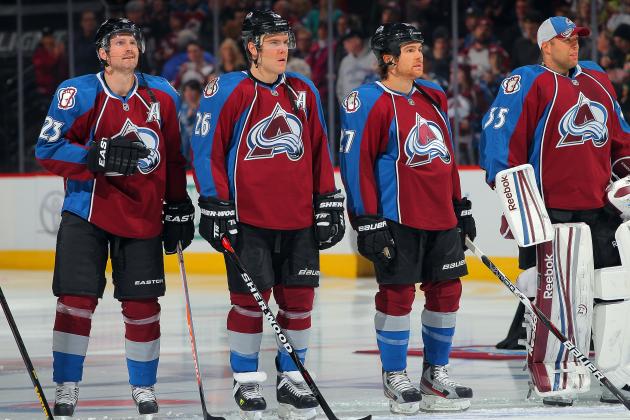 Doug Pensinger/Getty Images

Like Edmonton, Colorado has been inconsistent.
The last two games for the Avs have resulted in consecutive 4-0 shutouts: one a win over the Columbus Blue Jackets and the other a loss to the San Jose Sharks.
They also lost a tight game against Minnesota and won a low-scoring contest against the Kings.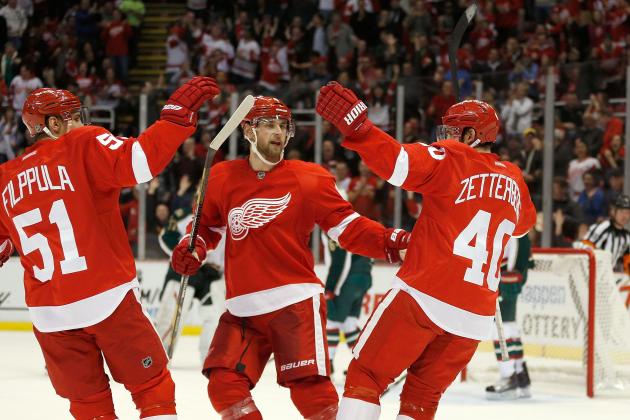 Gregory Shamus/Getty Images

After a 6-0 drubbing in St. Louis on opening night, the Red Wings have improved in every game they've played.
Nine Red Wings have been injured already this season, but the returns of Todd Bertuzzi and Darren Helm on Friday made a monumental difference, as the team looked stellar in a 5-3 win over the Minnesota Wild.
Detroit also has a shootout win against Columbus and a 2-1 loss in which it took 40 shots against Dallas.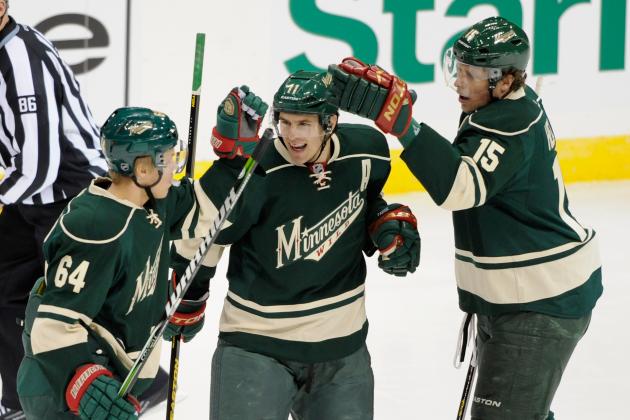 Hannah Foslien/Getty Images

Minnesota had a great start, getting wins against Colorado and Dallas at home, but the Wild struggled against the Predators and Red Wings.
The team's inconsistent play raises questions about one of the most talked-about teams this offseason.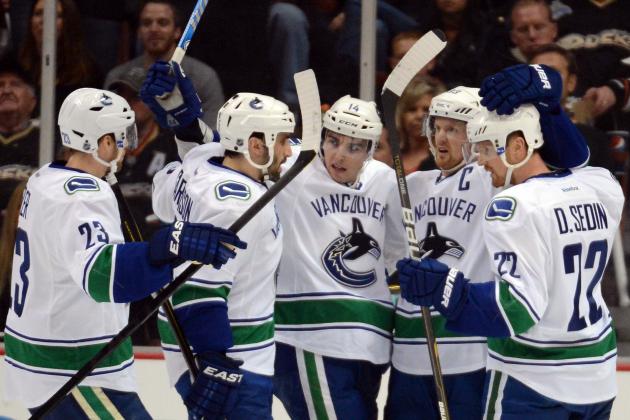 Harry How/Getty Images

The Canucks were blown out in their home opener against Anaheim, but then blew out Anaheim in their home opener.
Vancouver has been just like Detroit, improving every game since its opener.
The Canucks appear to be heading in the right direction. After a rough start, they are already back on top of the Northwest Division.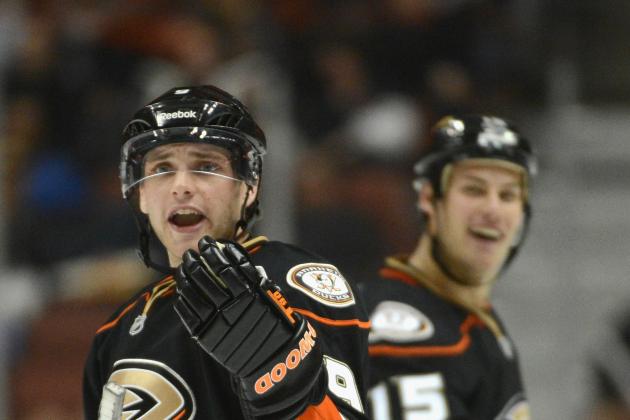 Harry How/Getty Images

Anaheim went into Vancouver and blew out the Canucks. Then Vancouver came to Anaheim and blew out the Ducks.
After scoring 12 goals in its first two games, it looked like Anaheim would come back to earth after a big loss in its home opener. However, the Ducks played a great game against Nashville Saturday night, winning 3-2 to improve to 3-1.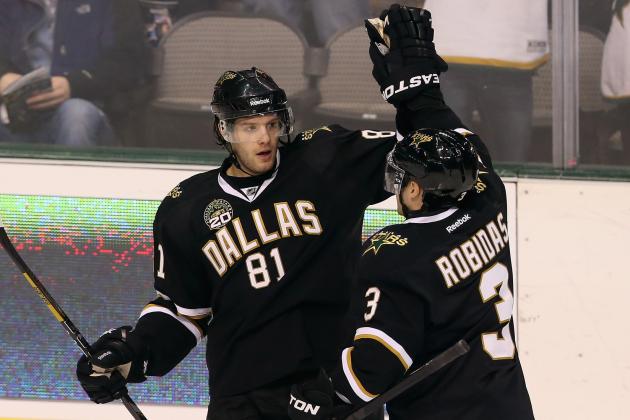 Ronald Martinez/Getty Images

Yes, Dallas has lost more games than it has won. But hear me out on this one.
Every single one of Dallas's games has been decided by one goal.
The Stars' defense has looked pretty solid, as they only lost 1-0 to Minnesota and won 2-1 against Detroit, a game in which Kari Lehtonen stood on his head.
The Stars also nearly beat the 5-0 Chicago Blackhawks and the St. Louis Blues, losing each game by one goal. The loss to Chicago came in overtime.
Sure, the Stars have three losses in five games, but they have all been very respectable losses. This team's quality of play has been impressive.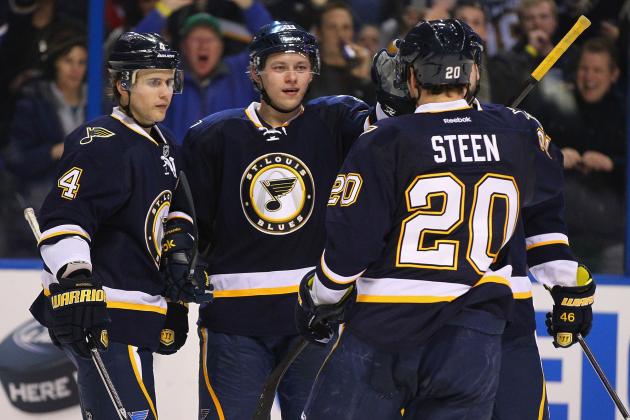 Dilip Vishwanat/Getty Images

St. Louis has been terrific in its first five games, going 4-1 while posting two shutouts.
Vladimir Tarasenko has been playing as well as expected, and the offense has been a little better than it was last year. The Blues continue to look like one of the best teams in the Western Conference.
Kirk Irwin/Getty Images

The NHL's first 5-0 team has started the season off in dominating fashion. After a big win in Los Angeles, the Blackhawks have also earned close victories over St. Louis, Dallas and Columbus.
Starting the season with a five-game winning streak is never a bad thing, especially when four have been on the road. Chicago struggled outside of the Windy City last year, so their success on the road has to be a scary development for any team that has to play them.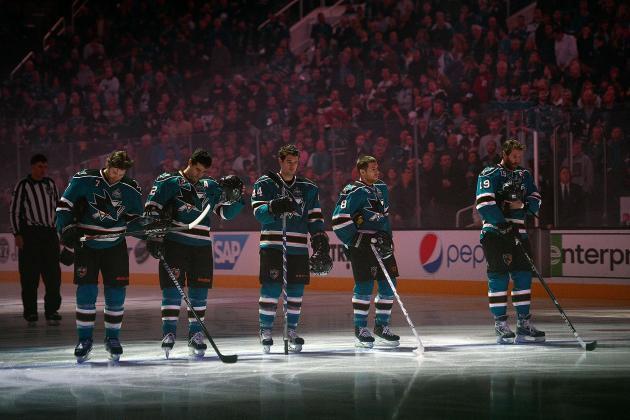 Thearon W. Henderson/Getty Images

In case you haven't heard, there's a guy named Patrick Marleau who has scored two goals in each of his four games this season.
The Sharks have been as close to flawless as you can get to start the season.
Down 3-1 in the third against Phoenix? No problem. The Sharks scored four goals to win it. Worried about a young Edmonton team? No problem. The Sharks decided to end the game early with six goals in the first period. Worried about a young Colorado offense? No problem. The Sharks shut out the Avalanche in a 4-0 win.
Everything this team has done lately has been nothing short of fantastic. The Sharks haven't lost yet, and if they keep playing at anywhere near their current level, they won't see lose many games in this shortened season.