Positives and Negatives from the Start of the 2013 Coyotes Season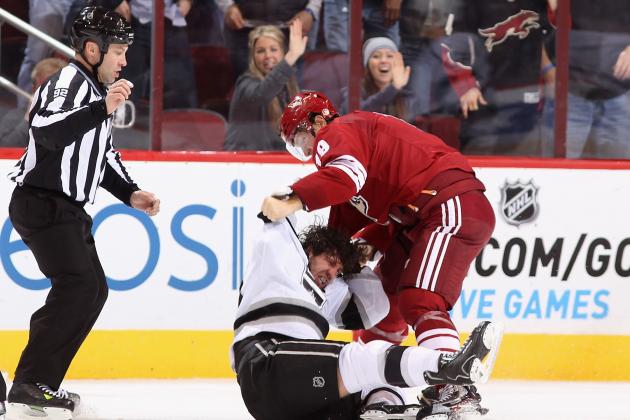 Christian Petersen/Getty Images
The Phoenix Coyotes have gotten off to a poor overall start this season as Shane Doan takes out his frustration on the Los Angeles Kings
If the Phoenix Coyotes optimism about a new season was sky high before the season officially began, at right this moment, they would be looking for the reset button. After five games, the Coyotes sit at 1-4 and in last place in the Pacific Division and the entire Western Conference.
As the 'Yotes try to navigate through a brutal early season schedule and keep pace in the ultra-competitive Pacific, they will need to tighten up a couple of areas and hope that the injury bug goes away so that they can field a top-notch squad on most nights.
The good thing about the shortened season is that there are so many games in such a short time. They can get right back in the race by putting together one good week at this point. Although they have gotten off to a rotten start, it can all be turned around quickly, if and only if, they can get back to playing tough and rugged defense-first hockey.
This article will explore a number of the positives and the negatives from the Coyotes early 2013 NHL season.
Begin Slideshow

»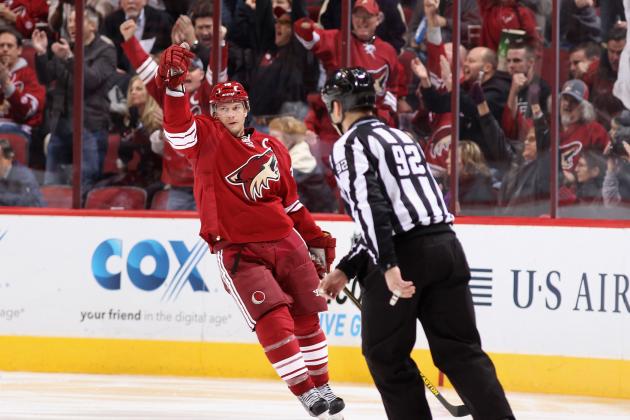 Christian Petersen/Getty Images
Coyotes Captain Shane Doan celebrates after lighting the lamp against the Los Angeles Kings
While the Phoenix Coyotes weren't the worst offensive hockey club in the league last season, their offensive output left a lot to be desired. Last season, the Desert Dogs ranked 18th in the league in goals per game at 2.56.
This season, they have been scoring goals in bunches and rank 8th in the league in goals per game at 3.40. Some of the improved goal scoring is due to the sloppy defensive play of rusty teams trying to get their bodies and minds back into game shape, but the Coyotes seem to have simplified their offensive game plan to get more pucks at the net. This season, they are averaging 35.8 shots a game, up from 29.6 last season.
If the Coyotes can score at the clip of more than three goals a game, you have to figure that with their defense tightening up, many more wins would be in store for a team that has always put an emphasis on defense being first.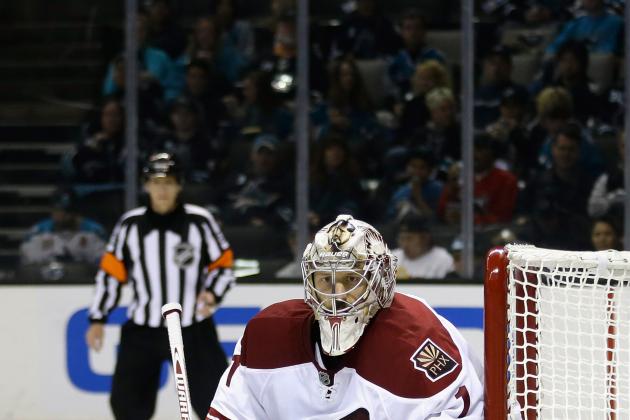 Ezra Shaw/Getty Images
LaBarbera has been good at times for the Yotes in relief of the injured Mike Smith, but needs to be better if the Coyotes are going to win tight games.
The most troubling statistics for the Phoenix Coyotes this season come on the defensive side of the ice. For a team that has a boatload of talent on their blue line, it is shocking to see them having played so poorly in their first five games.
The Coyotes were stellar last season in their own zone. They ranked fifth in the league, only giving up 2.37 goals per game. They gave up 31.6 shots per game, but many of those shots were steered away from quality goal scoring areas and made for easy saves for goalie Mike Smith. Their defensive positioning was solid, they hustled all over the ice and they were good about keeping things simple by alleviating pressure in their own end by dumping the puck out of the zone when necessary.
In the five games the 'Yotes have played this season, it looks like a completely different team on defense. They rank 29th in the league in goals against at 4.00 goals per game. While they are giving up less shots (29.6 per game), it's the quality of shots that are devastating to the team and the reason why they are giving up so many goals. Odd man rushes, power play opportunities and open men near the front of the net have been common themes behind many of the goals scored by Coyotes' opponents this season.
The Coyotes must get back to playing more defensively responsible hockey if they are going to have any success this season.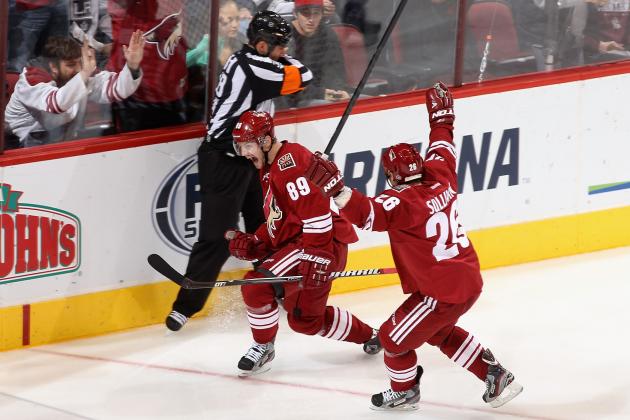 Christian Petersen/Getty Images
The Coyotes Mikkel Boedker scores on the power play against the Los Angeles Kings on Saturday night
The Phoenix Coyotes have always had a substandard power play. Back to the days of Jeremy Roenick and Keith Tkachuk, the 'Yotes could never seem to put together the fluid passing or timely shooting that is necessary for a power play to be successful.
Last season, the Coyotes power play tied for last in the league, operating at a 13.5-percent clip. This was an embarrassing mark, considering some of the talented forwards and defensemen that the Coyotes could throw out on their top power play unit last season.
Although it is early in the season, the Coyotes power play is off to a hot start. The Desert Dogs rank 12th in the league, having scored six power play goals already this season. They are working at a 24-percent rate with the man advantage and seem to have a renewed confidence to score big goals when needed.
A large part of the power play is moving the puck quickly and efficiently and having guys at the point with powerful and accurate shots. Oliver Ekman-Larsson, Keith Yandle and Derek Morris have all been good manning the blue line on the power play this season. Steve Sullivan has also been good at moving the puck and getting into position to score critical goals.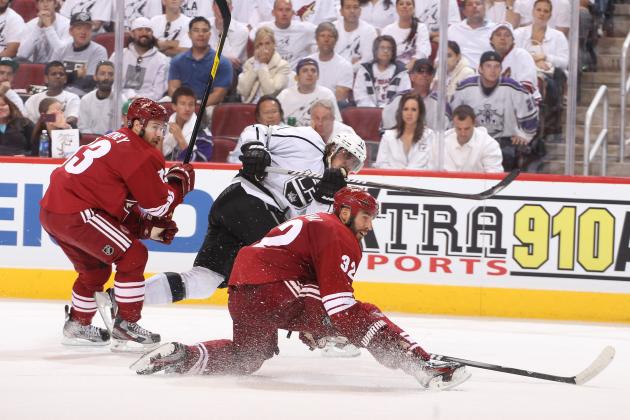 Christian Petersen/Getty Images
The Coyotes Nick Johnson tries to block a Los Angeles Kings shot on goal on Saturday night
The exact opposite can almost be said for Phoenix's penalty kill throughout its history. It has been marked by some of the most fearless shot blocking defenseman in the NHL and for the past couple of years has been amongst the best in the league.
Last season, Phoenix ranked eighth in the penalty kill coming in at a 85.5-percent penalty kill percentage. The penalty killers were the unsung heroes of the squad last season. The penalty kill options for the Coyotes are pretty darn good, starting with the best penalty killer on the team in goaltender Mike Smith.
With Smith's less than stellar first two games before his injury and Jason LaBarbera's subsequent contributions, the penalty kill has been dismal. It ranks 19th this season at 78.3-percent as the Coyotes have already surrendered five power play goals in 2013.
If the Coyotes are going to win tight games, they cannot give up as many goals being a man down. They need to rally around LaBarbera until Smith gets back and need to do a better job of limiting quality shots on their opponent's power plays.
Ezra Shaw/Getty Images
The Phoenix Coyotes Steve Sullivan maneuvers behind the net against the San Jose Sharks on Thursday evening
Steve Sullivan, who was acquired as a free agent in the offseason, leads the team in points with five (four goals, one assist) after five games. The gritty winger has already posted a hat trick for the 'Yotes this season against Columbus on Wednesday night. The 38-year-old winger posted 48 points in Pittsburgh last season and looks to be in good form early in the season.
David Moss, who was acquired as a free agent this offseason, has three points (one goal, two assists) in his first five games. His physical presence is a nice addition as he uses his body well to cycle pucks in the corners on the Coyotes third line and on the power play. Moss, looking to redeem his career after coming off an injury plagued last two seasons, has been as good as advertised so far this season.
Matthew Lombardi, who was acquired from Toronto last week, has two points (two assists) in four games and brings a speed element that the Coyotes needed more of before his arrival in Phoenix. Lombardi will miss some time after being injured in San Jose earlier this week.
Together, those three have contributed 10 points in the first five games of the season with Phoenix, more than many expected them to deliver as they become adjusted to a new team in a new city in 2013.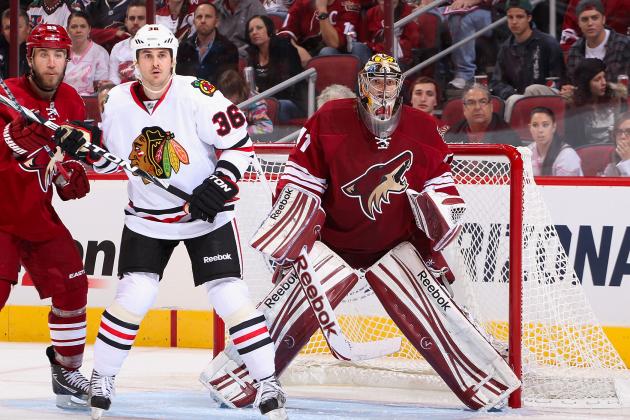 Christian Petersen/Getty Images
Smith's injury has not been welcome news for the Phoenix Coyotes this season
Phoenix has been hit early by an injury bug that has sidelined some important pieces of the team.
Center Martin Hanzal and goalie Mike Smith have been sidelined already with lower body injuries. While all injuries were deemed day-to-day type injuries, any game time lost by starters hurts the team drastically.
We all know of Smith's vast importance to the team. Any length of time that he cannot play will hurt this team significantly. Even though he has gotten off to a poor start this season in his first two games, he is the rock at the back of the defense that the team counts on to make difficult saves and to keep them in games. No offense to Jason LaBarbera, who is a veteran NHL goaltender, but replacing a Vezina award candidate is extremely tough to do and even more so when that goalie is counted on by his team to do so much.
Hanzal is also very valuable as the team's best defensive center. He matches up against the opponent's best offensive center, night in and night out. He is very good in the faceoff circle, is excellent as a defensive center, uses his size well and to his advantage and can score points if put into the right situations to do so. His loss has also been felt as the Coyotes organization is thin at the center position.
Defenseman Rusty Klesla was placed on injured reserve after two games with a lower body injury although he is close to returning according to Coach Dave Tippett. His value is vastly understated in the Coyotes lineup. He is a physical, stay-at-home defenseman that will anchor the third defensive pairing. His shot blocking is solid, he is a consistent penalty killer and he is rugged and tough. A prototypical Dave Tippett defenseman.
Matthew Lombardi was officially placed on injured reserve with an upper body injury and his timetable for return is uncertain although it looks like it will be weeks before we see him lace up the skates again. His speed and knowledge of the game make him dangerous as he always puts himself in good offensive situations that give him the ability to score.
With these injuries, especially the one to Smith, the Coyotes will struggle to play solid, consistent hockey. If the 'Yotes do not stay healthy and players miss a lot of games due to injury, they will not make the playoffs this season. If Smith does not come back and regain a good chunk of his form from last season, the 'Yotes will be in deep trouble.