Green Bay Packers Mock 1.0: After the Senior Bowl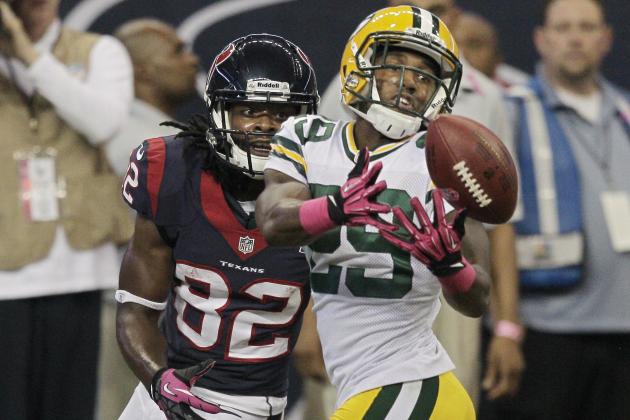 Bob Levey/Getty Images
Casey Hayward, among the top NFL rookies last year, proved to be a great Ted Thompson pick.
Once again we've reached that point in the season where unless you've got your horse in the Super Bowl, it's time for armchair general managers to assess what's needed in their team's stable: the 53-man roster.
The standards among Packers fans have become so high that even undrafted rookie free agent tackles like Don Barclay are expected to perform at a playoff-caliber level (and kudos to Barclay, he indeed met the challenge).
Thus, anything less than a Super Bowl victory for Packer Nation results in speculation of firing coaches, making major personnel moves, spending in free agency (gasp!) as well as hoping for the Clay Mathews-esque stud in the Draft.
I for one, don't see any need for General Manager Ted Thompson to deviate too far astray from his draft-and-develop, "best player available" mantra. That said, this mock seeks to address both short-term and long-term need at an early stage of prospect rankings post-Senior Bowl.
Begin Slideshow

»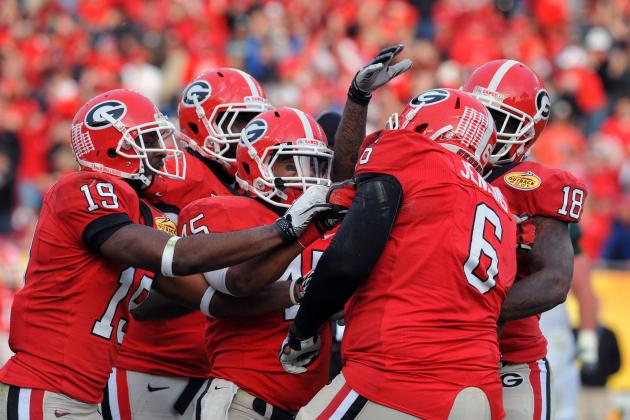 Al Messerschmidt/Getty Images
Jenkins would exchange his Georgia "G" for Green and Gold's "G" on the helmet, boosting the Packers run defense.
In the Super Bowl-winning 2010 squad, the Packers found their 900+ pound trio of 3-4 nose tackles starting in base.
With B.J. Raji as the most dynamic of the three, Ryan Pickett doing an admirable job and Howard Green essentially eating blockers, the Packers could get their defense in good third down situations by stopping the run.
In 2012, Adrian Peterson, the ultimate test for any run defense, ran roughshod over the Packers.
Nobody has to put on game film to remember the way San Francisco 49er quarterback Colin Kapernick set a record for rushing yards against this same Packer defense in the divisional playoff round.
The Packers were only able to stop the run when they held leads early which suggests to me they need to beef up their base defense at both the first (defensive line) level and the second level with their linebacker play.
John Jenkins, a massive 349-pound nose tackle with surprising athleticism for a big man, would be an ideal pick.
With Pickett entering the twilight of his career, Jenkins will have a chance to learn from two veteran standout tackles while contributing early and often in base. He may also provide the Packers insurance if it becomes difficult to extend Raji's contract or if Raji were to get hurt.
Senior Bowl analysts have been enamored with Jenkins' play which may shoot him up draft boards.
The reason I think he may still be available at the Packers #26 slot is because Jenkins mainly fits between three-four schemes and there are quite a few talented defensive linemen in this draft class who may be picked ahead of him.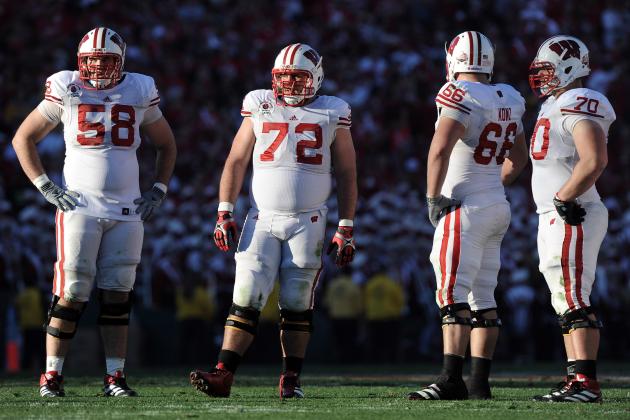 Harry How/Getty Images
#72 in what is typically one of the biggest, most-talented lines in the country, Frederick impressed coaches with his football IQ and character.
Ok, it's an in-state, semi-homer pick. Every year, Badger fans who are almost always Packer fans hope for the Packers to draft a Wisconsin product. Could this be the year the first Badger since Mark Tauscher touts green and gold?
This year it may actually make sense. With some of the elite nose tackles obliterating the prototypical, smaller, agile center, Frederick represents a different breed of center.
At a hulking 344 pounds, Frederick may not look the part but he's said to "carry his weight well" according to CBS Sports without losing the athleticism needed at the position.
Packers head coach Mike McCarthy has always sought versatile offensive linemen, guys who can fill in at multiple spots on the line and Frederick fits the bill, having starting experience on a top-flight program at all three interior line positions.
It's important to realize Aaron Rodgers will now have had 3 different starting centers in less than one and a half years. The Jeff Saturday experiment was a smart stop-gap solution until they felt Evan Dietrich-Smith was truly ready and capable. Meanwhile, they had to let Scott Wells go due to salary considerations despite being the "best lineman" in 2011 according to Mike McCarthy.
Frederick would provide the intelligence, strength and reliability to protect Rodgers for years to come and be his quarterback of the trenches.
It's painfully obvious the Packers are lacking a third down running back. Alex Green seems to get nicked up just as soon as he's trusted to play a role in the offense. James Starks has had the misfortune to go through a myriad of injuries going back to his earliest college days. Cedric Benson came aboard and seemed to be the perfect fit only to go down as yet another injured running back.
Dujuan Harris shows promise to make the 2013 team as a third RB but I wouldn't expect anything more from him now that the cat's out of the bag and teams can prepare for him.
Stepfan Taylor isn't a glamorous pick at running back. He's not going to show a 4.4 speed at the combine. You won't find more than three or four impressive YouTube highlight reels when you search his name.
But then again, the Packers offense doesn't need or seek a RB who needs 20 touches per game or has to self-create to make the three to five yard gains the Packers need to get in good third down distances.
In the Packers aerial attack, it's possible that a running back's pass protection abilities are weighted equally with their ability to pick up one-cut, zone-blocking yards on their carries. Similar story with pass-catching ability out of the RB position.
In this way, Taylor is the perfect fit while providing an overall talent upgrade to the running back corps. Taylor's got soft hands, experience pass-protecting at Stanford and fits the mold of a one-cut runner in the Packers zone-blocking system. Look for Alex Green to be an impressive screen guy to compliment Taylor.
Equally important, Taylor has more of an NFL body type to withstand punishment compared to UCLA's Johnathan Franklin and none of the character concerns of Texas A&M's Christine Michael.
This pick was tough for me because Michael's 4.4 speed with great size is obviously enticing to any NFL team while Franklin was most impressive at the Senior Bowl according to many observers.
Rumors are out that Ted Thompson has really been checking in to Michael's story, but I suspect he's going to do this with any and all talent since he has found the NFL's best undrafted guys under every stone of football talent sources.
This is one of those less-recognized wide receivers that Ted Thompson always seems to find. Harper brings NFL size, good hands, a former-QB's mindset (much like current Packers Randall Cobb and Jordy Nelson) and ability to block.
The last point about blocking is very important. The Packers have been using more and more quick screens with multiple WRs blocking right out of the gates as the season progressed, suggesting McCarthy views this as an important part of their offense in crunch time.
The Packers also expect their WRs to be tenacious blockers when running the ball too since both Randall Cobb (when lined up as a RB) and now Dujuan Harris have the quickness to bounce to the outside.
Wide receivers coach Edgar Bennett has publicly emphasized blocking as an important attribute for playing time, particularly among the fourth and fifth WRs like Jarrett Boykin and Jeremy Ross. Blocking is one way to make it on to the field in this offense.
Harper's 40-yard time is a respectable 4.46 too so it's not as if he's just a big 6'1" 230-pound receiver without wheels. I liken his speed to the way Thompson described Jordy Nelson having "good football speed," if not track speed.
Harper will provide competition among a wide-out corps that is among the top in the league while fitting in well.
Though he won't replace all-time great Donald Driver's leadership, Harper could improve the talent of the group as the fourth or fifth WR.
While Harper shouldn't be expected to replace soon-to-be free-agent All-Pro Greg Jennings, it's possible that in time, Harper's size and abilities will enable him to play as a starter on the outside by year three if he continues to develop.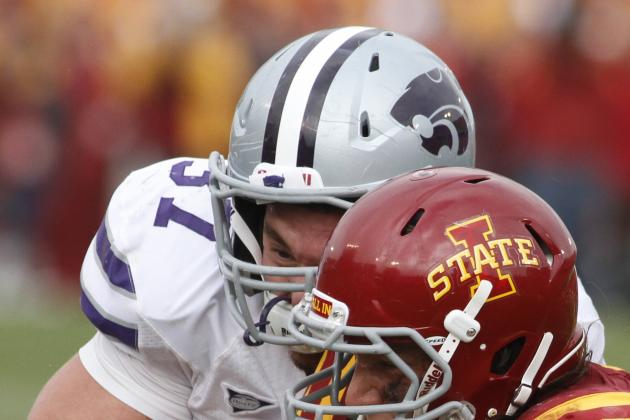 Matthew Holst/Getty Images
A.J. Klein's Cyclones faced elite competition including Kansas State, Baylor, TCU and Oklahoma.
After their playoff loss, Charles Woodson had the now infamous declaration that the Packers needed to get "bigger, tougher and faster." Klein may help improve his teammates with his toughness.
Though Klein may not be the fastest, most athletic LB (if he was he'd be drafted higher), this description by Dane Brugler of CBS Sports suggests he'd be the hard-working, mean, underdog Thompson loves late in the draft:
"Klein is an intense competitor and while that emotional attitude has caused him to butt heads with the coaching staff in the past, he has matured into a team leader. He plays with a chip on his shoulder, showing top football awareness with a glass-eating diet, but lacks the elite athleticism for the next level. ...Klein projects more as a later round draft pick, but he isn't the type of player one should bet against."
The way I see it, when OLB Nick Perry and ILB D.J. Smith return, the Packers linebacker corps isn't as bad as most fans think. Smith will provide the compliment to Desmond Bishop's hammer at ILB showing great range and athleticism while Perry will compliment Clay Mathews in the pass-rush with incredible size and strength to hold up in run support.
Klein will provide depth in Bishop's role and some tenacity to the special teams units.
Note: By coincidence, after making this mock selection, my research discovered Klein is also a Kimberly, WI product so this pick represents another homecoming of sorts and a rare chance to give a shout-out to Wisconsin prep football standouts.
Can you have too many weapons in a league that now favors offensive-minded teams?
The answer is no.
Though some drafniks may think it would be crazy to draft two RBs, try not to think of Rouse as solely a RB.
Similar to Randall Cobb, Rouse lined up as a WR at Fresno State as well as RB. Rouse is getting that annual "Darren Sproles" comparison, though some feel Rouse is actually more stout as a RB than Sproles.
If Rouse pans out at the NFL level, having Rouse and Cobb would be similar to the way the Patriots utilize Danny Woodhead and Wes Welker as spritely, smaller-sized quick weapons to compliment the size mismatches with Jordy Nelson and Jermichael Finley.
On a roster that continually upgrades itself through the draft, Rouse would be an upgrade to the role Dujuan Harris provides. And if Harris were to out-shine Rouse, the competition still improves the team with little risk in the sixth round.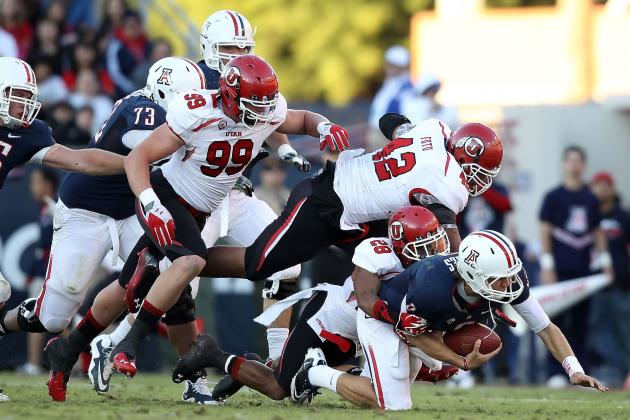 Christian Petersen/Getty Images
In this 2011 game, #99 Kruger was a 20-year-old sophomore getting in on the action against Arizona.
Seventh-rounders are by nature hard to gauge. In trying to research Kruger's athletic measurables, there appears to be no publicly available data yet his 6'7" 280 pound frame is obviously the ideal on teams with a three-four system.
The Packers need greater length on the defensive line and the 21-year-old junior may be a good project to develop coming from a top-caliber school for defensive line at Utah.
In 2012, while overshadowed by likely top-five pick Star Lotulelei, Kruger had six sacks, 30 tackles and one interception.
Given his age, if Kruger didn't flop, it's likely he could be stashed on the Packers practice squad.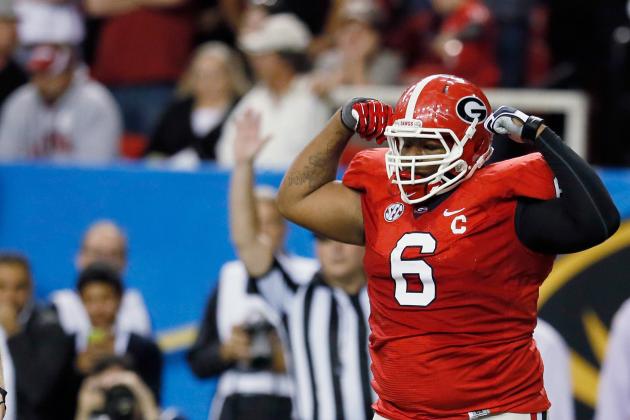 Kevin C. Cox/Getty Images
Can John Jenkins make the Packers bigger and tougher?
In this first mock, long-term talent is secured at the heart of the offense and defense.
Though nose tackles don't get the credit they deserve, in a 3-4 defense guys like B.J. Raji and Pickett enable others to make plays by eating blockers or pushing the pocket.
Jenkins would be Pickett's replacement by 2014 while also playing early and often in base for 2013.
Meanwhile on offense, the center's role in the Packers attack is equally underrated. Picking Frederick gives this line more beef and is an overall talent improvement from Evan Dietrich-Smith. Frederick would give the line a long-term starter with NFL strength, football IQ and toughness.
In the mid-to-late rounds, Stepfan Taylor represents Ryan Grant in his prime, a one-cut runner who is fairly solid all around. Taylor may be more elusive and a better pass-catcher than Grant however.
If Taylor is the rock, Rouse is the roll; an explosive back capable of the home run who you wouldn't want carrying the load like Taylor would. Rouse would protect Cobb from getting hurt on runs while never giving the defense a break from such dynamic, open-field players.
Finally, Klein will push incumbents to play with vinegar, increase competition at ILB and mix it up on special teams with Kruger stashed as an unpolished junior developmental project.
Note: This mock doesn't include compensation picks likely to be awarded to Green Bay.
What are your picks for the Packers? Who do you think are the difference-makers in this year's draft?