UFC on Fox 6 Fight Card: Power Ranking the Main Card Fights
David Banks-USA TODAY Sports
The second UFC event of 2013 is now in the books, and it produced an exciting night of fights for ardent fans and casual MMA supporters alike.
UFC on Fox 6, which took place in Chicago on Saturday night, featured some stellar talent, including former champions and top contenders.
Two fights went the distance—with Glover Teixeira and Demetrious Johnson beating their respective opponents on the judges' score cards—while the two other fights finished early with both Ricardo Lamas and Anthony Pettis staking their claim as title hopefuls.
4. Glover Teixeira vs. Quinton Jackson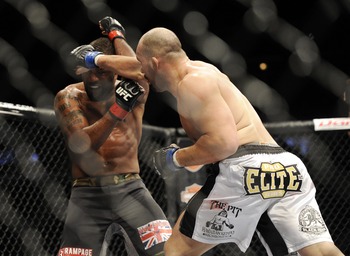 David Banks-USA TODAY Sports
It was a surprise to see the fight between Glover Teixeira and Quinton Jackson go the distance. The trash talking between the two leading up to the match had set up a bitter contest between the two sluggers, but in the end it was Teixeira's wrestling which eased him to victory.
The match was, nevertheless, entertaining for the most part. Both Teixeira and Jackson did show a willingness to stand in the pocket and trade punches, but neither landed a single significant blow in their standing exchanges. However, those looking for fireworks were bitterly disappointed as the judges gave it to the Brazilian 30-27, 30-27 and 29-28.
3. Demetrious Johnson vs. John Dodson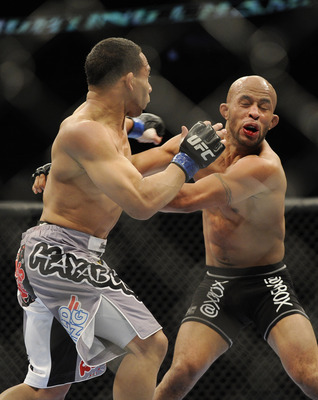 David Banks-USA TODAY Sports
The lighter weight classes have never been a big draw for the UFC, and the flyweights in particular have frustrated many fans recently.
It seems the MMA fraternity has little stomach to sit through five rounds of two 125-pounders going at each other at a frenetic pace but barely doing any damage to each other.
That was the scenario during Demetrious Johnson's first flyweight title defence against John Dodson. While Dodson looked strong at the beginning, rocking his opponent twice in the second round, by the fourth and fifth rounds, Johnson's grappling and pace proved too much for his opponent.
Most fans are split in their attitudes toward flyweight contests. Without the blood and gore of the heavier weight classes, few have the technical appreciation to enjoy a contest such as this. But those that do have that appreciation were treated to an intriguing, hard-fought, five-round contest between Johnson and Dodson.
2. Ricardo Lamas vs. Erik Koch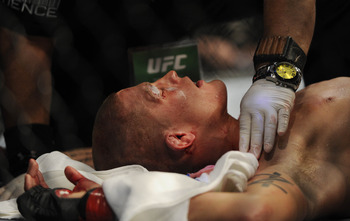 David Banks-USA TODAY Sports
The featherweight division has become a very crowded place all of a sudden, with both Frankie Edgar and Clay Guida dropping down to 145 pounds in recent months.
In that crowd, it's easy to overlook the fact that both Erik Koch and Ricardo Lamas have been proving their worth for a title shot against Jose Aldo for several years now; but on Saturday night, it was Lamas who came out on top.
The pace was fast as the match started with Lamas slightly edging it in the first round. However, it was ultimately a slip from Koch, a man who was ready to face Aldo for the title twice last year, which ultimately led to his downfall.
Lamas was clinical in capitalising on his opponent's mistake, and finished him with brutal elbows at 2:32 of the second round.
1. Anthony Pettis vs. Donald Cerrone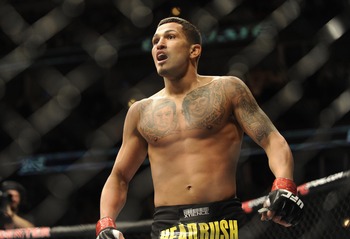 David Banks-USA TODAY Sports
It was Donald Cerrone who first called out Anthony Pettis back in August last year, believing that "Showtime" would be the perfect fight to get him the title shot against champion Benson Henderson.
He must be regretting that decision after Saturday night.
Pettis made short work of Cerrone, clearly outclassing him in the stand-up for much of the first round, before finishing him with a Bas Rutten special—a perfectly timed liver-kick knockout.
The win was Pettis' second first-round KO in as many matches and was a statement of intent in his desire to take the belt from Henderson. Surely, that much-anticipated rematch must now be in the UFC's reckoning.
Keep Reading