Positives and Negatives from the Start of the New York Rangers' 2013 Season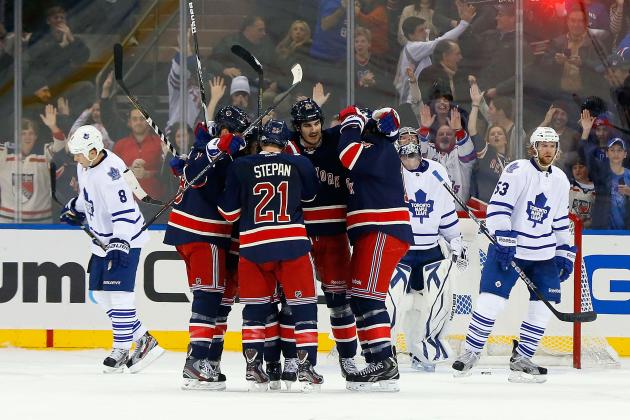 Jim McIsaac/Getty Images

The Rangers may feel negatively about only earning four points from their first five games, but they should feel positive about where they are going.
Saturday night's win over Toronto demonstrated a mentally tough Rangers team that won't let a couple of early goals derail an effective game plan.
Saturday night's win also showed us that the Rangers still need to put together a full 60-minute hockey game.
The Rangers have no reason to panic as the season is still so young and, as we have seen the last few years, regular season dominance is no indicator of postseason success, so they don't want to play their best hockey just yet.
Of course, let's hope that four points out of a possible ten is far from being close to their best.
Getting the bad out of the way first, let's look at what the Rangers have done poorly and done well so far.
Begin Slideshow

»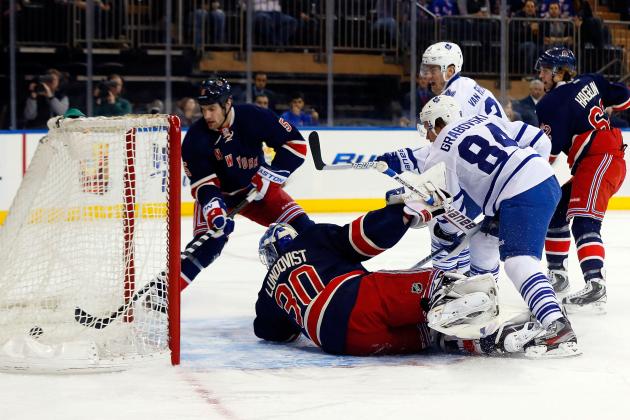 Jim McIsaac/Getty Images

If you watch hockey, you know that Henrik Lundqvist is an excellent goalie.
If you only checked the stat sheet for the beginning of the season, you wouldn't be so sure.
Lundqvist is averaging over three goals against per game, and his save percentage is less than 90 percent. But Lundqvist is ranked third overall for shots faced and saves.
The dude is getting peppered!
The two first period goals scored by Toronto showed what kind of scoring chances the Rangers are allowing opponents. Both goals came from players who were untouched and standing on the edge of the crease. That much space in that area is unacceptable in the NHL, and the Rangers do not want to be playing from behind in every game.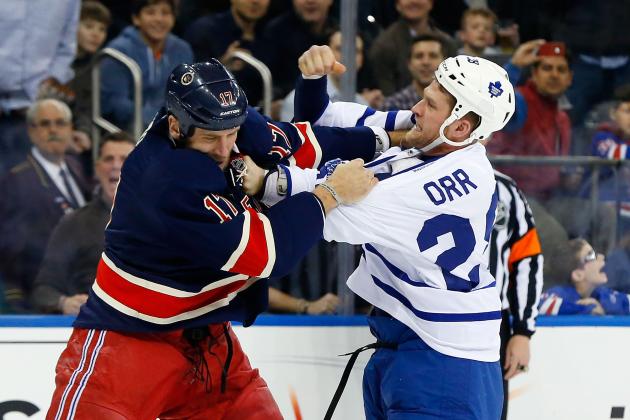 Jim McIsaac/Getty Images

The Rangers have had eight fights over their first five games, and several have started the moment the puck dropped.
The problem for the Rangers has been the faceoffs that don't result in fights, because the Rangers can't win any of them.
The Rangers have won just 47 percent of their faceoffs, poor enough to be ranked 25th in the league.
Their loss against the Flyers on Thursday was accentuated by a lack of faceoff wins, when the Rangers were playing 6-on-5 looking for the tying goal in the final 90 seconds, and the Flyers basically won a faceoff and iced the puck six times in a row to end the game.
You can't score without the puck, and the easiest way to gain possession is win it off the draw.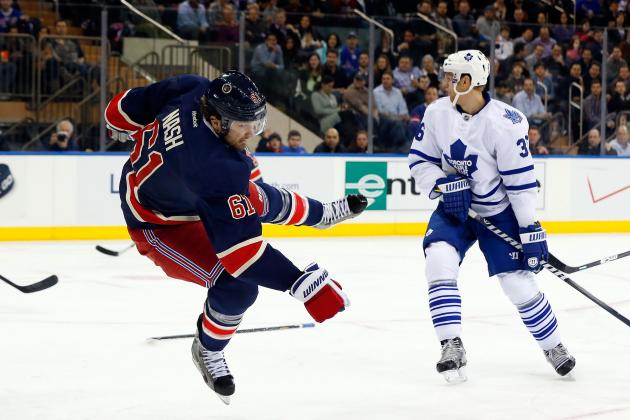 Jim McIsaac/Getty Images

The Rangers may be bad at winning faceoffs, but they have really missed their opportunities when playing with a man advantage.
The Rangers have had four different 5-on-3 power plays and didn't score in any of those opportunities.
The Rangers' power play effectiveness is at 9 percent; that's the fourth worst percentage in the league.
The easiest way to win in any sport is to take advantage of what the other team gives you. Two minutes or more with an extra skater (or two) is about as good as it gets in hockey, and the Rangers need to convert more power plays if they want to win consistently.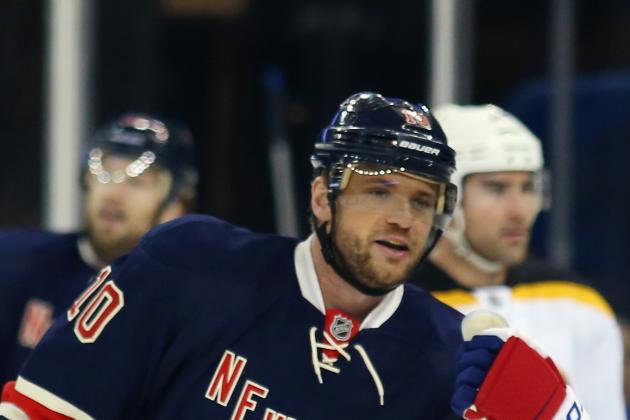 Bruce Bennett/Getty Images

The negatives facing the Rangers are very fixable and are deficiencies that are usually corrected throughout training camp.
The Rangers will improve their defense, faceoffs and power play gradually over the next few games.
The Rangers do have two wins, so there are positives from this early season so far.
Marian Gaborik is looking 100 percent healthy and 100 percent deadly. Gaborik has eight points through five games, including a hat-trick and a four-point game against Toronto.
Brad Richards hasn't been winning faceoffs (46 percent), but his top line is playing better, and he has six points so far to prove it.
Also, Taylor Pyatt is looking comfortable in a blue sweater, already with three goals.
All three players mentioned on this slide are over thirty years old. If the veterans are leading by example, the young guys will feel the push and step up their game.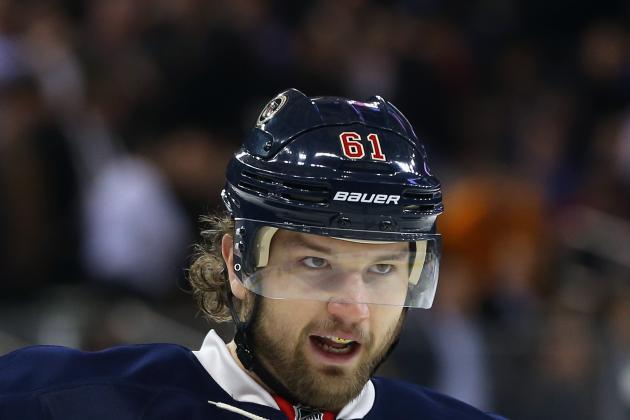 Bruce Bennett/Getty Images

Coach John Tortorella has tinkered quite a bit with his lines so far, as a lot of other coaches are doing.
Recently, the top line of Nash, Richards and Gaborik has started to find chemistry and are punishing opposing teams.
In the Rangers' overtime win against the Bruins, Nash, Richards and Gaborik were plus-two.
In their most recent win over Toronto, the three were plus-four.
If you think it's easy to integrate a super star onto an already successful team, just ask the L.A. Lakers how that's going.
Nash has never played with most of the guys on the Rangers, and he's posted five points through five games, while figuring out his new environment.
If Nash, Richards and Gaborik continue to play on the same line together, they will only get better and give opposing defensive lines nightmares.
In addition, Carl Hagelin looks much more comfortable and effective playing on the second line with Derek Stepan and Ryan Callahan.
It's still early, but the Rangers have easily correctable negatives and very exciting positives.
The Rangers will be fine, and let's not forget the biggest positive of all: NHL hockey is being played in 2013.