Leeds United vs. Tottenham Hotpsur: 6 Things We Learned in FA Cup Clash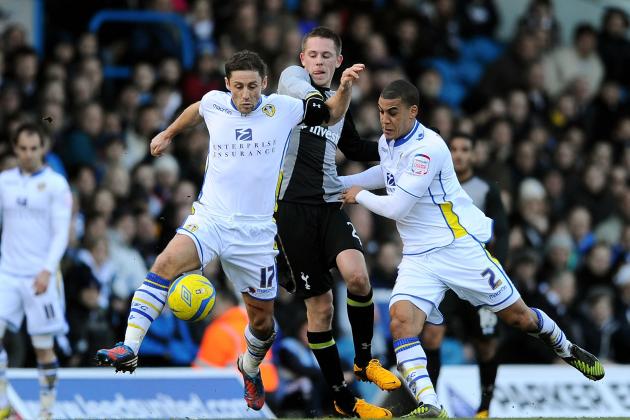 Laurence Griffiths/Getty Images
Leeds United outfought and outran Tottenham Hotspur all match long in their FA Cup clash.
Tottenham Hotspur suffered yet more FA Cup disappointment as the eight-time winners were upset by Leeds United in the fourth round, ensuring at the next opportunity it will be 23 years since they last won the competition.
Luke Varney and Ross McCormack scored either side of halftime in a 2-1 win for the Championship side that saw Tottenham unable to mount a comeback despite Clint Dempsey reducing the deficit with over half an hour left to play.
Leeds' performance certainly warranted them progressing at the expense of the North Londoners as they outfought and outran Spurs all afternoon. Neil Warnock's team may not have had as much of the ball but they made it count when they did, and defended very well in holding onto their lead.
What, if anything, will both clubs be taking from this game? Read on to find out.
Begin Slideshow

»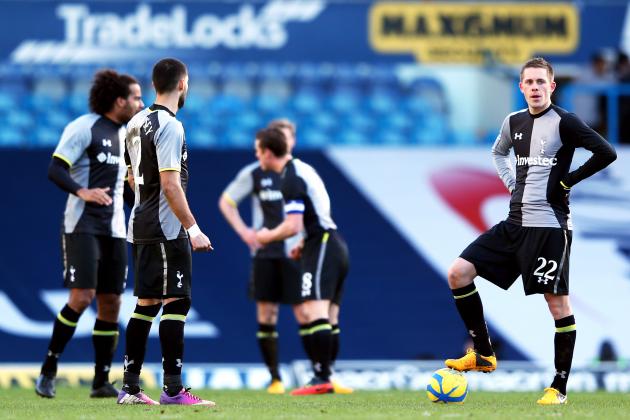 Michael Steele/Getty Images
Scott Parker (centre) unsuccessfully attempts to rally his team.
In the battle of the midfield veterans, it was Leeds' Michael Brown who got the better of Scott Parker on Sunday.
The former Spur harried and pressured Parker and the Tottenham midfield to great effect, making it difficult for them all afternoon and ably setting the tone for a display in which his teammates followed suit.
In one respect, Parker can look at Brown's performance and take comfort that a similarly styled player four years his senior is still doing a top job for his team. But in the first half especially it also served to remind the England international he needs to up his game if he is to compensate for the absence of the injured Sandro.
To Parker's credit he grew into the game, driving forward more often and picking his passes more carefully. As always he worked as hard as anyone.
However, as good as the 32-year-old has been for West Ham United and Spurs in recent years, he cannot rest on his laurels if he is to play his part in a good finish to the season for his team.
Comparing Parker to the aforementioned defensively dominant Brazilian this season would be unfair. Neither is it his sole job to carry Tottenham's midfield from here on out. But you only had to look at Brown's vigorous performance to see the contribution players of his type can make even as their legs grow older.
Parker is still finding his way back after missing almost half the season through injury. However, this match was a reminder of the vital role Spurs need him to fill.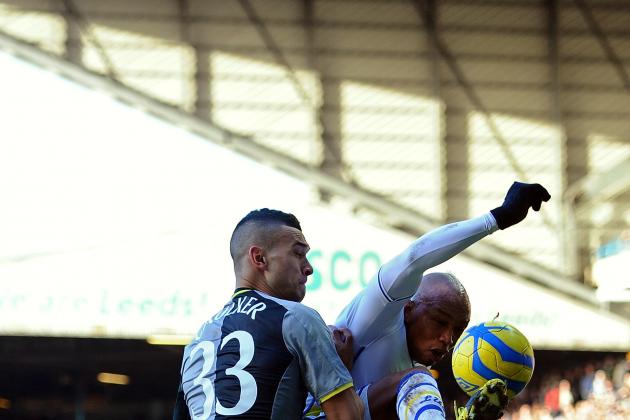 Laurence Griffiths/Getty Images
Steven Caulker did not enjoy the best afternoon.
The value of Michael Dawson to this Tottenham team was only highlighted by his absence against Leeds.
Villas-Boas was not wrong in resting Dawson considering how often he has played recently. Nor could he have expected the defense he sent out would perform so poorly.
Both goals Spurs conceded were a result of an awful lack of concentration and awareness of the situation around them on the part of Kyle Naughton (for the first), Steven Caulker and Jan Vertonghen. In the second half a slip by Benoit Assou-Ekotto almost allowed McCormack in for his second of the day.
It was once more apparent that without Dawson's leadership the Spurs defense are bordering on rudderless. While he is not a perfect defender, a big part of his value lies in the cajoling and organization that ensures the backline is more prepared and subsequently more solid with him than without.
Vertonghen played pretty well on the whole, and while Caulker had a bad game the 21-year-old is still learning. But right now, compared to Dawson, during a game neither can be relied upon to mold the defense around them into a proper unit.
Elsewhere, what seemed a big call on Villas-Boas' part leaving Jermain Defoe out of his 17-man squad was later revealed (here via SkySports.com) as a decision based on him suffering from a hip injury.
Despite a decent display from Clint Dempsey and some good running from Jon Obika when he came on, Sunday's game served to underline the importance of Defoe to this team. Even had he been rested it would have been useful to have the option of bringing him on as Spurs attempted to rescue a result.
It will be interest to see if the Leeds performance has any bearing on Villas-Boas pursuing another striker in the last few days of the January transfer window.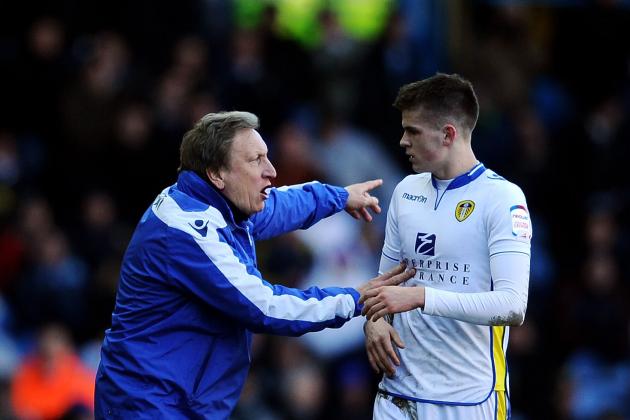 Laurence Griffiths/Getty Images
Leeds boss Neil Warnock issues instructions to Sam Byram.
Leeds United currently sit in 11th position in the Championship, six points off a playoff place.
Neil Warnock has come in for criticism from some supporters displeased with the less-than-attractive style of football his team generally practices.
Stylish play was not exactly the order of the day in them beating Tottenham. Yet the commitment, hard work and adherence to their game plan was such that, should Leeds find a way to muster such qualities on a regular basis, they may yet find their way into the playoffs by the season's end.
From the concentrated efforts of Tom Lees and Lee Peltier at the back, right through to the hard running of McCormack and El-Hadji Diouf further forward, Leeds' graft earned them the lead and ensured they kept it.
They also won without the absence of want-away top scorer Luciano Becchio. How the striker's possible departure affects the Whites remains to be seen.
However, if Warnock can find a way to augment a touch more creativity into his team, it is one that is more than capable of giving anyone a hard time. Though Manchester City, who they have drawn in the FA Cup Fifth Round, will be a tough ask.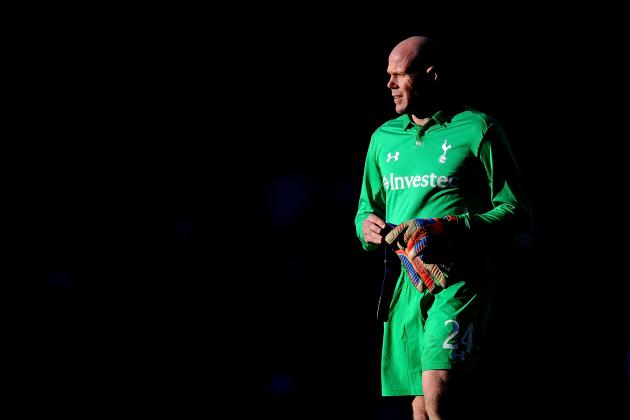 Laurence Griffiths/Getty Images
Brad Friedel.
Gylfi Sigurdsson did not do his prospects of starting more regularly any favors with a meek and ineffective showing, but a couple of his fellow backups did fare better in proving their value.
Brad Friedel is not going to displace Hugo Lloris, barring any dramatic drop in form for the Frenchman. However, he did serve to reiterate how fortunate Tottenham are to have a No. 2 goalkeeper of his quality.
The American could do little about Leeds' goals, but did keep Spurs in the game with a couple of great saves in one-on-one situations.
Unlikely to find his way back into the starting lineup on a regular basis either, Tom Huddlestone did follow on from a positive cameo against Manchester United last week with a bright hour's shift.
It was somewhat surprising he was brought off for Mousa Dembele in the second half and not Parker. Huddlestone's passing was crisp, intelligent and positive, with him often being the source of some of Spurs' brighter moves. Defensively too he made his contributions including an important tackle on the edge of the penalty box.
While he was not faced with the caliber of opposition he might find on a weekly basis in the Premier League, it was good to see Huddlestone get involved as often as he did and bodes well should he be called on again soon.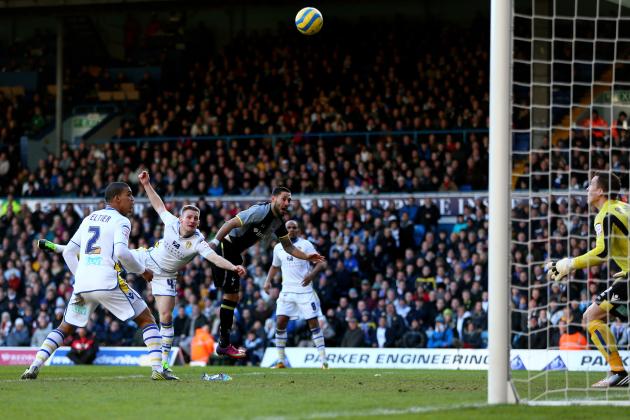 Michael Steele/Getty Images
Clint Dempsey scoring his goal against Leeds.
Clint Dempsey took some time to settle in at Tottenham, but his performances over the past couple of months have proved what a useful acquisition he was for the club.
The American's goal against Leeds was his eighth for Spurs since arriving last August. Villas-Boas' experiment with him leading the line was not a tremendous success in terms of the team's overall play, but it did serve to highlight Dempsey's value as a goal-getter.
That is something that is going to come in handy for Tottenham over the remainder of the campaign, especially given their lack of natural forwards.
Positively too for Spurs, Dempsey is proving a man for all occasions. Three of his most recent goals may have come against lower-league opposition (he also scored two against Coventry City in the FA Cup Third Round) but he has also grabbed two important goals against Manchester United.
Villas-Boas still has tinkering to do to find a way of bringing the best out of several of his attackers working together and not just in individual flourishes. But the Portuguese coach will be pleased at the further evidence he has talent in these positions beyond the likes of Defoe, Gareth Bale and Aaron Lennon.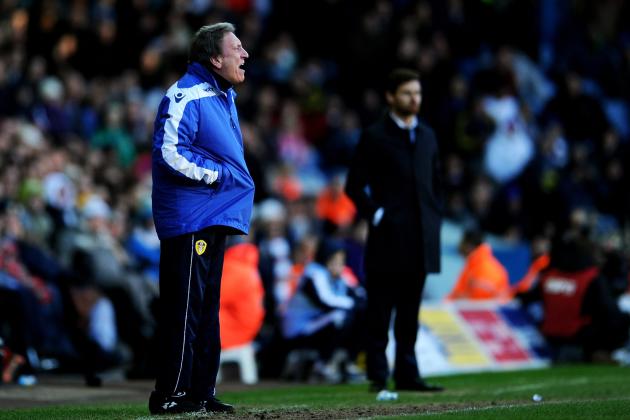 Laurence Griffiths/Getty Images
Warnock's Leeds remain in the cup, but there is one less distraction for Villas-Boas.
Despite their disappointment at going out of the FA Cup, Tottenham can console themselves with the knowledge they have one less distraction to contend with in their pursuit of a top-four finish in the Premier League.
However, this does also mean Villas-Boas and his team has one less excuse as they attempt to achieve this. If they do not find their way into the Champions League placings then it will reflect all the more poorly on them that they blew a chance for silverware too.
Spurs remain in the Europa League and, judging by the way they have approached it thus far (in team selections, if not performances), they do want to progress in the competition.
One tournament to deal with alongside their Premier League responsibilities may prove a manageable balance. It would be a shame, however, if one suffered at the expense of the other, especially when both are achievable targets for this team.