Dodson vs. Johnson: 5 Fights for John Dodson to Take Next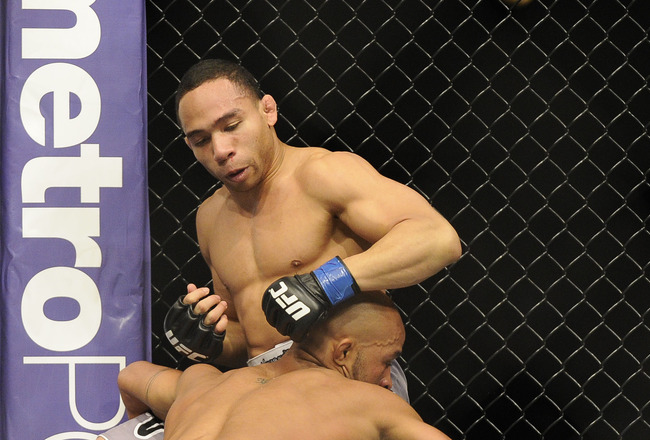 David Banks-USA TODAY Sports
John Dodson has looked phenomenal in his recent UFC fights. As the smallest bantamweight during The Ultimate Fighter 14, he should assert his superiority by winning the entire season.
After dropping to flyweight following the match, he quickly asserted himself as the No. 1 contender and got his title shot at UFC on Fox 6 on Saturday.
Unfortunately for him, Dodson came up short, unable to unseat the champion Demetrious Johnson.
But let's be honest.
Flyweight is probably the thinnest division in the UFC and it won't be long before Dodson is back in the running for a title shot. And that is largely due to a lack of opponents for title-holder Johnson, who is coming close to cleaning out the division.
As the champion waits to find out who his next opponents will be, here are five potential fights for Dodson to take next.
1, Ian McCall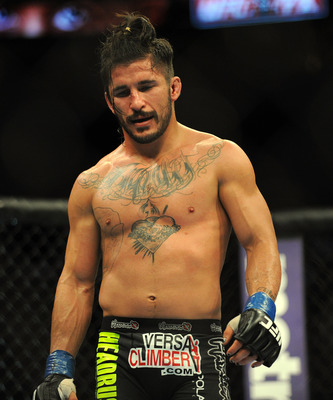 Steve Mitchell-USA TODAY Sports
"Uncle Creepy" Ian McCall gave Demetrious Johnson one of his toughest fights at flyweight and came close to defeating him during the inaugural flyweight tournament.
However, in their rematch, he looked like a different fighter as Johnson swept him aside to win by unanimous decision.
McCall is expected to face the runner-up in that flyweight tournament, Joseph Benavidez, at UFC 156 in February. Along with Johnson and Benavidez, McCall is widely considered one of the top three flyweights in the world, and win or lose that match, he would prove a worthy adversary for Dodson.
2. Joseph Benavidez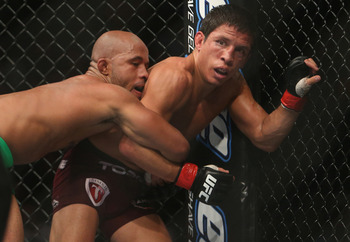 Tom Szczerbowski-USA TODAY Sports
Many considered Joseph Benavidez the favourite to defeat Demetrious Johnson when the pair met at the UFC's flyweight tournament final in at UFC 152 in September. And he came extremely close to doing so.
Over five rounds of back and forth action, Benavidez ultimately conceded a split decision in Johnson's favor, which ended his four-fight winning streak. As mentioned, he is set to face McCall at UFC 156 next week. However, like McCall, win or lose, and as a top three flyweight himself, he too would make a worthy opponent for Dodson.
3. John Moraga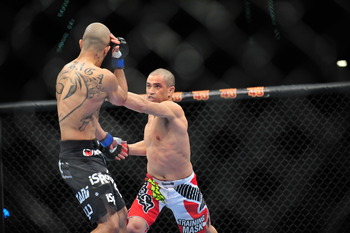 Gary A. Vasquez-USA TODAY Sports
After winning seven straight matches, including two recent back-to-back wins in the UFC, John Moraga has proved himself an elite MMA fighter.
Before dropping to flyweight in the UFC, Moraga had won the Trilogy Championship Fighting bantamweight title as well as the RTC title. However, it's his recent UFC wins against Ulysses Gomez and Chris Cariaso— both finishes—which has earned him the attention of matchmakers.
Moraga is fast becoming a title challenger. A match against Dodson would be extremely lucrative for both men.
4. Darren Uyenoyama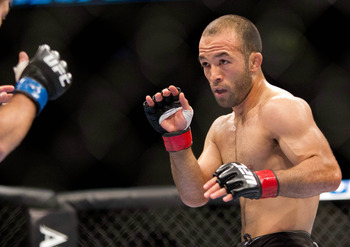 Bruce Kluckhohn-USA TODAY Sports
Darren Uyenoyama is another undefeated flyweight in the UFC. His win against Norifumi Yamamoto at 135 pounds and then against Phil Harris at 125 pounds were impressive, staking Uyenoyama's claim as a top prospect at flyweight.
However, Uyenoyama is still a long way from proving his worth as a title hopeful, and Dodson will certainly be a big step up in competition. But with the paucity of more worthy opponents, Uyenoyama may just fit the bill as the fight for Dodson to take next.
5. Louis Gaudinot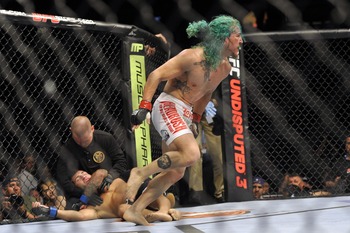 Joe Camporeale-USA TODAY Sports
Louis Gaudinot and John Dodson were cast members during The Ultimate Fighter 14, but the pair never met in the Octagon. While Dodson went on to win the tournament, Gaudinot was taken out in his first fight in the house.
That loss was followed by another loss at bantamweight in his UFC debut against Johnny Bedford, leading to his decision to return to 125 pounds and fight as a flyweight.
That proved a wise decision after Gaudinot won his next fight against John Lineker last May by second-round submission.
That doesn't necessary make him the obvious choice to face a man coming off a title shot. But if you were to pick five men at that weight class who are coming off wins, Gaudinot, with a 6-2 record, would be among those who would be logical next opponents for Dodson.
Keep Reading