Every SEC Team's Most Important Recruit in the 2013 Class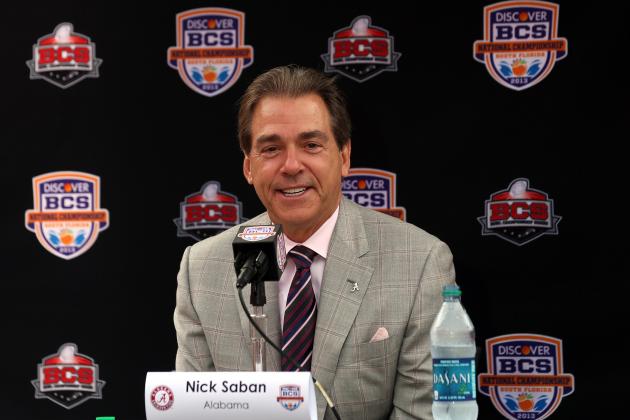 Streeter Lecka/Getty Images

Every elite recruiting class has that one recruit that holds his class together.
In the SEC, most teams have that one playmaker or key position filler that will help each team take the next step toward winning a championship in the future.
Even Alabama, who's looking to win four national championships in five years, has to find playmakers to stay on top. And boy, you better believe that's Nick Saban's bread and butter.
But of all of these great recruits that teams like Alabama, Florida, LSU, Ole Miss and Georgia are collecting, which player is the most important? Here are the most significant commitments for each SEC school.
Begin Slideshow

»
Derrick Henry
Alabama did it again.
How does Saban always manage to grab a high-profile running back each and every season? With the commitment of Derrick Henry, Saban is just showing off.
You see, the Crimson Tide already have running back commits such as Tyren Jones and Altee Tenpenny, but Saban reeled in his ace with Henry.
Henry is a 5-star athlete who's rated as the ninth best player overall on the ESPN 150. First there was Mark Ingram, then there was Trent Richardson, then Eddie Lacy, then T.J. Yeldon—and now Henry should be the next big-time running back for Saban's club. Can you say ground and pound?
Hunter Henry
Arkansas' 2013 recruiting class is far from flashy.
After that horrible season last year, Arkansas fans are dying for something to get excited about. If you're looking for ESPN 300 commits or 5- and 4-star athletes, well, Arkansas isn't going to wow you. Sorry Razorback fans. However, the Hogs do have one player on the ESPN 150 in Hunter Henry.
Henry is a 4-star tight end that played a lot of spread in high school. With Bret Bielema coming to town, he's more likely to play a more traditional tight end in his system.
Henry has the capabilities to do so, and he should be a valuable weapon for Bielema and his offense for years to come.
Carl Lawson
Can they keep him?
Auburn's recruiting class has nearly disintegrated since Gene Chizik was shown the door. However, one key prospect has kept his commitment, and his name is Carl Lawson.
Lawson is an explosive defensive end, who has stayed loyal to Auburn. He's a 5-star prospect that can step in and replace Corey Lemonier right away.
Auburn can still salvage this recruiting class if Lawson remains committed. It's up to Gus Malzahn and his staff to make sure he stays.
Vernon Hargreaves III
Lockdown cornerbacks like Vernon Hargreaves III make defensive minded coaches like Will Muschamp drool.
Why? Well, defensive strategy begins at the cornerback position. If you have a player that can put a wide receiver on an island and take him completely out of the game, it frees up your blitzes.
Considering Hargreaves' 5-star rating and No. 3 ranking on the ESPN 150, he looks to be a future anchor for this Gator defense.
Playing opposite of Loucheiz Purifoy, the Gators are developing quite the impressive secondary, with highly touted safeties Keanu Neal and Marcell Harris joining Hargreaves in the 2013 class.
Brice Ramsey
Aaron Murray is coming back for another year, but who is the quarterback of the future for the Georgia Bulldogs?
Judging off of his clips and reports from the Elite 11 Finals, Brice Ramsey should be the next guy.
With a 4-star rating gained by his raw, natural ability, Ramsey should gain valuable experience learning from Murray in 2013.
Ramsey played in a more run-dominant offense in high school, so sitting as a freshman behind Murray should do wonders for his development.
Za'Darius Smith
Kentucky needs help just about everywhere on the football field.
One key area for concern in 2013 will be the defensive line, and that's where Za'Darius Smith will come into play.
Smith is a junior college transfer that possesses a nice enough body frame for rushing passers and stuffing running backs in the middle. It's allowed him to garner a 4-star rating, which makes him just the third 4-star commit that Kentucky has so far.
With Mark Stoops leading the operation in Kentucky next year, defense will be of key emphasis, and Smith should prove to be a valuable asset.
Greg Gilmore
LSU always has superstars on the defensive line.
You can go back every year and find one or two defensive linemen that have dominated the league. Need a list of names? Alright. How about Chad Lavalais, Marcus Spears, Kyle Williams, Glenn Dorsey, Tyson Jackson, Drake Nevis, Sam Montgomery and Barkevious Mingo, just to name a few?
What about this unit in 2013 though? Without Mingo, Montgomery and Bennie Logan, LSU's defensive line is lacking the stars it normally possesses.
Fret not Tiger fans, Greg Gilmore is on his way. Gilmore is a 4-star defensive tackle with a 6'4", 285-pound frame. His play in high school was just as remarkable as his stature, and he should become LSU's next great defensive lineman.
Cord Sandberg
Recruiting is all about finding the right players to fit into your system.
For Dan Mullen and Mississippi State, Cord Sandberg is a perfect fit at quarterback. Come on, you know Mullen loves those dual-threat players running his offense.
In Sandberg, Mullen will have a quarterback that's capable of launching the deep ball, as well as pulling the ball down and picking up the first down with his feet.
Tyler Russell will still be Mississippi State's quarterback in 2013, but Sandberg should be running the spread option in the foreseeable future.
Josh Augusta
Want to compete in the SEC? Find stout, capable defensive linemen.
You want to be the best? Look like the best. Missouri did just that when the Tigers received a verbal from Josh Augusta.
Augusta is a 4-star defensive lineman that should help give Missouri a more physical look.
In 2012, the Tigers allowed 149.25 yards per game rushing, which was ninth in the conference. For Missouri to compete in the SEC East, the Tigers will have to get more stout up front and losing Sheldon Richardson sure isn't going to help. Augusta was a must-have, and Gary Pinkel came through in the clutch to get him.
Laquon Treadwell
If Robert Nkemdiche chooses Ole Miss (highly likely), then he'll obviously be the biggest pickup for the Ole Miss Rebels.
But until he commits, let's role with another big time recruit Hugh Freeze and his staff landed—Laquon Treadwell.
You want to talk about flashy? Just look at this man's highlight reel above.
Take a good look because you are witnessing the highest rated wide receiver in the country. Treadwell is a 4-star athlete that should only help improve Ole Miss' 31.5 points per game last season.
David Williams
South Carolina fans are absolutely thrilled about receiving a verbal from David Williams, and really, they should be.
Could he be the next Marcus Lattimore? Eh, let's not get ahead of ourselves here. Can he be another great running back for South Carolina? Absolutely.
Williams is a 6'1", 192-pound back who has a recorded a 4.4 in the 40-yard dash. So obviously, the tools are there.
And judging by his highlight reel embedded in the slide, Williams is more than worthy of receiving that 4-star rating. Can he step in and develop into a legend like Lattimore? Those are hard cleats to fill, but Williams has what it takes.
Riley Ferguson
Sadly, the Tyler Bray era has ended in Tennessee.
Time to rebuild under a new quarterback. Who that quarterback will be is an absolute toss-up.
Justin Worley has to have the advantage right now because of the experience factor, but don't count out incoming freshman Riley Ferguson.
Ferguson is a gunslinger, much like Bray was. With his strong delivery, he has 4-stars to his name. Could Ferguson be the quarterback to resurrect this Tennessee program?
Ricky Seals-Jones
Can you say offensive overload?
Most people might point to Jordan Mastrogiovanni or Justin Manning as the most important pickup for Texas A&M's defense, but take a minute and study this pickup at wide receiver.
Ricky Seals-Jones adds a whole different element to this Texas A&M offense. First of all, the Aggies will be looking for wide receivers to replace Ryan Swope and Uzoma Nwachukwu. Easier said than done.
But with a 4-star receiver like Seals-Jones hopping on board, it'll surely take some of slack away from Mike Evans. Expect Seals-Jones, Evans and Johnny Manziel to become the next "Big 3" in SEC football next season.
Jay Woods
Defensive tackle is a need for James Franklin and Vanderbilt.
Though Vanderbilt won a remarkable nine games last season, the Commodores were undersized upfront on the defensive line.
Though Jay Woods isn't a monstrous defensive lineman (6'2", 277 pounds), he's a 4-star commit that has found a home on the ESPN 300 list.
You want to win in the SEC? You have to start with the defensive line, and Franklin is getting a great helping hand in Woods for 2013.