Power Ranking the NFL's Young Quarterbacks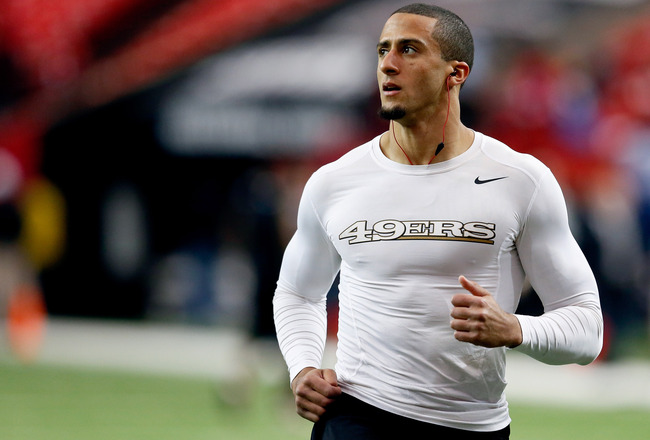 Kevin C. Cox/Getty Images
The quarterbacking youth movement in the NFL was the league's most captivating storyline in 2012, and it will be next season and beyond.
The legendary and forever linked trio of Andrew Luck, Robert Griffin III and Russell Wilson starred as rookies at the game's most critical position, and dual-threat Colin Kaepernick is starting in the Super Bowl.
Former Indianapolis Colts general manager Bill Polian recently appeared with Marc James on CBS Radio's 610 The Fan and had this to say:
I asked Bill Polian where he would draft Cam Newton Today with RGIII, Luck, Wilson, & Kaepernick, he said: "At the Bottom." #Panthers

— MARC JAMES (@marcjames) January 25, 2013
One word: controversy.
Let's rank the youngsters, factoring in their tools, accomplishments and potential.
(Criteria: Must have started a game during the 2012 season. Must be 25 years old or younger. Must have been selected in the 2011 or 2012 NFL draft.)
15. Ryan Lindley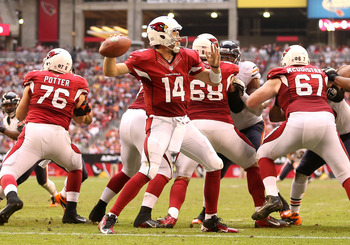 Christian Petersen/Getty Images
Age: 23 (Turns 24 on June 22)
Ryan Lindley has the natural arm strength to succeed in the NFL.
However, he was extremely sporadic and inaccurate in the six games he played during the 2012 season.
The San Diego State alum completed 52 percent of his passes with no touchdowns and seven interceptions.
He doesn't pose a threat as a runner and clearly has major trouble deciphering coverages and making the correct decision when delivering the football down the field.
14. Greg McElroy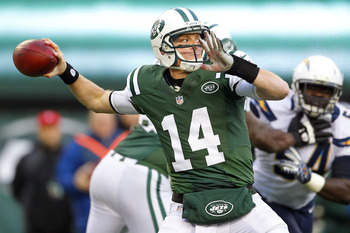 Rich Schultz/Getty Images
Age: 24 (Turns 25 on May 10)
Greg McElroy entered the Week 13 game against the Arizona Cardinals after the Mark Sanchez experiment hit rock bottom, and the cerebral Alabama product led a touchdown drive en route to a dull 7-6 win.
He went 14-of-24 for 185 yards with a pick in a loss to the San Diego Chargers the following week and didn't throw a pass for the remainder of the season.
McElroy is limited physically, as his Chad Pennington-esque arm doesn't allow him to make tight-window throws or really push the ball downfield.
He is a low-end game manager and doesn't necessarily boast a ton of upside.
13. Blaine Gabbert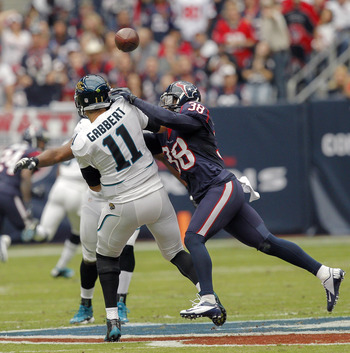 Bob Levey/Getty Images
Age: 23 (Turns 24 on October 19)
Blaine Gabbert is only 23 years old, but he has had a nightmarish beginning to his NFL career. He may have the worst confidence of any quarterback on this list, and it leads to frequent indecision, interceptions and sacks.
He hasn't been able to stay healthy either.
The former Missouri standout has a relatively quick release and an above-average arm, but until he shows assertiveness in the pocket, better overall poise and improved accuracy (53.8 career completion percentage), there's no reason to envision Gabbert as one of the more viable quarterbacks in the league.
The talent around him hasn't benefited him at all.
12. Terrelle Pryor
Harry How/Getty Images
Age: 23 (Turns 24 on June 20)
Terrelle Pryor, the Oakland Raiders' supplemental draft pick in 2011, got his first NFL start in the 2012 regular-season finale.
The polarizing Ohio State standout completed 13 of 28 passes for 150 yards with two touchdowns and an interception.
He also added nine carries for 49 yards with a score in the team's 24-21 loss to the Chargers.
The 23-year-old must continue to refine his delivery and subsequent accuracy, but his athleticism cannot be questioned and at 6'4'' and 233 pounds. He's a deceptively fast long-strider who, theoretically, could work wonders in an offense that features the read-option.
Pryor is undoubtedly a work in progress; however, his ceiling is exceptionally high.
11. Christian Ponder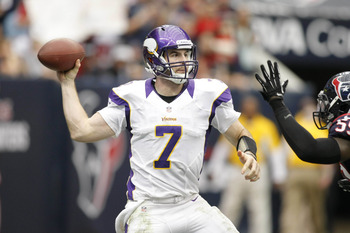 USA TODAY Sports
Age: 24 (Turns 25 on February 25)
Christian Ponder flashed moments of surprising potential during his first full season as the starter for the Minnesota Vikings.
But after a 352-yard, two-touchdown, two-interception performance in a loss against the Washington Redskins, the Florida State product had immense difficulty with week-to-week consistency, especially in the accuracy department.
Everything about him is solid, but nothing is special.
He has a traditional, relatively quick release and has demonstrated desired arm strength on long sideline throws and deep balls down the middle of the field.
But Ponder's awareness in the pocket is worrisome, as he rarely stays calm when pressure mounts.
His seemingly shaken confidence has resulted in many late and off-target passes.
His perpetual aid will be Adrian Peterson's presence, but 2013 is a make-or-break season for Ponder —defenses will give him every opportunity to beat them.
10. Nick Foles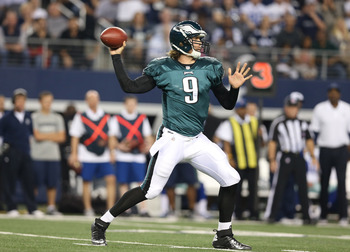 Matthew Emmons-USA TODAY Sports
Age: 24 (Turns 25 on January 20, 2014)
When considering the circumstances, Nick Foles performed admirably in his rookie campaign.
He was thrown into the starting lineup late in the year behind a dreadful offensive line on a team that underwhelmed so significantly many questioned some players' overall desire.
The 6'6'', former Arizona signal-caller completed about 61 percent of his passes and gave us a glimpse of what he's capable of on more than a few occasions.
While he'll never be anything more than a pure pocket passer, he is not hindered whatsoever by his arm strength and is a rhythm thrower when it comes to accuracy.
One major deterrent, though—he's not a read-option quarterback, so there's a chance his development will be impeded by Chip Kelly's system.
In terms of sheer talent and ability to play under center in the NFL, this is where Foles belongs on this list.
9. Kirk Cousins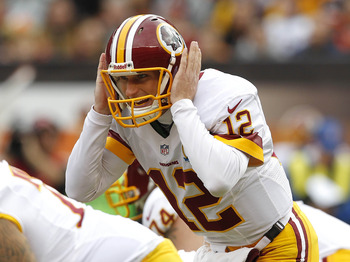 Ron Schwane-USA TODAY Sports
Age: 24 (Turns 25 on August 19)
After spelling Robert Griffin III in 2012 on a few occasions, Kirk Cousins certainly showed his upside.
Although not the biggest quarterback, the former Michigan State captain has a good but not great arm, can make quick decisions under fire and is usually accurate.
He has plenty to learn about playing quarterback in the NFL before he would be able to hold down a starting job for an entire season, but the mental capacity is there.
Cousins' smarts outweigh his physical assets, and he certainly doesn't lack confidence like some young quarterbacks do.
With more seasoning, Washington's backup could be a slightly above-average game manager for another club.
8. Andy Dalton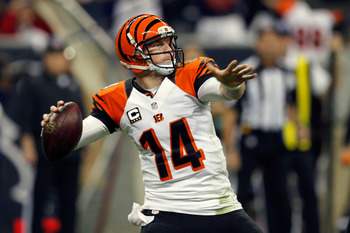 Bob Levey/Getty Images
Age: 25 (Turns 26 on October 29)
Andy Dalton is one of the more enigmatic young quarterbacks in the NFL.
His team has advanced to the playoffs in each of his first two seasons. He has had stretches of top five quarterback statistics, borderline bust statistics and plenty of average statistics.
In 2012, he threw with more assertiveness, especially early in the season, dispelling some arm strength doubts.
As the season progressed and defenses had film to study, the TCU product regressed toward the mean, throwing four touchdowns and five interceptions in the Cincinnati Bengals' last five games.
Dalton appears to be a one-read signal-caller who can get lured into bad decisions by the defense.
His arm strength isn't as poor, but he won't drop jaws with many throws.
The same goes for his accuracy.
With A.J. Green on the outside, Dalton, luckily, has one of the most dangerous safety valves in football.
7. Jake Locker
Frederick Breedon/Getty Images
Age: 24 (Turns 25 on June 15)
Jake Locker's natural quarterback tools have outweighed his production in his youthful NFL career. The 6'3'', 234-pound signal-caller from Washington has battled injuries and general imprecision on his passes in the first 16 games in which he has played.
As the unquestioned starter to begin the 2012 season, Locker played in 11 games, completing a shade above 56 percent of his passes with 10 touchdowns and 11 interceptions.
He is a gifted athlete, and the Tennessee Titans coaching staff knows it, often calling designed bootlegs for the rugged runner.
Locker possesses a rocket arm, which needs to be reined in on some occasions—it leads to lasers often being sent high over intended receivers.
With more dedication in the accuracy department, Locker can become a dual-threat quarterback in the near future.
6. Ryan Tannehill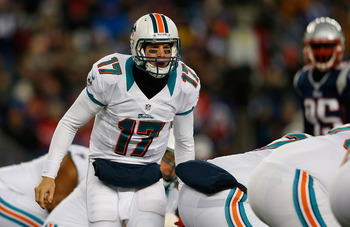 Jim Rogash/Getty Images
Age: 24 (Turns 25 on July 25)
Ryan Tannehill was helped in his rookie campaign by playing in the same offense he operated under Mike Sherman at Texas A&M with the Miami Dolphins.
As a former wide receiver, the athleticism is there, but Tannehill won't run away from defenders in the open field.
He drifts away from pressure in the pocket, keeps his eyes down the field and stays relatively poised for a youngster.
The 6'4'', 222-pound signal-caller has a conventional release that's quick and delivers the ball accurately—Tannehill completed more than 58 percent of his passes with a far-from-intimidating pass-catching contingent in 2012.
With better receivers, his completion percentage would be much higher.
Tannehill can make every throw needed and has plenty of room to grow.
5. Russell Wilson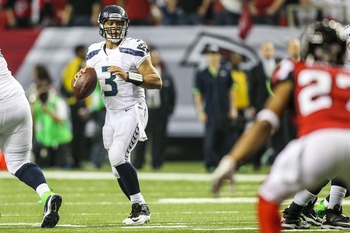 Daniel Shirey-USA TODAY Sports
Age: 24 (Turns 25 on November 29)
Russell Wilson had a prolific rookie season, finishing with a 100 QB rating with 30 total touchdowns and only 10 interceptions.
He is composed well beyond his years, is a master improviser and is as tough as they come.
His over-the-top delivery yields a tight spiral that's typically on target, and his downfield touch is spectacular.
While Wilson can make plays with his feet, he doesn't possess breakaway speed and must avoid linebackers and defensive linemen in the open field if he wants to limit the chances of injury.
In any other time period, this former N.C. State and Wisconsin star would be the best young quarterback in the league.
Honestly, his height doesn't hurt him at all.
4. Colin Kaepernick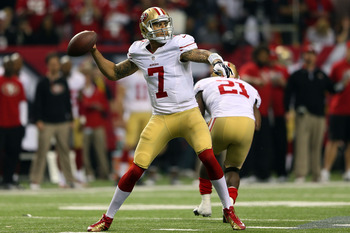 Mike Ehrmann/Getty Images
Age: 25 (Turns 26 on November 3)
The sample size to evaluate Colin Kaepernick is particularly small, and it plays into his current ranking.
Some have categorized zone-read quarterbacks as "gimmicky," but the San Francisco 49ers' signal-caller is special because, outside of his tremendous running capabilities, he has displayed pinpoint accuracy from the pocket, which is the most vital quarterback attribute.
While he may not be totally proficient when it comes to reading different coverages, that skill should come as he learns under Jim Harbaugh.
The former Nevada star has demonstrated mature decision-making and has made plenty of high velocity throws into tight coverage.
His release is a bit quirky, but it doesn't matter.
While Russell Wilson is better at evading the rush and making a throw down the field, Kaepernick has elite speed and is a threat to score on any of his designed runs.
Playing behind San Fran's punishing offensive line, Kaepernick has a legitimate chance to revolutionize the quarterback position.
3. Robert Griffin III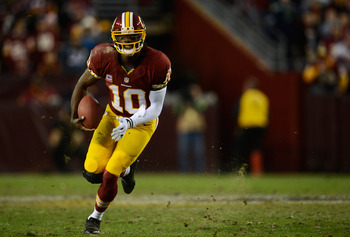 Patrick McDermott/Getty Images
Age: 22 (Turns 23 on February 12)
First and foremost, Robert Griffin III is a stunning pocket passer.
He has one of the strongest arms in football, but his steady accuracy is probably even more impressive. Like Kaepernick, RG3 is remarkably dangerous running the read-option, as he's typically faster than everyone else on the field.
But a major knee injury could hamper future achievement for his world-class athlete and quarterback.
He must be smart when running with the football—finding the sidelines on every carry wouldn't be a bad idea.
There really isn't anything Griffin III can't do as an NFL quarterback.
2. Cam Newton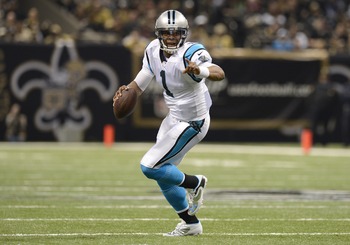 USA TODAY Sports
Age: 23 (Turns 24 on May 11)
Cam Newton is the absolute epitome of the new-age NFL quarterback.
While he wasn't instantly successful like some of the signal-callers in the 2012 class, everything is there for the Carolina Panthers quarterback to transcend sport's most revered position.
The Heisman Trophy winner has no wasted motion in his speedy delivery and has a cannon arm. He hasn't been especially accurate, but much of that has been due to coachable footwork issues.
He's 6'5'' and nearly 250 pounds with elite speed and wiggle, but he can be a bulldozing downhill runner on 3rd-and-short situations or at the goal line.
Newton is not immune to injuries due to his imposing size, but he often lowers the boom when he meets a defender in the open field—he has much more staying power as a runner than anyone else on the list.
Like Kaepernick and RG3, this former Auburn star is a threat to score on the ground on every play.
He has been relatively productive as an individual to begin his career on a rebuilding team, yet is still bursting with upside.
1. Andrew Luck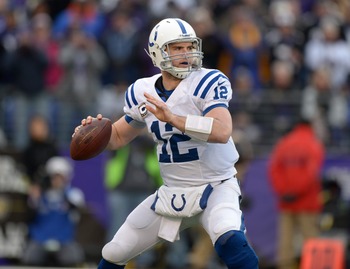 USA TODAY Sports
Age: 23 (Turns 24 on September 12)
Andrew Luck is the best young quarterback in the NFL.
Why?
Frankly, he has it all.
He is a brilliant decision-maker and understands how opposing defenses try to stop him and can quickly decide and enact the perfect counter.
His arm strength is ideal, and he is just as accurate on deep balls as he is on short drag routes and screens.
The 6'4'', 234-pound Stanford product exudes leadership, controls a huddle and isn't limited as an athlete when he must move out of the pocket to pick up yards with his feet.
While he doesn't have a future as a read-option signal-caller, he has all the necessary attributes to be an unquestionably elite quarterback as early as 2013.
Keep Reading