2013 NFL Mock Draft: Updated Projections for All 32 First-Round Picks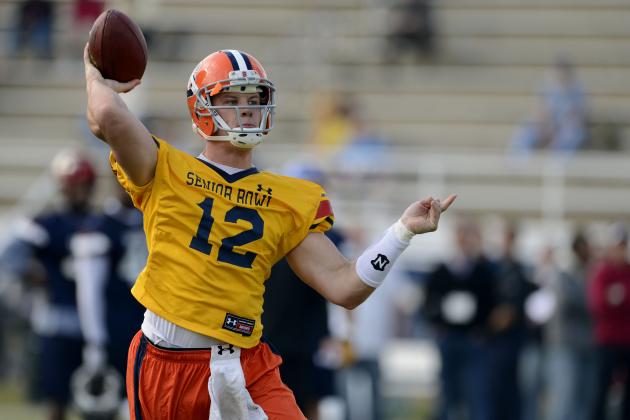 USA TODAY Sports

The first big step in the pre-draft process concluded this week at the Senior Bowl in Mobile, Alabama.
Both strong and below-average performances in front of NFL scouts and decision-makers will alter draft boards, making it necessary to update our 2013 NFL mock draft.
In the following slides, we'll project our updated first-round mock draft.
Note: Final two picks determined by record, not Super Bowl prediction.
Begin Slideshow

»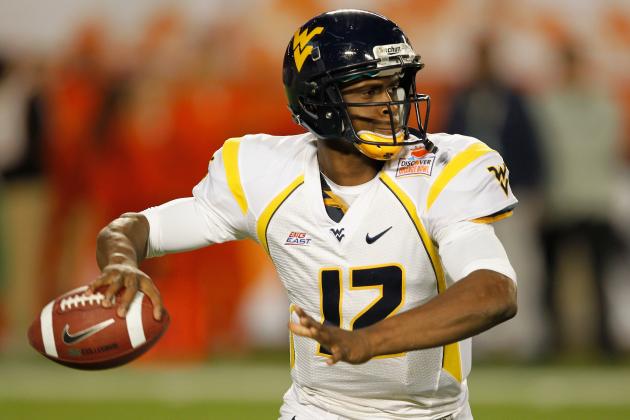 Streeter Lecka/Getty Images

Geno Smith may not be the best player in this class, and a majority of mock drafts have shifted Texas A&M left tackle Luke Joeckel into the No. 1 slot.
However, teams without a quarterback in the NFL have a ceiling for their winning potential. The Chiefs are currently one of those teams fighting that ceiling.
It's also worth noting that over 14 drafts with the Eagles, Andy Reid didn't draft an offensive tackle in the first round once. Getting the quarterback is still the priority here.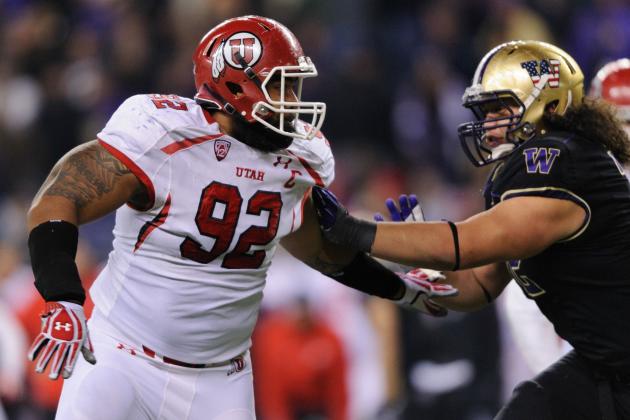 Steven Bisig-USA TODAY Sports

The Jaguars traded for Jason Babin late in 2012, and Jeremy Mincey is just one year off an eight-sack season, so defensive end isn't a glaring, must-address need.
In fact, defensive tackle might be the better value, especially with a guy like Star Lotulelei on the board. The former Utah anchor can help collapse the pocket from the inside while also helping out a run defense that finished 30th in the NFL last season.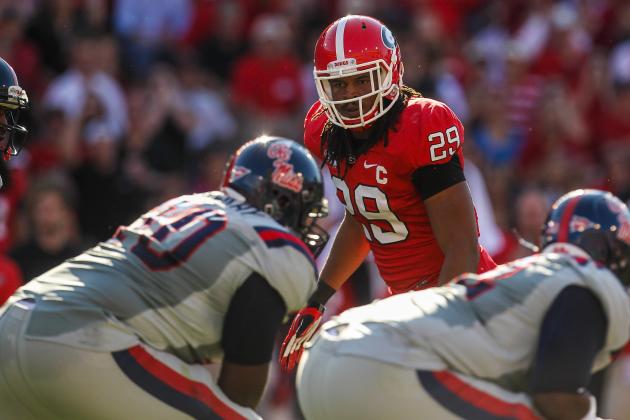 Daniel Shirey-USA TODAY Sports

Chances remain high that the Raiders use one of their first three picks on a quarterback, but maybe not their No. 3 overall pick.
Instead of a establishing a much-needed future beyond Carson Palmer, Raiders general manager Reggie McKenzie drafts the kind of impact pass-rusher that can change a defense. As long as his spinal stenosis checks out, Jarvis Jones should be a top-10 pick.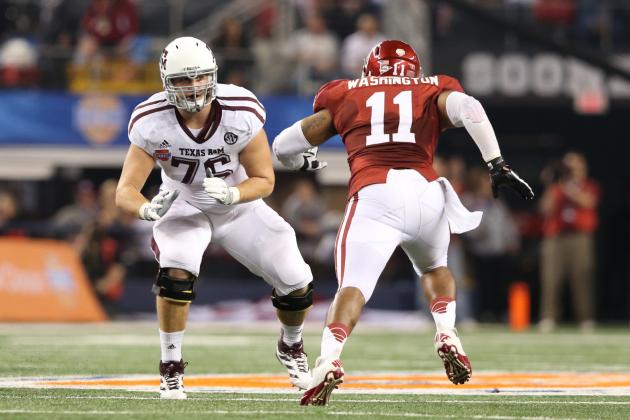 USA TODAY Sports

While a left tackle isn't exactly the "wow" pick for Chip Kelly's Eagles, taking Luke Joeckel at No. 4 is undoubtedly a best-case scenario.
Not only is Joeckel potentially the top player in this class, he also fills a big need in Philadelphia and is the kind of athletic left tackle that will thrive in Kelly's high-tempo offense. If Joeckel is still there, he's a perfect fit.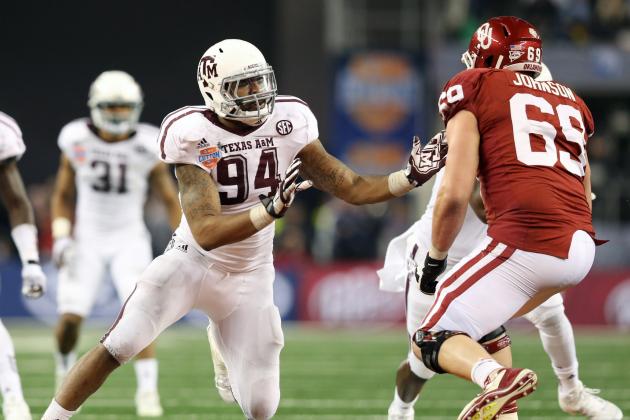 USA TODAY Sports

The temptation here is to give the Lions a cornerback, notably Alabama's Dee Milliner. In theory, such a pick makes a lot of sense; Detroit has playmakers along the defensive line, while the cornerback position has remained mostly a mess.
But the Lions have shied away from cornerback in the first round, and defensive end might not continue to be a deep position if veteran Kyle Vanden Bosch is released or Cliff Avril or Lawrence Jackson walk in free agency.
Drafting Damontre Moore, a terror in the SEC last season against both the pass and run, gives the Lions a strong future at defensive end.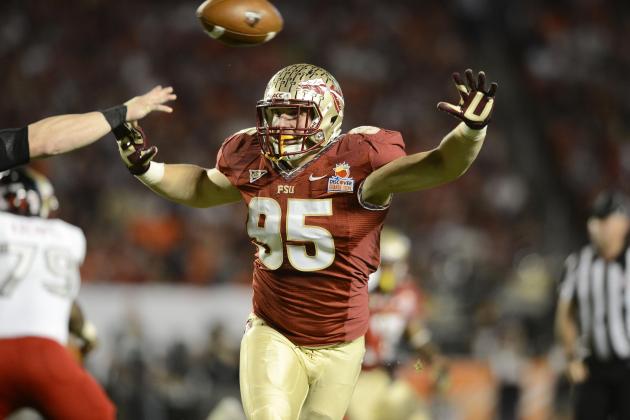 Ron Chenoy-USA TODAY Sports

In this scenario—where Detroit takes Moore at No. 5—the Browns become big winners. While Moore would have been an easy choice at No. 6, so is Bjoern Werner.
Possessing top-five potential, Werner can likely make an impact in both the 4-3 and 3-4 fronts, giving new defensive coordinator Ray Horton versatility in the ways he can attack opposing quarterbacks. He's a no-brainer pick for a defense that is making all the right decisions.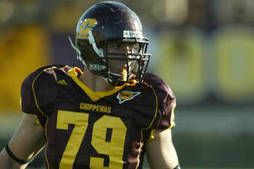 Eric Fisher's showing at the Senior Bowl should ensure that he's the second offensive tackle off the board come April.
The trick here is finding a spot. While the Chargers are a dream fit for Fisher at No. 11 overall, the Cardinals need more help on the offensive line than any team in football. With a franchise left tackle on board, Arizona can then shift its focus to getting a quarterback in the second round.
Depending on who you talked to, Ryan Nassib either helped or hurt his draft stock during Senior Bowl week. However, we're keeping him at No. 8, despite some talk that Buffalo might not like the Syracuse quarterback as much as some think.
Joe Buscaglia of WGR 550 in Buffalo reported Friday that the Bills aren't as high on Nassib as "most presume." Maybe that's true, or maybe it's a smokescreen for real interest. Draft season is packed to the brim with stuff like this.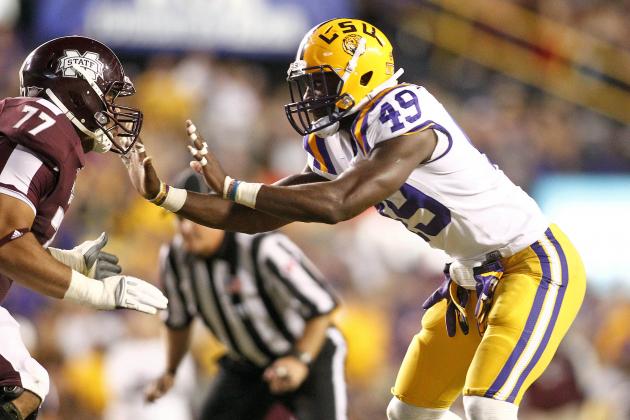 Crystal Logiudice-USA TODAY Sports

Rex Ryan won't last another season in New York with Calvin Pace, Bryan Thomas and Garrett McIntyre occupying the all-important pass-rushing roles in the 3-4 defense.
The Jets offense was obviously a mess in 2012, but the first-round pick should focus on fixing the pass rush. Adding Barkevious Mingo, a long, explosive edge rusher, gives Ryan the piece he so desperately needs to attack quarterbacks.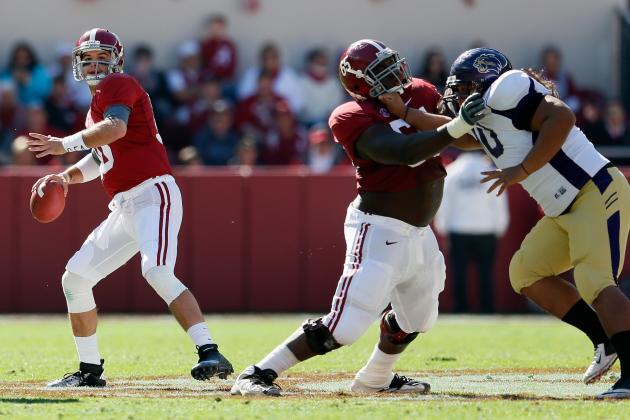 Kevin C. Cox/Getty Images

Rarely do guards land in the top 10, but Warmack is a rare guard prospect.
The Titans, in need of a mauler on the interior of their offensive line, can get better in two ways by taking the top guard in this class.
Not only will Chance Warmack's elite ability carving out running lanes inside help running back Chris Johnson, but his big body can contend with the interior pass-rushers in the AFC South. Warmack vs. J.J. Watt in Houston and Lotulelei in Jacksonville would be fun to watch for the next 10 years.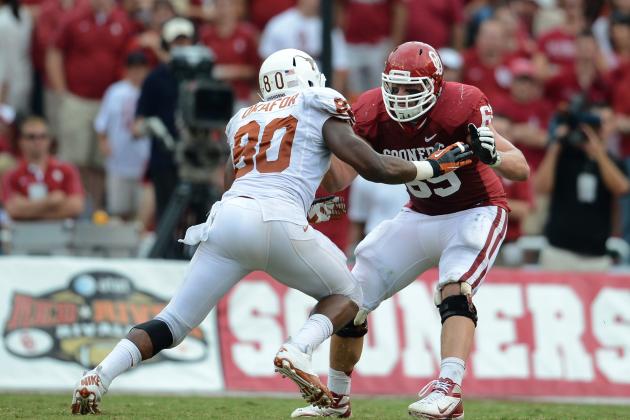 Matthew Emmons-USA TODAY Sports

The Chargers have to be feeling less and less confident that Central Michigan's Eric Fisher will get to the No. 11 pick. However, that shouldn't alter their focus on offensive tackle.
Johnson also had a strong showing in Mobile, which likely solidified his spot in the first round. Most mock drafts don't have Johnson going as high as No. 11, but the Chargers can't afford to skip over the offensive line early this April.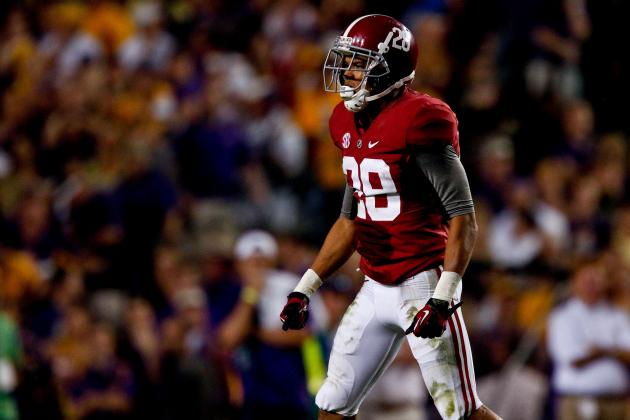 Derick E. Hingle-USA TODAY Sports

Dee Milliner is the consensus top cornerback in the class, and most mock drafts will have him in the top 10.
But without a strong value and need fit outside Detroit, Milliner has a chance to get to the Dolphins at No. 12 overall. If Miami can find a No. 1 receiver during free agency (Greg Jennings, Dwayne Bowe?), taking Milliner as a value pick here makes a lot of sense.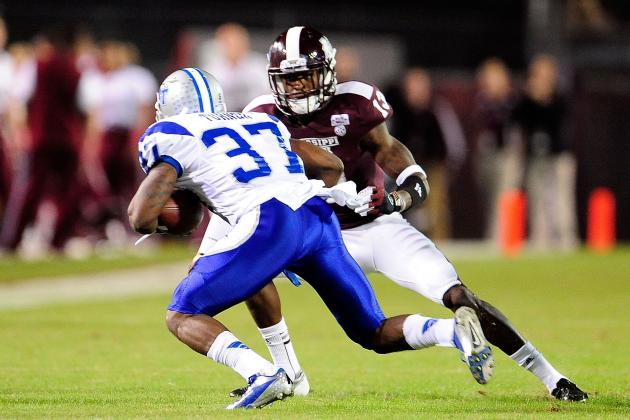 Stacy Revere/Getty Images

With Milliner falling, the Bucs might be a team that could move up and grab the Alabama cornerback. However, we're not going to predict trades this early in the draft process.
What we do know now is that the Buccaneers have a glaring need at cornerback, and Jonathan Banks might be the second-best at the position in this class. While somewhat of a reach, Banks is a first-round talent who is ready to contribute right away.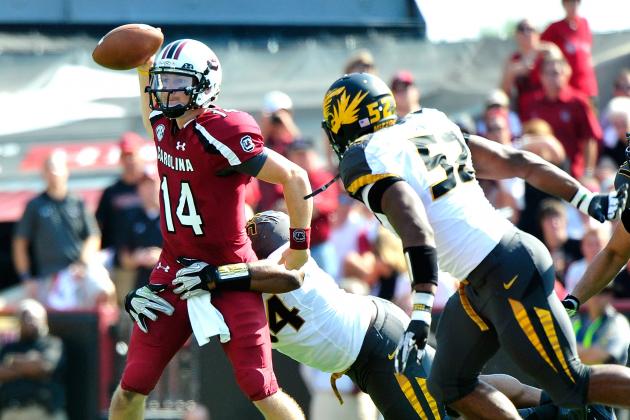 Grant Halverson/Getty Images

The Panthers seem to be in favorable position in this draft. Possessing a big need on the interior of the defensive line, Carolina can be confident that a number of first-round-quality defensive tackles will be available at No. 14 overall.
By the time April rolls around, don't be surprised if Sheldon Richardson is the second-best player at his position. He made a bunch of big plays against both the pass and the run while playing in the SEC this past season.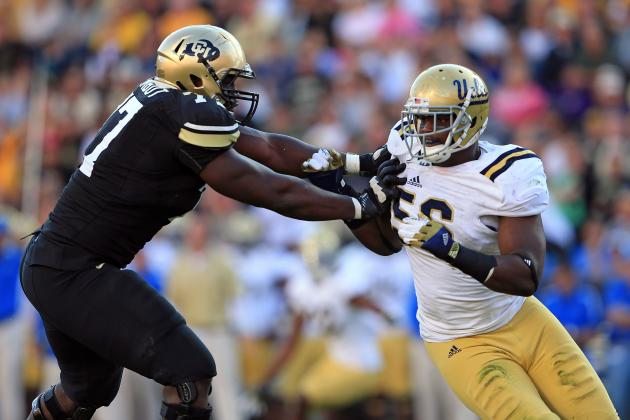 Doug Pensinger/Getty Images

Thanks to a big performance in Mobile, Datone Jones is likely one of the few players who has vaulted his draft stock into the first round.
While Dion Jordan of Oregon is also a great fit here for New Orleans, Jones is the kind of scheme-versatile disrupter that the Saints need to turn around one of the worst defenses in NFL history. Whether New Orleans employs the 3-4 or 4-3 front in 2013, Jones can contribute.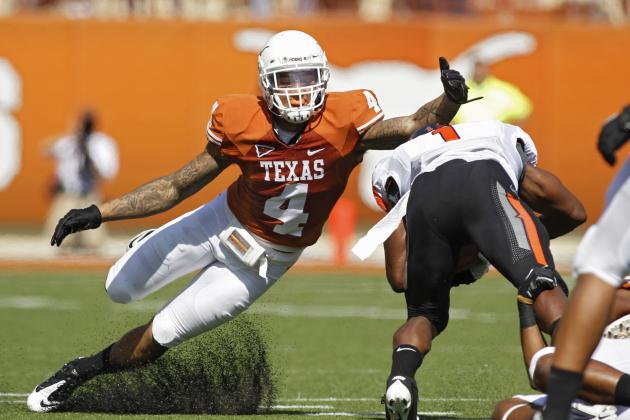 Erich Schlegel/Getty Images

The St. Louis Rams are quietly building one of the NFL's best young defenses. There are playmakers at every level, and the defensive line is a top-three unit.
But one area of concern still remains at safety—a position the Rams can address with one of their two first-round picks.
Adding Kenny Vaccaro, arguably the best safety in the 2013 class, takes Craig Dahl from the starting lineup and brings St. Louis one step closer to elite status on the defensive side of the football.
The Pittsburgh Steelers landing Dion Jordan represents a perfect meeting of value and need.
A long, athletic edge defender, Jordan is probably best suited to play in a 3-4 front. A torn labrum last season is likely the only thing keeping him out of the top 15.
Pittsburgh won't mind. With James Harrison potentially on his way out, the Steelers need a young, explosive player at outside linebacker. Jordan can be that guy for defensive coordinator Dick LeBeau.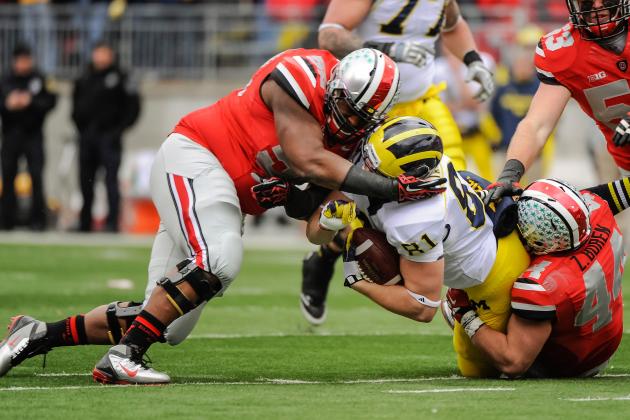 Jamie Sabau/Getty Images

The Cowboys are likely shifting to a 4-3 front under new defensive coordinator Monte Kiffin, but the personnel along the defensive line doesn't currently add up.
While the linebackers should be fine, there's no bulk in the interior of the front four. Enter Johnathan Hankins, a massive defensive tackle who is quick enough to penetrate gaps. He's a strong fit for a big need in Dallas.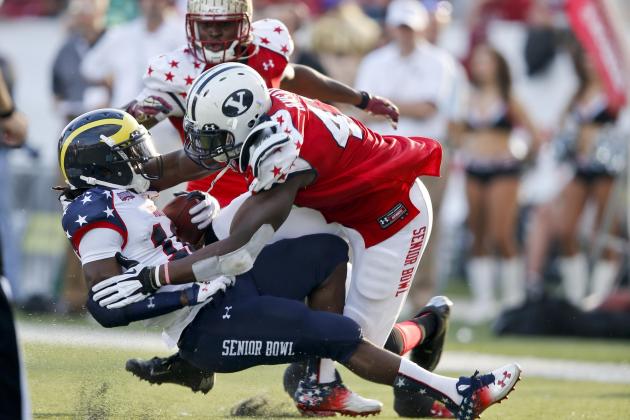 Derick E. Hingle-USA TODAY Sports

The fits for both Manti Te'o and Tyler Eifert work here for the Giants, but it's difficult to imagine New York passing on the opportunity to groom another elite defensive end like Ezekiel Ansah.
At 270 pounds, Ansah is a raw but explosive edge rusher who likely needs to play in a 4-3 front. The Giants have plenty of experience in turning raw skills into elite production at the defensive end position.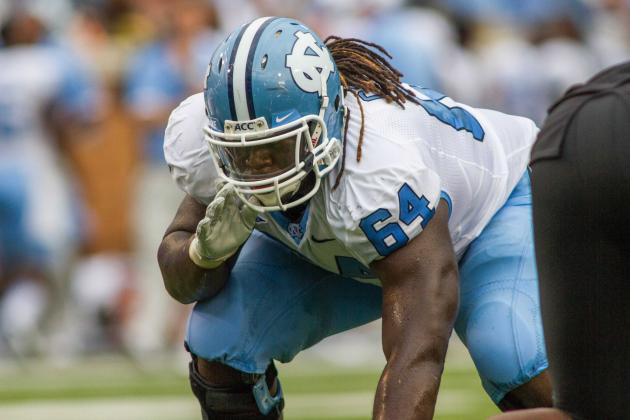 Jeremy Brevard-USA TODAY Sports

New head coach Marc Trestman plans to go to work on quarterback Jay Cutler, but his project might not go anywhere unless the Bears get better along the offensive line.
Offensive tackle is probably the biggest need, but no player at that position matches the value of Jonathan Cooper. The Bears might be better off attacking the need at offensive tackle during free agency and then grabbing a mauler like Cooper to solidify the inside.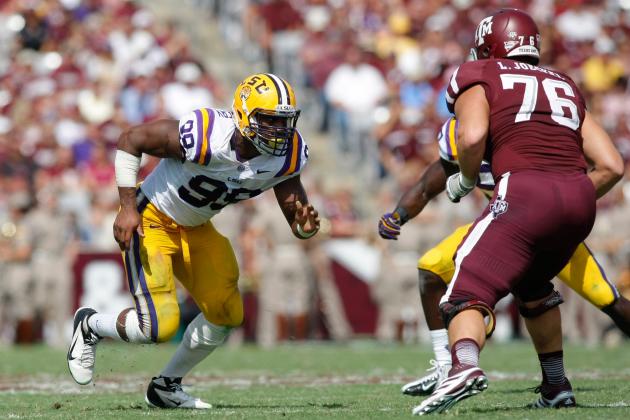 Brett Davis-USA TODAY Sports

The Cincinnati Bengals are one of the few NFL teams that understand the depth needed along the defensive line.
While Cincinnati possesses one of the most dominant inside players in Geno Atkins, the defensive end position could lose valuable depth if Michael Johnson leaves in free agency.
However, the Bengals could get a better long-term player by taking Sam Montgomery, a big (6'5") and productive (18.5 career sacks) defensive end.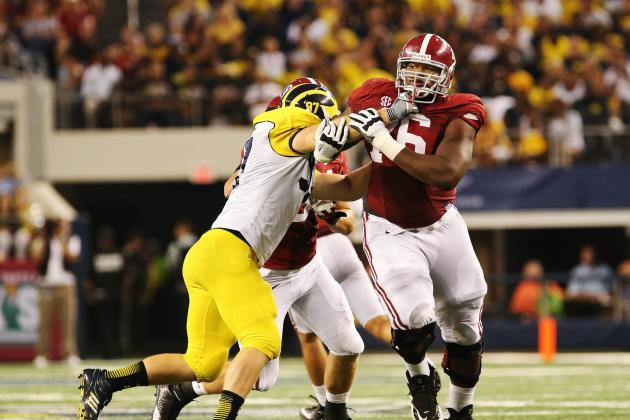 Kevin Jairaj-USA TODAY Sports

Some might focus on receiver for the Rams' second first-round pick, but there's too many good players at that position that can be found in the second round to reach on one here.
Instead, the Rams continue an impressive first-round haul by taking D.J. Fluker, a massive tackle who compares well to Phil Loadholt of the Minnesota Vikings. He could really vault up boards during the rest of the pre-draft process.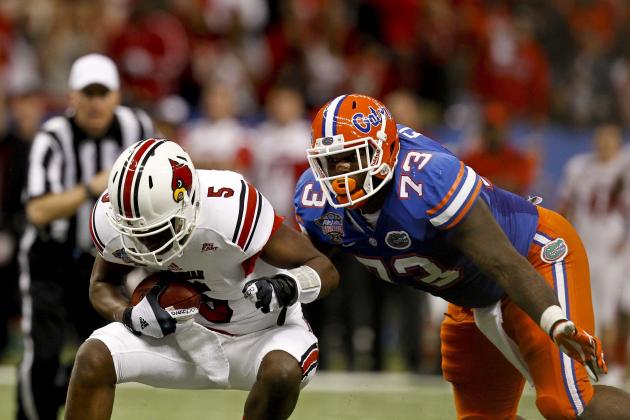 USA Today Sports

I'm not sold on Minnesota taking a receiver with its first-round pick. With so many second-round receivers likely to be available, the Vikings can focus on getting an impact player for the middle of their defensive line.
Sharrif Floyd, who has experience playing both defensive tackle and end, is a handful because of his combination of power and quickness. He'd fit in nicely in Minnesota, possibly as the successor to Kevin Williams.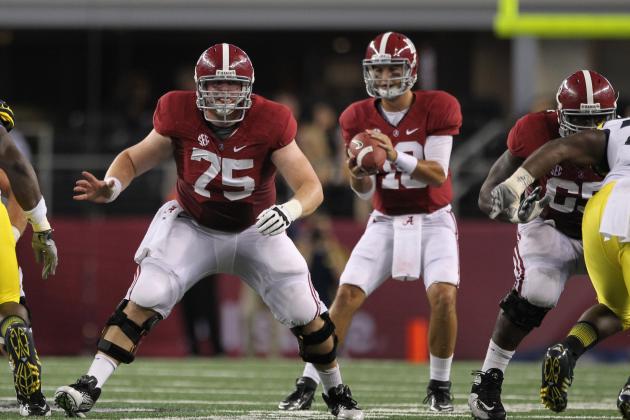 Matthew Emmons-USA TODAY Sports

The Indianapolis Colts must get better along the offensive line, especially after watching their franchise investment repeatedly absorb too many hits during his rookie season. Andrew Luck is big, tough and athletic, but he won't progress as he should without better protection up front.
Barrett Jones might not be a first-round talent at any one position, but he can be an effective NFL starter at any of the five positions along the offensive line. That kind of versatility will be a valuable asset for the Colts in keeping Luck upright.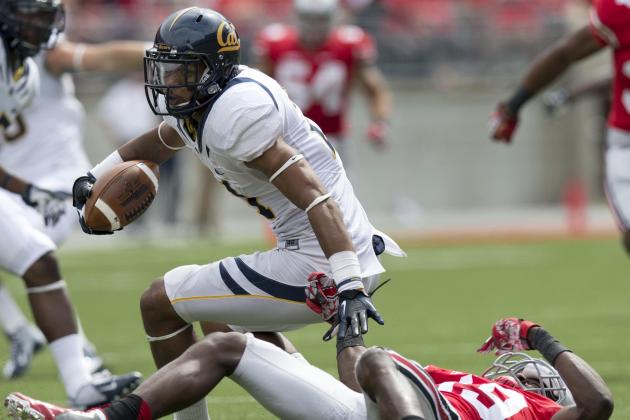 Greg Bartram-USA TODAY Sports

What do you give a young, rising quarterback who already has a strong running game and elite defense? What about a potentially elite receiver? You won't hear many complaints from Russell Wilson if Keenan Allen is the pick here.
At 6'3" and 210 pounds, Allen has the body type most NFL teams want in a No. 1 receiver. He also possesses strong hands and deceptive speed. With such a balanced offense in Seattle, Allen could thrive.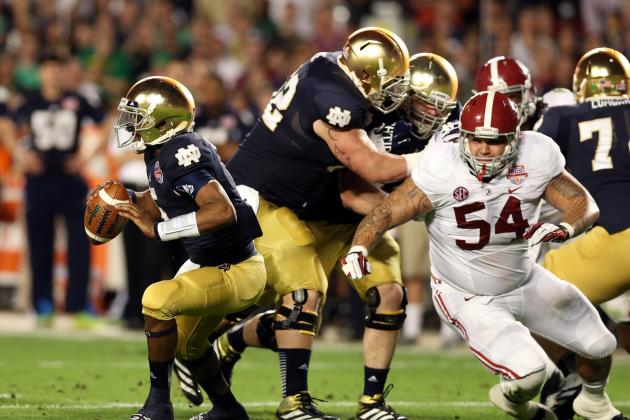 Matthew Emmons-USA TODAY Sports

While no general manager should overreact to one loss, the Packers' dismantling during the NFC Divisional Round likely opened some eyes.
Green Bay simply wasn't good enough in the trenches on either side of the football, but especially on defense. The Packers have to find a guy who can anchor at the point of attack and still rush the quarterback in the base 3-4 defense. Jesse Williams is the closest to that mold they can find at No. 26 overall.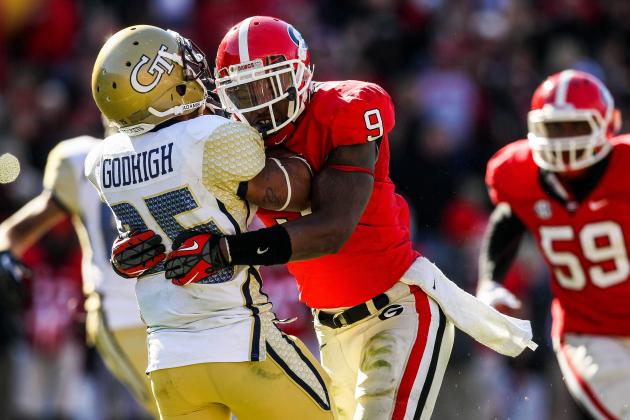 Daniel Shirey-USA TODAY Sports

The Texans have been frequently tied to a number of receivers at this pick, but I like the fit of an inside linebacker like Alec Ogletree better.
While somewhat undersized at 235 pounds, Ogletree is a sideline-to-sideline playmaker who used to be a safety. The Texans could use that kind of range in their front seven. With a little more bulk on his frame, he could become a top inside linebacker.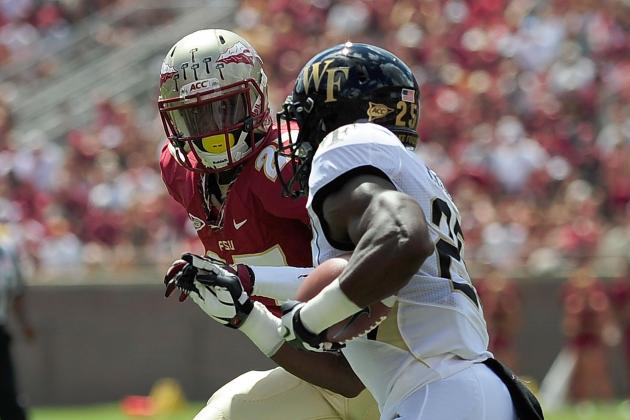 Stacy Revere/Getty Images

While Peyton Manning and the offense aren't without blame for Denver's playoff bowout, the secondary of the Broncos is where an upgrade is needed most for the 2013 season. Anytime you score 35 points at home, you'd expect to advance in the postseason.
Adding Xavier Rhodes would give Denver a long, physical cornerback who has starting ability right away. Later on, the Broncos could expect Rhodes to take over for Champ Bailey as the No. 1 cover man.
Cordarrelle Patterson falling to the No. 29 pick is a scary proposition for defenses in the AFC.
Considered by many to be the top receiver in this class, Patterson is a big target (6'3") who is also much quicker than his body type would suggest.
Placing a vertical threat like Patterson opposite Brandon Lloyd—while also re-signing the NFL's best slot man, Wes Welker—gives the Patriots the kind of dominant receiving trio needed to get back to the Super Bowl.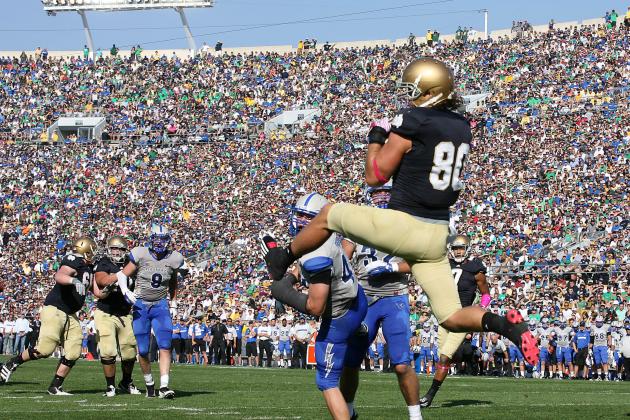 Brian Spurlock-USA TODAY Sports

Unless Tony Gonzalez pulls a Brett Favre and decides to comeback in 2013, the Falcons are likely to have a gaping hole at tight end next season.
In four seasons in Atlanta, Gonzalez caught 326 passes for 3,328 yards and 27 touchdowns. Drafting Tyler Eifert—considered the best tight end in the class—would help replace some of the production the Falcons have depended on the past handful of seasons from the tight end position.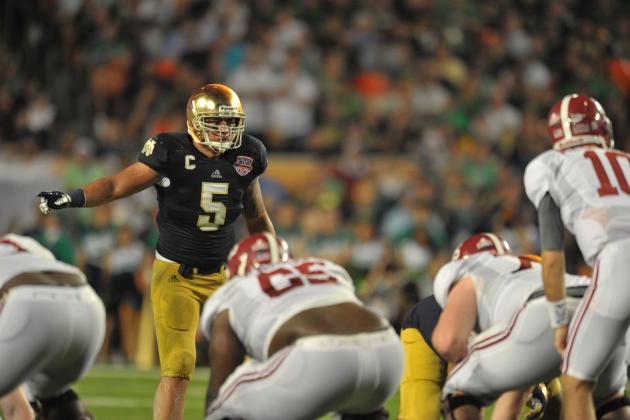 Matt Cashore-USA TODAY Sports

The longer the Manti Te'o story drags on, the further you'd have to assume the stock of the inside linebacker will fall in the first round. A poor performance in the national championship game did Te'o no favors, either.
However, it's still difficult to envision him dropping completely out of the first round. Waiting at No. 31 in this scenario is the Ravens (remember, picks were slotted based on record, not a Super Bowl prediction), who are about to lose their stalwart at middle linebacker. Te'o could be a natural replacement for Ray Lewis inside.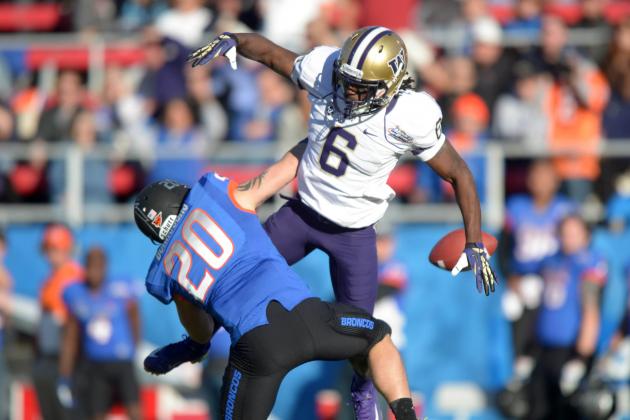 USA TODAY Sports

A strong week at the Senior Bowl has likely propelled Desmond Trufant's draft stock near the first round.
While not a long defender (5'11"), Trufant is a smooth cornerback who displays an ability to play tight near the line of scrimmage and anticipate route concepts.
The 49ers aren't hurting at cornerback, but Carlos Rogers isn't getting any younger. Adding a young, impressive player like Trufant will ensure the 49ers defense remains dominant.