Anthony Pettis vs. the Lightweight Division: Head-to-Toe Breakdown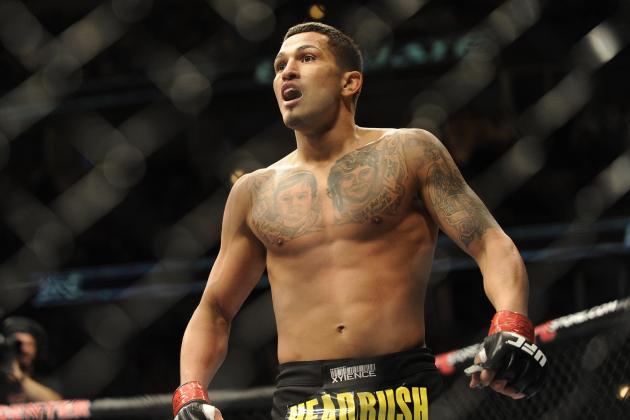 David Banks-USA TODAY Sports

After his last two outings in the UFC, Anthony Pettis has finally secured a long-overdue title shot against the winner of Benson Henderson vs. Gilbert Melendez.
The lightweight division is perhaps the deepest division in the sport; a place where speed and power are on equal display among so many talented and aggressive fighters that on any given night, a battle between anyone in the top 10 can make for a Fight of the Year.
It's hard to believe that in such a deep division, a single fighter can make short work of two men like Joe Lauzon and Donald Cerrone, but that is exactly what Pettis has done, in shocking and exciting fashion.
Pettis looks to be one of the most explosive and dynamic fighters currently driving down I-155, and now he's headed straight for the title.
While it's too soon to crown Pettis as the UFC Lightweight champion just yet, we can still ponder how he would fare against the rest of the division because in the end, getting the title is one thing, and defending it is another…
Begin Slideshow

»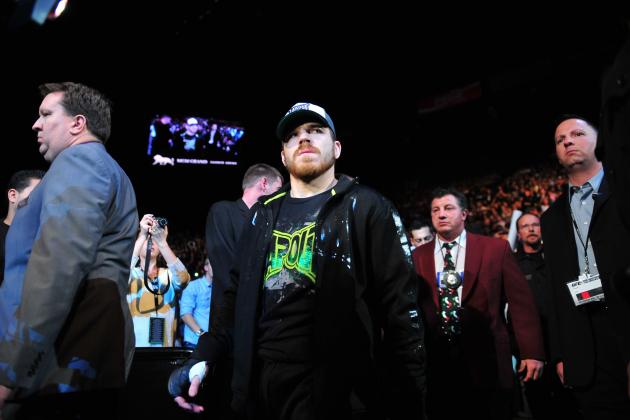 Gary A. Vasquez-USA TODAY Sports

As dogged as they come, Jim Miller is one of those fighters who seems able to defeat just about anyone on any given night, via sheer force of will alone, but against Anthony Pettis, his reach would exceed his grasp.
Given how mobile Pettis can be, it seems highly improbably that he'd allow Miller to keep him pressed against the cage, especially since he's got the timing and mastery of distance to keep Miller on the end of his punches all night long.
Miller would no doubt snatch a takedown or two, but it wouldn't be enough to keep Pettis from earning a unanimous decision.
Prediction: Pettis via unanimous decision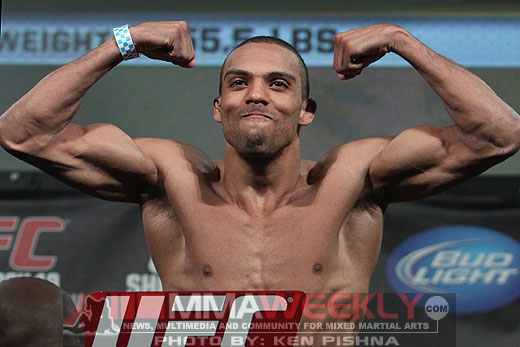 mmaweekly.com
In a clash of styles, as dynamic and explosive as Edson Barboza is, Anthony Pettis is better still.
Barboza is really an excellent striker who is at one turn graceful and fluid as a poet and on the other is just a tough workman with hammers in hand. But he has to establish his own space and rhythm, like just about any other fighter out there.
For his part, Pettis really has been blessed with an ability to attack from just about any distance—up close or at range—and his attacks display a shocking high degree of versatility that you hardly ever see, even when you're watching Edson Barboza at his best.
When these two men face off, Pettis is going to be one step ahead of Barboza, and when the tune ends, Pettis will be the man setting traps and Barboza will be the one stepping into them.
Pettis has faced stiffer opposition and is honestly far more dynamic that Barboza, and in this fight he takes Barboza out, violently.
Prediction: Pettis via KO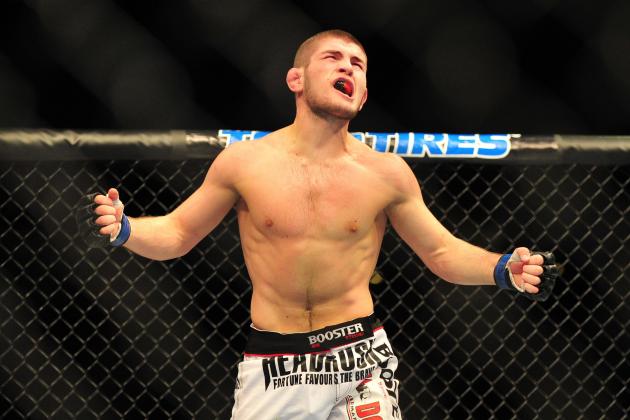 Don McPeak-USA TODAY Sports

If there is anyone in the division who looks to become a serious breakout star, it's Khabib Nurmagomedov.
He's undefeated with 19 victories, and of those, seven are by decision and seven are by KO/TKO, which makes him about as well rounded as you can get. He also fights as if his very life depends upon a victory, and that is the kind of intensity you don't need a translator for.
But at this time, I think Pettis is simply too mature for Nurmagomedov; I think he'd be able to thwart the takedown game long enough to catch Nurmagomedov something heavy and the end would come from there.
When fighting a man as explosive as Pettis, you have to be able to put the pressure on at all times, constantly keeping him moving backwards and I don't think Nurmagomedov has the ring generalship to do that just yet.
Prediction: Pettis via TKO (cuts)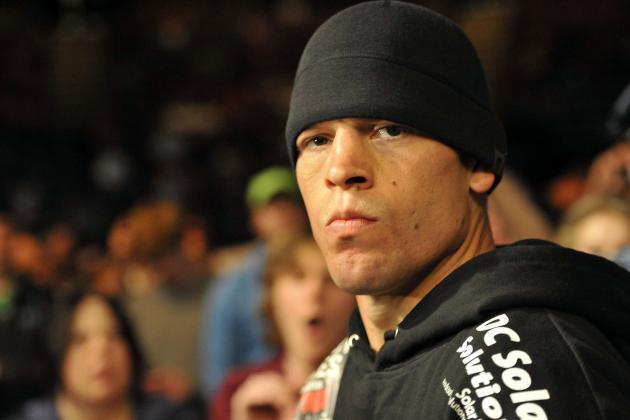 Joe Camporeale-USA TODAY Sports

It's always hard to see a fan-pleasing fighter get seriously dismantled, but the 209 would endure far more heartbreak at the hands of Anthony Pettis than they did Benson Henderson if the former ever squares off against one of their favorite poisons: Nate Diaz.
This would be a striking battle for as long as it lasted, and as much as I love Nate Diaz, Pettis is simply too fast and two powerful for him, hands down.
Diaz would continually walk into heavy fire from all ranges and levels, and Pettis has the kind of sleep-inducing power many men in the division don't.
There are so many areas where Pettis has the advantage that you don't know where to begin, but in the end, speed and power are more than enough to send Diaz out on his back.
Prediction: Pettis via TKO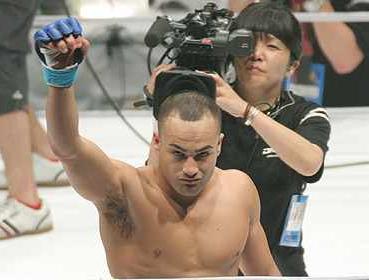 mmaweekly.com
Eddie Alvarez is the kind of fighter who loves being involved with high-action fights, and against Anthony Pettis, he'd get the chance to show the crowd why.
Alvarez is one of the faster fighters in a fast division, able to close quarters quickly in order to push deep into an advantageous position, but Pettis has the kind of fleet feet that would enable him to circle out of danger and land some doubt-inducing counters.
Pettis has proven capable of reading moments of uncertainty in his opponents and then blasting them from there. Although he wouldn't KO Alvarez outright, he'd hurt him bad enough that Alvarez would rush in for a desperation takedown, and from there Pettis locks up the guillotine choke for the finish.
Prediction: Pettis via guillotine choke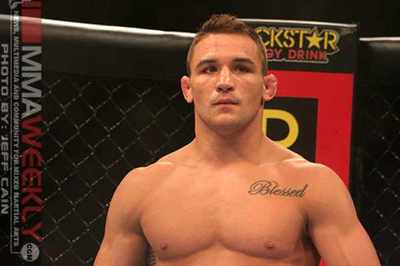 mmaweekly.com
In a fight against Michael Chandler, Anthony Pettis would find himself facing a true dynamo, and he'd have to work constantly to keep Chandler off of him, especially in the early rounds.
Chandler is a fantastic wrestling-based fighter who knows how to get the takedown and from there is able to be aggressive while keeping the foundations firm.
This is a fight where Pettis would lose the early rounds before finally figuring out the distance and early in the fourth round, he'd catch Chandler, hurt him badly and finish him, proving that experience at the highest levels of the sport really is worth its weight in gold.
Prediction: Pettis via TKO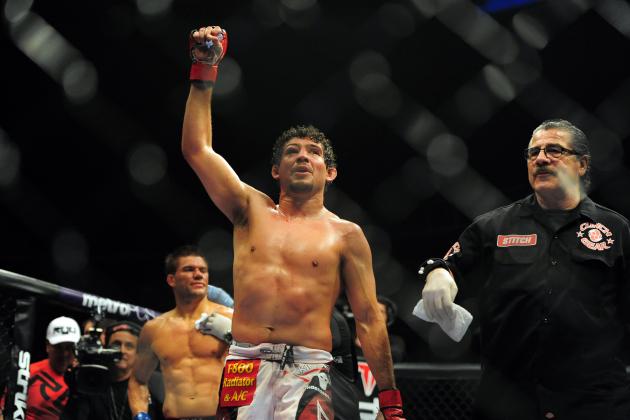 Kyle Terada-USA TODAY Sports

If there is anything Clay Guida proved in his victory over Anthony Pettis, it's that a heavy takedown game and a good chin can help a fighter grind out a decision over "Showtime," and Gilbert Melendez has both.
But Guida is not your typical fighter; his chin isn't just good—it's incredible.
Melendez is a more polished fighter, to be sure, but I don't think he'd have as much success setting up the takedowns as Guida had, and that sees him eating heavy shots at some point in the fight, ending in a TKO.
Prediction: Pettis via TKO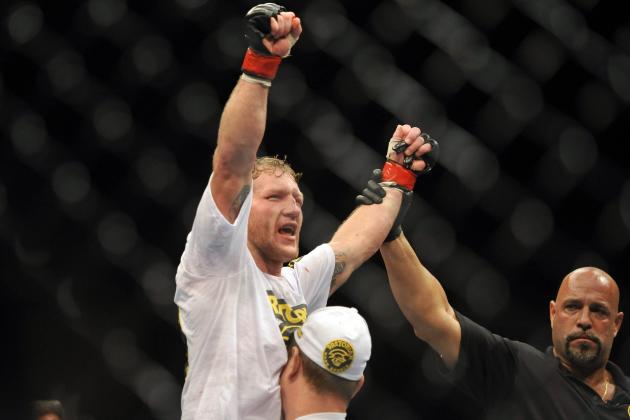 Joe Camporeale-USA TODAY Sports

As a fighter with perhaps the best wrestling core in the division (save Michael Chandler), Gray Maynard is a powerhouse who also just so happens to have some very heavy hands.
While he would come up short in terms of speed and footwork in a striking contest against Anthony Pettis, he is rugged enough to close ranks and get his hands on Pettis and from there work the takedown game and grind out a decision, working the same game plan Clay Guida did.
Styles make fights, and Pettis looks like one of those fighters who simply will not alter his style of attack. He plants his feet to throw heavy punches and kicks, and that would give a seasoned fighter like Maynard all the opportunity he'd need to snatch a singe/double leg takedown and work from there, piling up the points.
From there, Maynard would be able to maintain a strong top position given his sheer power and wrestling base, dropping down heavy punches and elbows that would keep Pettis thinking defense until the judges rendered their decision.
Prediction: Maynard via unanimous decision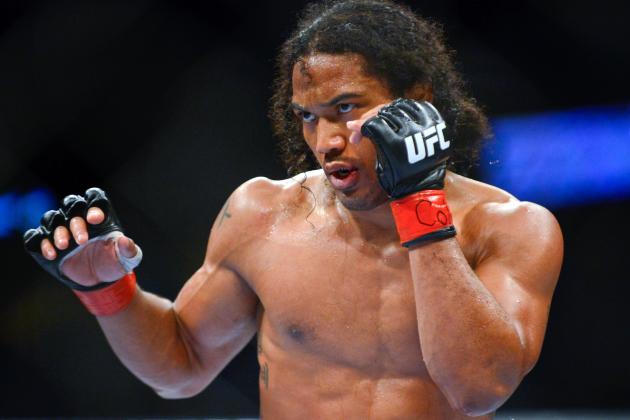 Ron Chenoy-USA TODAY Sports

In the case of the rematch between reigning lightweight champion Benson Henderson and Anthony Pettis, it's the same song, second verse.
During their first jaw-dropping fight, both men enjoyed moments of dominance only to see the tide turn the other way, and given how their styles mesh and clash, it's hard to believe a rematch would be anything different.
Henderson would still get takedowns, and Pettis would probably still get reversals. Both men would attack each other with strikes on their feet, and the whole of the fight would be all over the octagon.
In the end, although Henderson has improved the overall dynamic quality of his game, given the way their last fight ended, he is apt to be a bit conservative/defensive. That translates to Pettis, with his improved striking, landing more often and scoring enough points to take the title in another close, barn-burner fight.
Prediction: Pettis via unanimous decision