UFC on Fox 6 Results: Top 10 Lightweights in the UFC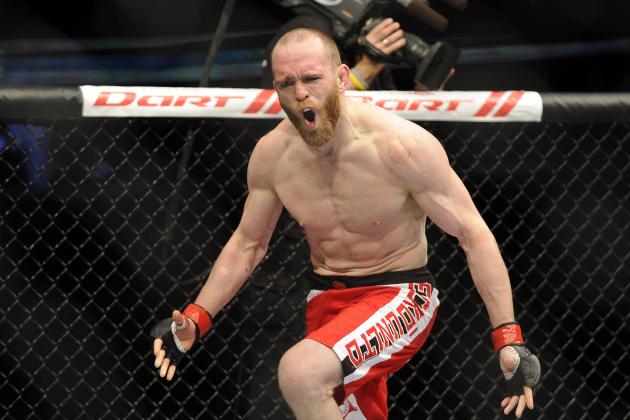 David Banks-USA TODAY Sports
T.J. Grant entered the top 10 for the first time in his career with a huge win.
At UFC on Fox 6, we saw two top-10 lightweights square off in a possible top contender fight and a former top-10 lightweight make his featherweight debut.
Oh, and Gilbert Melendez is now scheduled to fight Benson Henderson at the next UFC on Fox card, meaning the longtime Strikeforce lightweight champ is now officially a part of the UFC.
Suffice it to say, the lightweight rankings were shaken up as a result. How shaken, though?
Well, find out right here as we take a look at the top 10 lightweights in the UFC. Strap in as everything gets shuffled and names get added to the list.
Begin Slideshow

»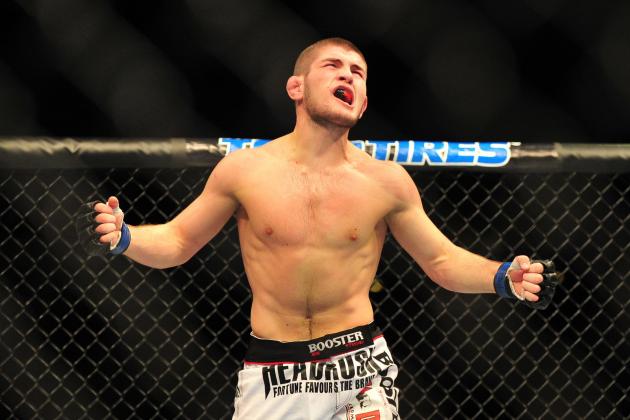 Don McPeak-USA TODAY Sports
Nurmagomedov is one of the many hot prospects in the lightweight division.
The 10th spot was actually the hardest on this list to figure out. We've seen an exodus from the 155-lb division over the last year, including mainstays Clay Guida and Frankie Edgar as well as fringe fighters like Dennis Siver, Jeremy Stephens and Ross Pearson.
This has freed up the bottom of this list in a big way, and there are plenty of resurgent veterans and fast-rising prospects to choose from.
Edging out folks like Jamie Varner, Myles Jury and Rafael dos Anjos is fast-rising prospect Khabib Nurmagomedov.
The hotshot Russian owns a 19-0 MMA record and added injury to insult when he wore a shirt stating "If Sambo Was Easy, It Would Be Called Jiu-Jitsu," and then scored a first-round knockout over Thiago Tavares in his backyard.
It was his third fight in the UFC, and all three have been victories over relatively successful veterans in Kamal Shalorus, Gleison Tibau and Tavares.
At just 24 years old, Nurmagomedov has a great future ahead of him. Watch for him to climb up the rankings over the next few years.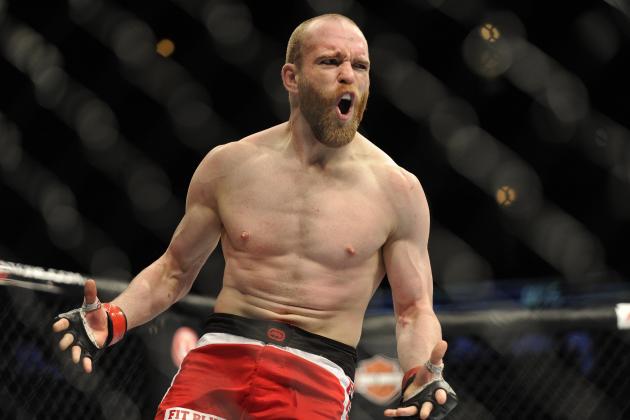 David Banks-USA TODAY Sports
T.J. Grant explodes onto the top 10 with a scary win over Matt Wiman.
As with Nurmagomedov, a lot of fighters can be ranked here instead of this wily Canadian. That said, T.J. Grant put himself safely among the UFC's top 10 lightweights with an amazing knockout of Matt Wiman.
For the first five years of his MMA career, Grant fought at welterweight and beat some solid competition.
At lightweight, though, he is 4-0 with wins over Shane Roller, Carlo Prater, Evan Dunham and Matt Wiman. While that competition is not exactly star-studded, there is no getting around the fact that Grant has run through his competition so far.
Wiman is a solid fighter, and Grant gave us a potential knockout of the year candidate by demolishing him. He is in line for a big step up in competition. Lucky for him, there are plenty of great fighters for him to fight next.
Still, with the way the division is growing, plenty of fighters are hot on his heels. He needs a few more wins before he can start climbing toward a title shot, and several fighters are looking to climb over him.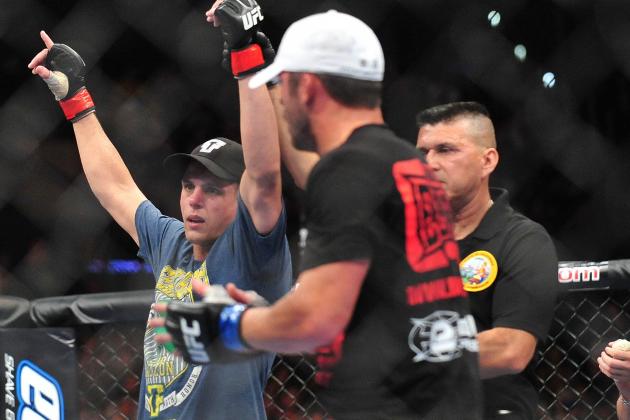 Gary A. Vasquez-USA TODAY Sports
Joe Lauzon has enough big wins to keep his spot in the top 10.
If you've watched Joe Lauzon at all over the years, you know how good he is.
He has hands. He has crazy submissions. He has wrestling.
The only problem for Lauzon is that he can't consistently turn those skills into wins.
In fact, strictly looking at his wins and losses, Lauzon might not deserve a place here given his inability to string together a winning streak longer than two fights and his losses to less-than-amazing fighters like Sam Stout and George Sotiropoulos.
Still, you can't get around how good he is at every aspect of mixed martial arts and how frequently he displays it. While his last fight was a harsh loss to Jim Miller, he still was swinging hard and threatening to finish until the final bell.
It's possible that Lauzon may never enter title contention in the UFC. That said, you're not going to find many fighters better than him at this point.
Note: Pat Healy was considered for the eighth place here. However, as he does not have a UFC fight booked, he did not qualify for this list.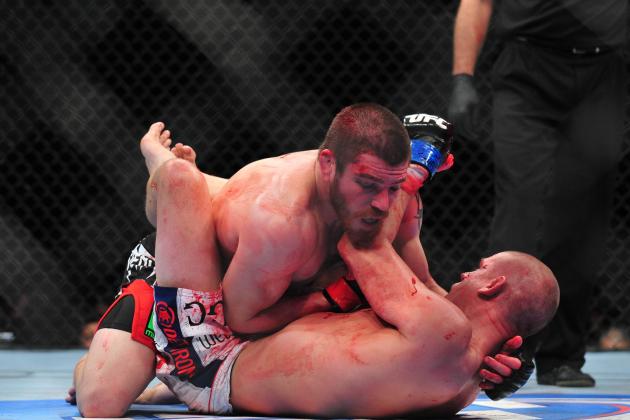 Gary A. Vasquez-USA TODAY Sports
Jim Miller's win over Joe Lauzon cemented his place as an elite lightweight.
After breaking off a seven-fight winning streak, Jim Miller had many calling for him to get a title shot.
Then he lost badly to Ben Henderson. Nine months later, he lost to Nate Diaz, which was even worse.
These losses had many questioning whether Miller's excellent record was the result of relatively lax competition rather than his excellent grappling background.
When he busted up Joe Lauzon and took a convincing unanimous-decision victory over one of the most well-rounded fighters in the division, he silenced many of the doubters.
Whether or not Miller can work his way back into title contention is a tough call, given how thoroughly he was beaten by the two top-five fighters he has faced so far.
Still, you can't deny at this point that Jim Miller is a very good fighter who easily ranks in the top 10.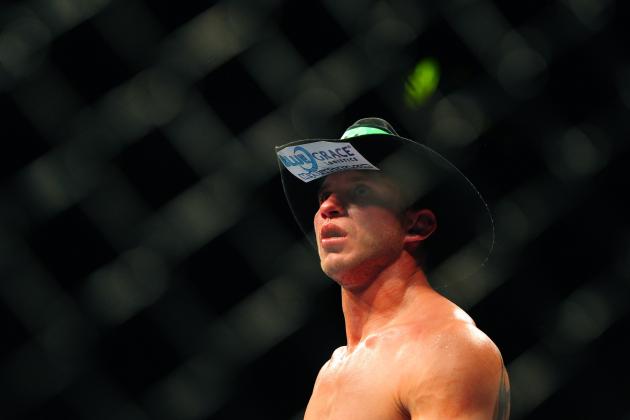 Mark J. Rebilas-USA TODAY Sports
Cerrone suffered a harsh loss but is still a clear-cut top-10 lightweight.
Saturday was a bad, bad night for Donald Cerrone. "Cowboy" was possibly in line for a third title fight with Ben Henderson if he could climb over newfound rival Anthony Pettis.
Unfortunately, Pettis would do what he has done to so many other opponents.
"Showtime" kicked him really, really hard, and Cerrone crumpled to the ground. Pettis pounced, and the fight was waved off shortly thereafter.
There's no question that Cerrone is an excellent fighter. He is one of the most dangerous strikers in the lightweight division as shown in his wins over Melvin Guillard and Charles Oliveira. He is also one of the best submission artists as displayed in fights with Chris Horodecki and Dennis Siver.
Still, he is 0-4 in fights against other men on this list. We can't really knock him too hard, though. He's clearly one of the top 10 lightweights in the UFC.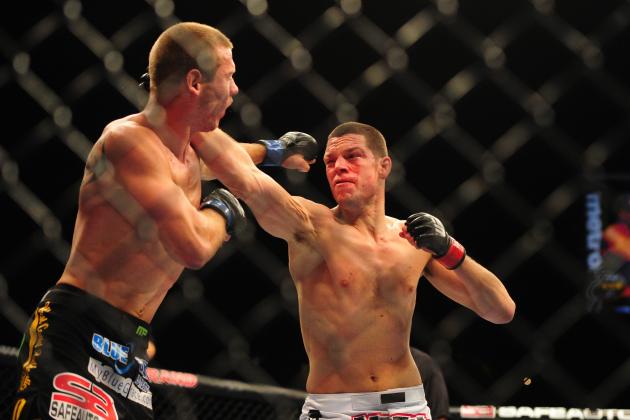 Mark J. Rebilas-USA TODAY Sports
Nate Diaz crushed Jim Miller and Donald Cerrone, which is sure to keep him in the top five for months to come.
Nate Diaz was dominated by champion Benson Henderson when they faced off at UFC on Fox 5. That, however, did not knock him very far down the list.
Diaz absolutely demolished two top-10 fighters in Donald Cerrone and Jim Miller.
"Demolished" is the only appropriate term for those fights. Looking back on them, I have a hard time ranking him even this low. With possibly the best submission skills in the lightweight division and some solid hands to boot, Diaz is a scary, well-rounded finisher.
While many have questioned his wrestling skills, there is no getting around the fact that he destroyed one of the division's best wrestlers in Jim Miller and beat another top-level wrestler, Gray Maynard, during the fifth TUF season.

Ultimately, Diaz boils down to being a guy who can beat nearly anybody, any day of the week. He does not have a fight scheduled quite yet, but look for him to be matched against another top-10 fighter in the near future.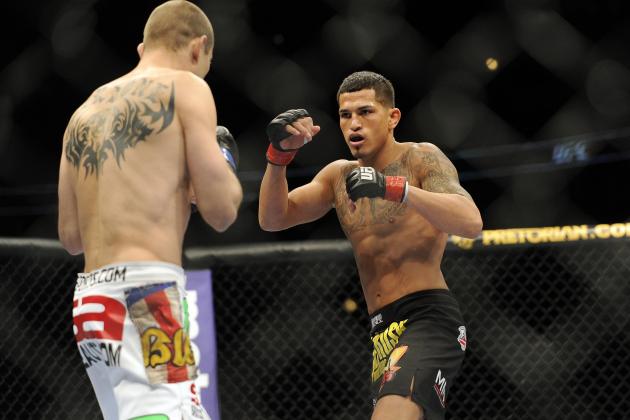 David Banks-USA TODAY Sports
"Showtime" climbs back into the top five with his second straight knockout victory over a top-10 fighter.
Anthony "Showtime" Pettis is now definitely en route to a lightweight title fight. At long last.
Well, unless Benson Henderson and Gilbert Melendez fight to a draw. How ironic would that be?
Pettis gave an amazing effort and once again showed everyone why he's a second-degree black belt in taekwondo. He kicked Cerrone so hard that "Cowboy" folded in a way we've never seen before.
A horse couldn't make him fold the way Anthony Pettis did.
It was another amazing knockout for a fighter whose career has been defined by exciting finishes. With a three-fight winning streak, including a lights-out head kick of Joe Lauzon, he vaults himself to the fourth spot on this list.
Get excited for that title fight, folks!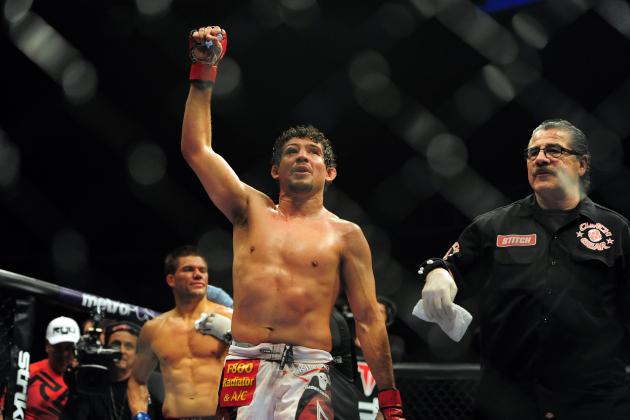 Kyle Terada-USA TODAY Sports
Gilbert Melendez will have a chance to silence all his doubters when he fights for the belt in April.
The longtime Strikeforce lightweight champ finally...finally makes his debut in these UFC rankings. Finally.
But putting him at No. 3 probably won't make anybody happy.
Melendez's fans will point to his high-level MMA grappling, rooted in his lifetime of wrestling and further honed by his Brazilian jiu-jitsu training with the Cesar Gracie camp, fused together with the heavy hands he used to finish 11 fights. This is on top of his steely chin and solid submission defense.
Surely, all that warrants a higher rating, right?
Detractors will point out that the last time he faced a UFC-tested opponent was when he beat Clay Guida in 2006. While Josh Thomson, Shinya Aoki, Tatsuya Kawajiri and Jorge Masvidal are highly skilled mixed martial artists, none of them appears on this list—or even would, if they could.
How can you consider him a top-10, never mind a top-three, fighter when he has never faced a scary opponent?
Well, it's a tough call, but that call is now made. We know how advanced Melendez's talents are. The only question is if he can ply those skills against great opponents.
We'll see how good he is when he meets champion Benson Henderson in April.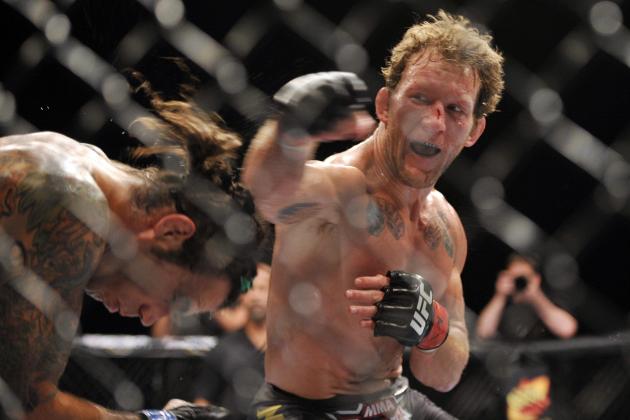 Joe Camporeale-USA TODAY Sports
Gray Maynard is the greatest threat stylistically to Ben Henderson's reign.
The greatest threat to Benson Henderson's title reign may not be his next opponent, Gilbert Melendez. It may not even be the man who beat him once before, Anthony Pettis.
His greatest threat is probably Gray "The Bully" Maynard.
Gray Maynard has been there and done that. He holds wins over Frankie Edgar, Kenny Florian, Nate Diaz, Jim Miller and Clay Guida. He has beaten nearly every noteworthy UFC lightweight over the last few years with the exception of the big three former WEC fighters.
He has the wrestling to smother opponents as well as almost anybody in MMA. That is coupled with the heavy, heavy hands he can use to inflict damage and knock out unsuspecting fighters.
These qualities make him a tough matchup for Henderson.
He was scheduled to fight Joe Lauzon at UFC 155, but he had to withdraw due to a knee injury and has not appeared on any programs since. Still, Maynard is a scary fighter in a division made up of scary fighters.
Note: Frankie Edgar would be in the second spot but is now a member of the featherweight division.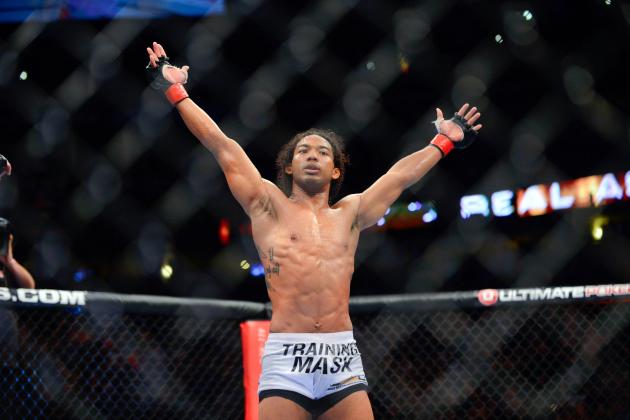 Ron Chenoy-USA TODAY Sports
Ben Henderson is the top lightweight until someone beats him.
It's probably no surprise to see the reigning, defending UFC lightweight champion perched atop this list. This is because the champion is seemingly unstoppable, given his inimitable combination of smothering wrestling and powerful striking.
With the exception of his second bout with Frankie Edgar, "Bendo" has made quick work of each and every opponent he has faced in the Octagon, including Mark Bocek, Jim Miller, Clay Guida and Nate Diaz.
Those wins are on top of his WEC victories over Jamie Varner and Donald Cerrone (twice).
If Henderson beats Gilbert Melendez in April, he will tie BJ Penn's record of three UFC lightweight title defenses. From there, we could see Henderson enter "all-time great" territory.
Legend in the making, folks!